Over the past few years, we're seeing local textiles in a new light. They're no longer limited to traditional wear and instead have slowly transcended into contemporary fashion. Local designers are instrumental for this renewed perspective on indigenous fabrics, and one of this movement's supporters is emerging designer Toping Zamora.
ADVERTISEMENT - CONTINUE READING BELOW
Toping hails from Davao and has recently won the Stellar: Mindanao Heritage Fashion Designers 2019 competition organized by the Ayala Malls Abreeza and the Davao Fashion and Design Council (DFDC) for Fashion Weekend Davao. He presented a five-piece capsule collection that boasts of local textiles and a fresh summer pastel palette, made by local artisans. Below, we get to know more about Toping, Davao's emerging designer that is definitely one to watch.
ADVERTISEMENT - CONTINUE READING BELOW
Recommended Videos
Could you tell us something about yourself? What motivated you to be a designer?
"Actually, becoming a fashion designer was a childhood dream. I used to do sketches in my notebook during class and I would design dresses for my classmates for free. But it didnt materialize since I was not allowed enroll in a fashion school after high school 'cause there was no fashion school that has a bachelor's degree back then in Davao. My father wanted me to finish college with a bachelor's degree and so I graduated from Ateneo de Davao with a degree in Business Management. After graduating, I worked in Manila for advertising agencies, as a caster, and even ventured to modeling agency. Years have passed and I came back to Davao in 2008 and managed our family business.
"In 2014, I decided to open a bridal shop and named it Bride Talk just to fulfill my frustration of owning a boutique. But I wasn't doing the designs back then—I was just an entrepreneur. I hired a fashion designer because I am still managing our family business. Until I realized that I need to know the business and actually learn everything. I decided to take up Fine Arts major in Fashion Design at the Philippine Women's College of Davao. Luckily, they were already offering a bachelor's degree in Fashion Design. So I graduated last March 2018. I eventually took over the fashion designer post in my shop thereafter. So technically I am just a year old fashion designer."
ADVERTISEMENT - CONTINUE READING BELOW
How would you describe you design philosophy and aesthetic?
"I love simple silhouettes and putting the big focus on details."
Do you have a signature design or a key element evident through your collections?
"I think my Orden de Vida clay beads are becoming my trademark. I use them as surface decors and create crazy abstract patterns in my collection. I mold the beads and they are 100% made of clay. The market for my RTW line seem to like them."
ADVERTISEMENT - CONTINUE READING BELOW
Where do you usually draw inspiration from?
"I usually draw inspiration from nature, from my travels, and from what surrounds me."
Can you walk us through your creative process as a designer?
"Well I'm not the type who draws or sketches designs when an idea pops in. I just store them in my memory bank and just collect from it whenever the need arises. But normally, I really do research especially for a collection. I believe every design should tell a story and the designer's task is to tell that story."
ADVERTISEMENT - CONTINUE READING BELOW
We noticed you use local fabrics. Why did you decide to take this route? Could you also elaborate on the weaves and techniques you employed in your latest collection?
"For this particular collection I used custom made Gintlo fabric with contemporary design woven by the B'laan weavers in Kiblawan, Davao del Sur. I've been collaborating with them for over a year now. I wish to tap our local fabrics and be appreciative of our culture. Our indigenouis peoples in Mindanao have been doing this since time immemorial. And as a designer, it is my role to promote our weaves and our local textile. These textiles are rooted in our culture. This is our identity as Filipinos and we should promote our beautifuly handcrafted local textile industry. We should remember that if we don't have a textile industry, there is no such thing as fashion industry."
ADVERTISEMENT - CONTINUE READING BELOW
What makes a Toping Zamora muse?
"He or she is confident, secure, and appreciative of our rich culture."
Who do you dream of wearing your designs?
"Heart Evangelista. She's iconic."
Let's talk about your winning collection. How did you conceptualize it?
"My collection is dubbed Enlacer. It's a French word meaning "to entwine." I wish to entwine the old and the new, the traditional and the contemporary, the lumads and the urban people. I focused on two major key designs. One, is the signature beadworking technique of the Bagobo Tagabawa in Lubogan, Toril and the Gintlo fabric of the B'laan community in Kiblawan, Davao del Sur. I just tweaked it and recreate it using different techniques like my Orden de Vida clay beads, machine embroidery, and digital sublimation strategicaly spread out in my capsule collection."
ADVERTISEMENT - CONTINUE READING BELOW
How many pieces did you make for this collection? Do you have a favorite?
"It's a five-piece capsule collection. I love the first look, it's a crop top paired with high-waisted shorts. It has a tailored fit and they really look flattering on a woman's body. It also gives an illusion of having a narrow waist. It's looks very Coachella. I also love the kimono jacket. It's a trendy piece and I can see men proudly wearing it."
ADVERTISEMENT - CONTINUE READING BELOW
ADVERTISEMENT - CONTINUE READING BELOW
ADVERTISEMENT - CONTINUE READING BELOW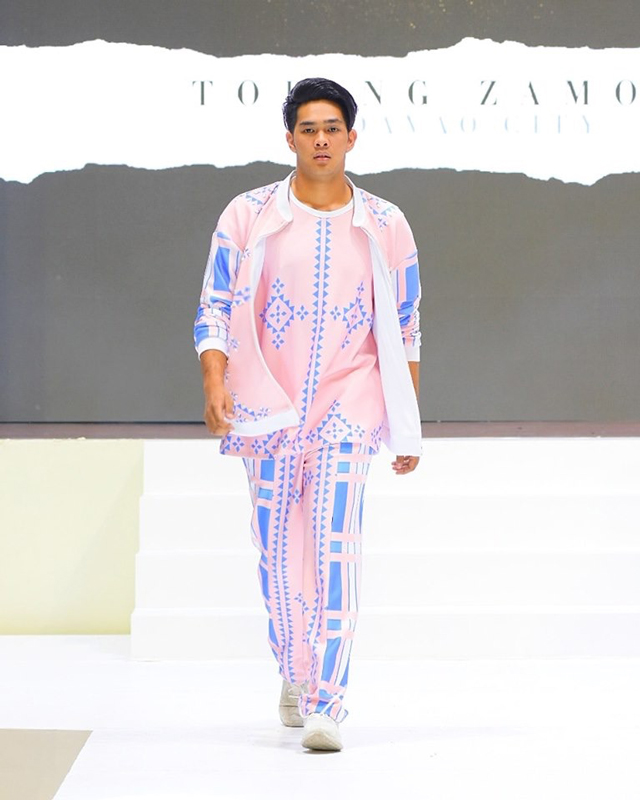 As a local designer, what is the importance of making garments that are 100% Filipino?
"I think it very important. It is a sense of pride. Our identity as designers is rooted in our culture and this should represent our brand."
Related Stories from Preview.ph
Hey, Preview readers! Follow us on Facebook, Instagram, YouTube, Tiktok, and Twitter to stay up to speed on all things trendy and creative. We'll curate the most stylish feed for you!