As a fashion girl, I have always set my eye on the latest trends and made sure I was up to date and always on its forefront. I guess you can say that it's part of the job. Because being in the fashion industry, it's also imperative that you look stylish. You don't have to buy designer items all the time. I learned from my mom that fashion is about wearing a P300 top and making it look like it's P3000. But buying a lot of P300 items can pile up eventually. So how do you know when to spend big and when to succumb to fast fashion? Essentially, it comes down to investment dressing. Stop buying clothes just because you think you'll use them eventually. Always purchase with a purpose.
As much as I hated math back in college, it proves to be a great tool in order to help me decide which items I'll spend my hard-earned money on. This shopping formula is called cost-per-wear. It looks something like this:
ADVERTISEMENT - CONTINUE READING BELOW

CONTINUE READING BELOW
Recommended Videos
This formula is designed to filter and justify the items you'll buy, preventing the all-too-familiar (but often denied) dilemma of hoarding and over accumulation.
Here are three ways you can apply this formula.
Item vs. item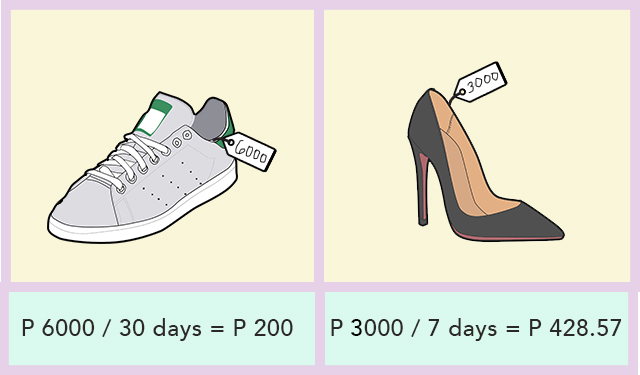 ADVERTISEMENT - CONTINUE READING BELOW
IMAGE adidas
If you're buying a pair of sneakers for P6000 and you're sure that you'll wear it for the next 30 days. Then your CPW would be P200 which is a pretty sweet deal compared to a pair of heels worth P3000 that you'll only wear for one out of four weeks. Would you buy those same heels for P428.57 per day?
Item vs. longevity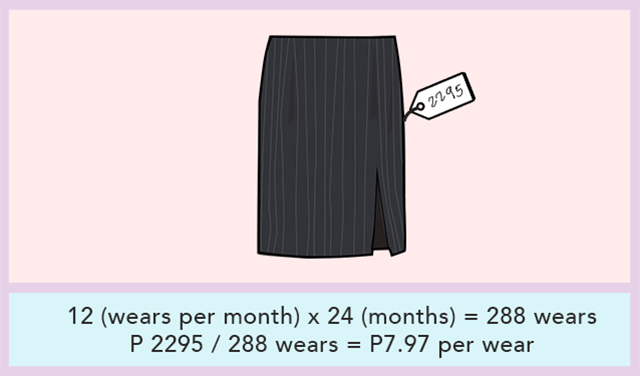 ADVERTISEMENT - CONTINUE READING BELOW
IMAGE Mango
Imagine seeing an office skirt from Mango worth P2295, and it's something you can get away with wearing thrice a week as a uniform. Plus, since it's a closet staple, it stays in your wardrobe for about a year, considering fabric's natural wear and tear. Your cost per wear calculation would look something like this.
Designer vs. retail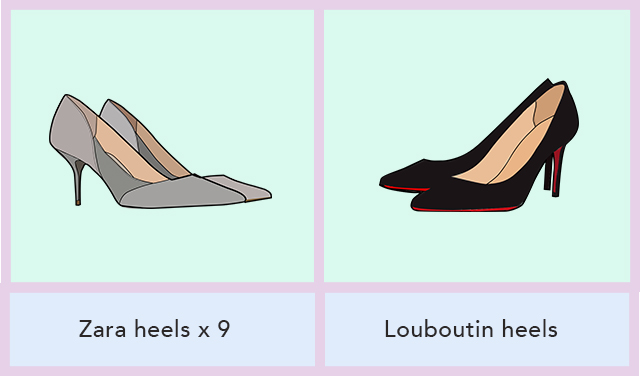 ADVERTISEMENT - CONTINUE READING BELOW
IMAGE Zara, Christian Louboutin
With about nine Zara heels, you can buy a pair of Christian Louboutin shoes. Considering this, purchasing decisions depend on what your wardrobe needs are. As I have said before, purchase with purpose. If you're a girl who walks around a lot, then maybe it's smarter to opt for affordable heels you can easily replace when you wear down a pair. But if you've got an already wide array of shoes, maybe you should consider investing in one that is both timeless and versatile.
See, investment dressing guided by CPW can help you curate your wardrobe and cleverly choose which pieces to buy. And come to think about it, cost-per-wear isn't much of a real formula but a form of discipline and attitude. Buy less of the stuff you don't really need and buy more quality items that will bring longevity to what you already have in your closet.
ADVERTISEMENT - CONTINUE READING BELOW
Illustrated by Jemy Sta. Ana and Gab Gutierrez.
Main image illustrated by Gab Gutierrez.
Related Stories from Preview.ph