Their Instagram page is chock-full of pretty patterns and fun handmade pieces you want to snag for yourself. With the brightest hues and interesting colorways, these accessories aren't your run-of-the-mill earrings. They're sure to add just the right amount of punch to any outfit and almost look like they're dancing on your lobes. We caught up with Carla Cruz of Tropik Beatnik to find out more about this colorful brand.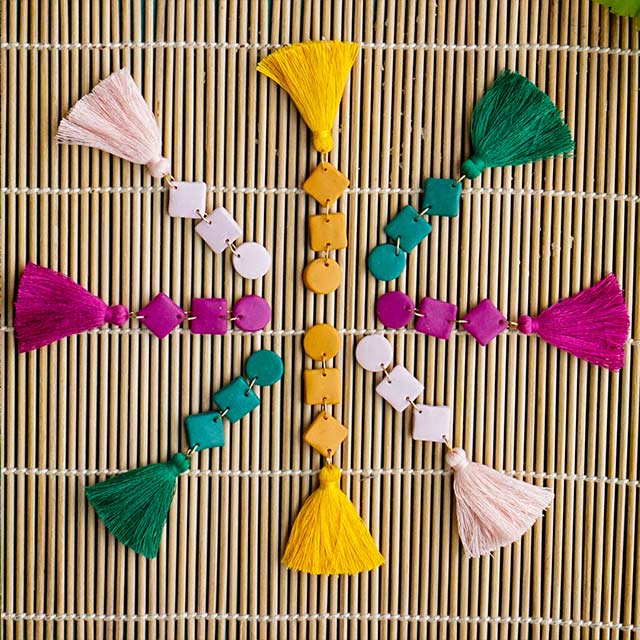 ADVERTISEMENT - CONTINUE READING BELOW
IMAGE Courtesy of Tropik Beatnik
What's the story behind your store's name Tropik Beatnik?
"The brand is called Tropik Beatnik because it was borne out of the desire to create pieces that are fun, quirky, unconventional yet still very stylish for the modern bohemian.
"We combined the words Tropik (the Filipinized version of the word Tropic) with the word Beatnik (which is basically an unconventional, free-spirited individual), which we feel pretty much encapsulates what we want our brand to be known for—unique pieces perfect for the unconventional, adventurous, free-spirited bohemian."
What materials are used for your handmade earrings? And how do you come up with the designs?
"All the beads I use for the earrings are hand-molded and crafted from polymer clay. The patterns and designs of the beads, as well as the styles of the earrings are borne out of a cycle of trial and error and experimentation, just to come up with designs that are quirky, fun, and unconventional. They're perfect for those girls who want to stand out and make a statement."
CONTINUE READING BELOW
Recommended Videos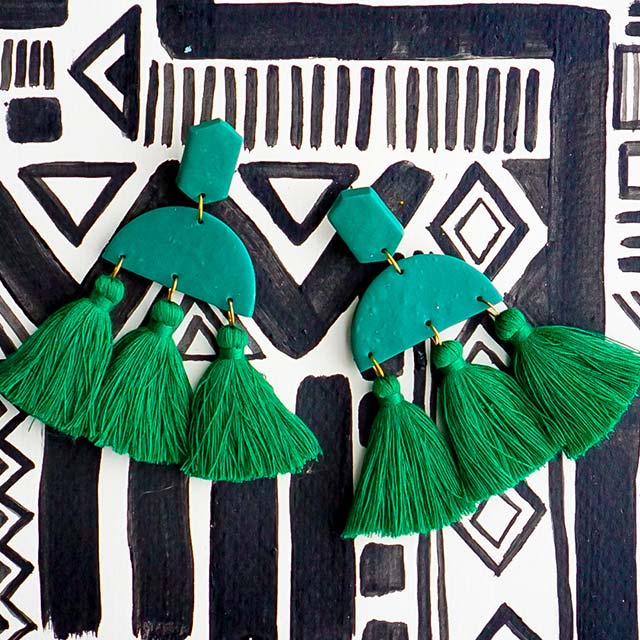 IMAGE Courtesy of Tropik Beatnik
Where do you get inspiration from when coming up with your earring designs?
"My main inspiration when trying to come up with new designs mostly comes from the idea of creating something that is different, unique, and that I would actually wear. I also try to put myself in the shoes of consumers and try to think of what color schemes and styles would probably be interesting to them that are not readily available in the market and I try to work from there.
ADVERTISEMENT - CONTINUE READING BELOW
"I can also draw inspiration from mostly anything that catches my eye or interests me—whether it's the color scheme of my new skirt, an interesting series of shapes I see on a poster, or a pattern I see on a mural, etc. Inspiration can really come from the most surprising places."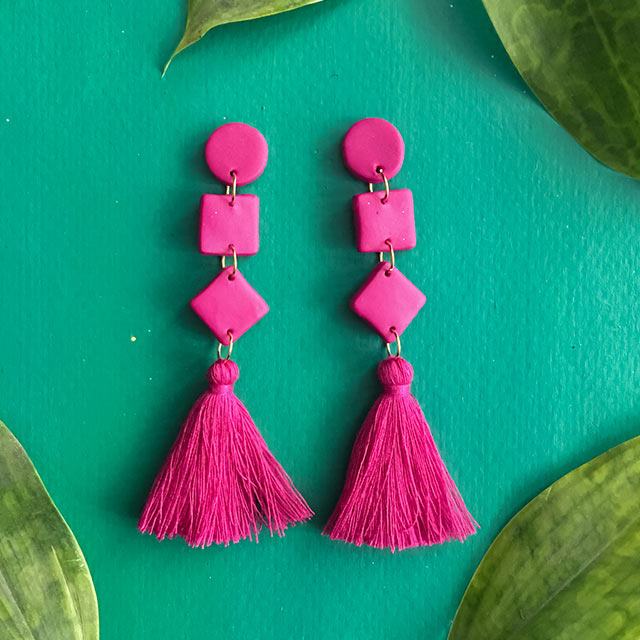 ADVERTISEMENT - CONTINUE READING BELOW
IMAGE Courtesy of Tropik Beatnik
In the sea of accessories shops online, what do you think makes Tropik Beatnik stand out?
"I think what makes Tropik Beatnik stand out is the fact that everything is really handmade from scratch. Each pair of earrings starts out as blocks of clay, which is thoughtfully worked, molded, and shaped to create the designs that you see. Because of this all the earrings never exactly come out like any other pair making each pair truly unique.
"Also, aside from the beads, I also hand make all the tassels, which is a tedious process all on its own—making Tropik Beatnik not just a fashion accessory, but more like pieces of art you can wear."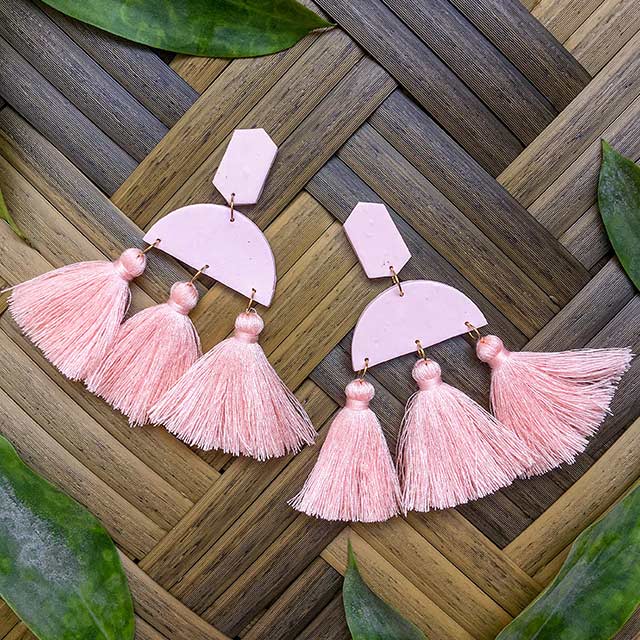 ADVERTISEMENT - CONTINUE READING BELOW
IMAGE Courtesy of Tropik Beatnik
You're a relatively new brand, are there any challenges you've encountered since starting your business?
"Getting started was definitely no walk in the park. I think the main challenge we face is meeting the demand for the earrings, which is challenging since our pieces are all handmade and because of this, most are made to order.
"There's also always the issue of production, meeting deadlines, and even trivial things like scheduling deliveries and shooting products for marketing, which I think most online startup businesses encounter. We just try to take these things in stride and learn as we go along."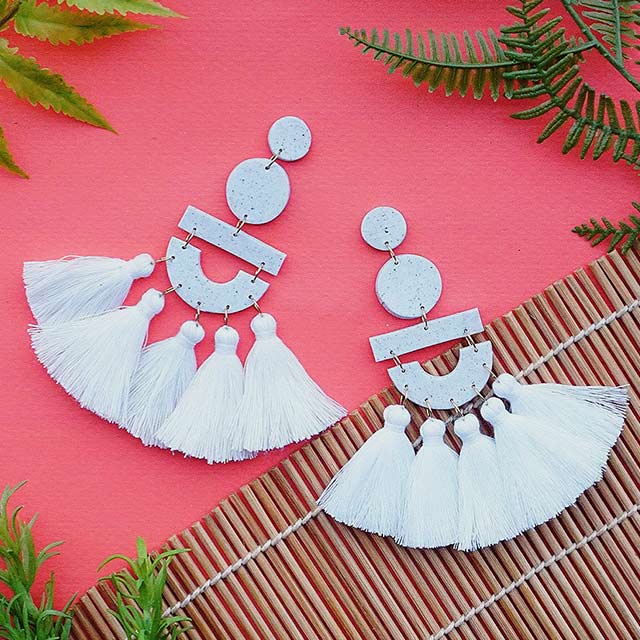 ADVERTISEMENT - CONTINUE READING BELOW
IMAGE Courtesy of Tropik Beatnik
How do you imagine your pieces to be worn by your customers? Do you have any styling tips?
"For me a unique selling point of Tropik Beatnik earrings is the fact that you can wear these to something as casual as a beach trip or brunch with friends, to something as formal as the office, or even a wedding!
"At this point, Tropik Beatnik already has such a wide range of styles, colors, and patterns that I feel like you can find the perfect earrings for just about any occasion.
"So don't feel limited, ladies! Whether you're just off to do errands, or attending an event, dress up and inject some fun and whimsy to your look with Tropik Beatnik Earrings."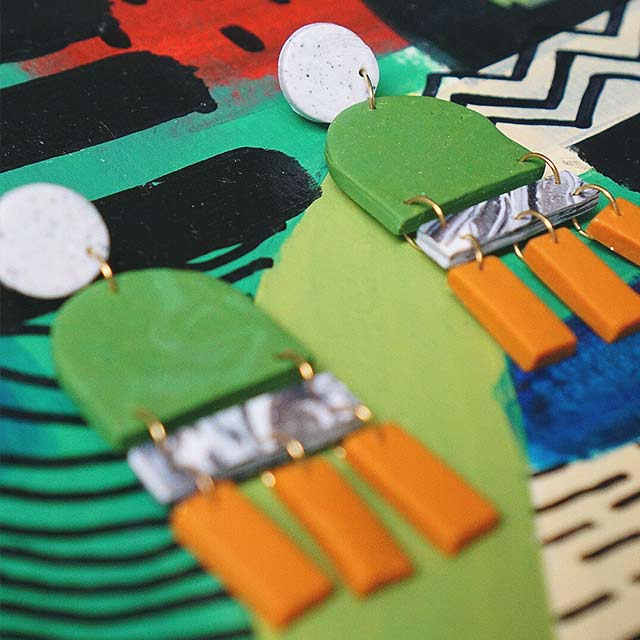 ADVERTISEMENT - CONTINUE READING BELOW
IMAGE Courtesy of Tropik Beatnik
Who is a celebrity or style icon you dream of being a Tropik Beatnik customer?
"Definitely Solenn Heusaff! I think she is the perfect style star for the brand, which celebrates eclectic style and fearless fashion."
Aside from sending you a message on Instagram, where else can we find your accessories? Do you have any stockists?
"Right now, we're focused on selling online. We do join weekend markets and bazaars from time to time, so stay tuned for that!"
What can fans look forward to this year from your brand?
"Aside from coming out with newer and fresher designs and color schemes, we're hoping we can start customizing pieces for our customers, so stay tuned!
"And since we are a relatively new brand (started in November 2017), we're also still working out and ironing out our ordering and delivery process, so do be patient with us."
ADVERTISEMENT - CONTINUE READING BELOW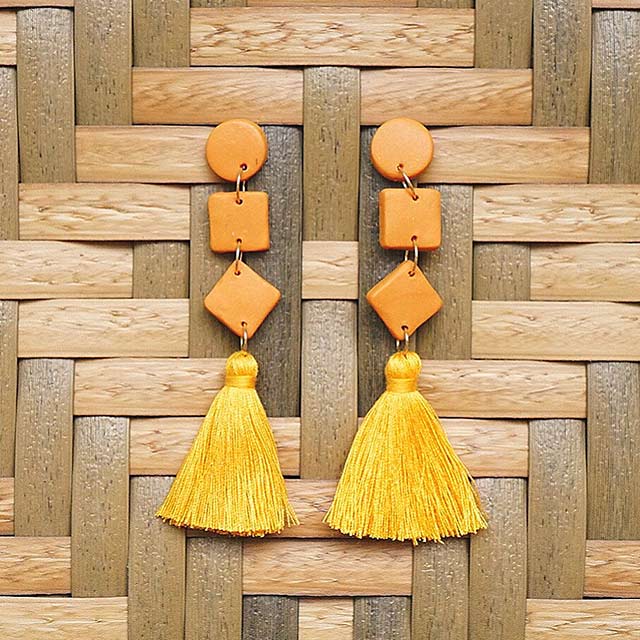 IMAGE Courtesy of Tropik Beatnik
Want to check out their pieces? Follow them on Instagram at instagram.com/tropikbeatnik.
Related Stories from Preview.ph
Hey, Preview readers! Follow us on Facebook, Instagram, YouTube, Tiktok, and Twitter to stay up to speed on all things trendy and creative. We'll curate the most stylish feed for you!