Katy Perry has always had a penchant for anything and everything cheeky, extravagant, and show-stopping. But she does pull off her flair for excess tastefully, and in contemporary fashion no less. It's been 10 years since she released her very first album, and she's definitely learned how to surpass herself as every concert year goes by, but her latest tour is arguably her most stylish one yet.
For her Witness World Tour, she worked with RuPaul's Drag Race's Zaldy, an Emmy award-winning Filipino-American designer, and Vietnamese fashion designer Nguyen Cong Tri for all her looks—and these two definitely pulled out all the stops. Be it wearing an LED screen bandeau bra or a fully sequinned statement shoulder asymmetrical dress, the pop star wows effortlessly and in dazzling fashion. And we haven't even started on her makeup.
Here's all the best bits you missed from the jaw-dropping night:
1. Her all-red opening look with bright fuchsia eyeshadow
IMAGE Ovation Productions
Katy actually popped out on stage with a pair of crimson Adam Selman sunnies to complete this look. What we love is that red is still a pretty strong trend and she kept the look monochromatic by matching her eyeshadow with her outfit.
ADVERTISEMENT - CONTINUE READING BELOW
Not to mention, her dancers also looked equally as cool and coordinated.
IMAGE Roxanne Bunag
2. Her LED bandeau
IMAGE Maura Rodriguez
ADVERTISEMENT - CONTINUE READING BELOW
IMAGE Maura Rodriguez
She wore this look with a matching blazer at first but then took it off to reveal her LED top. It's cute to note that her grid patterned trousers had a paper bag waist, too.
3. When her dancers came out with paper doll cutouts of Katy's past concert outfits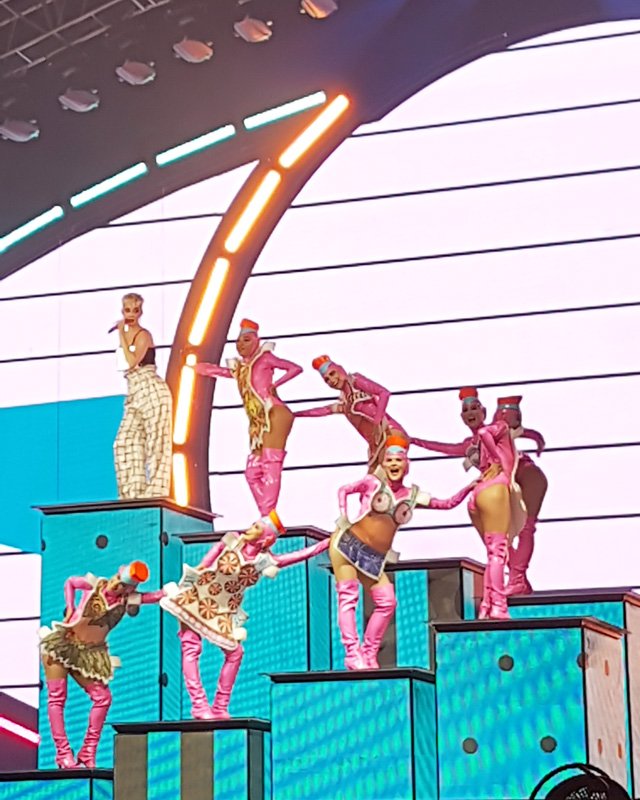 IMAGE Roxanne Bunag
It was a great throwback moment to watch her dancers grooving on stage showing off her iconic looks throughout the years. If you've got a keen eye, you can spot outfits from her music videos like Roar, California Girl, Last Friday Night, and more.
4. When she performed E.T. wearing a black and white wasp-like leather costume with a surreal hornet man.
ADVERTISEMENT - CONTINUE READING BELOW
IMAGE Roxanne Bunag
IMAGE Roxanne Bunag
IMAGE Roxanne Buna
One of her more outrageous looks from the night, Katy came out looking like this wasp slash bat queen while her sequined hornet man on stilts cooed her on stage. Plus, her dancers looked equally as sexy in a black leather cat suit and looked like insect-like court jesters.
5. When she came out in this dreamy fully sequinned dress fit for an '80s pop superstar
ADVERTISEMENT - CONTINUE READING BELOW
IMAGE Maura Rodriguez
IMAGE Roxanne Bunag
It was utter joy when we saw her step out in this look. Katy was literally a glitter bomb in this look that was a trans-like fashion child of Gucci and Cher. It was definitely THE BEST fashion moment of the entire concert. Also, she sang Power with this outfit, on top of a 10-foot pedestal with wings to match.
6. Her dancers dressed as Daft Punk-meets-Hatsune Miku space cheerleaders.
IMAGE Roxanne Bunag
ADVERTISEMENT - CONTINUE READING BELOW
IMAGE Roxanne Bunag
For her rendition of Swish Swish, Katy toned down with a graphic striped cobalt blue body suit, but her girl squad definitely stole the show with this crazy anime look.
7. Her finale moment in a pink embellished tulle dress as she sang Firework
It looked like a look straight out of a Paris Couture runway show. And did we mention that she was standing on a larger-than-life inflated hand? It was unreal.