When it comes to stained and soiled clothes, we wish there was an undo button for nasty spills. But of course, even in the age of computers, you simply can't bend time to reverse the damage. Fortunately, you can still save your garment without spending too much cash. You just have to look in your pantry. Below, we've simplified the stain-removal hacks you need to master!
GREASE
While your first instinct is to flush the grease stain under water, remember that oil repels water. So as first aid, dab the stain out with paper towel to remove any excess oil and grease then choose your weapon from any of these:

Dish soap – Gently dab a clear dishwashing soap and let it soak for about five minutes.
Baby powder – Pour the powder directly on the stain and leave it overnight.
Chalk – Rub it on the stain and then brush it off before laundering.
ADVERTISEMENT - CONTINUE READING BELOW
Cornstarch – Apply it on the stain and let it sit for ten minutes before washing. This works well on suede and leather.
Vinegar – This method applies well for older stains. Just dab white vinegar on a paper towel then onto the stain. Launder normally after.
Artificial sweetener – Blot it onto the stain and the brush it off. Perfect when you're on the go!
MAKEUP
Got lipstick on your blouse? Or some foundation stains around your collar? No problem! Here's what you need to do. Remember that most makeup products are oil-based, too, so don't flush it out with water! Just dab again with a paper towel until you can get most of the stain out.

Shaving cream/ shampoo – Spot clean the foundation stain before washing.
Hairspray – Saturate the lipstick-stained area with hairspray and wait for ten minutes before dabbing it with a damp wash cloth.
Dish detergent – Mix the detergent with warm water and sponge the tinted moisturizer stain.
DEODORANT AND SWEAT STAINS

In a hot weather like ours, sweating is unavoidable. Good news is you don't have to deal with yellowing sweat or deodorant stains anymore. Use these to say bye to embarrassing pit stains!

Baking soda – Make a baking soda paste with some warm water then scrub it gently on the stain. Let it sit for about an hour before rinsing.
Vinegar – Mix two parts vinegar and one part water. Soak the stain for a couple of hours before washing.
Aspirin – Powder three pills and mix them with two tablespoons of warm water. Apply to the stain and let it sit for an hour before washing normally.
Hydrogen peroxide – Dilute with one part water two parts of hydrogen peroxide. Apply to the stain and let it sit for an hour then wash normally.
Lemon juice – With salt and some lemon juice, rub the stain out then wash.
ADVERTISEMENT - CONTINUE READING BELOW
WINE AND FOOD STAINS
Food is everything! But sometimes we can't avoid some spillage during lunch and it's such a drag to remove the stain out especially when you've munched on a really greasy burger. And don't get me started on spilled wine! But no need to cry over it, here's how you can reverse the damage. With oily food, remember that water won't work as it repels it. Instead, dab the excess with a paper towel to get the grease and butter out. For other types of food, flush the stain out from behind with cold water until the stain is removed.
White wine – Who knew, right? Apparently, dabbing some white wine on a red wine stain neutralizes the colored spill. Don't forget to wash the garment after!
Salt – Sprinkle a bit of salt on a red wine stain and let it sit for about five minutes before washing it out. Repeat as needed.
Vinegar – For small stains, dab some white vinegar before washing. If it's a big one, consider soaking it overnight with 3:1 vinegar and water solution.
BLOOD STAIN
Whether it's a fresh cut or a nosebleed or a surprise visit from your monthly period, there's nothing more annoying than getting blood soil your crisp white button-down. Here's how you can deal with them.

Hydrogen peroxide – Mostly used for fresh blood stains on light-colored clothes, apply hydrogen peroxide directly onto the garment then rinse with cold water before laundering
Hairspray – Saturate the stained area with the spray and let it sit for a few minutes before wiping it off with a damp cloth.
Lemon juice – This works better for dried blood stains. Soak the item in cold water. Dry out the excess water before putting it in a plastic bag containing two cups of lemon juice and half a cup of salt. Let it soak for a while then hang it outside to dry. Then wash it normally.
ADVERTISEMENT - CONTINUE READING BELOW
Coca-cola – Empty a can of your regular cola into your laundry wash along with some regular detergent.
TINTED WHITES
In case you accidentally left a colored garment as you laundered your whites, you can undo the damage with this simple solution: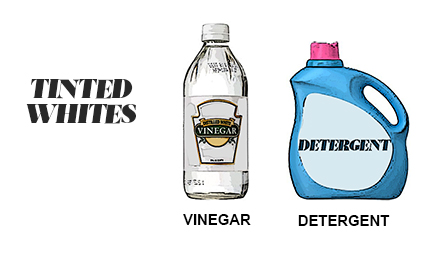 Mix one cup of distilled white vinegar with your regular detergent and then wash your tinted whites regularly.
CANDLE WAX
Wax stains are easy to remove! Just rub some ice on it and then gently scrape the wax off with a butter knife.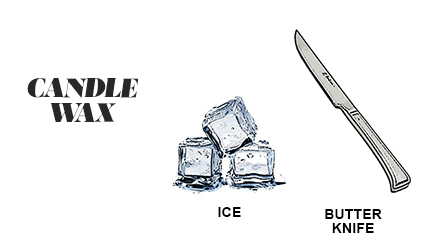 COFFEE STAIN
Good news to clumsy coffee lover out there! Create the magic concoction to remove coffee stains with these items: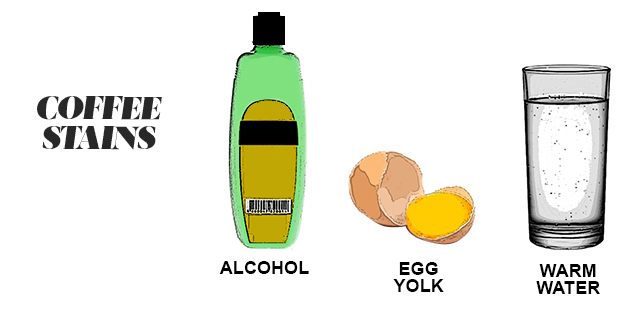 Mix an egg yolk then add in a splash of rubbing alcohol and two tablespoons of warm water. Dab it on the stain then launder as usual.
DIRT STAIN
Unavoidable and bothersome, dirt stains wind up everywhere especially on your suede or leather shoes!
ADVERTISEMENT - CONTINUE READING BELOW
Scotch tape – For fresh dirt stains on leather, just get some tape and remove the dirt. It will come right off.
Shampoo – For mud on your shirt, soak it in warm water and sponge in some shampoo. Scrub then rinse!
Vinegar – A cup of vinegar to your regular laundry wash is a gentle alternative to bleach.
Remember to always do a spot check first before applying the treatment, and then launder your clothes right after. Don't tumble dry until the stain is out or it will become permanent!
Illustrations by Gab Gutierrez
Main image from Getty Images

Related Stories from Preview.ph
Hey, Preview readers! Follow us on Facebook, Instagram, YouTube, Tiktok, and Twitter to stay up to speed on all things trendy and creative. We'll curate the most stylish feed for you!