Slim's Fashion and Arts School students took inspiration from their childhood for this year's student work exhibit. With the theme Laro, they were encouraged to turn their childhood toys, games, and memories into bold and colorful garments. While the designs are supposedly playful, the craftsmanship of the pieces are complex, expertly demonstrating the technical skills they have learned in school.
The exhibition of students' selected work are installed at the SM Mega Fashion Hall, featuring oversized watch heads and whimsical sculptures accessorizing the clothes. Their exhibit is open to the public and will run from September 27 to October 3 during mall hours.
See all their work below.
Dinnes Obusan
Dinnes created a terno inspired by the popular street game Chinese garter. The young designer used handmade jersey pipings draped to form the garment and finished the look with Swatch's multi-colored digits on the Fountain of Colors watch head.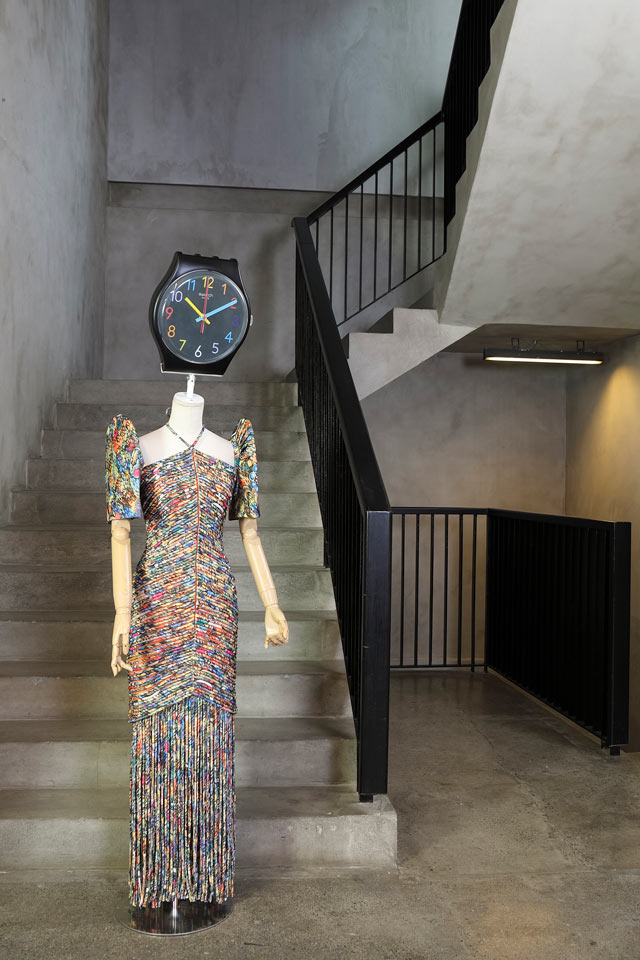 Meanwhile, the second piece was inspired by Sipa. Dinnes fashioned a gown with a cape embellished with gold buttons and feathers.
ADVERTISEMENT - CONTINUE READING BELOW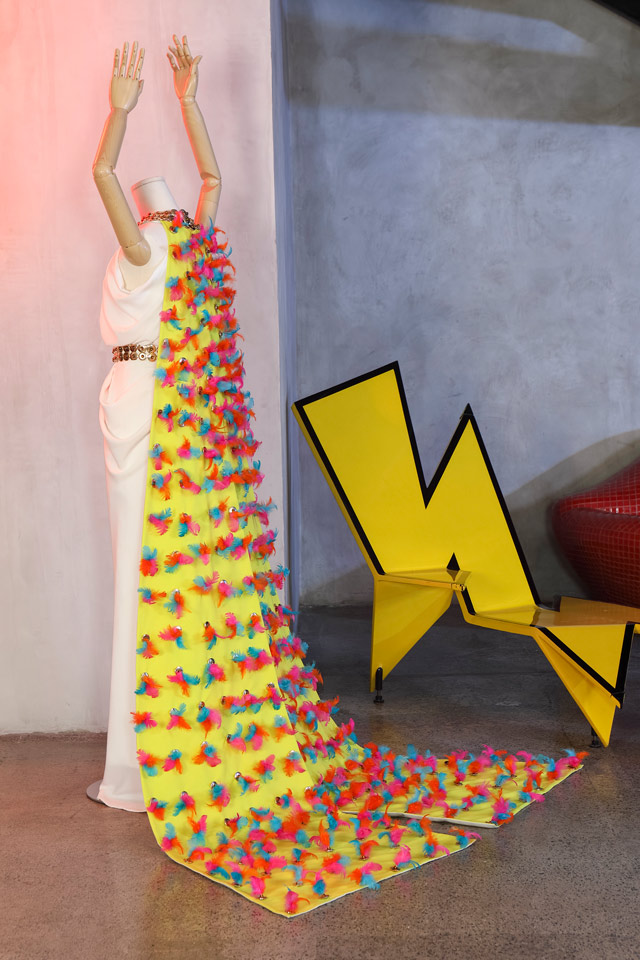 Yvonne Tabanao
Yvonne's hand-dyed barong takes after the Japanese boardgame tsuro.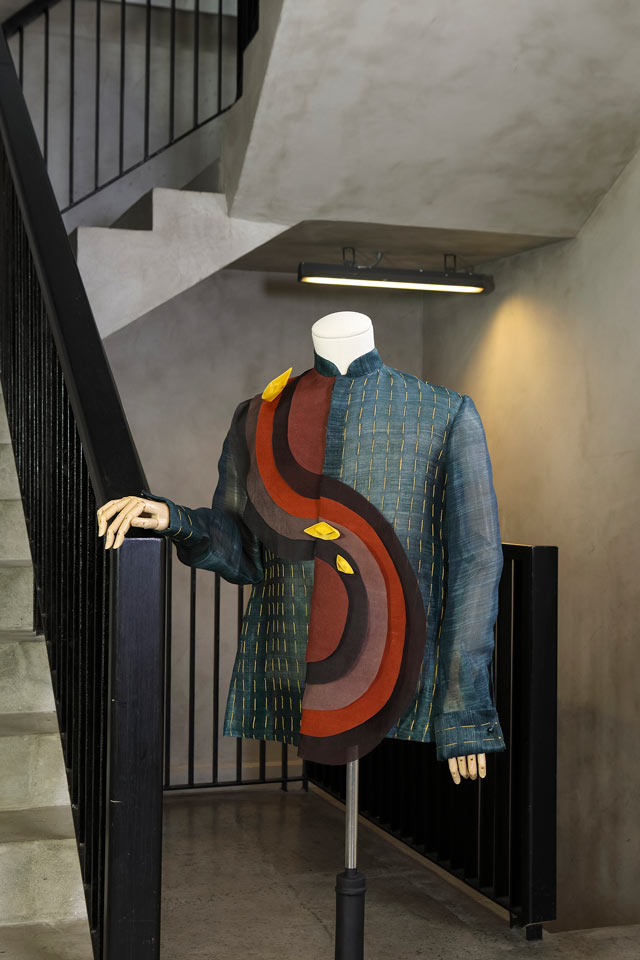 Paloma Picart
Paloma repurposed denim pants and juxtaposed the fabric to create contrast in an organza gown. This combination is supposed to depict Cinderella's transformation from rags to riches.
Marvien
Marvien merged the terno with a man's suit, its sleeves echoing tubular kites.
ADVERTISEMENT - CONTINUE READING BELOW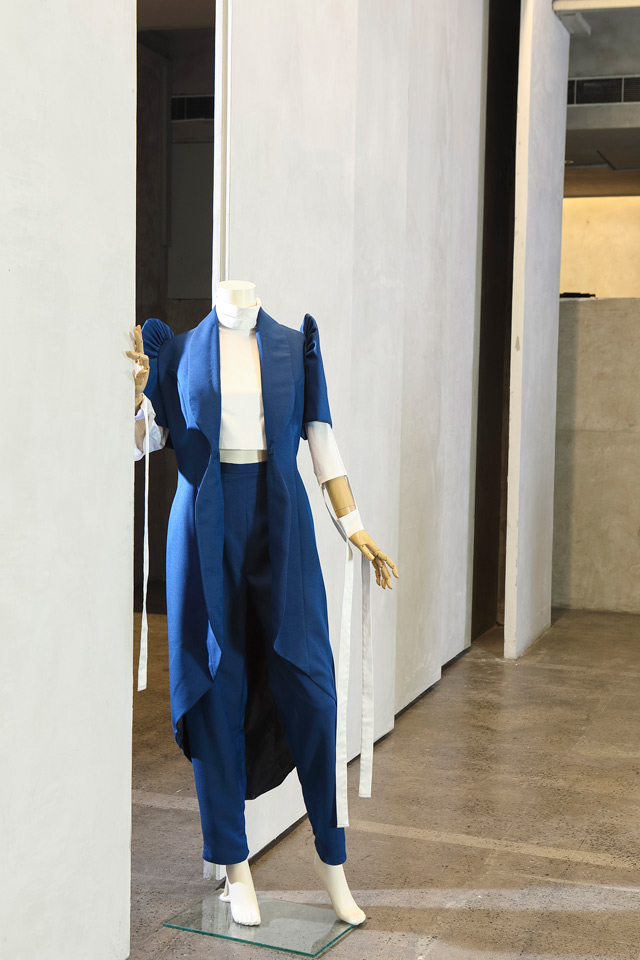 Miel Avena
Miel showcased a 3D interpretation of a kaleidoscope's prism on this indigo barong.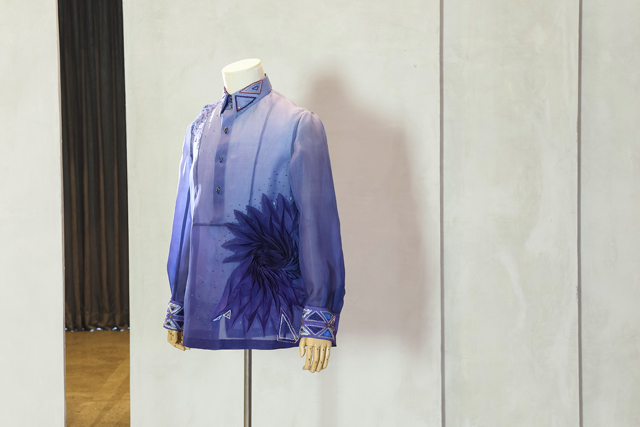 Marilen Maniulit
Marilen made a barong with a Dragon Boat race motif, featuring embroidered appliqués and carved wooden paddles.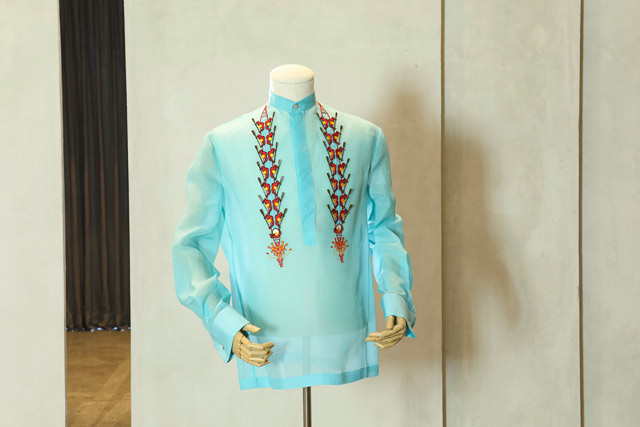 Damaris Chua
Damaris' theme was centered on Chinese kites, featuring hand-painted details in a Ming porcelain color palette.
ADVERTISEMENT - CONTINUE READING BELOW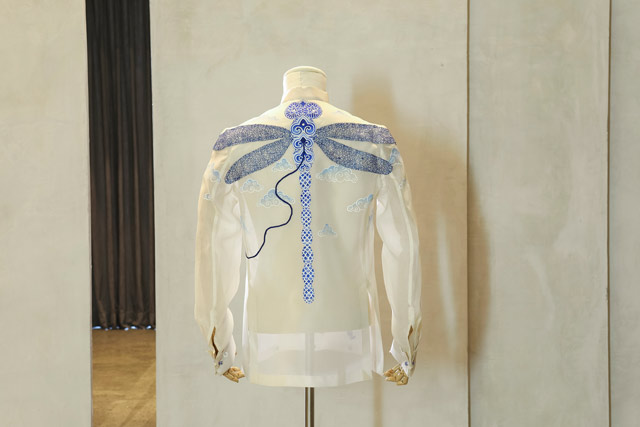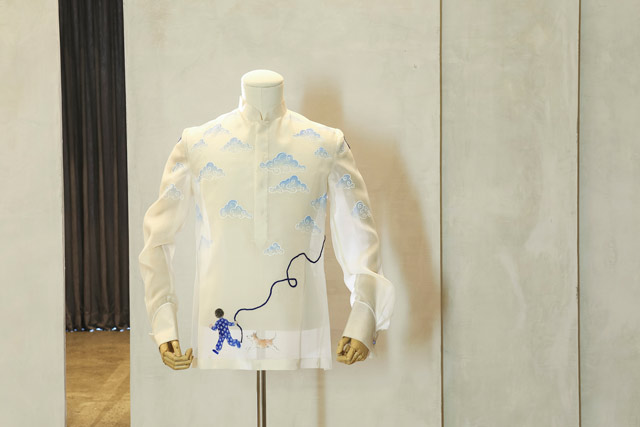 Moon Lei
Moon Lei's piece is a jigsaw puzzle-inspired outfit with a hand-painted portrait and handcrafted dragonfly appliqués.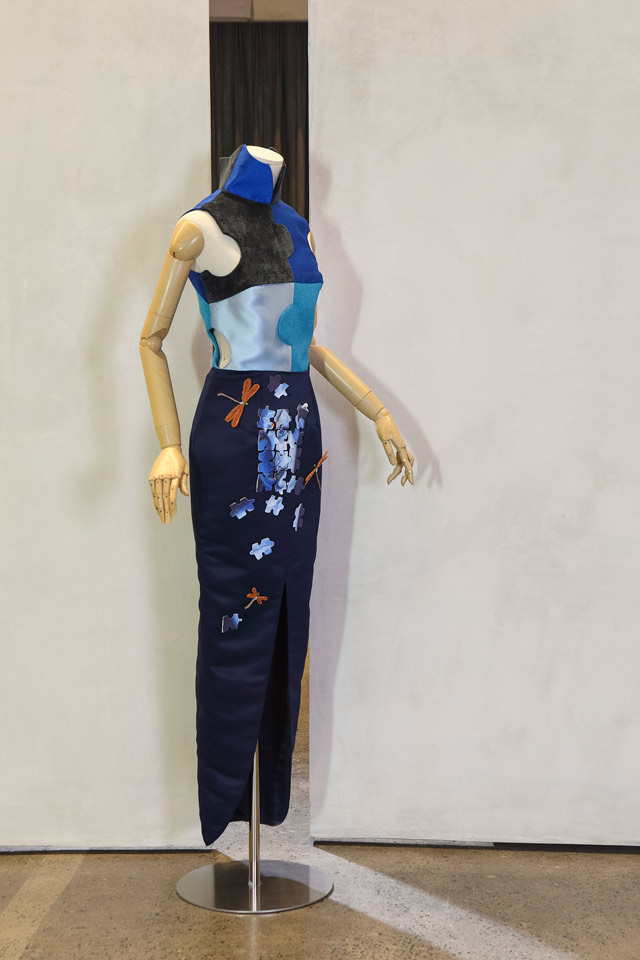 Agie Stockel
Agie's dress was inspired by the origami game Fortune Teller. Each panel was hand-painted with faces of shifting emotions.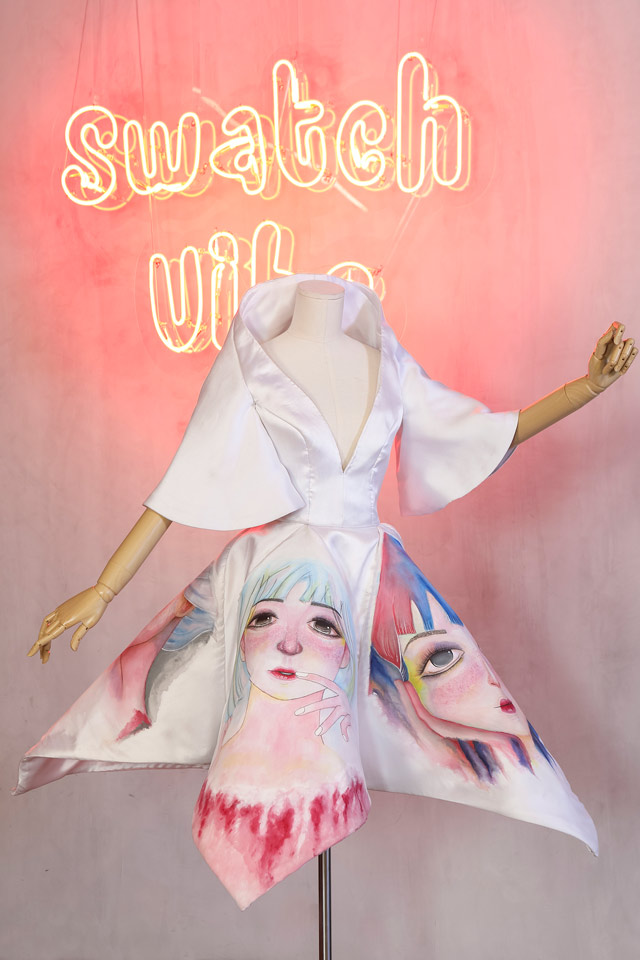 Vanessa Pinlac
Vanessa's piece is Roy Lichtenstein art turned into clothing. She used a custom-printed fabric to create a terno pantsuit inspired by comic books.
ADVERTISEMENT - CONTINUE READING BELOW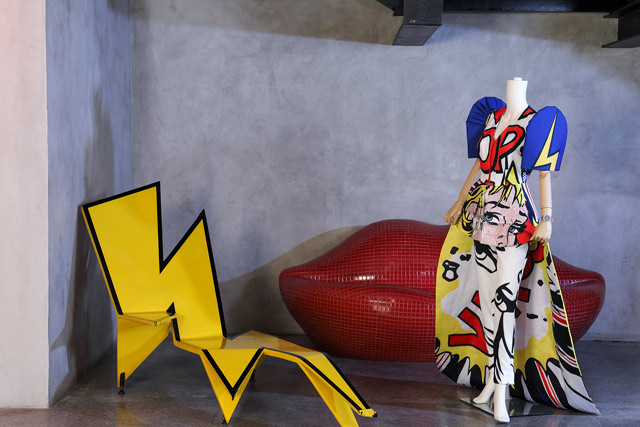 Peachy Gregorio
Peachy's garment is a three-piece ensemble inspired by the versatility and bold colors of Lego blocks.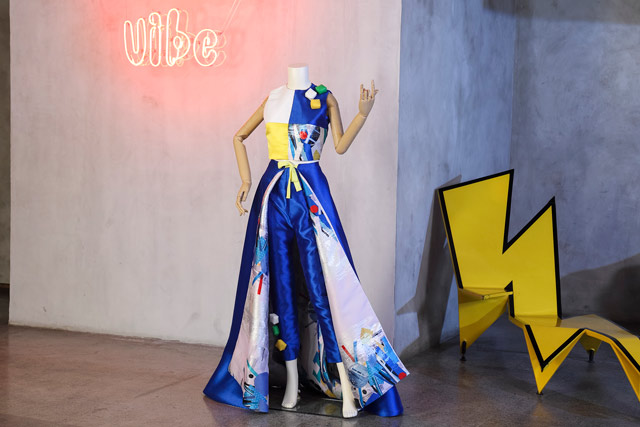 Jochebed Bawalan
Jochebed created a two-dimensional terno inspired by paper dolls.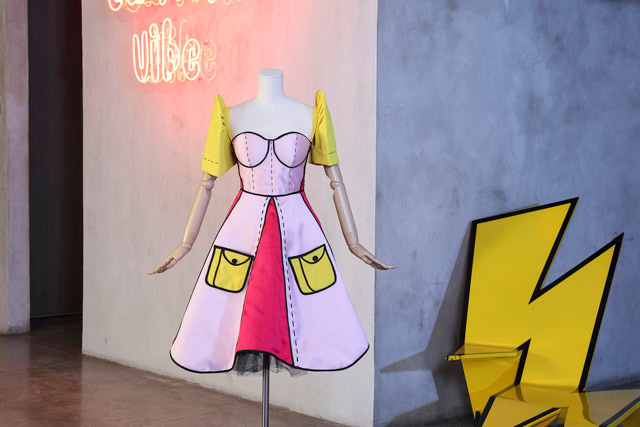 Courtney Liongson and Marigrace S. Joyce
Courtney tailored a jumpsuit (Left) with an exaggerated peplum appliquéd with symbols from playing cards, while Marigrace created a playing card-inspired terno (Right) with references to Alice in Wonderland.
ADVERTISEMENT - CONTINUE READING BELOW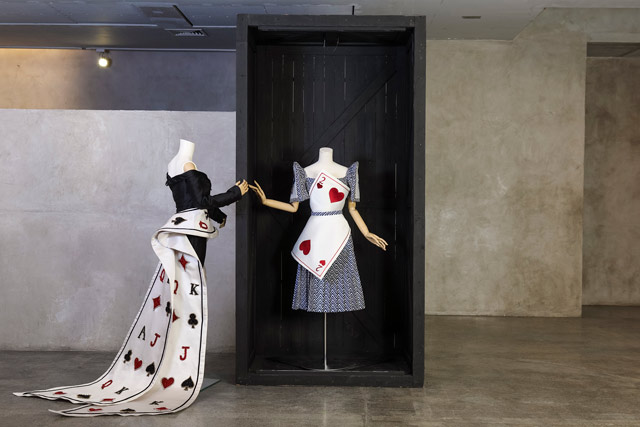 Caress Carranza
Caress fashioned a clean-cut silhouette inspired by the Queen of Diamonds, and paired it with the Telefon Maison glow-in-the-dark watch head from Swatch.
Megan Lev
Megan combined embroidered and appliquéd elements on a short dress to resemble a pinball machine.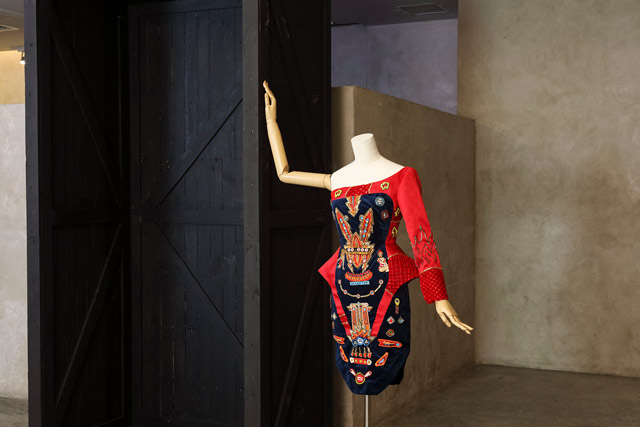 Banjo Cordero
Banjo's color-blocked spiral shift dress takes after a paper pinwheel.
ADVERTISEMENT - CONTINUE READING BELOW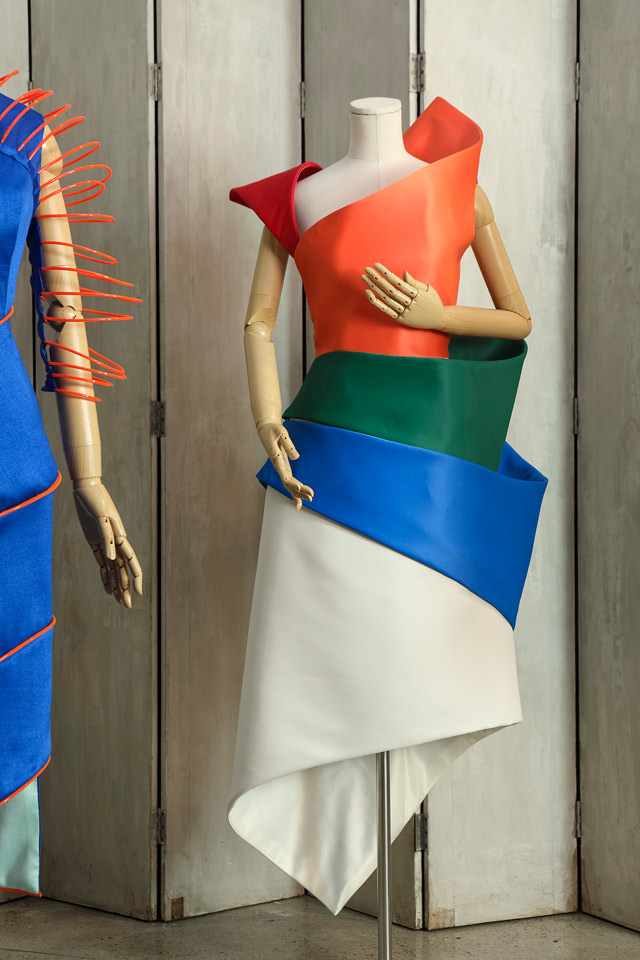 Eliza Jane Miranda
Eliza's asymmetric cocktail dress was inspired by a slinky, a multi-colored childhood toy that resembles a spring.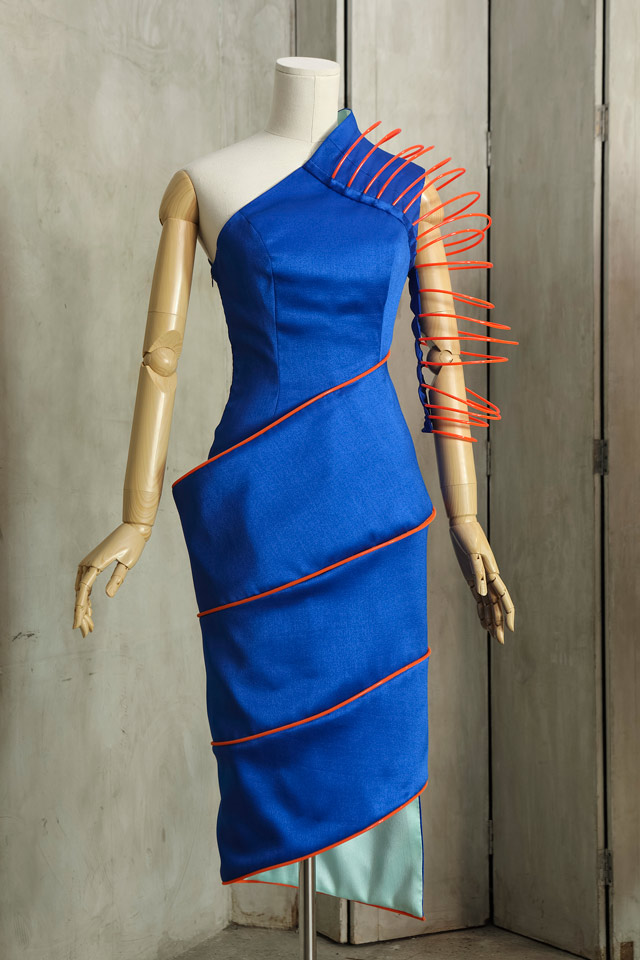 Abdul Gaffar
Abdul's barong features drapings and pleats to replicate the colors inside marble. The garment's colors complement Swatch's Fountain of Colors watch head.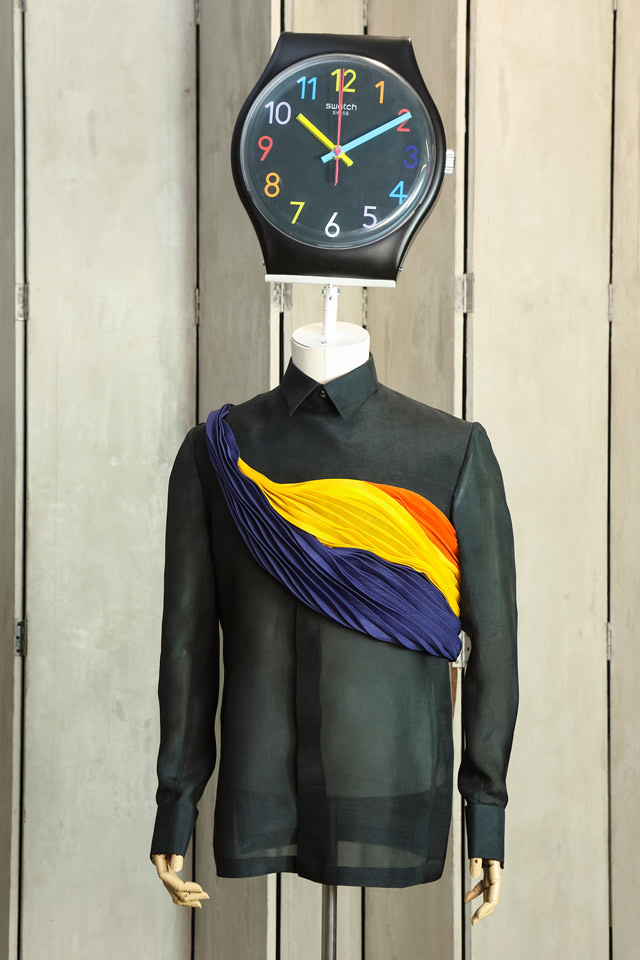 Claire Arguelles Francisco
Claire plays on the retro years by making an ensemble inspired by the '80s arcade game Pacman, which features a seamless vinyl cape.
ADVERTISEMENT - CONTINUE READING BELOW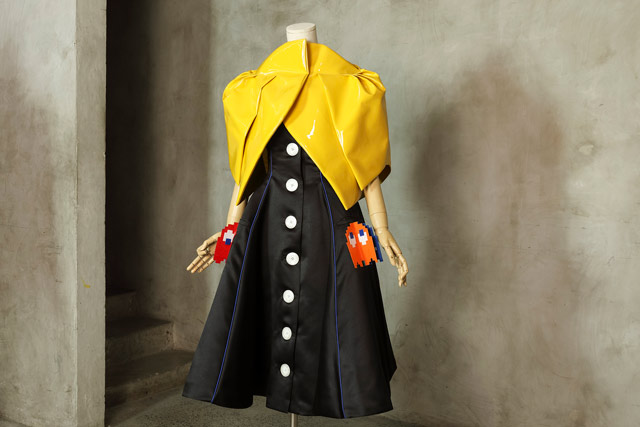 Nicole Gravador Pineda
Nicole also used Pacman as her inspiration; she modernized the traditional barong with street style elements by using different colors and textures.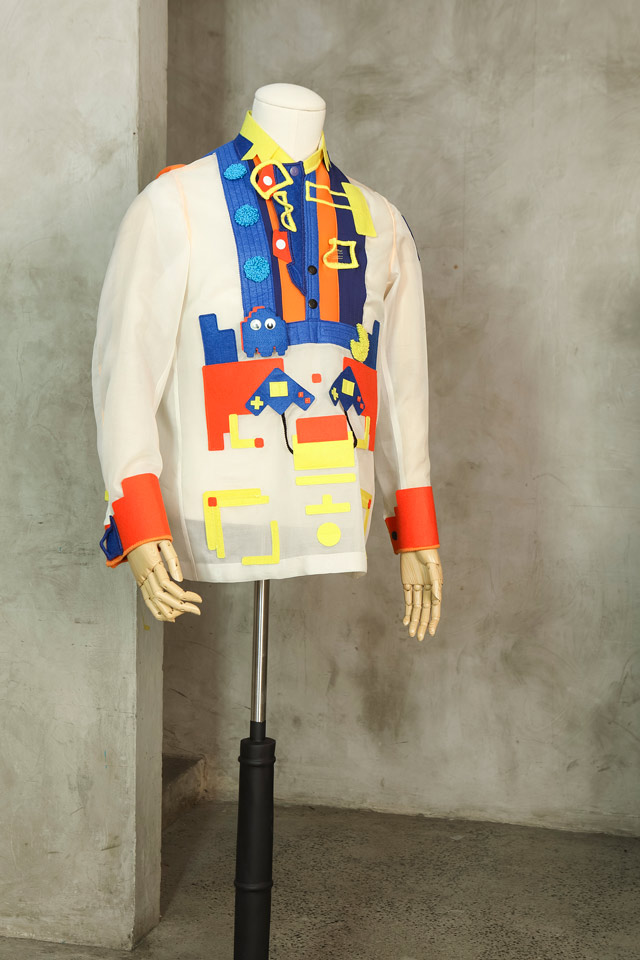 Isobel Juan
Isobel turned to jigsaw puzzles to make her pastel-hued evening gown. The outfit is accessorized with a colorful psychedelic watch head from Swatch.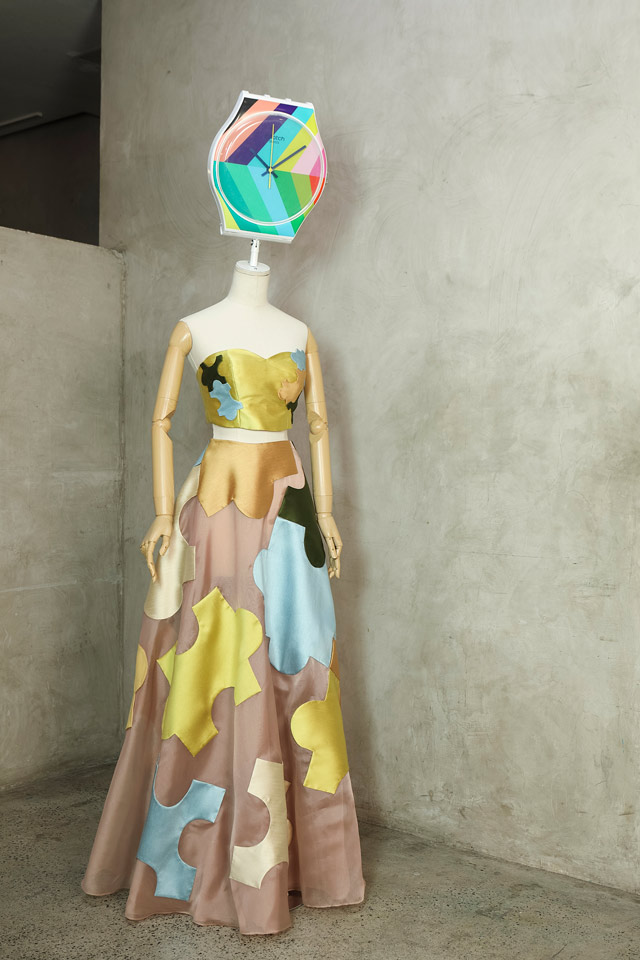 Camille Go
Camille tailored a barong with hand-painted appliqués inspired by sabong (cockfighting).
ADVERTISEMENT - CONTINUE READING BELOW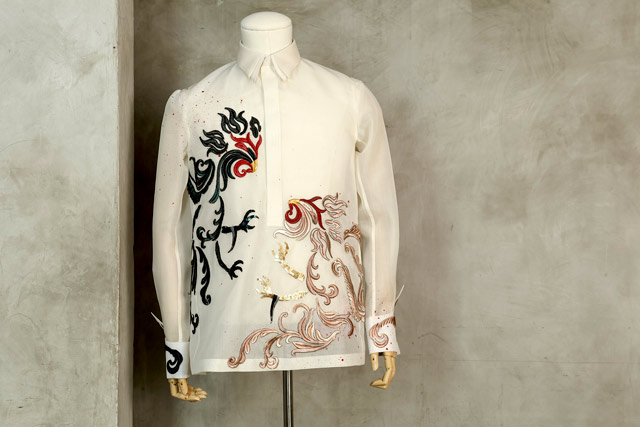 Jomar Saldo, Abby Capio, and Erica Jimenez
Jomar employed the shibori technique to create 3D bubbles for his dress. Next to the ivory dress, Abby created a Gundam robot-inspired outfit made with neoprene and handmade piping. Meanwhile, Erica created a structured dress with iridescent layers that emulate the armor of the salagubang beetle.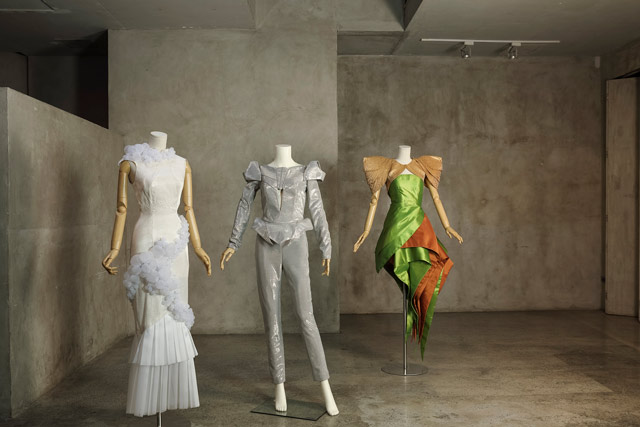 Here's a closer look at their work:
ADVERTISEMENT - CONTINUE READING BELOW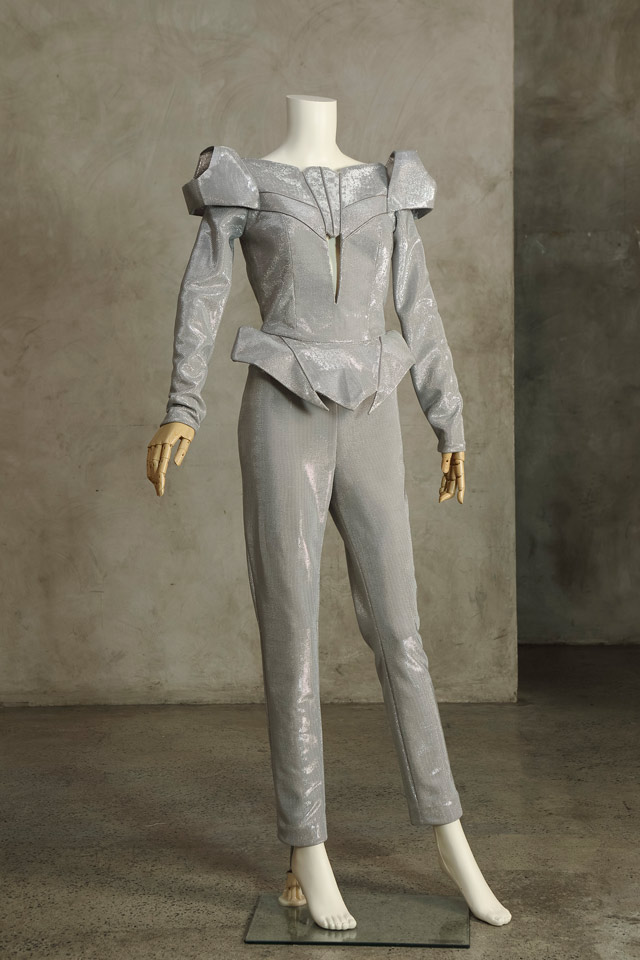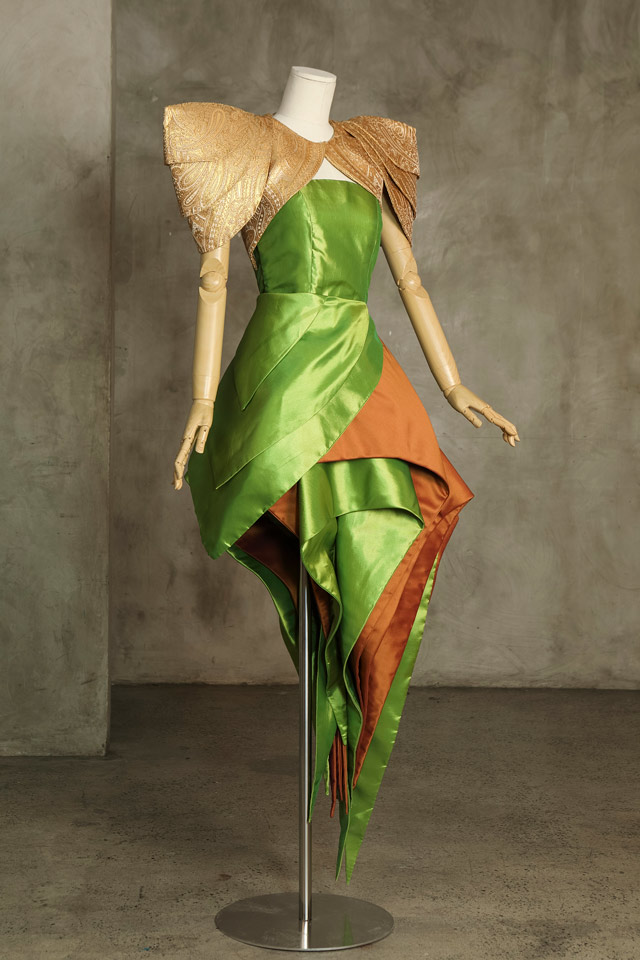 Ivy David Reyes and Joey Almonte
Ivy used colorblocked kites with ribboned tails as a playful embellishment on her dress, while Joey created a cocktail dress with panels and a folded bodice that resembles paper airplanes.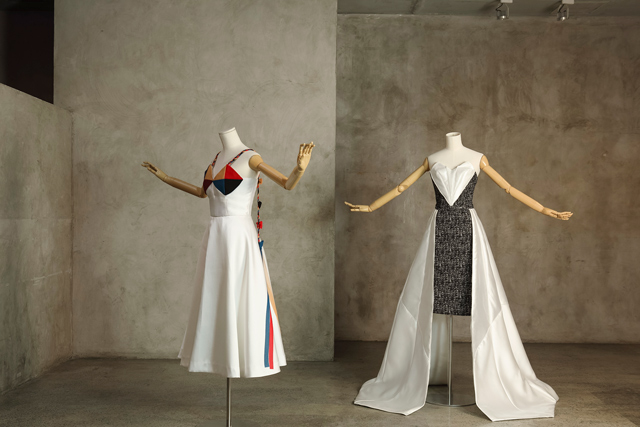 Eula Esguerra
Eula's cocktail dress is crafted with reinforced organza ruffs and was inspired by the local nursery rhyme Bubuka ang Bulaklak.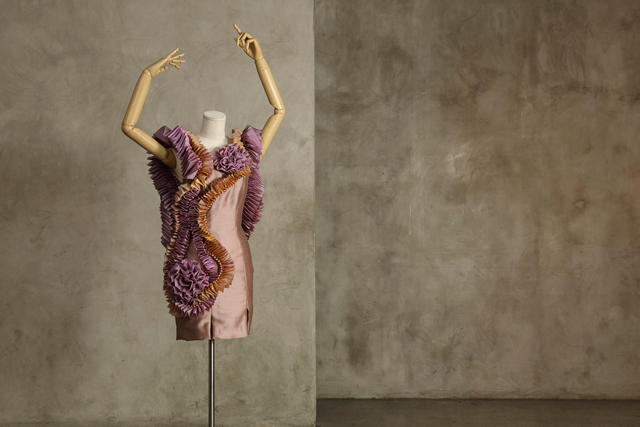 Ariane Dolendo
Ariane sketched a garment inspired by kites.
ADVERTISEMENT - CONTINUE READING BELOW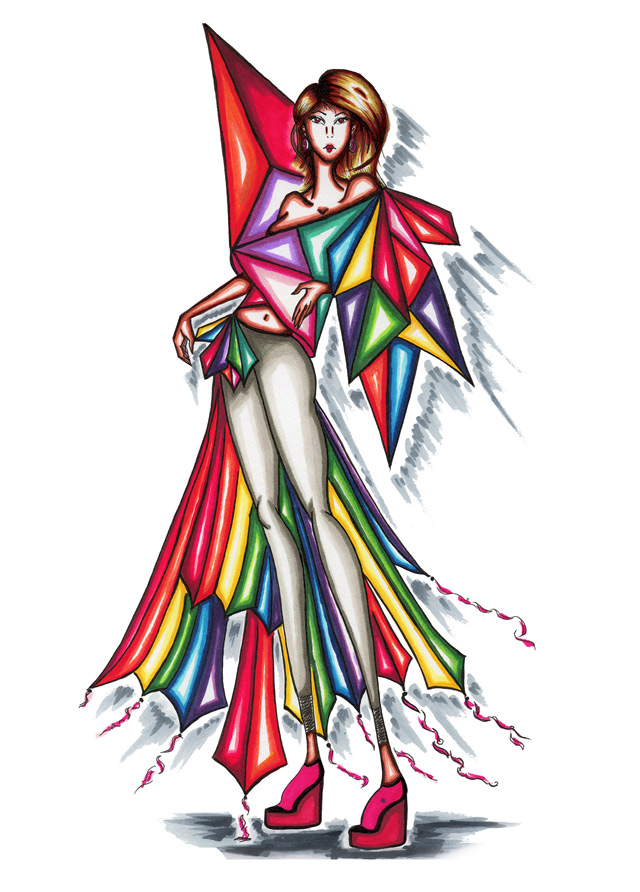 Dastyn Nicole de Jesus
Dastyn's sketch, on the other hand, was inspired by board games.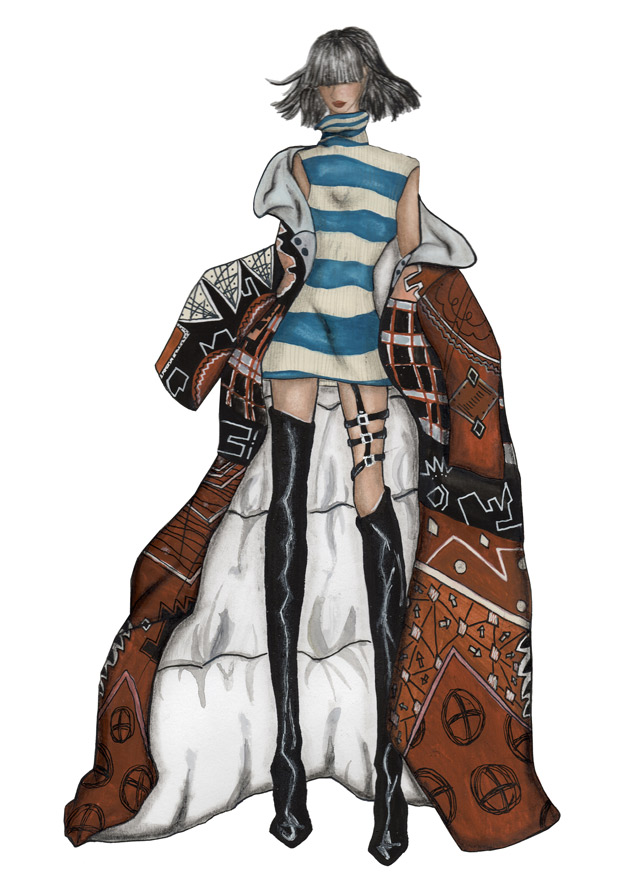 Je Valeriano
Je was inspired by folding paper balls and Swatch's color palette for its new collection.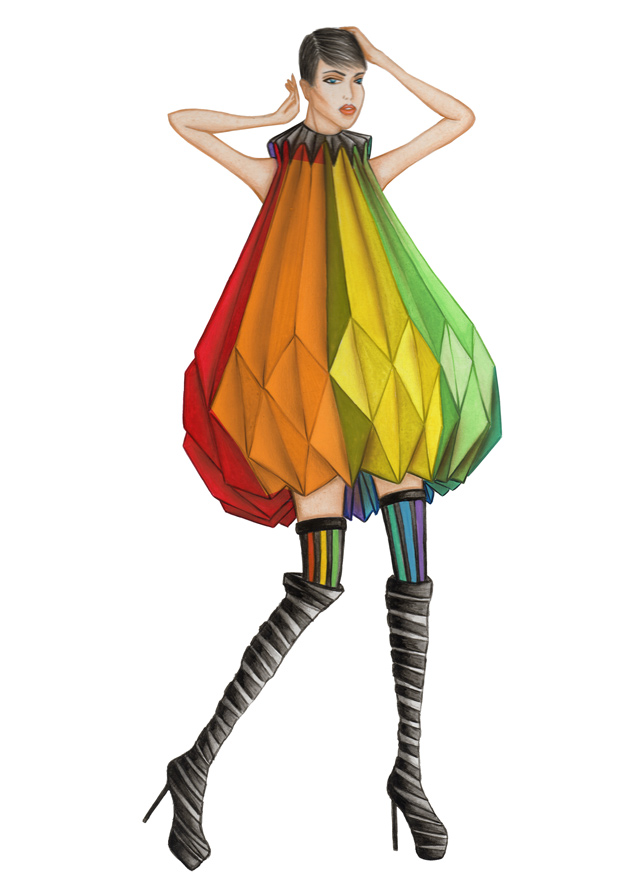 Jen Ortega
Jen draws a garment inspired by galaxy games, aliens and Swatch's Telefon Maison watch.
ADVERTISEMENT - CONTINUE READING BELOW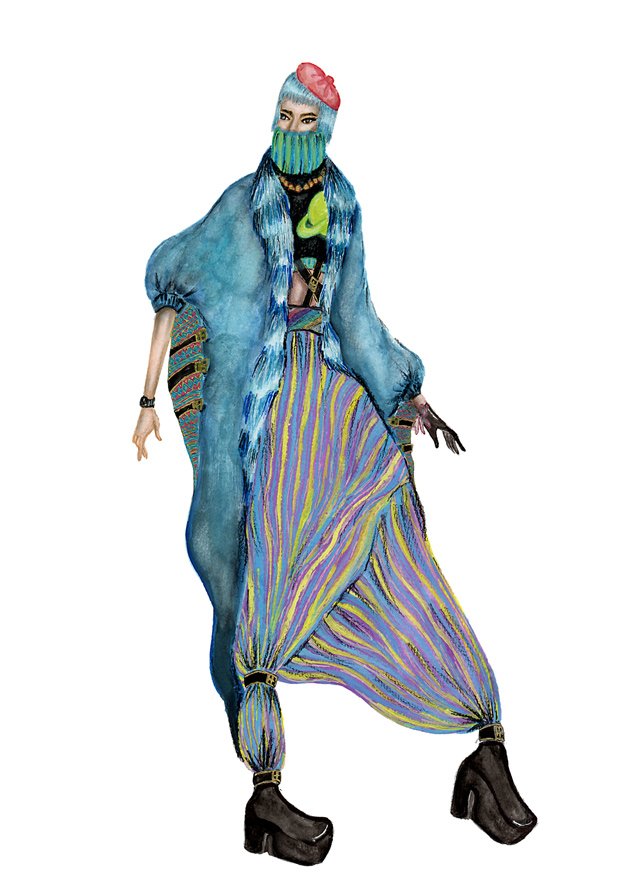 Jocel Anne Lafuente
Jocel took inspo from the game of checkers.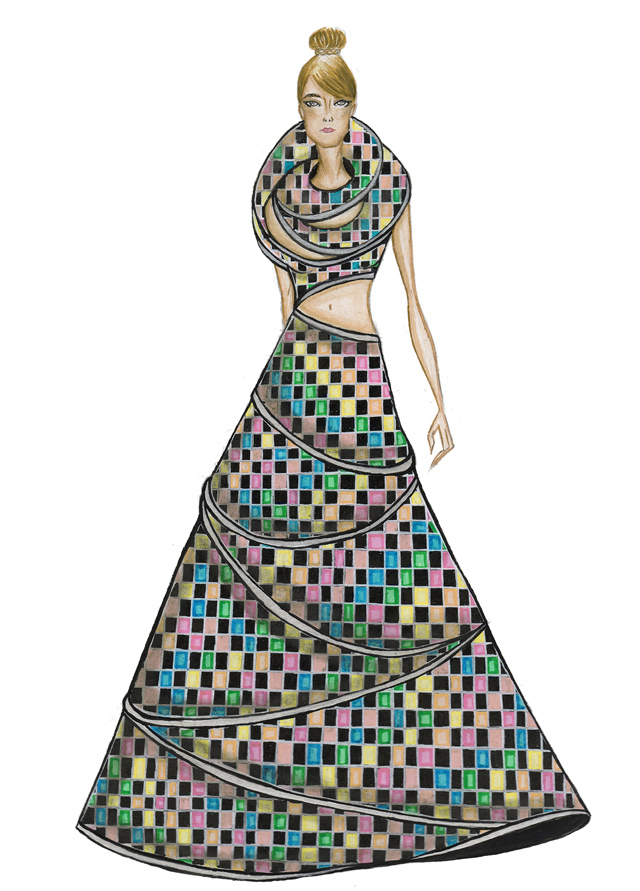 Mickey Gonzales
Mickey drew inspiration from a merry-go-round for this fashion illustration.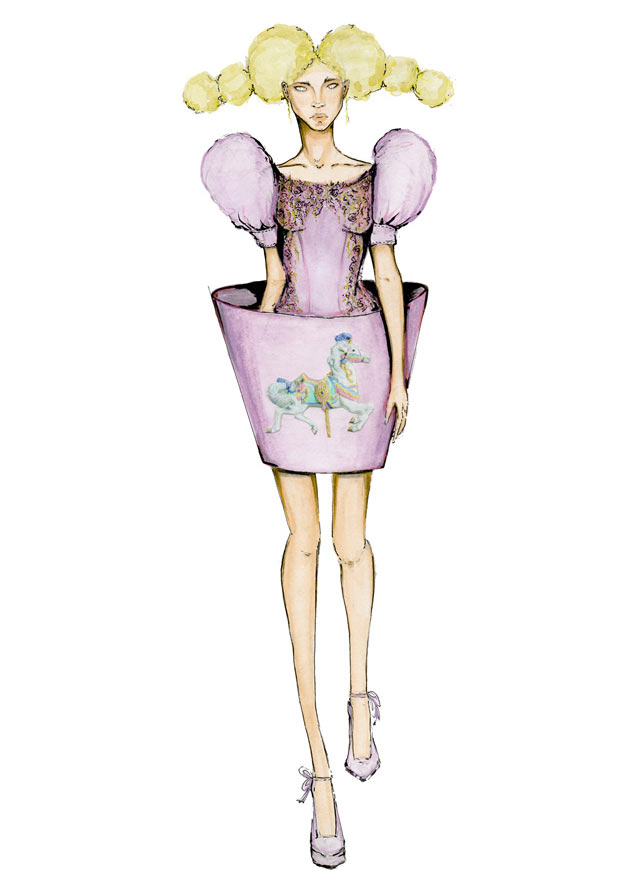 Pau Pascual
Pau's look took after the game hopscotch.
ADVERTISEMENT - CONTINUE READING BELOW