At the mention of Sassa Jimenez, fashion girls would heave a lustful sigh over the local designer's creations. Her designs understand a woman's love for allure, easy glam, and femininity, making Sassa a top pick for when one is in need of a masterfully made frock.
A decade later, she's now celebrating her anniversary in the industry with a thoughtfully curated collection that illustrates her career as a designer. Entitled "Ten," the collection essentially encapsulates her growth as a designer. It exemplifies, too, all her learnings in the world of fashion, which includes the grit it takes to manage a business. Below, she shares with Preview her most cherished moments in the fashion biz, the golden lessons she's learned, and the merits of going under the radar.
How would you describe you design philosophy and aesthetic?
"I always make it a point to be playful with my designs. I really see fashion as a means of expression and I want to make sure women know that every day is an opportunity for reinvention."
ADVERTISEMENT - CONTINUE READING BELOW
You've been in the business for 10 years. How has your style evolved through the years?
"I think my style has matured in way. I still design with the same sense of whimsy as when I began, but now I'm more mindful of comfort and function, which are key elements when it comes to fashion."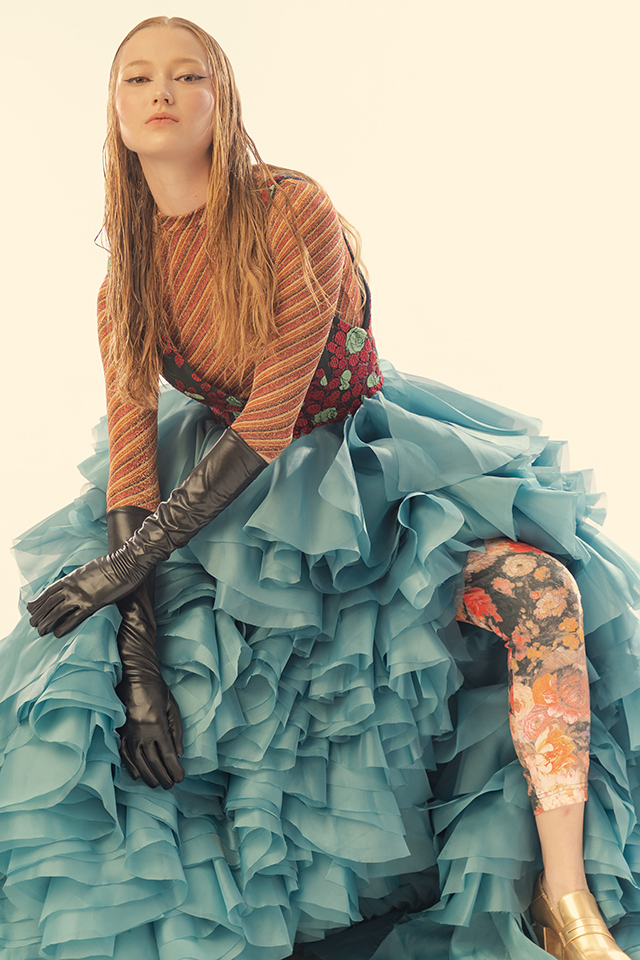 ADVERTISEMENT - CONTINUE READING BELOW
Recommended Videos
Do you still remember how you started? What motivated you to be a designer?
"As a child I was always interested in art and design but never really thought of it as [my] career path until my mom encouraged me to explore the world of fashion. She was always into clothes and beauty and I think that's an interest that I learned from watching her enjoy all of it."
What are the greatest lessons you've learned when it comes to fashion? How about its business side?
"So many lessons have been engrained in [me] over the years. More than designing and constructing garments, a big hurdle for me was to learn how to run my business as efficiently and effectively as I can. Client relations, employee management and, most of all, budgeting have been the greatest lessons so far."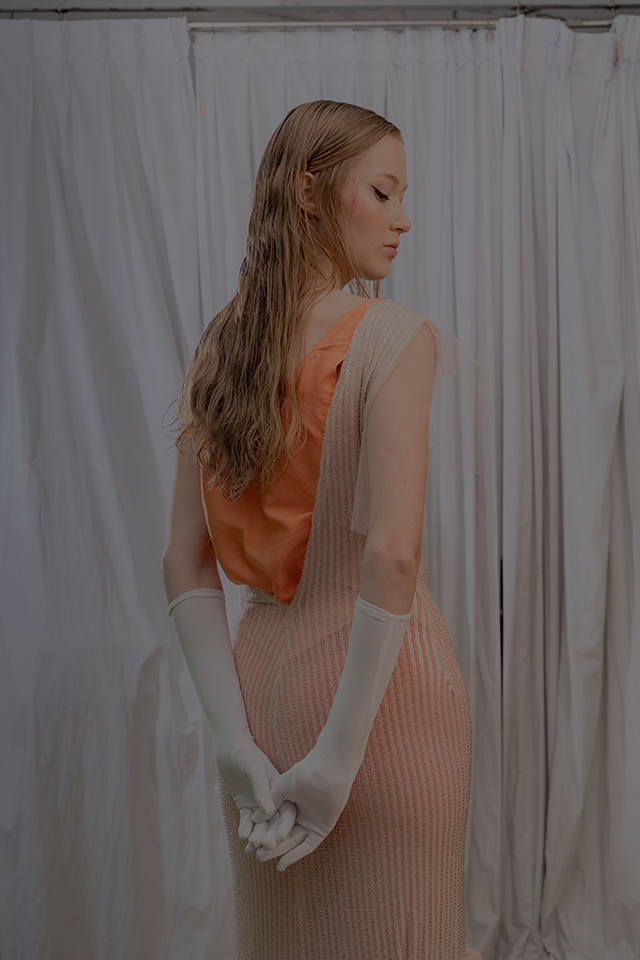 ADVERTISEMENT - CONTINUE READING BELOW
At what point did you realize that you've made it in the industry?
"I've been in fashion for a while but I still see myself as a beginner and I think that's what keeps me motivated to keep learning, adjusting, and innovating. It's a humbling experience in my shop everyday, each day is different. Sometimes we fail, sometimes we experience success, but all of it have been important lessons that we keep note of so we can move forward. My greatest accomplishments are and have always been happy clients and happy employees."
Surely, your career as a designer is not as easy as it seems. Do you recall your lowest points? How did you overcome them?
"There have been countless low points for sure. I began very young so there were a lot of things that I took for granted. It was not easy to enjoy what I did and manage a business at the same time. There was a time that scheduling and keeping our production line in check were such a disaster for me that I had to take some time off just to realign with myself and restructure my process. I think what helps me overcome failures like that is taking a step back and admitting where I am weak. The only way for my studio to thrive is for us to constantly improve the way we work."
ADVERTISEMENT - CONTINUE READING BELOW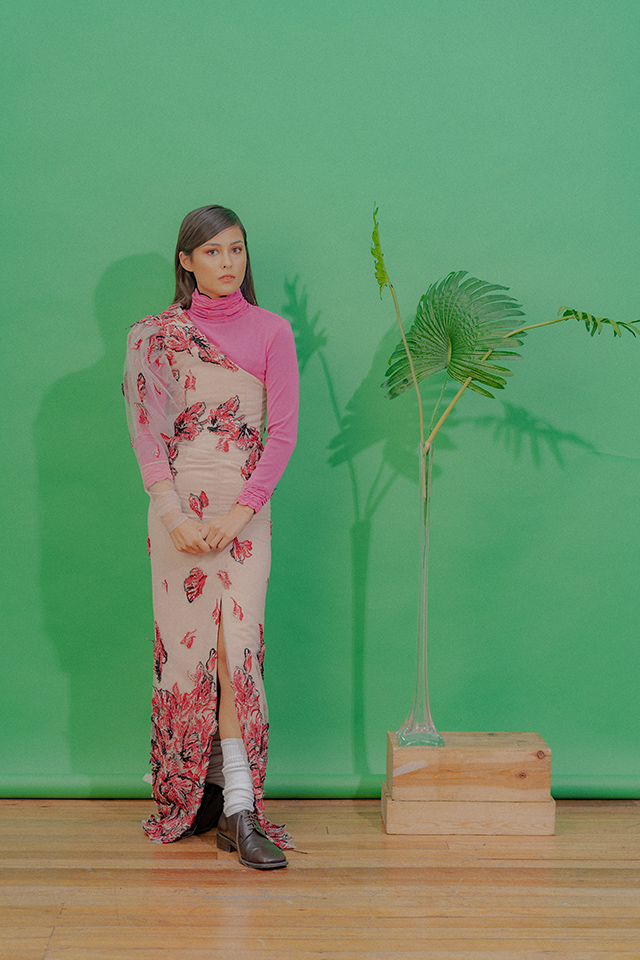 What do you consider to be your strength as a designer? On what areas are you looking at improving?
"I think my strength lies in the fact that I don't take clothes too seriously. It's always fun, always playful, and I think people see that through the clothes and it makes them want to join in on the fun. I'm constantly trying to find better materials, better technique, and [better ways of] managing our fabric waste."
ADVERTISEMENT - CONTINUE READING BELOW
Can you tell us one memorable or your most treasured experience as a designer?
"My favorite moments are always the final fitting with my clients, seeing them happy in my clothes is the most precious thing to me. Apart from that, my first ever show at PhFW will hold a special place in my heart."
ADVERTISEMENT - CONTINUE READING BELOW
What do you think is your most triumphant feat as a designer?
"Definitely having staff that have also been with me for all 10 years. I would not accomplish anything if it weren't for them. They really are the stars of my studio."
Let's talk about your anniversary collection. How did you conceptualize it? What inspired you to create this special collection?
"I conceptualized this collection a little differently. I see the garments more as stand-alone pieces rather than things that are connected with each other (which is how I design all of my other collections). I did that because everything is a call back to what I've enjoyed designing in the past, reimagining them and modernizing the designs."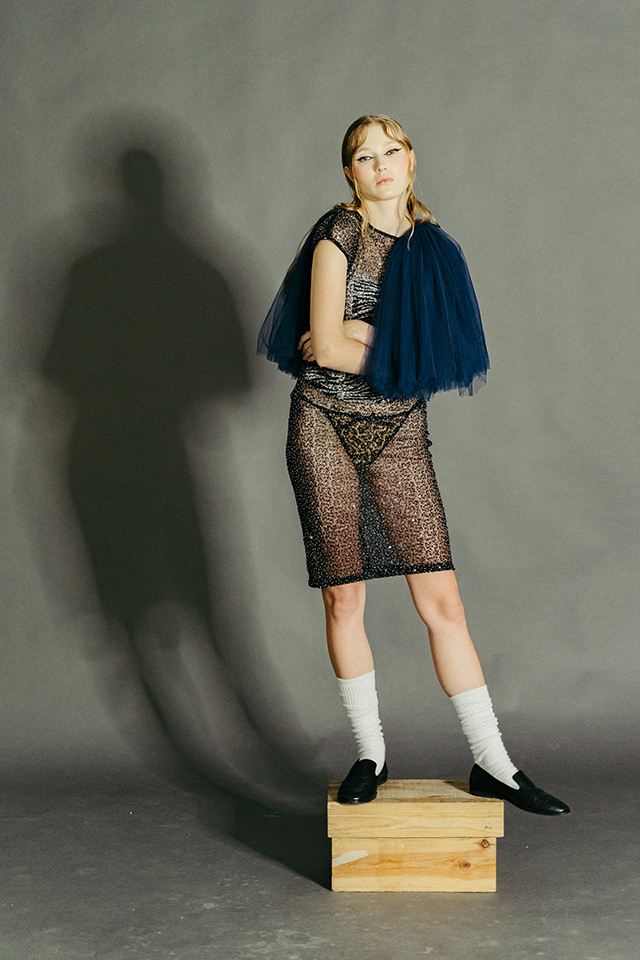 ADVERTISEMENT - CONTINUE READING BELOW
We noticed you used a lot of innovative techniques and materials for this collection. Could you describe/explain to us how you incorporated these into your designs?
"There are several techniques that I specialize in, and these are the techniques that have reinforced my signature style. For Ten, I wanted to revive and improve these techniques with the same playfulness I've always been known for. It's an homage to the looks that have brought us here 10 years later."
How does the collection sum up or exemplify your design philosophy?
"This collection is definitely the embodiment of everything our studio stands for and what I enjoy doing. Everything is a mix of whimsical and bold pieces. I love dramatic and unusual details."
Do you have a favorite from your collection?
"My favorite would have to be the blue green ball gown with the layered train. It's so extra."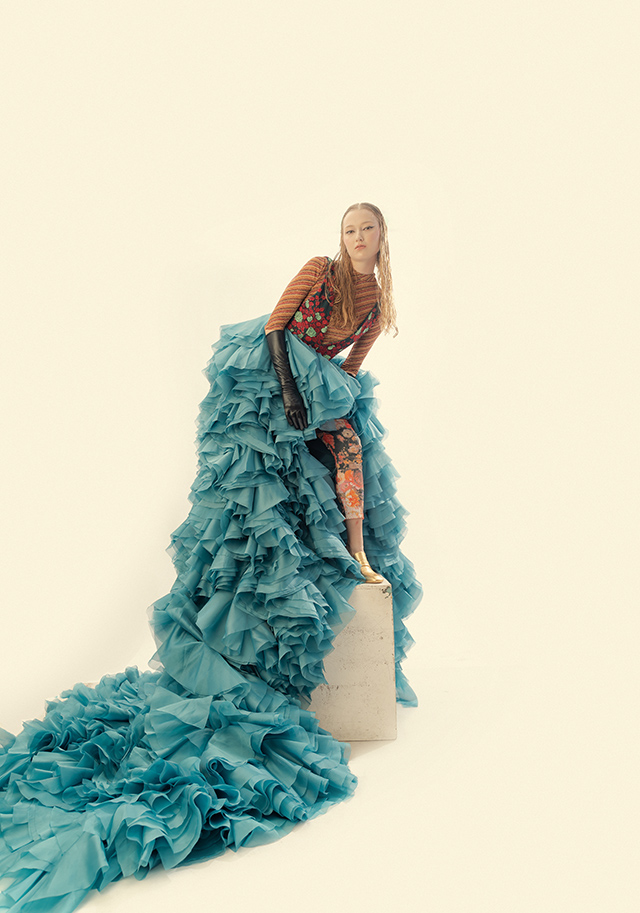 ADVERTISEMENT - CONTINUE READING BELOW
As a local designer, how would you describe the Filipina's fashion sense now, compared to when you first started?
"I love how Filipinas have evolved and been more adventurous with their fashion. It's always a treat to see women who don't conform to trends, women who put comfort first, or women who really create their own unique look. It's quite empowering to see Filipinas become more fearless with self expression. It's an amazing time to support this new mentality."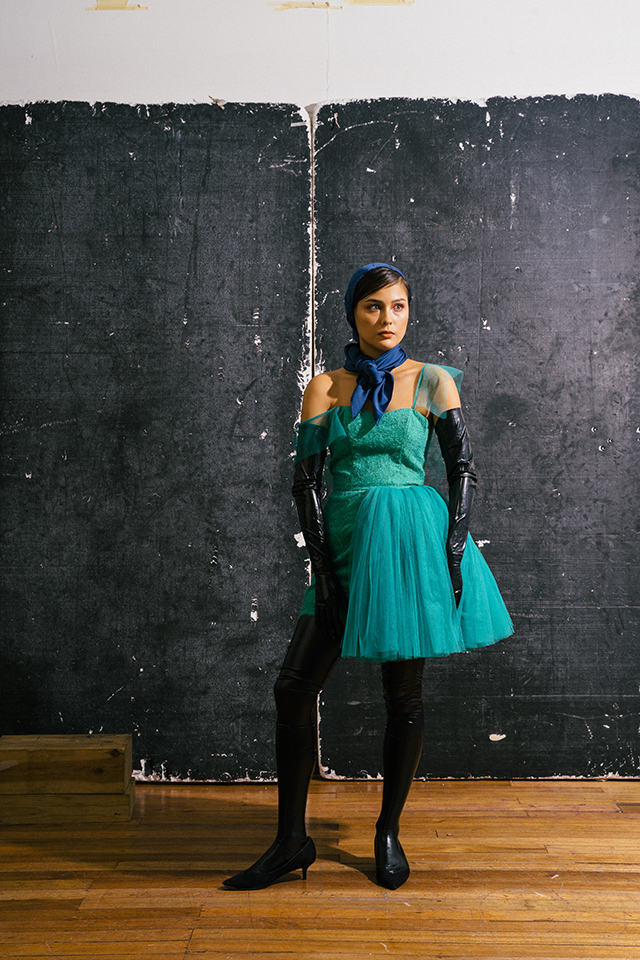 ADVERTISEMENT - CONTINUE READING BELOW
Finally, we've noticed that you've been under the radar these past few seasons. Have you unsubscribed to following the traditional fashion calendar now? How is that going for you?
"I actually love being under the radar because I get to concentrate more on client work and client relationships, which is something that's very important to me. I think there is a time to focus on your business and your craft, and there will always be a time to peacock your brand. I believe it's this balance that keeps brands relevant, it's also a way for me to stay sane in a very competitive and fast paced environment."
Related Stories from Preview.ph
Hey, Preview readers! Follow us on Facebook, Instagram, YouTube, Tiktok, and Twitter to stay up to speed on all things trendy and creative. We'll curate the most stylish feed for you!