If there's anything all the "new normal" weddings have shown us, it's that love truly wins. Given the constraints of the pandemic, couples have resorted to intimate ceremonies that are simple yet no less stylish. The show must go on for bridal designers as well, and a lot of them had been operating their shops right before the modified quarantine was announced. One designer who recently released her latest RTW collection is Rosenthal Tee, known for her well-crafted ensembles that marry the whimsical and the modern.
The collection features gowns in familiar silhouettes that are injected with contemporary details; like a ball gown with detachable puff sleeves and a sleeveless sheath dress with an elaborately beaded neckline. Just like the couples who couldn't help but seal their love amid the pandemic, Rosenthal released the collection in the belief that people still look for a sense of beauty in their lives. We totally agree with her, and we're sure you will too once you check out her designs! Here's everything you need to know about the collection:
ADVERTISEMENT - CONTINUE READING BELOW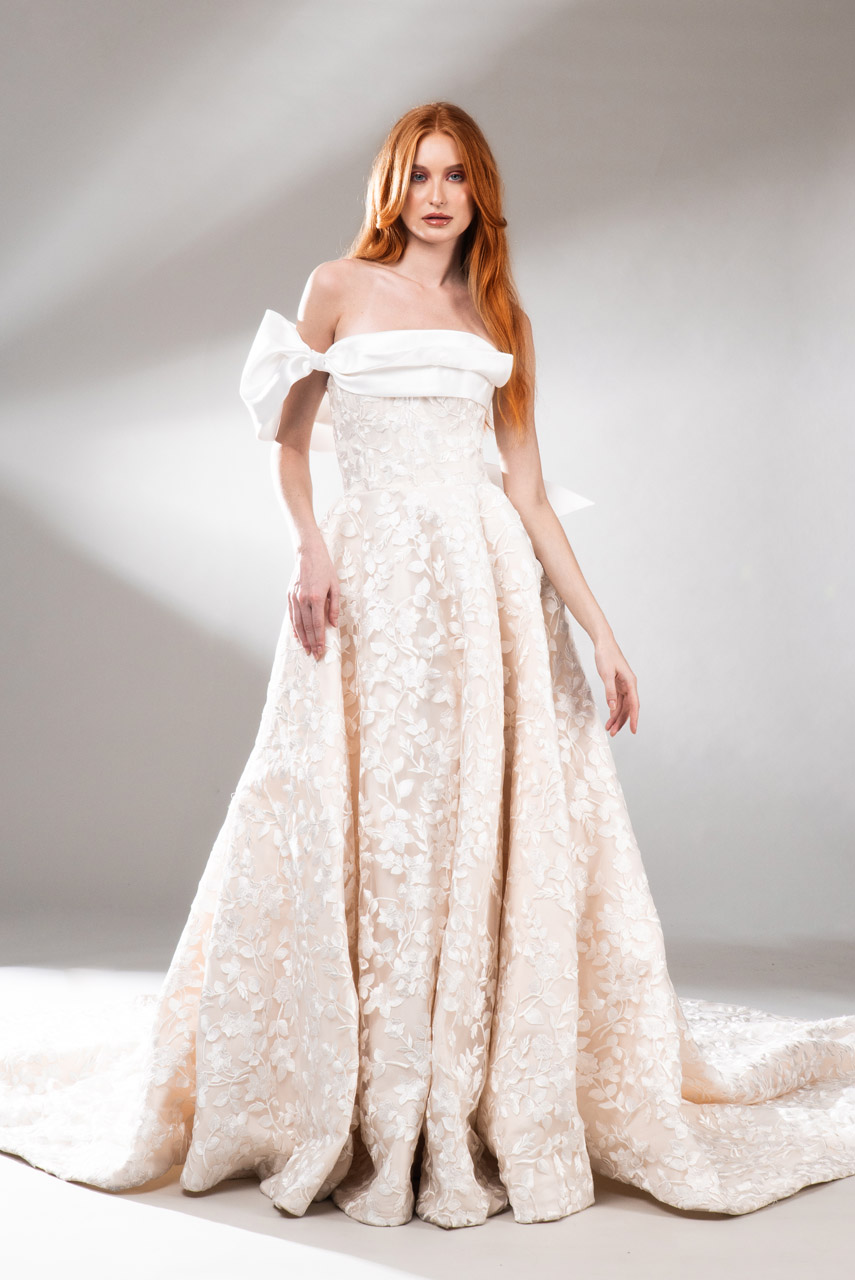 1. The collection is decadently glamorous.
Sure, plenty of brides have a case of "minimalism fever," but there are those who still crave for old-world glamour, and Rosenthal's collection definitely caters to the latter. Most of the gowns are grounded on voluminous details that aren't overbearing. In fact, they feel light as air, as seen on her delicately draped off-shoulder necklines and full skirts. Texture is what lends depth to this volume, and there's plenty of that in the form of ostrich feathers, heavy beading, and layered fabrics with floral motifs.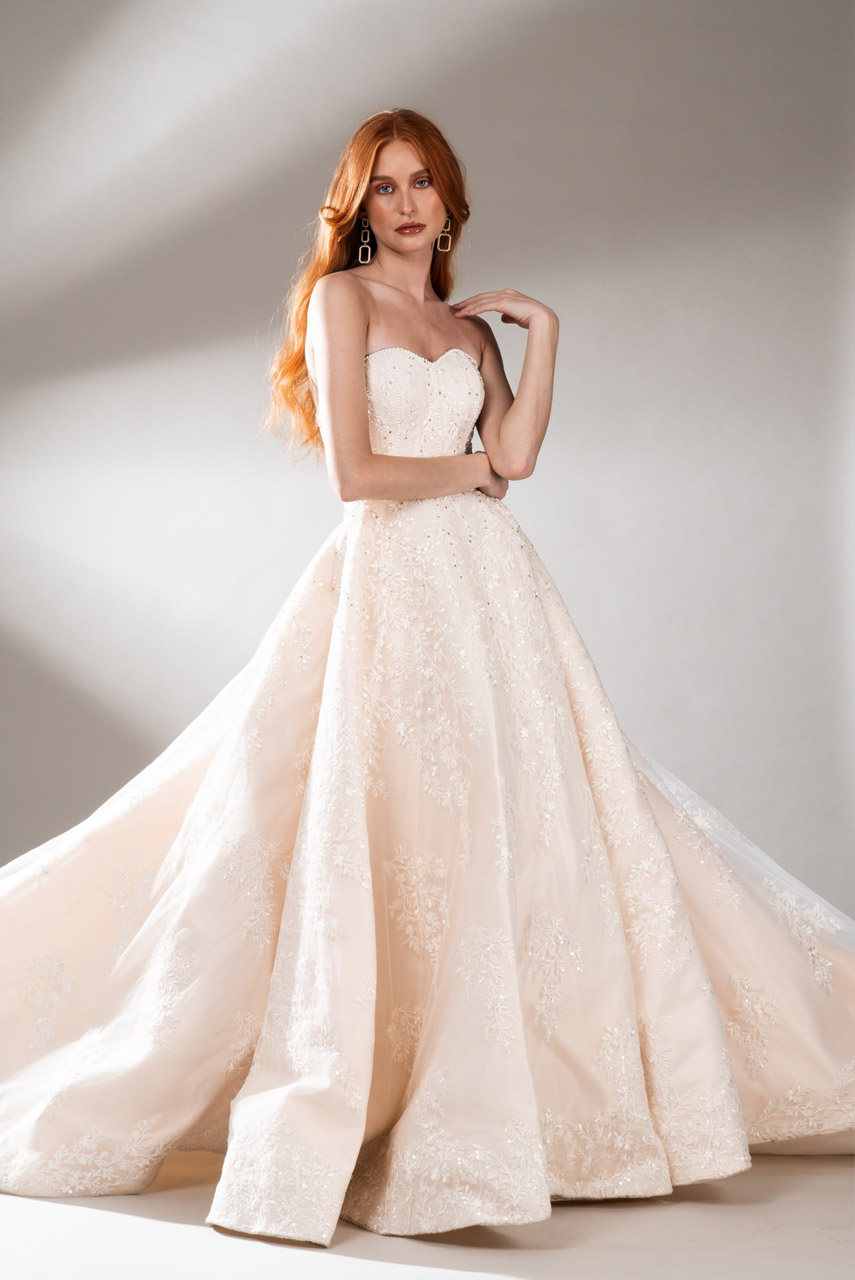 2. The collection's color palette was inspired by European sunsets.
The collection includes colors beyond the usual ivory, and that's because it was inspired by the warm hues of European sunsets. "I was particularly inspired by my buying trip to France and Turkey in mid-2019 (and thank God I went last year instead of this year!), and was so taken by the mix of intricate details and the way they merge old-world couture into modern interpretations. It's really a mix of Eastern and Western sensibilities," she says in an email interview.
ADVERTISEMENT - CONTINUE READING BELOW
"I remember staring at the late sunsets (I think the sun only started to wane by around 9 or 10 p.m.), and seeing the way those colors would blend, because European light is definitely different from our tropical lighting. I echoed this into the use of shades in the collection. It's a warmer variation of porcelain, bone, peach, and powder blue."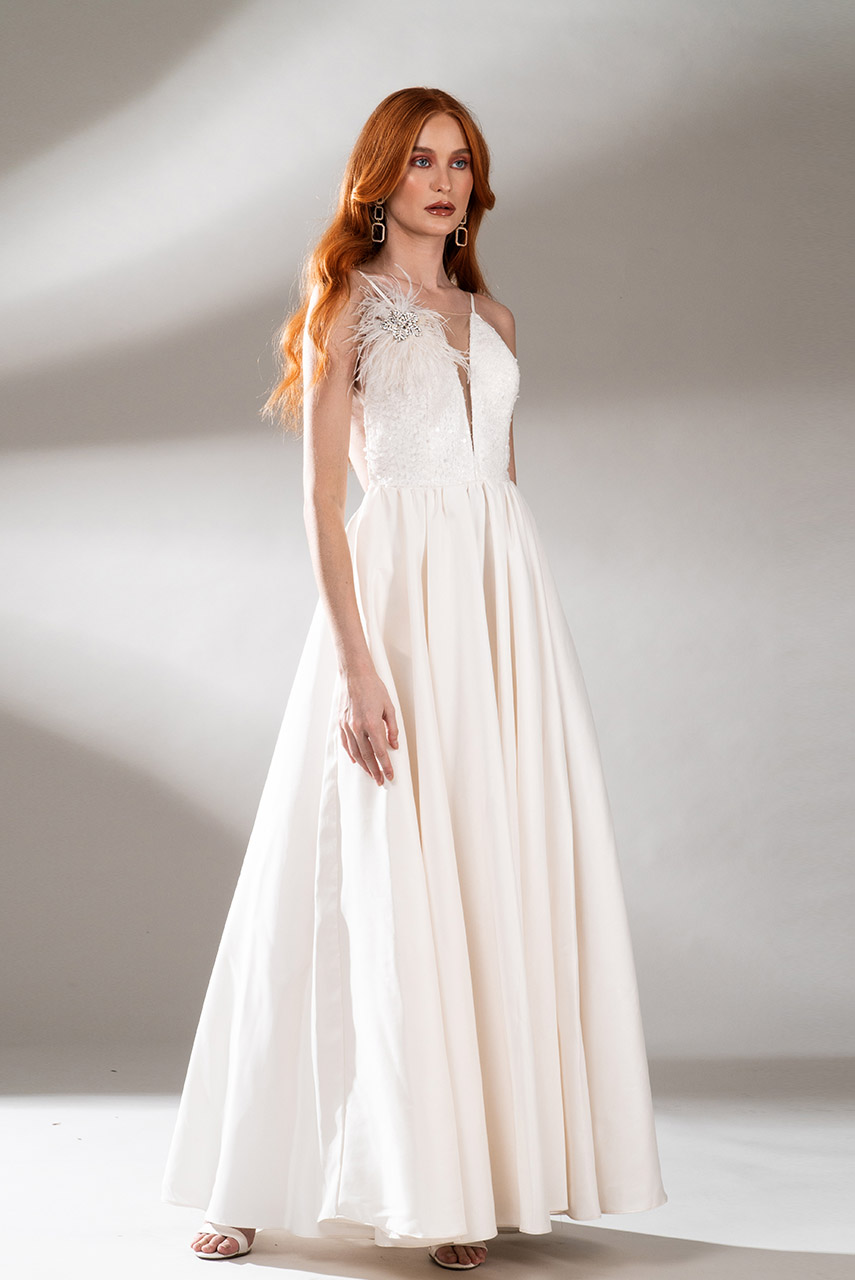 ADVERTISEMENT - CONTINUE READING BELOW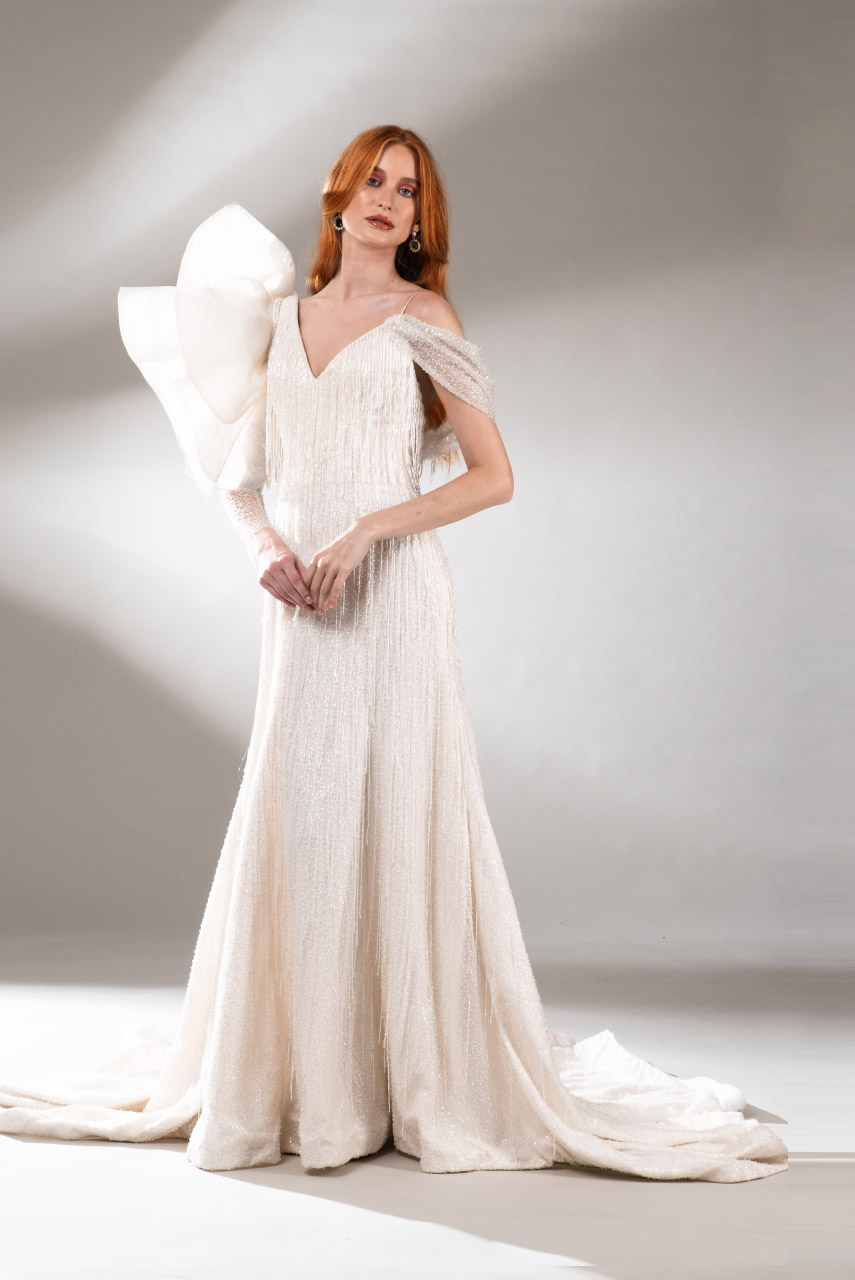 3. The collection is perfect for brides who aren't afraid to try new things.
If you think that going the non-traditional route for a wedding means wearing a multi-colored ball gown, well, think again. Trying something modern could simply mean adding unique touches to simple, classic silhouettes. Case in point: There's a gown in this collection with a classic floor-length skirt that hugs the figure with a sultry, plunging sleeveless bodice.
ADVERTISEMENT - CONTINUE READING BELOW
"I carried most of the lace from this buying trip. This collection is really a celebration of a free-spirited bride, with a preference for unique textures and colors in classic silhouettes. I envisioned this bridal collection set against rustic locations, and I think the play of decadent gown vis-à-vis nature-filled locations would make an excellent pairing visually," Rosenthal says.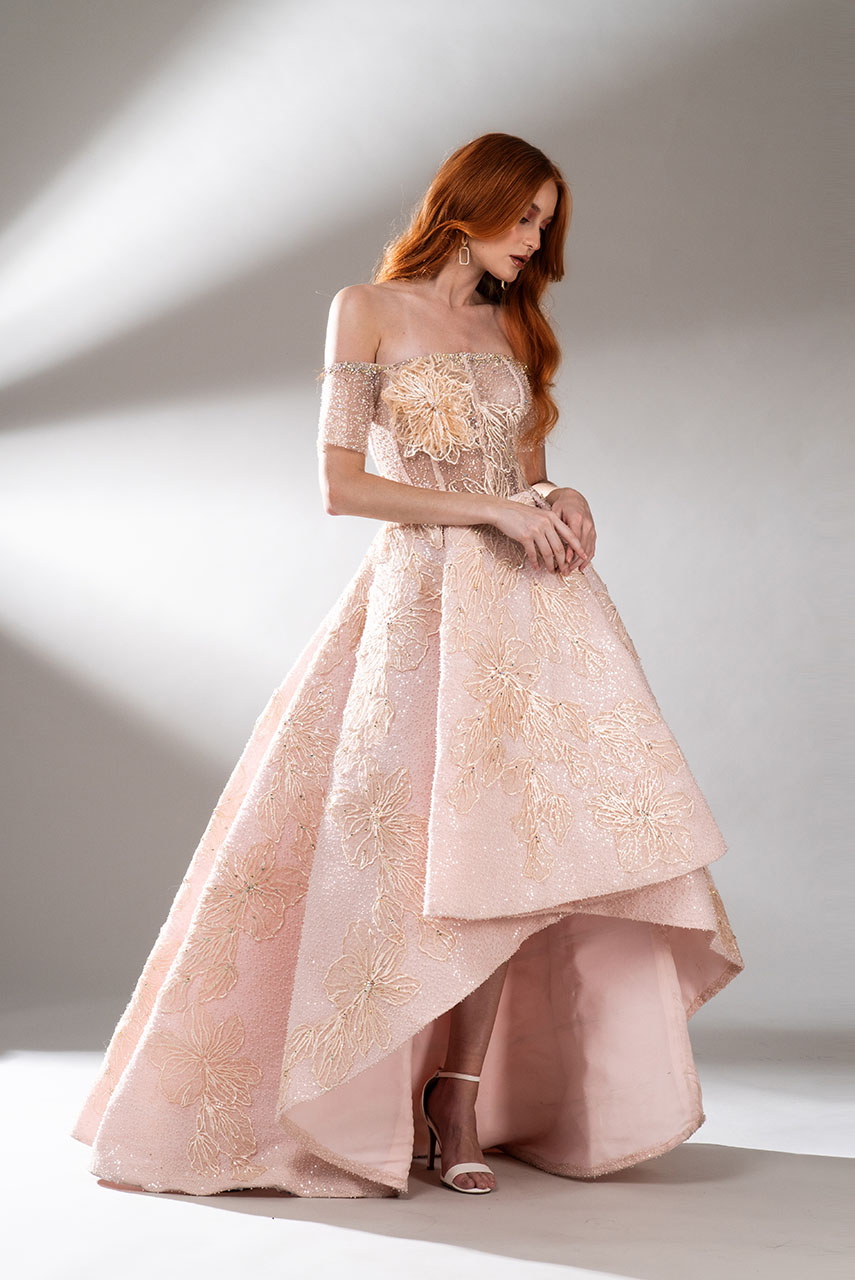 ADVERTISEMENT - CONTINUE READING BELOW
4. The collection's thrust is all in the details.
Rosenthal veered away from typical floral appliques and lace to try unique elements that add a touch of modern romance to the designs. To bring the warm, cream and peach colors to life, she threw in textured details.
"The gowns all have very unique interpretations in color, some more apparent than others, but I wanted to play with the idea of carrying shades of a desert sunset into the coloring of the pieces. I also wanted a more contemporary take on using classical bridal elements such as beaded foliage motifs and combinations of embossed feather-like textures to bring in a feeling of lightness despite some of the gowns being classically on the voluminous side," she shares.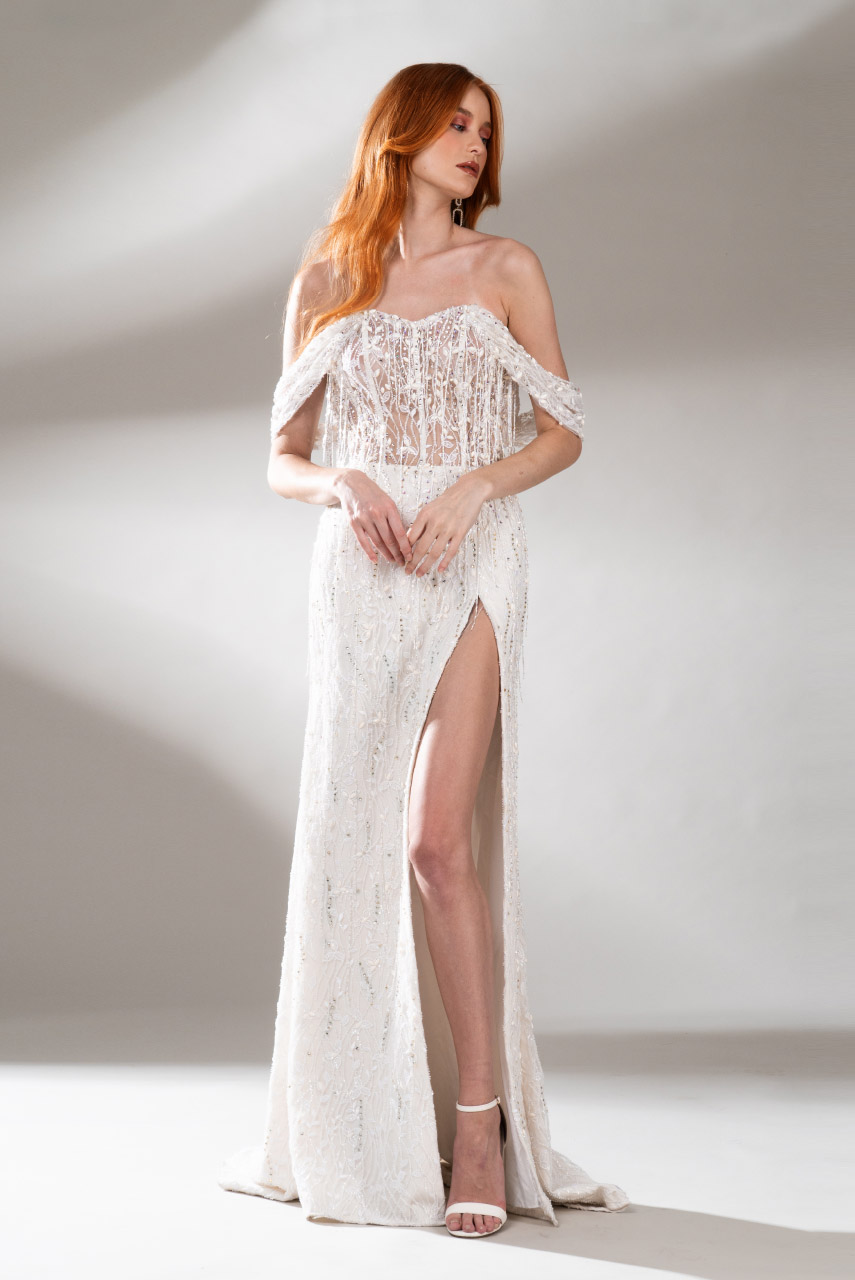 ADVERTISEMENT - CONTINUE READING BELOW
PHOTO BY

COURTESY OF ROSENTHAL TEE

5. The collection represents both classic and new normal bridal fashion.
When asked if she thinks bridal fashion has changed due to the pandemic, Rosenthal answered yes and no. She says that things have changed because generally, brides who have gotten married in this new normal have had romantic but minimalist gowns made to match the intimacy and simplicity of the ceremonies.
ADVERTISEMENT - CONTINUE READING BELOW
On the other hand, other brides are still waiting for the right time to hold their grand ceremonies, so their preferences remain the same: "As far as wedding-gown styles that are on trend right now, well-executed lace and beadwork on ball skirt styles are still very popular at my studio, and most brides I know still want bridal pieces with impact."
While there's a great deal of ornate gowns in the collection, there are also those that are more pared down, making this collection perfect both for intimate ceremonies and grand celebrations for when the time is right. Take your pick!
Hey, Preview readers! Follow us on Facebook, Instagram, YouTube, Tiktok, and Twitter to stay up to speed on all things trendy and creative. We'll curate the most stylish feed for you!