We pay tribute to the Fashion Czar of the Asia and celebrate his remarkable life, his ingenious craft and enormous contribution to the industry. In this article we published in August 2009, we visited the late Pitoy Moreno in his Malate home for a chat. Around the time of the interview, the designer had just been proclaimed National Artist by then President Gloria Macapagal-Arroyo. The Supreme Court, however, later on revoked the conferment of the award.
Read on below as he shares his highs and lows as a designer, as well as memorable images from his very own photo albums.
---
In his more than half a century in the fashion industry, Pitoy Moreno has accumulated a body of work so vast and so widely-publicized. In his heyday, his creations seemed to have obtained a life of their own, having had traversed the globe, touching ground in almost every continent (He's had 43 shows abroad!). It is precisely because of these Filipino designs that Pitoy was able to rub elbows with iconoclasts of his—and our—lifetime, and was able to fondly call some of them his friends. It is also this body of work that is now undergoing intense scrutiny, as Pitoy finds himself right smack in the middle of a burgeoning controversy.
Preview sat down with this Philippine fashion great and conversed about this hot topic, as well as his colorful years in the industry.
When did your love affair with fashion begin?
"Siguro when I was still young, during the war. I was around 10 or 12. There were two brothers who were one house or two houses away from our house. I loved to see them make dresses! I'd go to them and look at the way they would make clothes—the cutting, the fitting. At first I was just looking at them and then after awhile, they'd tell me 'sige, you thread the thread.' I got thrilled that they gave me something to do, even if sometimes I made mistakes.
ADVERTISEMENT - CONTINUE READING BELOW
"After the war, I entered UP. I wanted to take up Law but I was late for registration so I entered Fine Arts. That's where I enjoyed myself also, especially when I joined the fraternity. In UP, we had fashion, so I kept sketching. Then suddenly when we transferred to Diliman already, when there's an affair, they would make me go there to make their gowns. So I was making money already, my fraternity brothers would joke me to make them blow out!
"After graduation, I rented a shop in front of Philippine Womens University in Taft Avenue. Since it was across that, all the students would come to me. Then, after, I started creating costumes for the Bayanihan Dancers. I was able to get a lot of prominent ladies already. I was enjoying it."
IMAGE Preview Archives
Pitoy with his UP class.
How did you acquire so many customers, even early on?
"For example, if I make [a dress] for you, then when your brother is getting married, you recommend me. Also, when there was an Upsilon affair or a Sigma Delta affair, they'd go to me. That's how it started."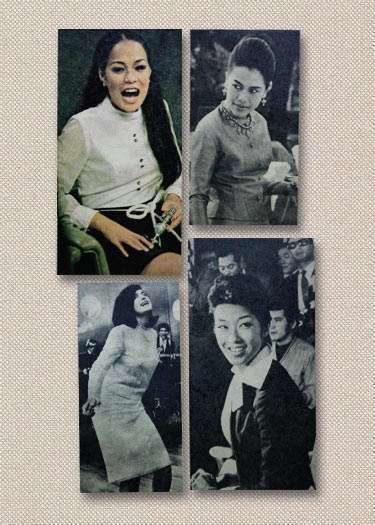 ADVERTISEMENT - CONTINUE READING BELOW
IMAGE Preview Archives
Some of Pitoy's clients.
How were you able to get all these international clients?
"I couldn't believe it, but maybe it's because I'm very accommodating. Always, 'Sure sure sure, come come come!' and they love it; they went out of their way for me. I'm not bragging but they would really call me. They would persist. I'll give you one story, just to tell you, even I didn't realize how important it was. It was a king that took over in Malaysia. He saw my show. Then, when he became king he asked that my show be shown there. I didn't even realize it. I arrived there [and] after the fashion show he was being coronated, something like that. Then after that, he came over to the Philippines and asked the president here to put on the fashion show of Pitoy Moreno. So I showed for him, even if he saw that show already. Then after that he asked me to go to Malaysia again and put on a show for his birthday. Siguro they found me cute, parang baby boy who is active. I'm very active and I'm a perfectionist."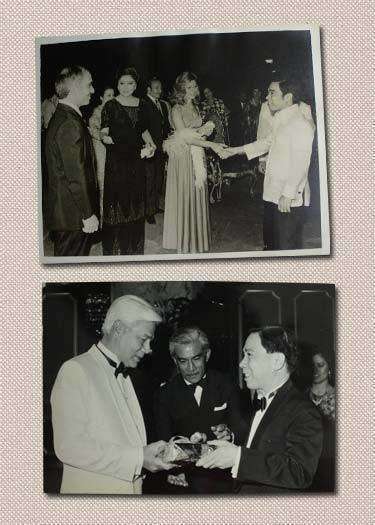 IMAGE Preview Archives
Above: Pitoy with King Hussein and Queen Lala of Jordan. Below: Pitoy with the king of Malaysia
ADVERTISEMENT - CONTINUE READING BELOW
What do you think is the allure of your work?
"Because most of the designers here are making fashion shows like the ones in Paris or New York. Why [would] they bother with [that type of fashion] when they can [already] see it there? Me, I started [by designing creations inspired by the] Terno, Maria Clara, Kimono, Balintawak."
IMAGE Preview Archives
Pitoy's creationss were made of local fabrics like piña and jusi.
What is your design philosophy?
"Please the customer! You also learn from them. When I was young, I learned from them."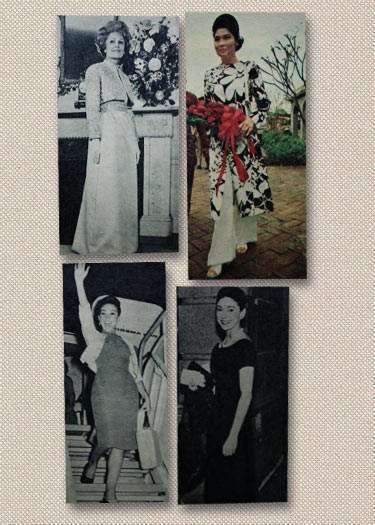 IMAGE Preview Archives
Some of Pitoy's clients.
ADVERTISEMENT - CONTINUE READING BELOW
Describe your body of work.
"Philippine costume inspiration"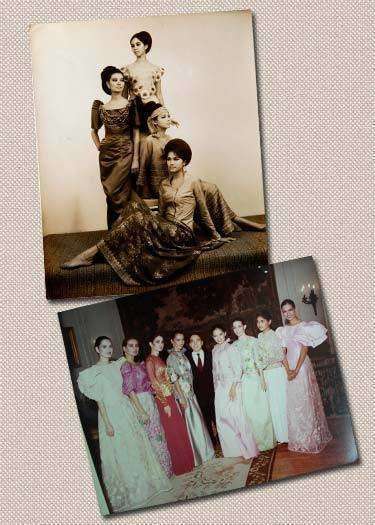 IMAGE Preview Archives
Pitoy and his very Filipino collections
Name one of your most memorable shows.
"This is the height of all the shows! This is the fashion show of all fashion shows! It was on Korean Airlines to Europe. You know where the models dressed up? In the comfort room! But look at how dignified it looks! You know, these things came over to me like an ordinary customer."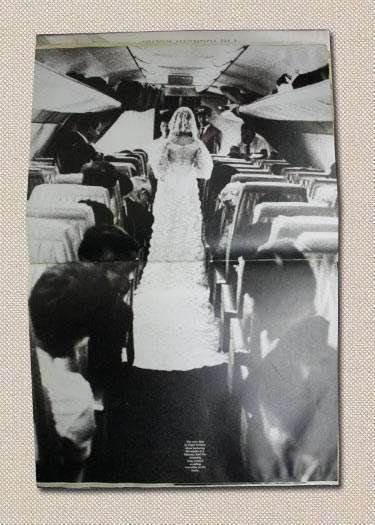 IMAGE Preview Archives
Model Conchitina Sevilla Bernardo wears a gown by Pitoy Moreno aboard Korean Airlines.
What was your biggest show in the country?
ADVERTISEMENT - CONTINUE READING BELOW
"My 2004 gala show with Gloria. It was a very big show, punong puno ng tao!"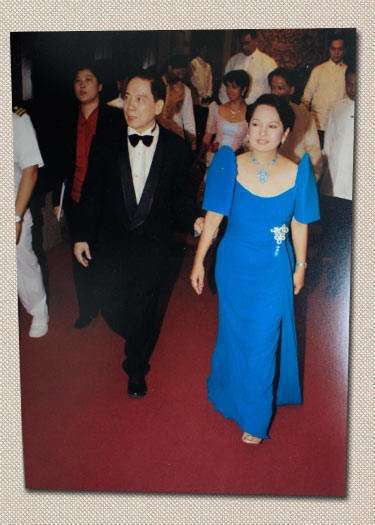 IMAGE Preview Archives
Pitoy's Gala show, Ginintuang Moreno, celebrated his golden year in fashion and was organized to raise funds for various charities. Here he is with then President Gloria Macapagal Arroyo.
When did you last show abroad?
"Around four years ago, there was a show in the Czech Republic, an exhibit. One of the ambassadors is a friend of mine. His wife is from UP. He asked me: 'Pitoy can you make a creation for an exhibit here?' I said it was so far but then I finally agreed. I asked him what and he said I had to dress up a rag doll. A rag doll! I looked for rag dolls in the stores and I finally found one. I dressed her in an embroidered Maria Clara and it won the first prize! $50,000!"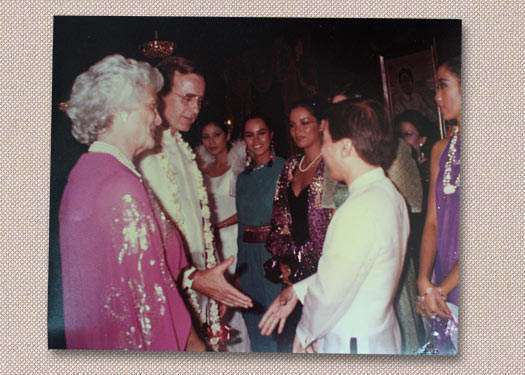 ADVERTISEMENT - CONTINUE READING BELOW
IMAGE Preview Archives
Pitoy shakes the hand of George Bush, Sr.
Looking back, would you have done anything differently?
"What do I want? Maybe I would have tried Law."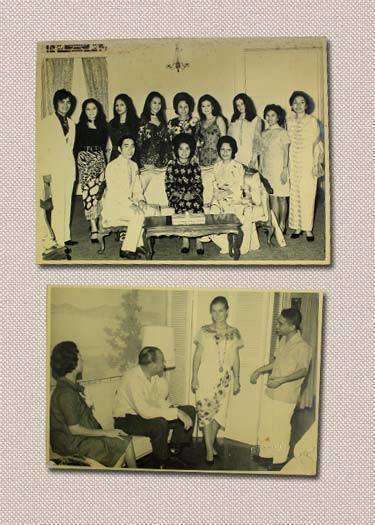 IMAGE Preview Archives
Above: Pitoy poses the princess of Singapore. Below: Pitoy with John Rockefeller and his daughter.
What is the defining moment in your career?
"Well, when you stand there and everybody is standing up applauding and you take a bow. Each time is a defining moment. I do that all the time. I take the opportunity. They like my creations, they like my designs, why should I not accept it? Why should I be shy? I walk straight and take a bow. Period."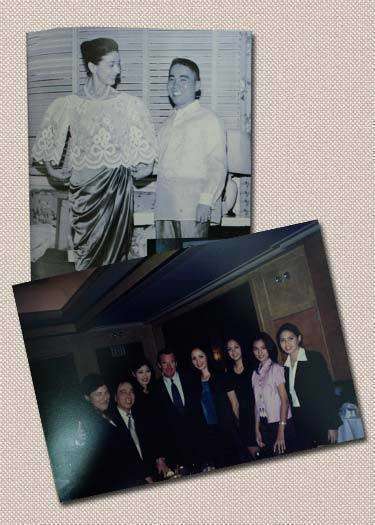 ADVERTISEMENT - CONTINUE READING BELOW
IMAGE Preview Archives
Above: Pitoy with ballet dancer Dame Margot Fonteyn. Below: Pitoy with Peter Jennings and friends.
How did you feel when you were proclaimed National Artist for 2009?
"Of course I was thrilled, who would not be? It would be hypocrisy if I said 'I'm so used to that'. No, I like it. That's for my country. I did this all for my country. I'm a loyalist to my country. You cannot move me. Even going abroad, I present to them the Philippines. I make them feel that our creation is good or even better than their creations. The women there, tuwang-tuwa sila! Up to now I receive orders from abroad, especially our piña. The embassies are all 'Pitoy Moreno, rarara!"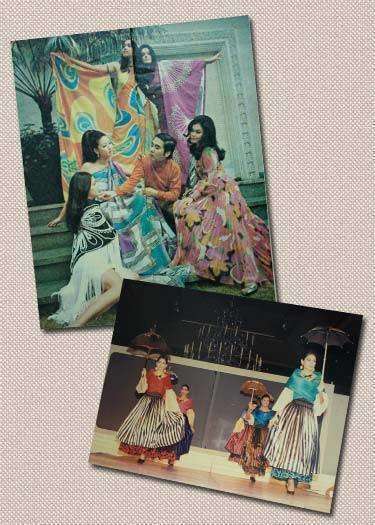 IMAGE Preview Archives
Pitoy's designs
What can you say about the issue that people are questioning your newly received title?
"I feel so sad, siyempre. You would feel the same way. I'm not a hypocrite; I won't say that I don't care. I'm not like that."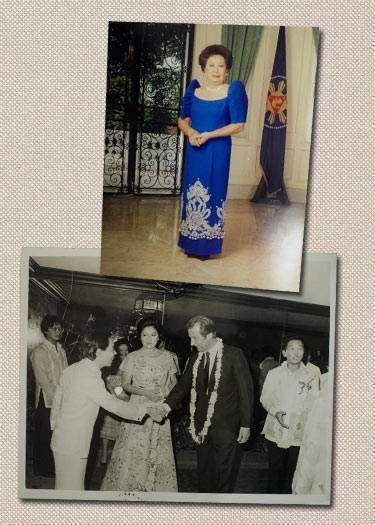 ADVERTISEMENT - CONTINUE READING BELOW
IMAGE Preview Archives
Pitoy dressed up Philippine Fist Ladies including Ming Ramos and Imelda Marcos.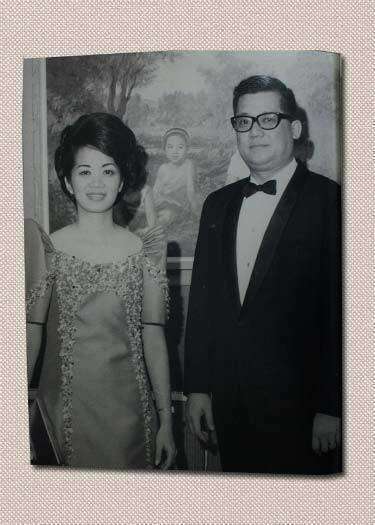 IMAGE Preview Archives
Included among those whom Pitoy has created gowns for is the late Corazon Aquino.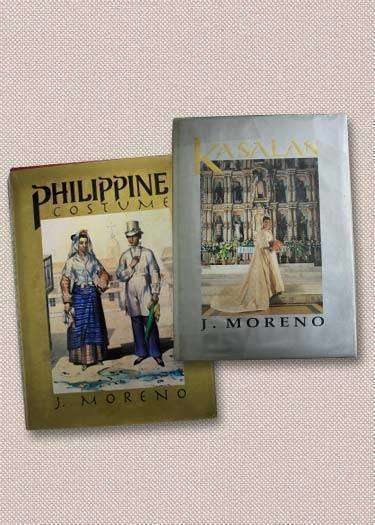 IMAGE Preview Archives
Pitoy has published two books—Kasalan and Philippine Costume.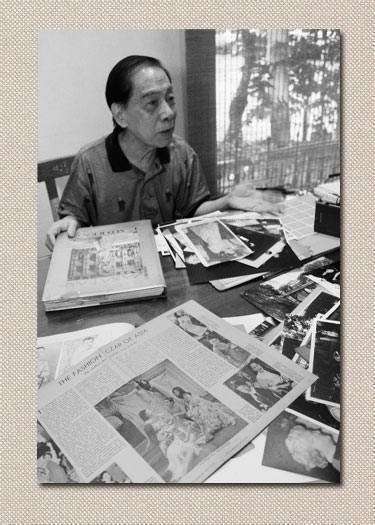 ADVERTISEMENT - CONTINUE READING BELOW
IMAGE Preview Archives
Pitoy Moreno, February 25, 1930 - January 15, 2018
Interview by Renee Puno. This story was originally published on Preview.ph in August 2009.