There's beauty in Mindanao that we don't usually get to see in the national headlines. Often regarded as a conflict-ridden region, its fascinating culture is repeatedly sidestepped by such criticism. This is exactly what inspired fashion stylist and entrepreneur Bea Constantino to launch Herman & Co., "a heritage brand showcasing indigenous textiles and artisan products from Philippine tribes." Read on to know more about her online shop.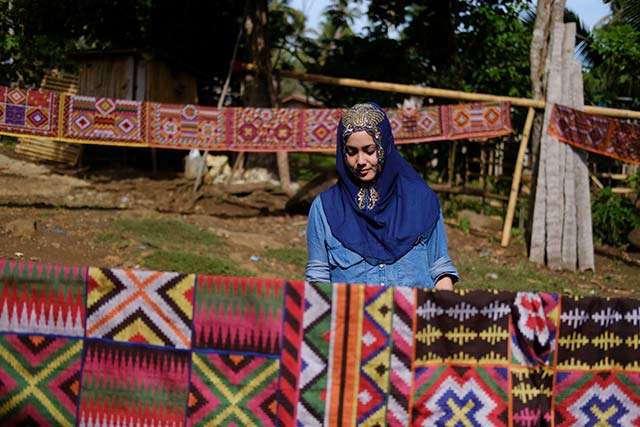 IMAGE Courtesy of Bea Constantino
Bea at the weaving village in Sulu
What sparked the idea to start Herman & Co. as a business?
"Last year, I reached a point in my career wherein I wanted something more than just shooting and collecting paychecks—I was hungry for something with soul and substance. I spent a lot of time asking myself, 'What's next?' One day, I woke up and realized that I wanted to marry two aspects of my life that I felt defined me: fashion and my colorful heritage. I wanted inspire dialogues and conversations about my hometowns, Zamboanga and Jolo, Sulu, and eventually, Mindanao in general. But in a positive light, not the conflicts, but the amazing culture and people. Then I felt that fire again that I had been missing. That if I can inspire one person to look at the other side of Mindanao, I'll be fulfilled."
ADVERTISEMENT - CONTINUE READING BELOW
How did you make the transition from styling to design?
"I always say that I don't really consider myself a designer. I have so much respect for designers because of all the years of mastering this craft—their dedication and skills just amaze me and I would not consider myself one until I've spent enough years learning fashion design. I think I curate concepts in my mind—as we mostly get inspired by what we see everywhere anyway, and then I tweak it to fit a specific story in my head. I would love to learn fashion illustration, though."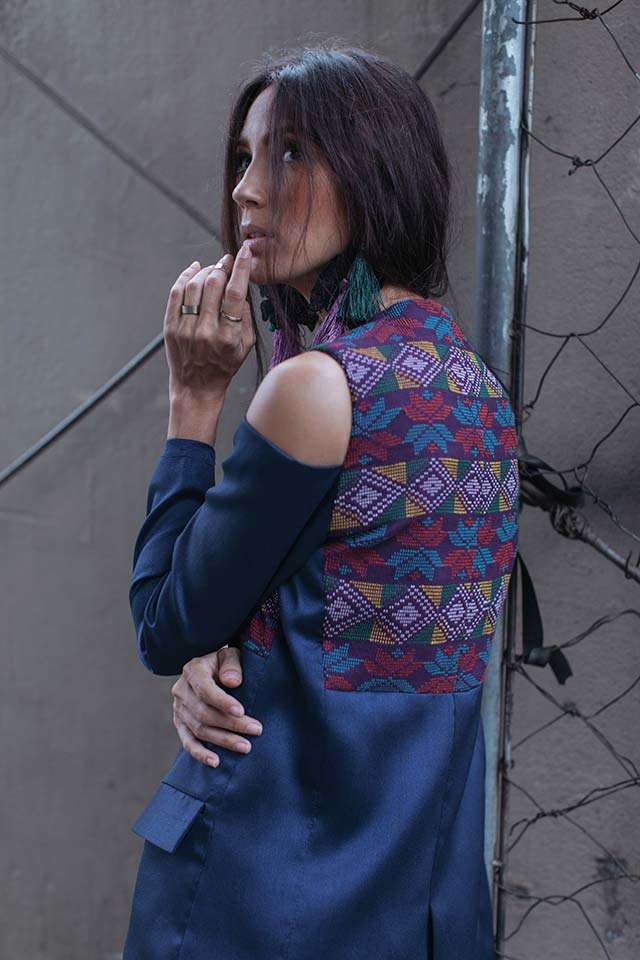 IMAGE Courtesy of Bea Constantino
Blazer with Yakan weave accent
What drew you to indigenous materials as key elements of your brand?
"Well, foremost is my family's origins: My grandfather is purely Chavacano from Zamboanga and my grandmother is Tausug. I've always felt such a strong sense of self knowing where I came from and this sparked my curiosity about the tribes in my hometowns. Through immersing myself by my frequent trips down south and seeing their ways, it made me understand my family more. I remember the first time I saw the Tausug people's weaves and textiles—it was love at first sight. So much history, tradition and culture in every pattern, every thread. I wanted to integrate this into everyday wear but with respect towards tradition and that maybe through this, the demand for weaves can grow and more and more people can see our local textiles in a different light, not just for Linggo ng Wika."
ADVERTISEMENT - CONTINUE READING BELOW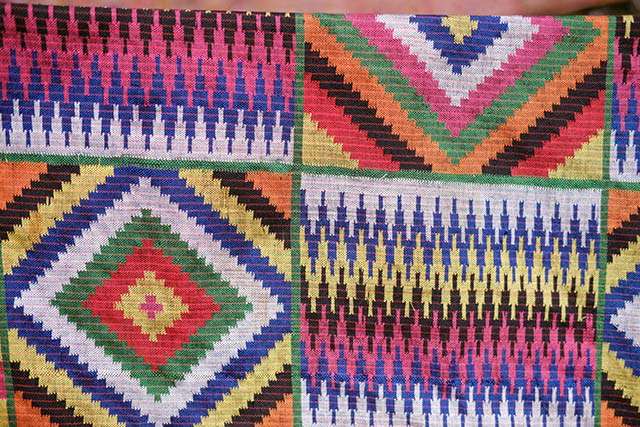 IMAGE Courtesy of Bea Constantino
Tausug pattern on traditional Tausug textile called Pis Siyabit
Could you tell us the state of traditional weaving in Mindanao?
"From what I've seen, the weaves are still traditionally used for the Tausugs. Yakan weaves (from Zamboanga and Basilan) are more accessible. Tausug weaves' state is normal. It's just harder to access the weavers because of security concerns sometimes in Sulu; hence, turnover (sales) is not as frequent as the Yakan weaves."
ADVERTISEMENT - CONTINUE READING BELOW
Are the skills still being passed on to the younger generation?
"Yes but I would like to see more young people weaving, that's why Herman & Co. and other like-minded brands try to keep the demand steady so that the youth will see it as a sustainable livelihood and lifestyle as well. The brands that I admire are Yakang Yaka by fellow Chavacano Kelly Marian Mortensen and The Manila Collectible by Charisse Tugade because she champions intangible heritage. How cool is that! They've taught me a lot in this journey."
And do the women have the financial capacity to continue?
"As far as I know, organizations such as the Habi Textile Council ensure sustainability for the communities by giving them opportunities to showcase their artisan textiles and products by holding fairs locally and abroad, which make the weavers earn and it goes to them directly. They also grant opportunities to travel abroad to expose the weavers to international markets."
ADVERTISEMENT - CONTINUE READING BELOW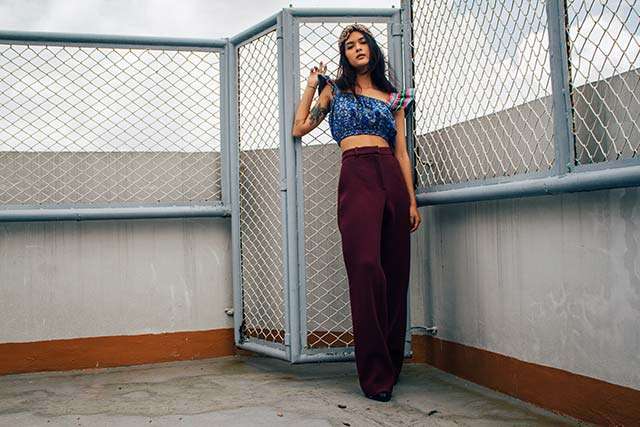 IMAGE Courtesy of Bea Constantino
Batik top with Ifugao weave sleeve accent
What's the most challenging part of your business?
"Production and at times, supply. The weaves take time to produce. It's not like they have massive yardage on demand. That's where respect for tradition and skill comes in because you have to wait for when they can finish the weaves. One of the ways that Herman & Co. practices fair trade is by respecting their timing. Aside from weaving, they have families to take care of and that is their priority and we support that. Garment production—because it's hard to find a manufacturer you can rely on and trust because of the low volume of my orders. I don't mass produce due to the uniqueness of the weaves, so it's hard to find manufacturers who accommodate."
ADVERTISEMENT - CONTINUE READING BELOW
Tell us about your latest collection. Where did you draw inspiration from?
"It's called Norte x Sur because the past few months took me to the North (Ifugao province of Banaue) and of course South because of my visits back home in Jolo, Sulu. I learned so much about the Ifugaos and was able to see how different their traditions are up north. In spite of the different cultures, we are actually all still connected. So I decided to use weaves from Banaue and some with Yakan weaves. Hence, North to South."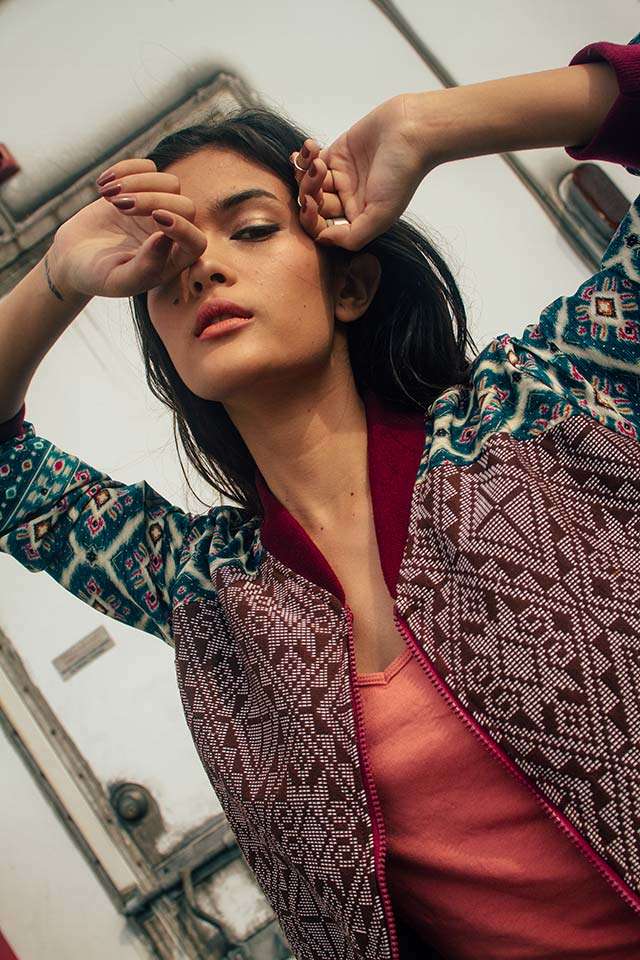 ADVERTISEMENT - CONTINUE READING BELOW
IMAGE Courtesy of Bea Constantino
Bomber jacket with Batik and Yakan details
What type of woman did you have in mind when designing the line?
"Women who wear different hats and live a constantly curious lifestyle. Curious about their roots with a discerning style while championing local artisanal work."
Do you have any favorite fabrics or patterns that you're particularly drawn to at the moment?
"Yakan weaves for their mesmerizing play of hues and Tausug for their bold patterns and colors that speak of the Tausug peoples' courage and pride. I would love to experiment with Maranao textiles. So intricate!"
What's it like to see someone on the street or in the magazines wearing one of your creations?
"I get shy! In my head I'm like, 'Someone liked my crazy idea!' But mostly I feel proud of and for the weavers. I always show them photos of their weaves worn and you see this gleam in their eyes—priceless."
ADVERTISEMENT - CONTINUE READING BELOW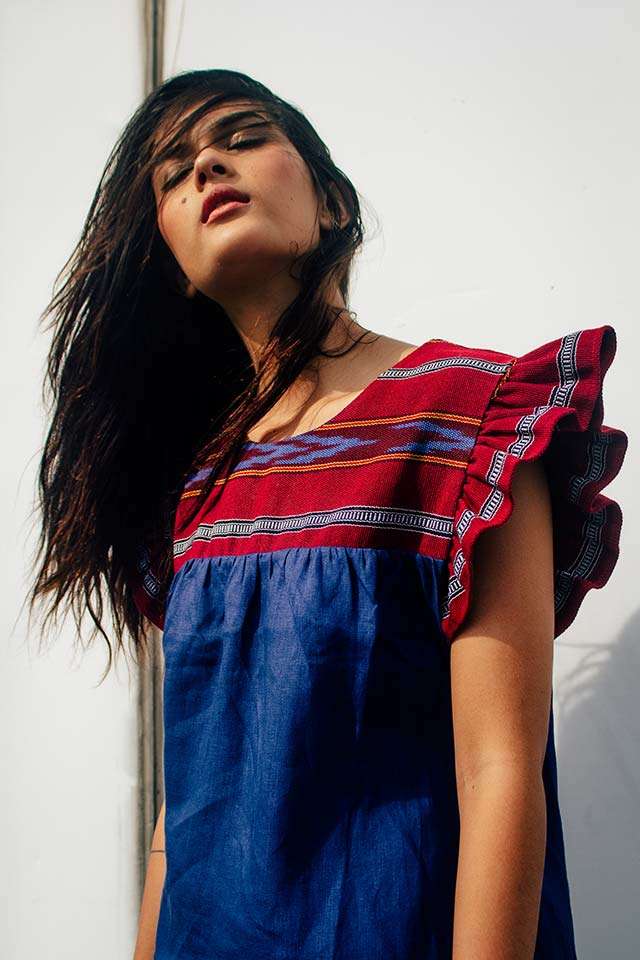 IMAGE Courtesy of Bea Constantino
Linen dress with Ikat bib and sleeve details
Who would you most like to see wearing your clothes?
"Our celebrities and them knowing the tribes it came from so that the culture can be recognized and promoted. I would love also for international women of substance to wear our local weaves."
ADVERTISEMENT - CONTINUE READING BELOW
What's your style philosophy? How do you like to wear your favorite pieces?
"Right now my style philosophy is understated high-street—outfits I can wear from day to night because I usually do varied things throughout the day. What I like to do is wear classic pieces but with a statement detail, like a crisp white button-down but with bell sleeves and then jeans, and a local artisan piece like a rattan box sling bag."
Related Stories from Preview.ph
Hey, Preview readers! Follow us on Facebook, Instagram, YouTube, Tiktok, and Twitter to stay up to speed on all things trendy and creative. We'll curate the most stylish feed for you!