I'm my mother's daughter. Style-wise, there are a ton of habits I inherited from her—count collecting handbags, piling on dainty gold jewelry, hoarding high heels, and a love for ladylike silhouettes among many. Where we differ is a whole other story: She's the soft-hued, tailored foil to my outlandish colors. She prefers linen while I live in thrifted silk shirts. She's always in crisp, plain neutrals. I clash at least five bizarre prints a day. Her shoes are tastefully either black, tan, or gray; I have a glittery, sequin-festooned pair in every shade of the rainbow (we're the exact same size, though!). She and I are so different that when we met up for a shopping trip in accidental semi-matchy monochrome, a mirror selfie was deemed mandatory.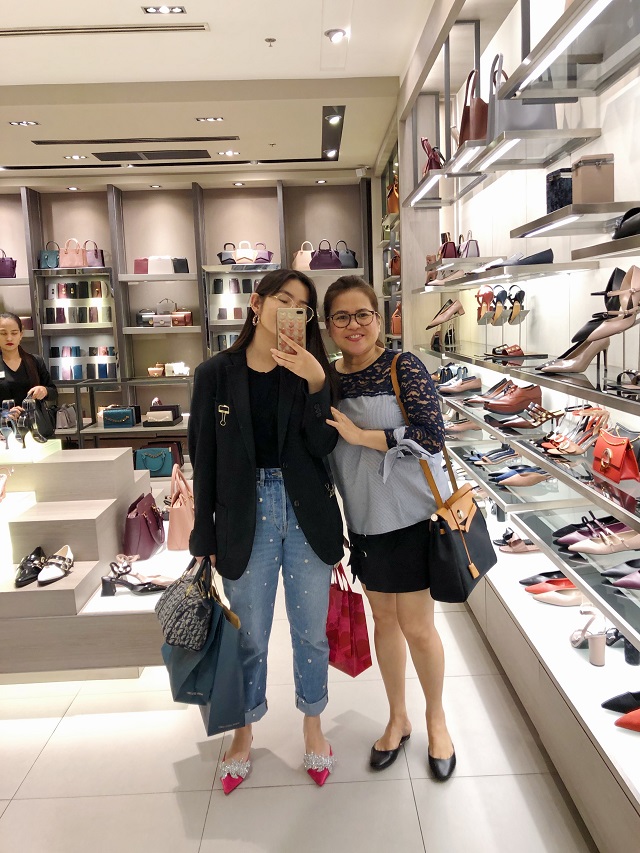 ADVERTISEMENT - CONTINUE READING BELOW
So when, at one Preview pitch meeting, it was proposed that she'd dress me the entire workweek leading up to Mother's Day, I had to say yes. For reference, this is how I usually look on the daily...
ADVERTISEMENT - CONTINUE READING BELOW
Recommended Videos
...and here's my mom, the fearless soul, in pristine head-to-toe white while traveling, something even the bravest marine wouldn't dare try. Nothing daunts the woman, especially not spills and stains. Standing next to her is my cool-kid teenage sister, who is clearly zany as I am.
ADVERTISEMENT - CONTINUE READING BELOW
Scroll for a few more demure OOTDs of hers.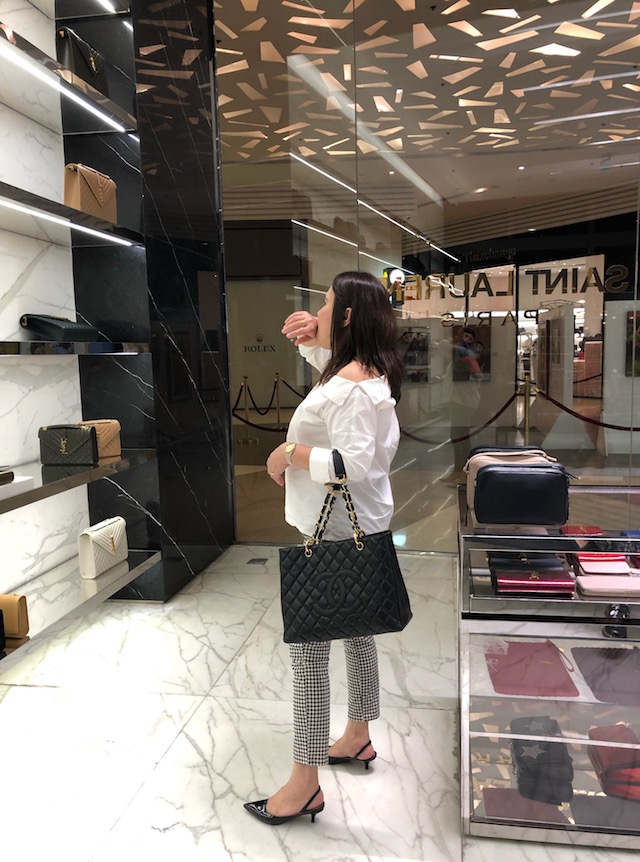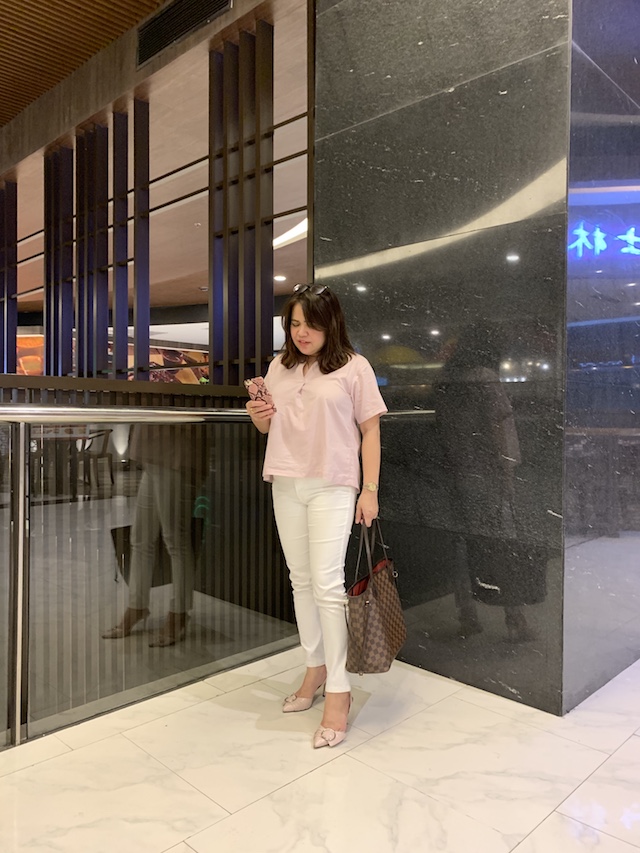 ADVERTISEMENT - CONTINUE READING BELOW
Okay, I've painted you a quick picture of the odds at stake. How bad could it get? My momma is beyond chic, and it's not like she didn't doll me up in ruffles and ribbons as a little girl. I was a well-dressed kid. Below, find out how our experiment went!
MONDAY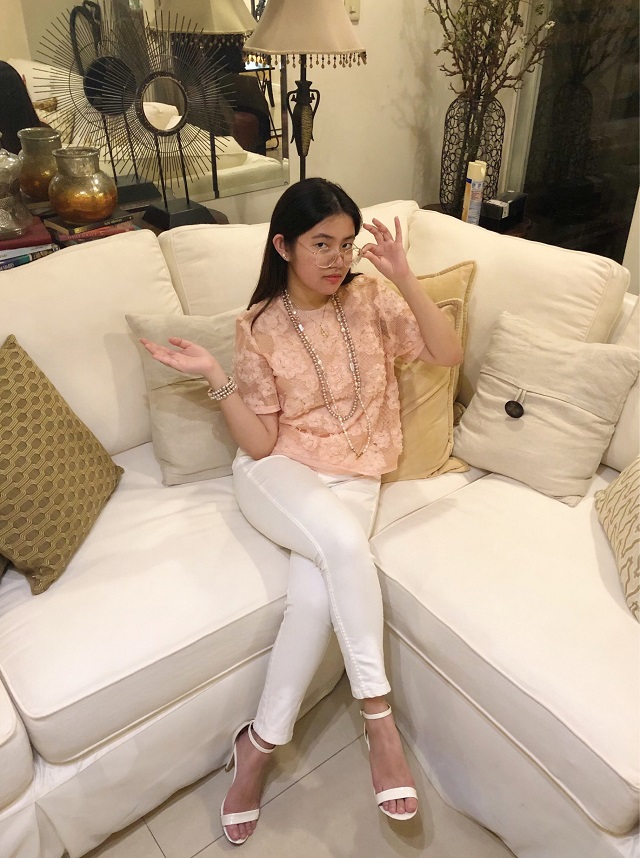 ADVERTISEMENT - CONTINUE READING BELOW
The first thing my (terrifyingly eager) mother asked me on Sunday evening, the night before this entire project began, was "do you own white pants?" No, I don't. No, I never have. The last time I put on a pair of white pants was as part of a show choir stage costume 15 years ago (I'm 25). I also never wear pastels. Give me bold red! Loud yellow! Searing fuchsia! She didn't, though, instead handing me a petal-appliquéd top that I had once and only once worn with a frothy matching skirt to someone's floral-themed 18th birthday party. Day 1, and my soul has already left my body. The pearl strands are a touch I would cop on the regular, though, maybe with jeans and one of dad's big evening coats. Thanks for the cue, mama and papa!
TUESDAY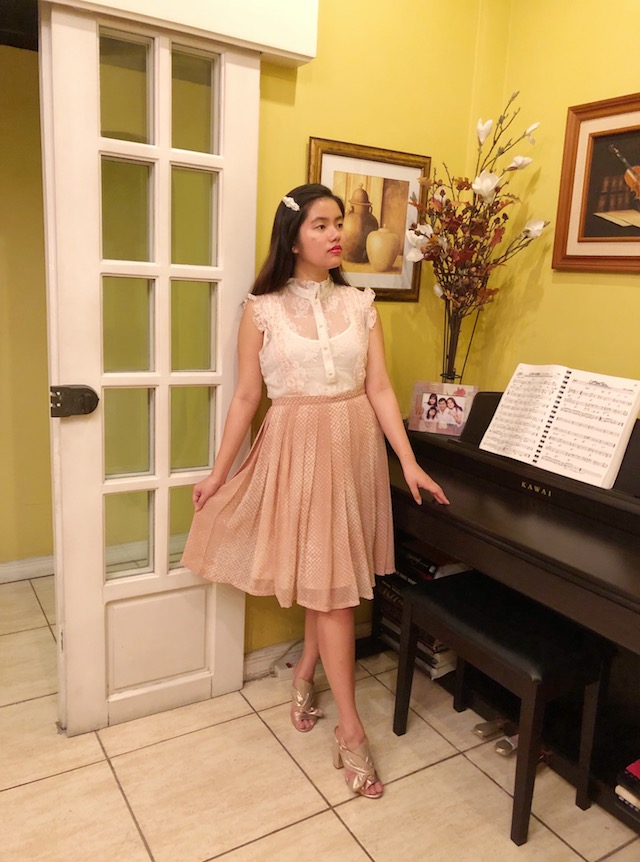 ADVERTISEMENT - CONTINUE READING BELOW
I woke up feeling unwell but managed to put on this next outfit—which mom would totally wear to a Peninsula brunch with her amigas. The lacy blush blouse actually is mine, though I've taken to wearing it with black trousers, a boxy blazer, and just a bra underneath. That won't do, mom said, fishing for me from her large wooden aparador a modest white cotton camisole. Real chaste, very aged-up OshKosh B'Gosh. If you zoom in, you'll find that the pleated skirt actually boasts of this interesting python-polka dot hybrid print, so all in all this ensemble didn't feel too alien to me. Hello from our peekaboo family portrait on the right and from the pearl hair slide I completely forgot I bought months ago 'til mom insisted I find it.
WEDNESDAY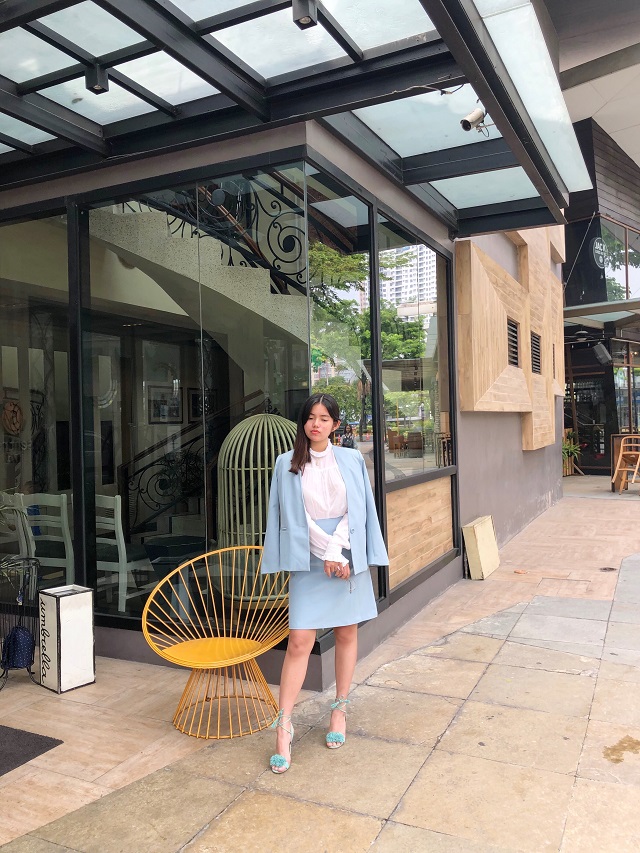 ADVERTISEMENT - CONTINUE READING BELOW
"Young power tita," my sister dubbed this lewk. I was starting to feel fatigued after two straight days of cotton candy pink, so this sky suit just might be an easy favorite from the week. This 'fit is composed of pieces I love and don often—I know I said I'm rarely in soft colors, but I'm fond of styling these co-ords casually, with a tee and kitten-heeled slides. Does it make sense that I'm okay with pale blue because it reminds me of denim? That, and this paper-thin ruffled shirt looks great chain-belted over my fave brightly-striped satin pencil skirt. I bought those lace-up azure skyscrapers in every other color it was available in, by the way. Normal behavior. One thing mom and I do have in common is we both totter on four-inch stilts almost 24/7.
THURSDAY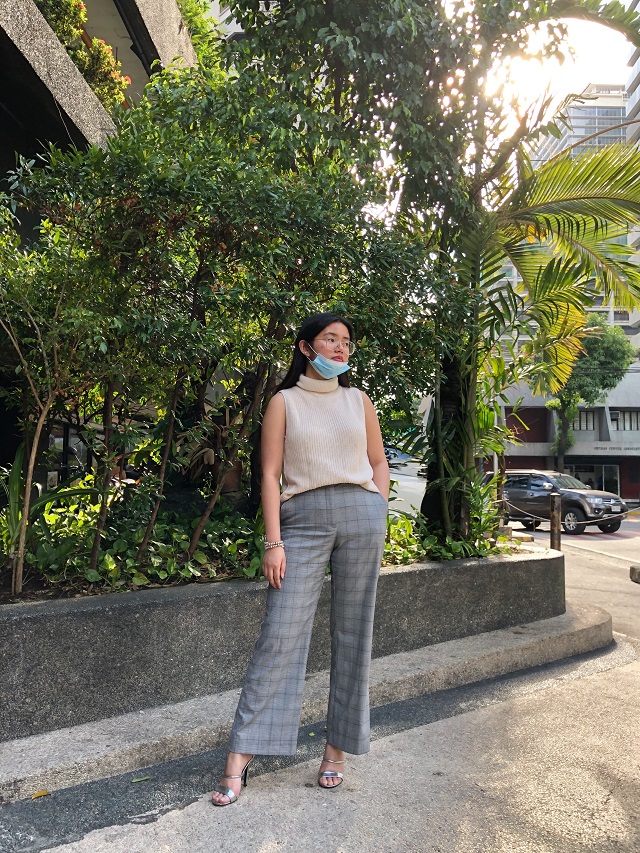 ADVERTISEMENT - CONTINUE READING BELOW
Pardon the post-facial mask. "It's Yanna 1.0!" our social media editor Maui exclaimed when she saw me on Thursday, and, I realized, she wasn't wrong. Uncertain, fumbling 20-year-old me, fresh to Preview at the height of 2014's then-burgeoning fascination with '90s minimalism, would have worn this in a heartbeat. These gray trousers are a buy from my 2017/18 obsession with the Wales check, and the knit turtleneck...is sleeveless. That's the most striking thing about it, primarily because I show my upper arms once in a blue moon, and the whole office knows it. If I had a peso for every time someone commented on the presence of my bare shoulders, I'd be a gazillionaire. It's worth mentioning that my mother was deathly determined to put me in at least two arm-flaunting outfits this week. She succeeded, obviously.
FRIDAY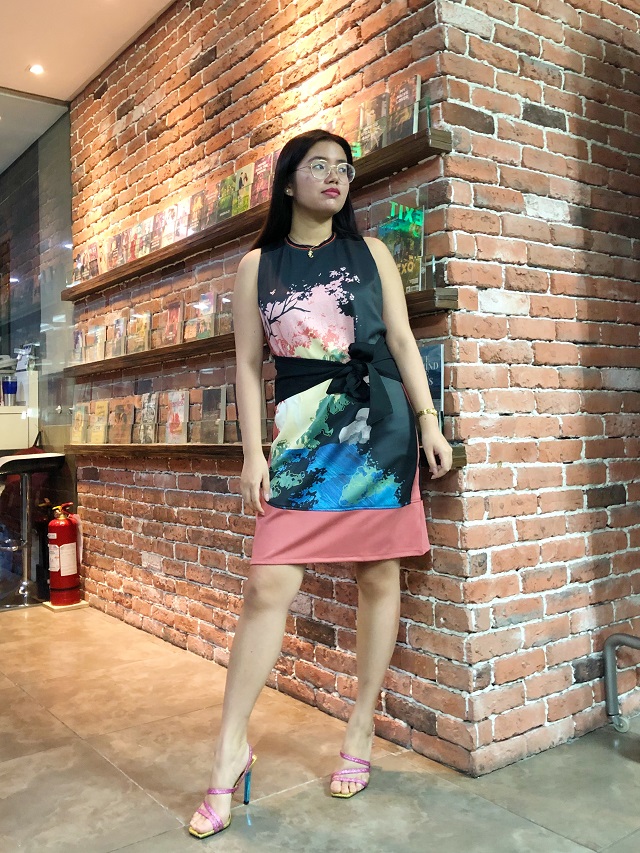 ADVERTISEMENT - CONTINUE READING BELOW
TGIF. I am crawling. Pretty cool that 'til today, everything save for Monday's white skinny denims was mine—this frock, however, is mom's. She's definitely into shift dresses, but I'm not...still, while the Japanese-inspired print isn't quite my cup of tea, I thought the obi belt tie-waist detail was fairly cute and flattering. Also, more arm for you! They exist, and here they are, frolicking in the fluorescent Summit Media lights 48 hours in a row now. Apart from that, this is an admittedly comfy, roomy piece. If only I'd brought a cardigan along.
CONCLUSION
I've gotta get it out of the way that it was pretty odd mom didn't force me to wear any of her neat, understated pumps or mules the entire week, instead selecting from my own considerably flamboyant stiletto collection. It was my singular comfort in the depths of pastel-drenched discomfort, and, I'd like to think, a symbolism of sorts: She's always let me walk in my own shoes, even if it constantly means puzzling over my current affinity for piercings and bike shorts and leopard spots and towering sparkly sandals I can't actually move in. I love you, ma! I want to be just like you when I grow up.
ADVERTISEMENT - CONTINUE READING BELOW
Related Stories from Preview.ph
Hey, Preview readers! Follow us on Facebook, Instagram, YouTube, Tiktok, and Twitter to stay up to speed on all things trendy and creative. We'll curate the most stylish feed for you!