We love a show that highlights the setting's culture or history, even if it's in the smallest of ways. So when Netflix released the K-drama Mystic Pop-up Bar, you best believe that we feasted our eyes on the little details of Korean culture, particularly the attire. The show tells the story of Weol Ju (played by Hwang Jung Eum), a 500-year-old woman tasked to solve 100,000 people's woes—otherwise, she'd spend an eternity in hell. (Pretty morbid, I know.) The show deals with her struggles in these present times, but Weol Ju is still clad in traditional Korean attire known as the hanbok.
Characterized by its vibrant colors and clean lines, the hanbok consists of the jeogori (the upper garment), the chima (skirt) for women, and the baji (trousers) for men. It was worn daily until a century ago and is now only worn during special occasions and celebrations. However, hanboks have been experiencing a renaissance lately through modern interpretations, as evidenced by designers like Leesle Hwang and Kim Me Hee. That said, it's about time a K-drama highlighted the hanbok as a contemporary way of dressing up. Ahead, we've rounded up a few notable hanboks that Weol Ju donned in the show:
1. Lovely in sheer lavender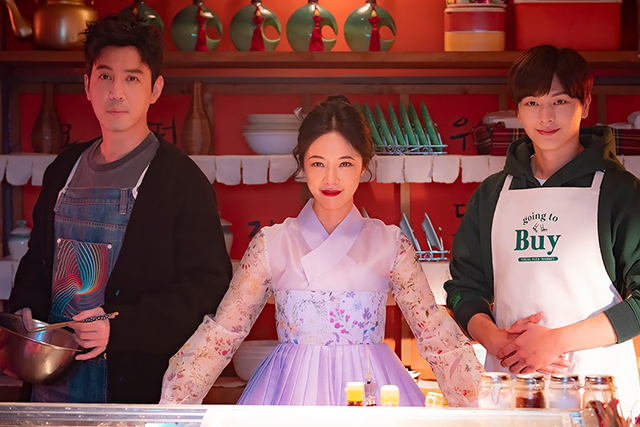 ADVERTISEMENT - CONTINUE READING BELOW
In yesteryears, hanboks in various fabrics weren't readily available to just anyone, as ornate fabrics were only for the rich, while commoners were restricted to cotton. Here, Weol Ju makes her debut in the show's main poster wearing a lavender hanbok whose jeogori is made with sheer fabric and overlaid with a pretty floral pattern. The chima's pleats seal the look's feminine appeal.
2. Fresh as a daisy in a yellow hanbok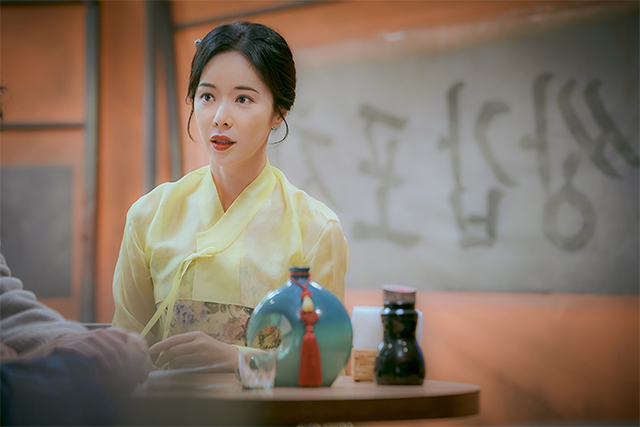 Hanboks typically have wide sleeves and a full skirt, which facilitate ease of movement. Here, Weol Ju's hanbok features a modern twist via slim sleeves and a light crisp cotton fabric for breathability. The floral waistband makes it perfect for spring!
3. Elegant in an emerald green hanbok
If you're a fan of the show, then you know how hell-bent Weol Ju is when it comes to coaxing customers to share their problems. Here, Weol Ju does exactly that wearing an elegant emerald green tube hanbok with a skirt whose plisse waist opens into a gorgeous full skirt. It's accented with two ribbons for a dainty effect!
4. Chic in a floral wraparound top and pleated skirt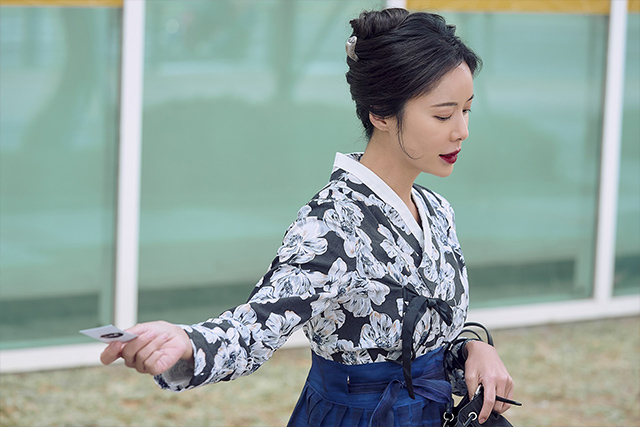 Years ago, hanboks signified one's social position and marital status. Bright colors were worn by children, the combos yellow and red were worn by unmarried women, green and red for matrons, and navy was for those with sons. But now, contemporary hanboks allow anyone the freedom to choose whichever colors they like, and you can mix and match as you please.
Here, Weol Ju paired a floral wraparound top with black ribbons for the goreum (tying strings). Her skirt appears to be a pleated indigo-dyed one, and we love how she completed her look with a black leather bag.
ADVERTISEMENT - CONTINUE READING BELOW
5. Pretty in pink floral
PHOTO BY

COURTESY OF NETFLIX
To aid her mission of helping people, Weol Ju teams up with clairvoyant Kang Bae (Yook Sung Jae) who has an ability that leads people to share their deepest problems just by touching them. Here, Weol Ju shows her delight for their collaboration wearing an equally joyous floral hanbok. The dark floral print is enlivened by the baby pink skirt.
6. Cool in casual designs
Offscreen, Jung Eum proves that the hanbok can be worn daily even today. Here, she ingeniously layers a denim skirt on top of her scarlet printed hanbok, and completes the look with a blazer and—wait for it—combat boots! This edgy look shows that with a little creativity, one can make the traditional look more modern.
Catch Mystic Pop-Up Bar on Netflix. Watch the trailer below:
In case you've always wanted to try wearing a hanbok yourself (or you've been bitten by the K-culture bug), check out these brands that create modern hanboks: Teterot Salon for casual separates, Dailyhan for contemporary hanboks, Leesle for a wide variety of luxe designs, and Seorinarae for affordable pieces.
Related Stories from Preview.ph
Hey, Preview readers! Follow us on Facebook, Instagram, YouTube, Tiktok, and Twitter to stay up to speed on all things trendy and creative. We'll curate the most stylish feed for you!