'La Dame Bleue' (Spring/Summer 08) - the author's favorite. (Images via Victoria & Albert Museum, London)
LONDON - Walking into the 'Cabinet of Curiosities' at the Alexander McQueen: Savage Beauty exhibit is like walking into a wardrobe and into Narnia. The walls were made up of mismatched shelves, decked with some of McQueen's work, along with the famous headdress collaborations he had with Philip Treacy and Shaun Leane. McQueen's white cotton Dress (No.13, Spring/Summer 09), splattered in paint, rotates on a revolving table in the centre of the room. A bench surrounded it. The craftsmanship in each piece showcased seemed almost unreal – like entering a world of make-believe.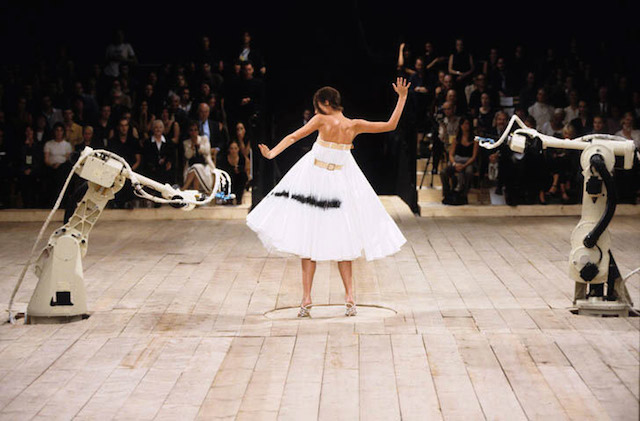 ADVERTISEMENT - CONTINUE READING BELOW
McQueen's white cotton Dress (No.13, Spring/Summer 09), as it was once presented on the runway
My favorite was one of Treacy's pieces from McQueen's Spring/Summer 08 show, 'La Dame Bleue' – the 'Butterfly' headdress. It creates the illusion that flurries of butterflies swarm the mannequin head. Each butterfly was handcrafted using painted turkey feathers, giving it a realistic and weightless look. Though perfectly still, they are so creatively placed that it creates movement in its immobility. The 'Butterfly' piece may not be worn out on a regular basis, but it somehow brings me back to my childhood, where I believed chance moments like colourful leaves blowing at you like in Pocahontas actually happened as gracefully in reality. Treacy's 'Butterfly' brings that sense of fantasy into the real world and makes it couture – that's true art and fashion.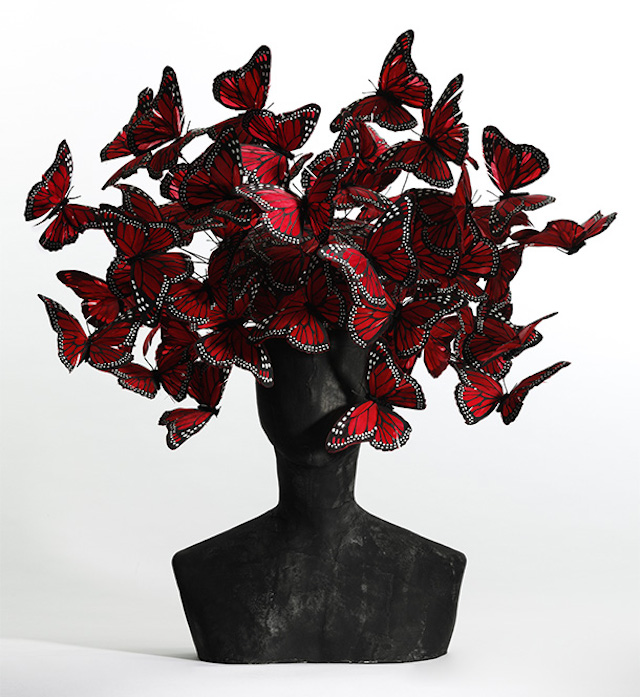 CONTINUE READING BELOW
Recommended Videos
The Butterfly Headdress
If I were to dress an outfit with this piece I would have one of two things in mind: do I want to focus on the headdress or the clothing? To emphasise the headdress, something sleek, black and simple would put emphasis on the piece. To use it as more of an accessory, I would wear a draped, floor-length garment in the same bold red so that the headpiece would add to the outfit - and help send the artists' message across - rather than becoming its centrepiece.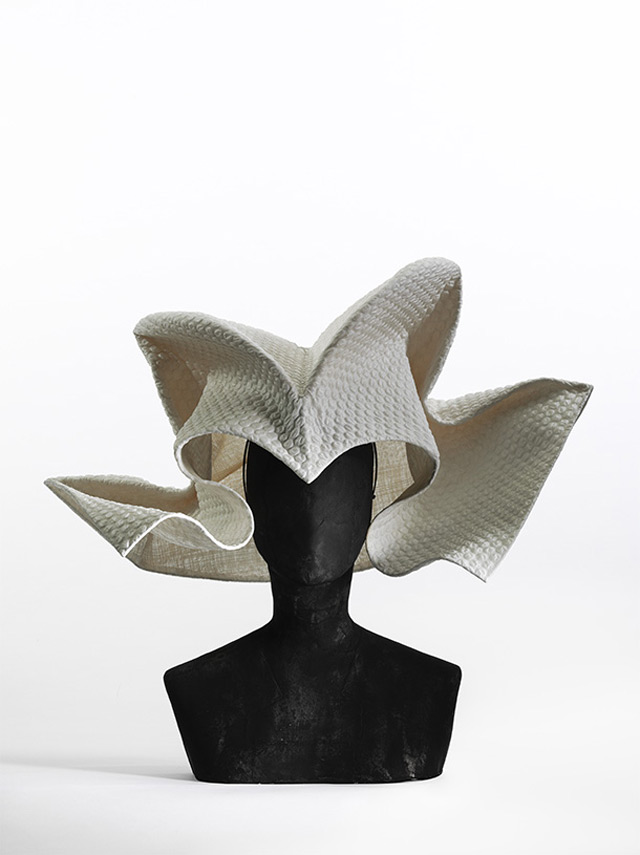 ADVERTISEMENT - CONTINUE READING BELOW
"Bubble Wrap" Hat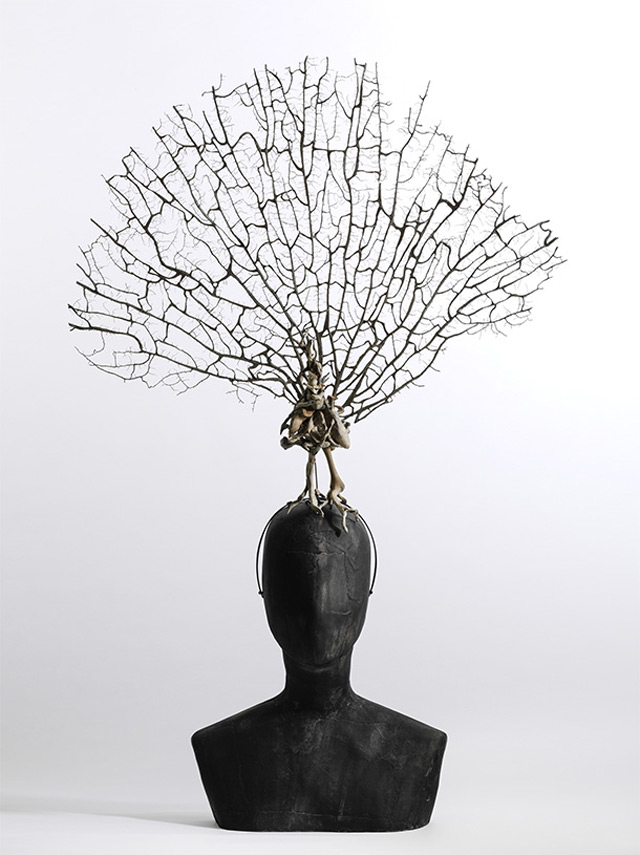 The Girl Who Lived in the Tree, Autumn/Winter 2008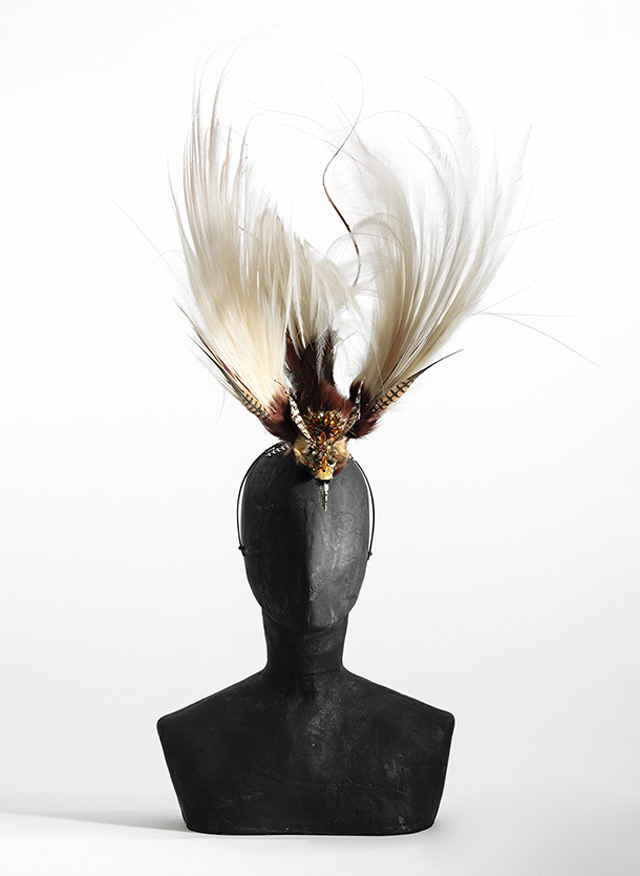 ADVERTISEMENT - CONTINUE READING BELOW
Dame Bleue
Philip Treacy and Alexander McQueen shared this gift of being able to mix art and architecture into their work, but they may never have crossed paths if not for Isabella Blow. She is known for her eccentric sense of style, being the person that helped launch Treacy and McQueen's careers, and for the copious amount of headdresses she had accumulated over time.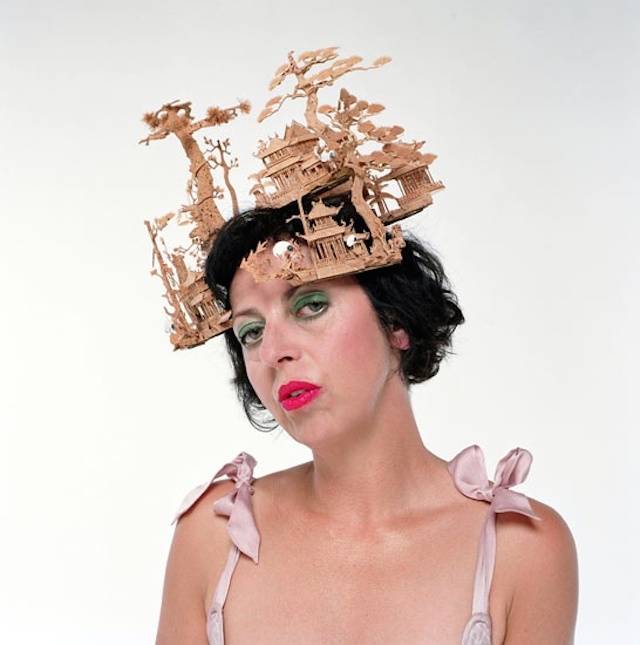 ADVERTISEMENT - CONTINUE READING BELOW
Model and hat lover Isabella Blow in a Japanese temple topper by Philip Treacy for McQueen (via the Independent)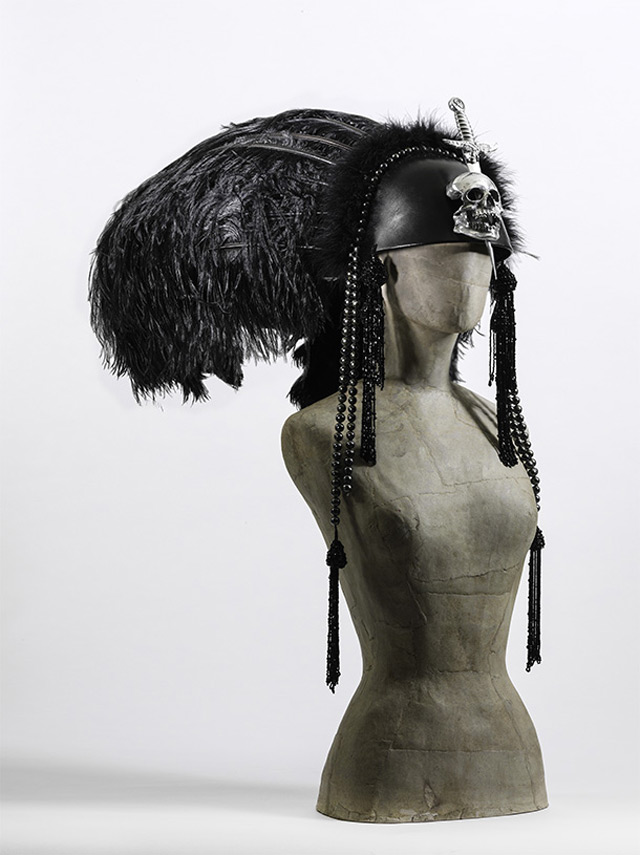 Merry Go Round feather headdress with skull detail
Headpieces remind me of royalty. Growing up, I had this huge fascination for princesses. More specifically, Princess Diana. So my most favourite and, quite possibly, my earliest memory of headdress was when my mother was being launched for Pantene. She was getting ready in a hotel room close by to the event venue, and they placed her diamond-encrusted tiara on her head. It was the first time I had seen one in person and I was immediately engrossed by it. It added to the grace and poise that I already believed she had. She reminded me of Princess Di. After that night, I persistently tried to convince her it would be a good idea to let me wear it to school. To my dismay, the answer I got was always a giggle and a "maybe when you're older". To her dismay, it led to a box of plastic tiaras from the Disney Store, and a decade and a half later, a Dolce & Gabbana crown of my own.
ADVERTISEMENT - CONTINUE READING BELOW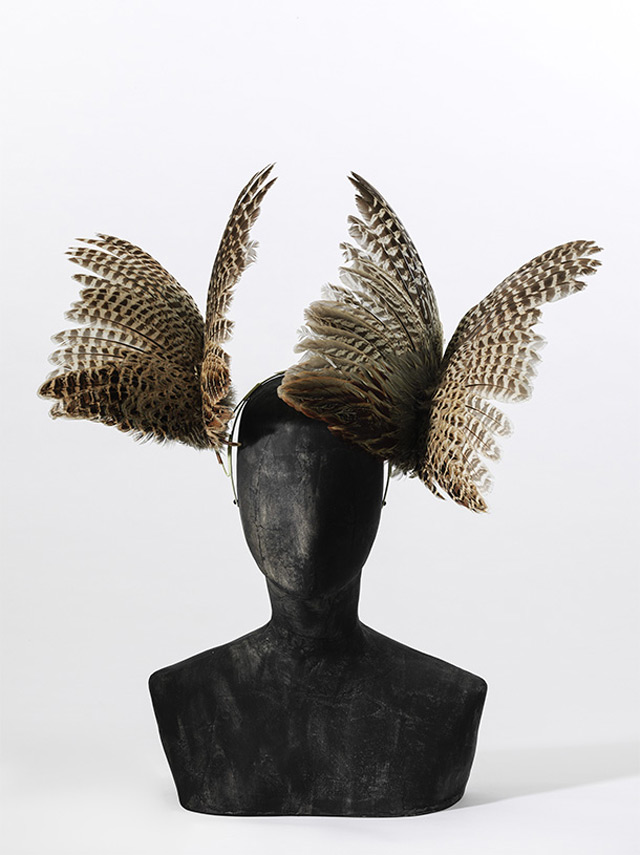 Widow's Culloden
Headdresses help me reminisce my childhood and that feeling of naivety. I believe you gain certain traits, like confidence, by putting them on. For that reason, I share a fondness for headdresses with Isabella Blow. She and I don't have much in common, but she's the type of person I want to be – she was an innovator, unafraid of others' opinions, and completely in her own element. Entering the 'Savage Beauty' exhibition, it is apparent that the McQueen and collaborators' work are for the adults that never truly grew up – those that still love to dress up and do it with complete freedom.
ADVERTISEMENT - CONTINUE READING BELOW
Alexander McQueen: Savage Beauty runs through August 2, 2015 at the Victoria & Albert Museum, London.
Hey, Preview readers! Follow us on Facebook, Instagram, YouTube, Tiktok, and Twitter to stay up to speed on all things trendy and creative. We'll curate the most stylish feed for you!