Fashion girls are familiar with the struggle of choosing daily outfits and the pocket-deep expenses associated with it in order to look presentable. But FYI, you don't really need to spend so much on clothes nor stare at your closet every morning in despair while wondering what to wear. We'll let you in on a secret: capsule wardrobe.
Capsule wardrobe is a collection of versatile clothes that you find useful for a certain period of time. Mind you, it's different from your base wardrobe (read: your clothing necessities such as bags, lounge clothes, beachwear, outerwear, pajamas and delicates, etc.). Capsule wardrobe is where you draw your daily outfits from.
As a guide, let's plan a capsule wardrobe that's good for a month. Remember that this is just a sample wardrobe. You can have as many items as you please per category and you dictate for how long you'll continue mixing and matching them. It's also up to you how many items you'll add to it, and you can even specify for which purpose your capsule wardrobe will serve you. It can be for work, traveling, rainy days, or the summer.
ADVERTISEMENT - CONTINUE READING BELOW
We worked with only 24 items for our casual dressing capsule: seven tops, four outerwear, three dresses, six bottoms, and four pairs of shoes.
TOPS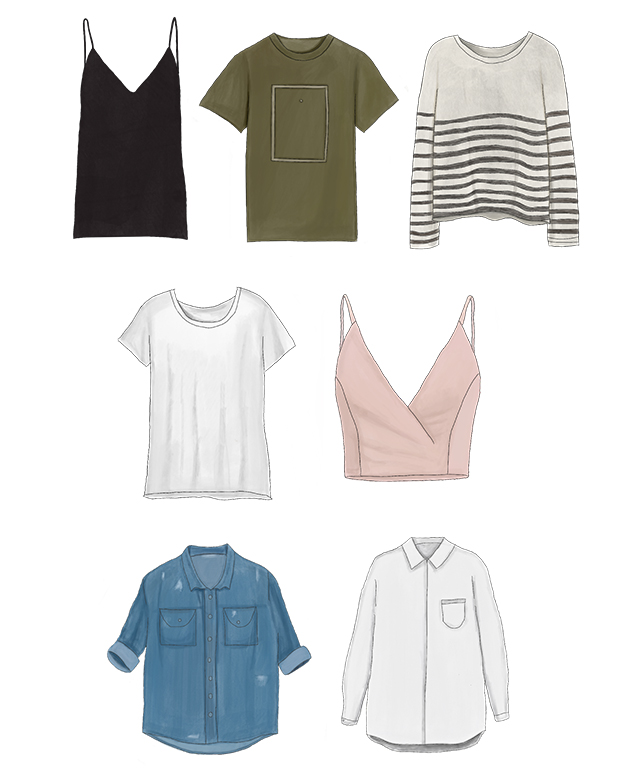 For the tops, we selected four basic items: a white button-down, a white tee, a striped thin sweater, and a denim shirt. We then threw in three versatile tops that can be easily dressed down or spruced up.
ADVERTISEMENT - CONTINUE READING BELOW
BOTTOMS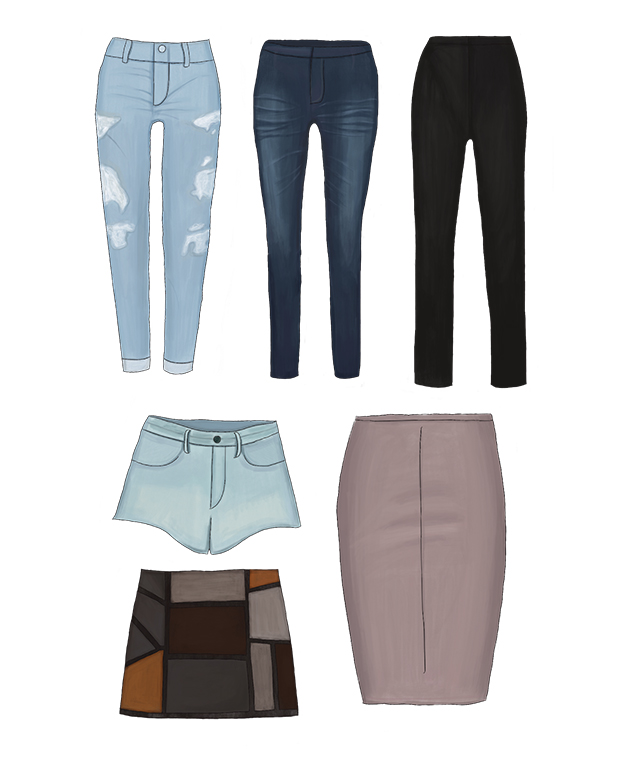 Here, we chose two pairs of trusty jeans: one white-washed and another pair that's dark-colored. And then we mixed in a pair of tailored trousers and a nude pencil skirt, plus a fun patchwork mini skirt and some cut-offs.
OUTERWEAR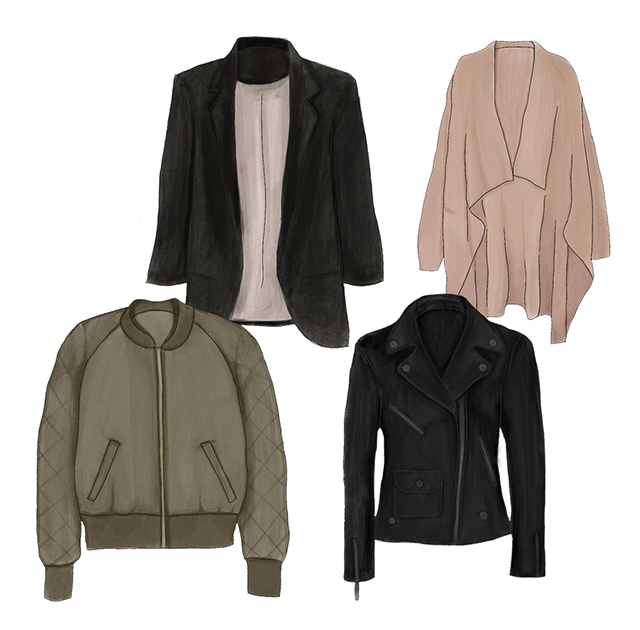 ADVERTISEMENT - CONTINUE READING BELOW
We chose four items that have classic cuts and in neutral colors: a blazer, a moto jacket, a cardigan, and a bomber jacket (to make sure your capsule keeps up on the trend!).
DRESSES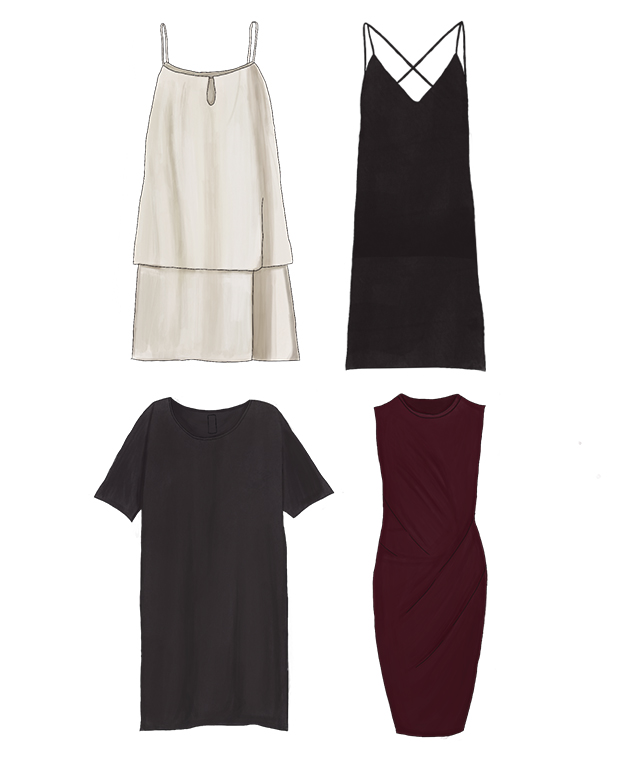 You can never go wrong with a little black dress. Here, we chose two cuts that are versatile enough to be casual and dressy. A little white dress is also a must in this capsule for an easy chic look. We also added a body-hugging dress in a deep plum color as the capsule's accent piece.
ADVERTISEMENT - CONTINUE READING BELOW
SHOES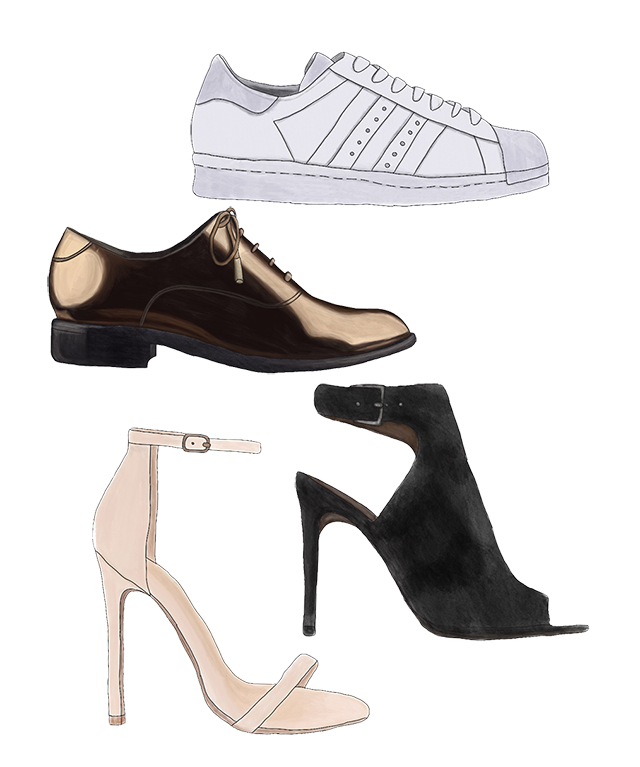 We stuck with the basics here: black heels (a safe choice), nude sandals (to elongate your legs), white sneakers (for obvious reasons), and a dressy pair of oxfords (instead of plain flats).
Now here is our capsule wardrobe for the month!
WEEK 1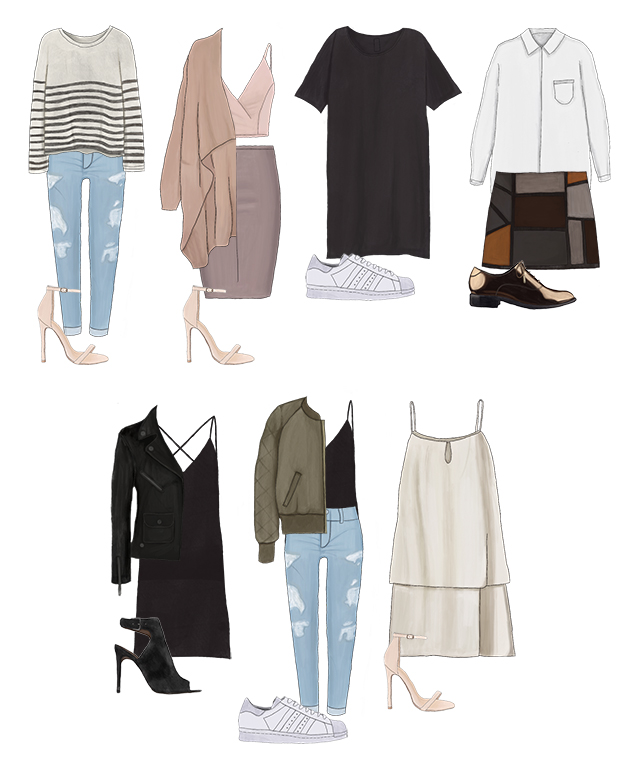 ADVERTISEMENT - CONTINUE READING BELOW
WEEK 2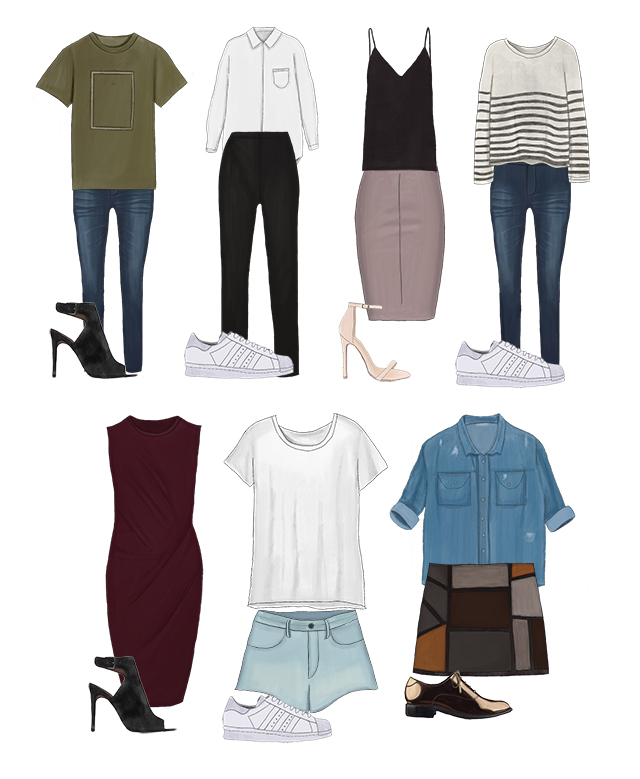 WEEK 3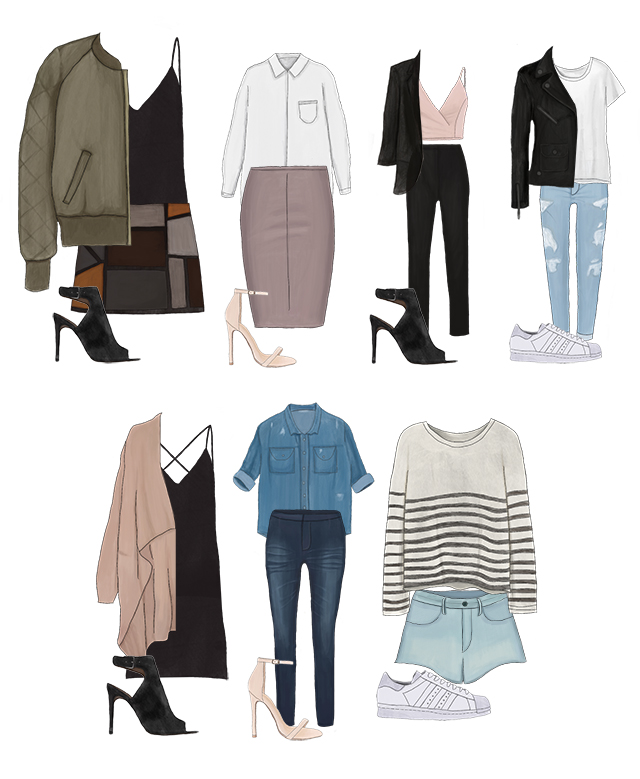 ADVERTISEMENT - CONTINUE READING BELOW
WEEK 4 (plus two bonus outfits!)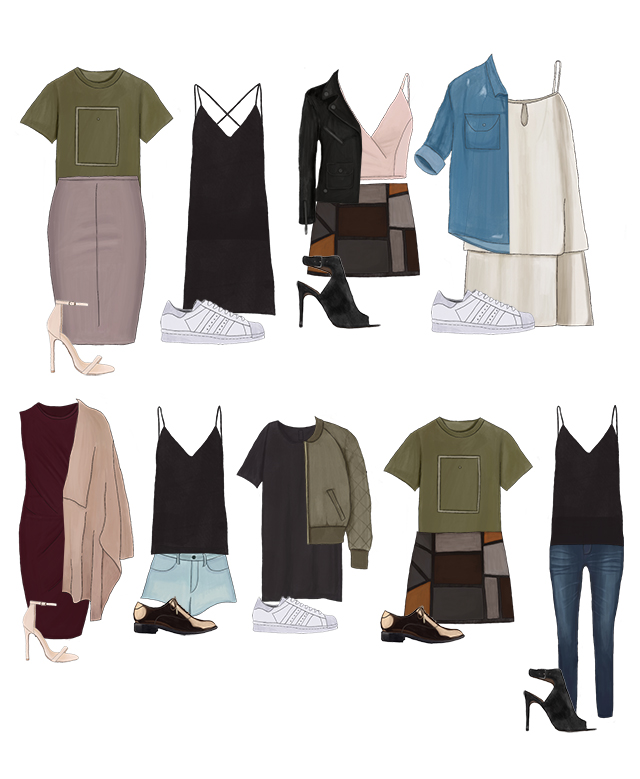 As you build your capsule wardrobe, here are a few questions to ask yourself:
When sorting through your clothes:
- Do I want to wear this today?
- Is there an occasion where I'll be able to wear this?
- Does it match at least five of my other clothes?
ADVERTISEMENT - CONTINUE READING BELOW
- Have I used this in the past month?
- Is it in good condition?
When adding items to your wardrobe:
- Can I think of three outfits around this item?
Now, your turn!