One's classic and the other's edgy, but they fit together like pieces in a puzzle. The interesting thing about Regine Velasquez and Leila Alcasid as a duo is that one can immediately tell they're from vastly different style academies—Regine dubs nonchalantly distressed denim jeans and skyscraping stiletto boots as her wardrobe's blank canvas, while Leila brought a slew of sweet florals and simple, crisp pieces to the shoot. Regine owns a shoe collection that'll have your jaw plummetting to the ground; Leila, on the other hand, admits she's guilty of wearing a certain single pair of Gucci slides so often that they've become completely worn out.
Their differences are complementary, though, to the point that they occasionally merge. "Minsan nga, I even copy her preppy look. Like, today gusto kong preppy, parang si Leila," Regine quips, laughing. To counter, Leila declares that Regine's influence on her closet is infinite: "The one time I was adventurous was for #PreviewXXII last year. I wore red silk pajamas! She helped me style that. I remember being so nervous about it."
ADVERTISEMENT - CONTINUE READING BELOW
Here, the two candidly, hilariously discuss what it means to be experimental in fashion, and how, at the root of it all, being comfortable with yourself is the most important thing. Read on!
Related Stories from Preview.ph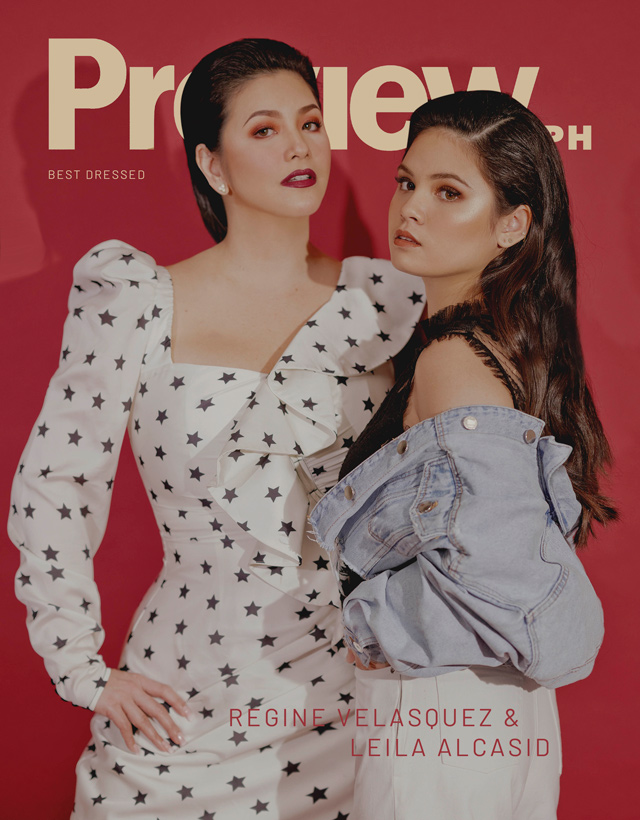 How long have you guys known each other? How did you first meet?
Leila: "Since I was a kid…but when did you first meet me, actually?"
Regine: "I met you when you were, like, two! A baby! But she got to know me better when I went to Australia for the first time."
L: "Yeah. I was around six or seven."
R: "Mga eight! And I'd sleep in their house. She'd make me kulit about The Sims…"
L: "And I'd make her watch the shows I'd put on."
R: "Show biz talaga! She would invent these, like, musical plays."
L: "I'd make tickets, and write music…"
R: "And then she'd force us to pay, force us to clap. [Laughs] And for some reason, I was always the assistant or the backup dancer or the backup singer…"
L: "Because I'm the main event. The star of the show. That's how we bonded! And I would play The Sims on her laptop 'cause I was obsessed with it."
Why do you think she was chosen to be part of best dressed?
L: "Because, duh, she's her! I've always admired her fashion, ever since I was a kid. That's one of the things that I would associate with her—she'd bold and daring with her fashion choices. I remember, since I was a kid, that was her style! Ever since! And I remember, when she would go shopping, she would buy sooo many pairs of shoes. There was this pair—back then I thought they were the weirdest, but now I think they're really cool—of Louis Vuitton ones with the strange heel…"
ADVERTISEMENT - CONTINUE READING BELOW
R: "Those!"
L: "So I've always known her, even before we got close, for her…"
R: "Shoes." [Laughs]
L: "And when I moved here, she encouraged me to try out more things. 'Cause I'm a very basic dresser. I wear a lot of neutrals, that kind of thing, so she encouraged me to branch out a little bit. She started buying me a couple things that would spice up my wardrobe. So I always knew that she'd end up on the Best Dressed list. I don't know about me, but…" [Laughs]
R: "No, you have good taste. The way she used to dress before nga was very neutral, safe. Yung na-associate ko with that is, like, Banana Republic, very simple, very…preppy! Ayun! That was before. But now, medyo…she's a little edgier na. She wears na wide-leg jeans, which fit her really nicely."
L: "I wore them a while ago [for the photo shoot]!"
ADVERTISEMENT - CONTINUE READING BELOW
R: "You did! And she likes jackets, na I wonder why 'cause we live in the Philippines."
L: "She can't stand when I wear jackets!" [Laughs]
R: "And I get confused, like, is it cold? Should I be wearing a jacket? But even my other pamangkins have the same sense of style, so apparently it's really uso. In my time, not so much."
L: "Everyone here wears jackets!"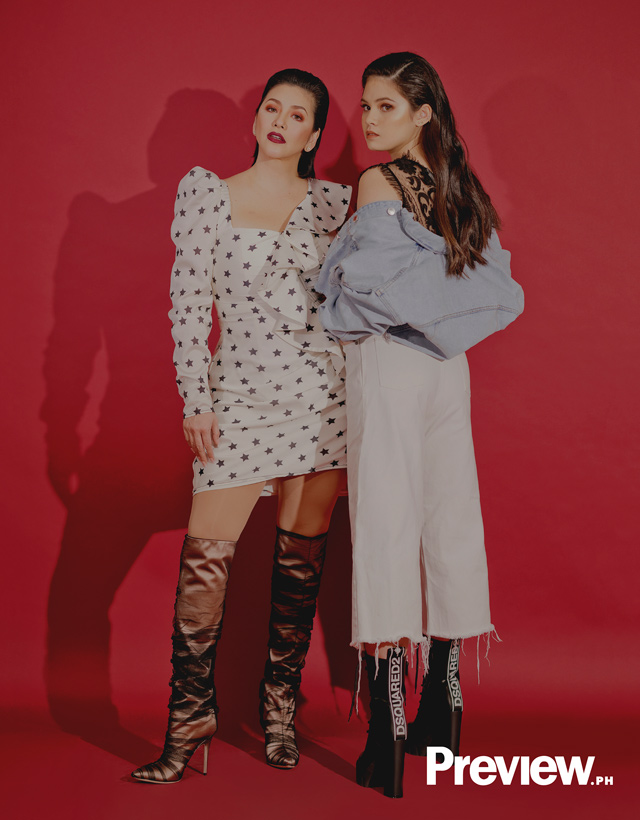 ADVERTISEMENT - CONTINUE READING BELOW
On Regine: Self Portrait star-printed mini dress and Jimmy Choo x Off-White boots.
What do you like the most about each other's style?
L: "I love that she is so herself. She doesn't think about what's in at the time, doesn't think about what everyone else is wearing. She just wears whatever she wants to wear. On other people it may not actually look good, but she knows how to put things together that I would never think of and it works so well. She always knows how to incorporate shoes…everything down to the socks is always so cool. So yeah, I like that she's very unique and doesn't really pay mind to trends so much. In that sense it becomes trendy just because she's being herself."
R: "Same, I like that she's herself, too. Although sometimes I think she's very safe. Pero, feeling ko, she can be more experimental. Kasi she's young! And sometimes she gets shy to dress up, but now is the time! To shine! [Laughs] I mean, look at me, I'm almost a hundred years old and I'm wearing torn jeans.
ADVERTISEMENT - CONTINUE READING BELOW
"But what I like about her is that she carries it, whatever it is that she's wearing, she'll carry it. Kasi, as it should be, the clothes should not carry you! 'Di ba sometimes there are people na they disappear in their clothes?
"Yun lang, I wish she would be more experimental with her wardrobe! Kasi her mom and I, we're the same, so we would always encourage her to, you know…"
You're the bagets one!
R: [Laughs] "I like that!"
L: "I know, she is! I'm more of the lola."
R: "Hindi naman! Sobra! She just gets shy. You carry yourself well naman eh. You're confident enough. You've got a beautiful face. Seriously."
L: "Baby steps, baby steps."
R: "Lately, she's been trying! We've been getting her shoes na medyo not her usual style, but more interesting, and she wears them a lot naman. Kasi that's how you start. Sa shoes talaga. Minsan naman your outfit doesn't have to be so bongga. Just a little accent, and a nice accent are shoes."
ADVERTISEMENT - CONTINUE READING BELOW
If you were to scroll through each other's Instagram feeds, what style tips would you pick up from each other?
R: "Oooh, I like the way she takes her pictures. It's so…curated. Mine is so pangit." [Laughs]
L: "Yours is just, like, promoting other people's concerts, then pictures of [her dog] Chanel, then pictures of [her son] Nate, pictures of you and dad kissing each other…"
Bihira yung OOTD!
R: "Bihira!"
L: "If ever I was gonna take a tip from her Instagram, I like when she posts pictures of her shoes. I like that she shows off her style, little nuances of her fashion. Her Instagram is very much her. 'Cause I also don't like super duper curated feeds. I like it to be a little bit natural so…"
R: "But mine's so pangit talaga." [Laughs]
L: "But it's good, you're unapologetically yourself! [Laughs] She actually has another Instagram account, and it's like, all just her shoes."
ADVERTISEMENT - CONTINUE READING BELOW
L: "I actually had someone [on Instagram] message me the other day, and they go, "Why do you only ever wear white T-shirts?" And I was like…it's a classic wardrobe staple! But from that, yeah, I would pick up that I'd like to show a little bit more of my personal style, my more out-there items."
What does her signature look tell someone about herself?
L: "I think it tells me that she is able to make edgy very effortless. She can be comfortable in her version of everyday wear. She makes it very put-together, very cool, even down to the nails. She'll usually have a cool printed T-shirt, jeans, then the shoes. Having just jeans and a T-shirt, and the way she kind of just accents it…even without making an effort, she can still show bits of herself in her outfit."
R: "With her, yun nga, she's very preppy with the way she's dressing up, but lately she's doing these wide-leg jeans, funner shoes. Very her age. Very safe. Yun na nga, once in a while, it's okay to experiment! But I actually like her style. Minsan nga, I even copy her preppy look. [Laughs] Like, today gusto kong preppy, parang si Leila."
ADVERTISEMENT - CONTINUE READING BELOW
L: "Your version!"
R: "Because I've always liked the preppy look! It's clean!"
On Regine: Preen sheer top
If you could steal one thing from each other's closets, what would it be?
L: "Oh man, your whole closet. [Laughs] One thing? What would I steal? You first, I'm thinking."
ADVERTISEMENT - CONTINUE READING BELOW
R: "I like your…sino yung Australian designer?"
L: "Alice McCall? Zimmermann?"
R: "Zimmermann! You have this romper…it's so cute, it's pink, and it's kind of floral. I'd steal that."
L: "For me, it's those Alexander McQueen shoes you lent me for the Star Magic Ball. The pink ones. I love those shoes, and they're so comfortable. And they're so me. Even though I try to branch out, I always like really classic styles that are kind of pretty and a little girly. I love those shoes."
In what way are your styles different and in what way are they similar?
L: "I think different in a sense that she's more adventurous with how she dresses."
R: "I don't dress my age." [Laughs]
L: "No, but it's a good thing! There should be no age to fashion! But yeah, the fact that she's not scared to clash different colors or different patterns. That's something I'm scared to do, like I'll have a vision in my head, then I'm like, 'Ah, nevermind, I'll just wear this instead, 'cause I don't know.'
ADVERTISEMENT - CONTINUE READING BELOW
"Similar in a sense that we both like comfort. She has her favorite pair of shoes, those ripped jeans…something you know looks good on you, that you know you're also comfy in. And I guess that's why it's a signature outfit as well! We both like that concept of having something you can wear every day."
R: "You like those Gucci shoes that you wear all the time."
L: "Yeah! I was actually gonna wear them today but I forced myself not to. I have this pair of...you know those Princetown loafer slippers? Mine have a pink rose embroidered on them. They are my ultimate favorite. Mine are really, really worn. It's a bit embarrassing."
R: "They're gonna walk out on their own soon!"
L: "I think last year I wore them almost every day."
Do you shop for each other? What's the most memorable thing you've ever received from her?
L: "I don't [shop for her]. One day, when I earn money. [Laughs] Actually she shops for me a lot. Most of my staple items now are from her. My first Louis Vuitton bag was from her and dad. She would, every year, get me something nice. There's this red Marc Jacobs bag, too—I remember my friends thought it was so out there for me to have a red bag. So even ever since, she was slowly introducing things like that to me.
ADVERTISEMENT - CONTINUE READING BELOW
"She likes to buy me a lot of Gucci stuff. I think my favorite would be...I have this bag, she and dad got it for me when we were on our way back from Paris last year, at the airport. I've definitely got a picture wearing it on my Instagram. It was my birthday, and they surprised me with this bag! I was so in love with it. Now it's a little battered. It's screaming, 'let me rest!' [Laughs]
R: "She writes me letters. That's more priceless!"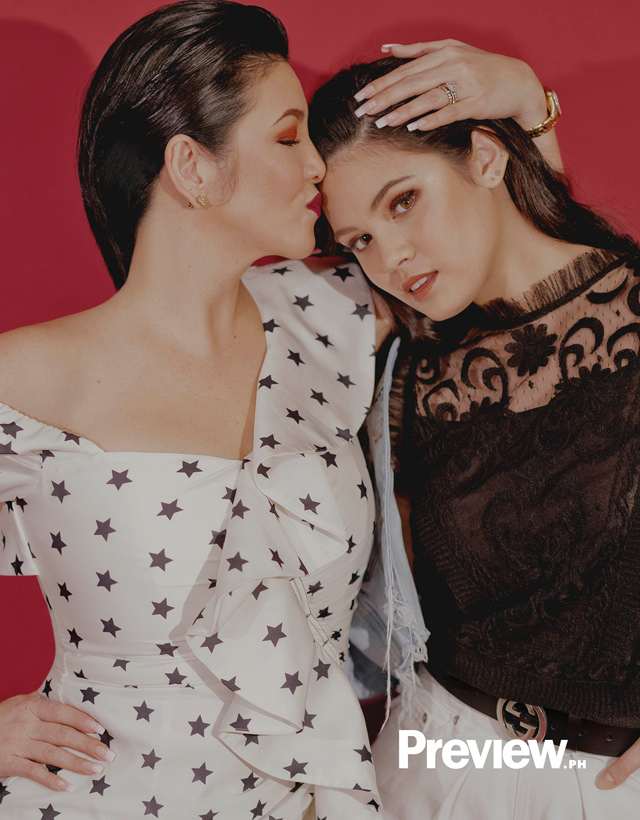 ADVERTISEMENT - CONTINUE READING BELOW
If she could wear one thing for the rest of her life, what do you think would it be?
R: "Panty? [Laughs] I think you'd wear those Gucci slippers with the rose. She wears them with everything. But you have also this other favorite pa, the other tsinelas that I got you, the stripey ones..."
L: "The Numero Ventuno ones! So cute. But, you're right. It would be the Gucci slippers. They're so worn out, though. I'm actually seriously thinking about rebuying them.
For her, I'd say this outfit right now. The ripped jeans, then these little...not quite flats, always with a tiny bit of heel, 'cause she really loves her heels, and a T-shirt! For the rest of her life. Forever."
What's one piece of fashion advice you'd wanna give each other?
L: "Keep doin' what you're doin'."
R: "For her to be a little bit more experimental talaga. And for her not to be embarrassed, afraid. Kasi sometimes she gets conscious. Do it while you're younger. 'Cause believe me, [as you get older] your taste gets iba na, and you'll find that there are some things you wish you wore when you were bagets. So while you're young, go and experiment! Who cares? Basta you're happy and you keri it."
ADVERTISEMENT - CONTINUE READING BELOW
L: "Actually, you know, the one time I was adventurous was for #PreviewXXII last year. I wore red silk pajamas! She helped me style that. I remember being so nervous about it. The watch [I wore] was dad's Bulgari watch."
R: "You got best dressed that night!"
L: "I did! That's why I'm here pala. [Laughs]"
One last question! What do you enjoy the most about fashion?
R: "I love the whole dressing up bit. Nowadays, I have gotten so used to having a stylist, but during my time. when I was starting, you had to style yourself! I actually enjoy that. I love the whole process, from shopping, to the putting everything together. Siyempre may mga hit and miss, but now, anything goes. Wala na yung mga rules dati, yung mga "you can't wear this with that". I really miss styling myself. That's why we said yes [to the Best Dressed feature], 'cause we'd be able to show you our own personal style. I haven't been able to do that in a while."
ADVERTISEMENT - CONTINUE READING BELOW
L: "I like how you can use fashion to express your personality. It's another extension of who you are, and I like that no matter how muted or outrageous it is, that's you! Even as a person I'm very relaxed, very chill, I kinda avoid drama and I'm very understated, and that reflects in the way I dress. Very low-maintenance. 'Cause it's true: when you look at a person, the first thing you notice is how they're dressed, and then it gives you an impression of who they are. Of course, you can break first impressions, but that's how you choose to present yourself to the world, and that matters."
Produced by The Preview Team
Art Direction by Mark Buenaobra

Photographed by Charisma Lico
Makeup by Omar Ermita for MAC Cosmetics (Leila)
Hair by Mark Rosales (Leila) and Mycke Arcano (Regine)
Hey, Preview readers! Follow us on Facebook, Instagram, YouTube, Tiktok, and Twitter to stay up to speed on all things trendy and creative. We'll curate the most stylish feed for you!