For Camille Co and Joni Koro, true love comes in the form of expertly managed luggage space. "He used to pack light," Camille shares. "But ever since meeting me, he understood the importance of options. And at the same time, trying to [find a] balance to make sure there's enough space for my stuff in his luggage."
While Joni might need to sacrifice a few kilos off his allotted luggage allowance, he does enjoy the perks of dating a fashion blogger—getting free fashion advice, sourcing hard-to-find pieces, and having an all-too-willing personal shopper. As for Camille? She's got herself a blogger jowa who supports her ambitions and goals in life, a man who knows to leave clothes shopping in her capable hands, and a lifetime partner that comes free with a closet extension she can freely borrow from.
With this partnership forged in fashion heaven, Camille and Joni prove how couples can complement and improve each other's style without the fear of losing oneself.
ADVERTISEMENT - CONTINUE READING BELOW
Related Stories from Preview.ph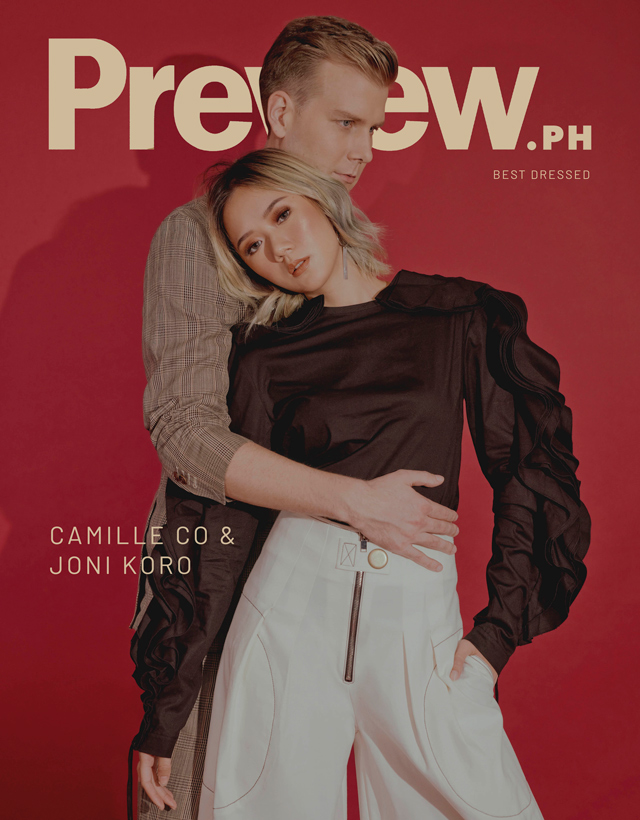 Joni wears a Massimo Dutti suit while Camille wears an Antonio Berardi top and Rejina Pyo pants.
How did you guys meet and how long have you been together?
Camille: "We met on the plane—that's the short story."
Joni: "We met, actually, on a plane. So we were flying to Bacolod for Maskara Festival. She was flying for work, I was flying for fun. [To Camille: I don't know if it was for work or fun for you.]"
CONTINUE READING BELOW
Recommended Videos
C: "For work!"
J: "...On paper, for work. And they were almost bumped out from the flight and they fought their way back in and someone else got bumped out. [Chuckles] So, they were sitting in separate seats and she got the unfortunate destiny to sit next to me and she was on the window seat."
C: "He was really paying attention because I was calling Pat—I was with Patricia Prieto—and I forgot we weren't seatmates kasi nga we were almost bumped out of the flight so separate seats na. So nakalimutan ko siya and I was like, 'Pat, Pat, 18F?' And then he goes, 'Oh, 18F? Here!' 'Yun 'yung first na sinabi niya sa'kin, ever. And then I sat there and he was so chatty, chatting me up and sabi niya I was really a useless person to talk to kasi—"
J: "Super."
C: "Grabe 'yung super niya oh."
ADVERTISEMENT - CONTINUE READING BELOW
J: [Laughs]
C: "I was really not engaging daw."
J: "[She was giving] one-word answers. Cold."
C: "But it was because I was working. So he just kept talking, talking, talking. And then he tried to ask for my number daw. But then..."
J: "It was an indirect way of asking and she totally dismissed the whole question."
C: "How???" [Laughs]
J: "I was asking! Of course, there were a lot of parties and I was like, 'Okay, you know the best parties so where should we go and stuff. How do we know when to go and where do you go.' And she goes, 'Just go on from the hotel; it's everywhere."
C: "Totoo naman."
J: "And then there's another one—direct question—when the first one failed."
C: "When we landed, he directly asked na for my number. When I finally gave him daw my number, he knew that I was giving him my spare number because of the way I was giving it. Malay ko naman kasi 'di ba. Malay mo he's some weird person or whatever. So, there. We've been dating for four years now."
ADVERTISEMENT - CONTINUE READING BELOW
So why do you think Joni got picked to be part of this year's Best Dressed list?
C: "He's always been really dapper. I was telling him that day on the plane—kasi 'di ba we're going to Maskara Festival, right? So, a lot of people are just wearing flip-flops kasi they're just there to chill. You know that day on the plane, if you weren't wearing what you were wearing, you weren't like the way you were, feeling ko mas lalo kitang di papansinin. [Laughs] Kasi I'm one of those girls that are really into guys who really know how to dress. Like, kahit gaano ka man ka-cute, if I see you wearing like let's say, Islander...
"And then on our first date, I was like, 'Oh, wow! This guy, on our first date, may pocket square pa siya.' And he was like in a blazer, pocket square. And he started to be known as the pocket-square guy because he was always with pocket squares. I think he's always well-dressed even if he thinks he's not a fashionista. But I think it comes naturally to him because aesthetics for him really matter. Not just with fashion but with interior and like decor, he really has an eye for those things."
ADVERTISEMENT - CONTINUE READING BELOW
How about Camille?
J: "She's always been—well, not on the list. But she's always been fashionable. She studies a lot, reads a lot, watches different designers and collections online. Or you can go all the way back when [she] would raid [her] mom's closet when [she] was 10. So it's always been there. She has very versatile style; it's not only the one look. She can pull off almost any style."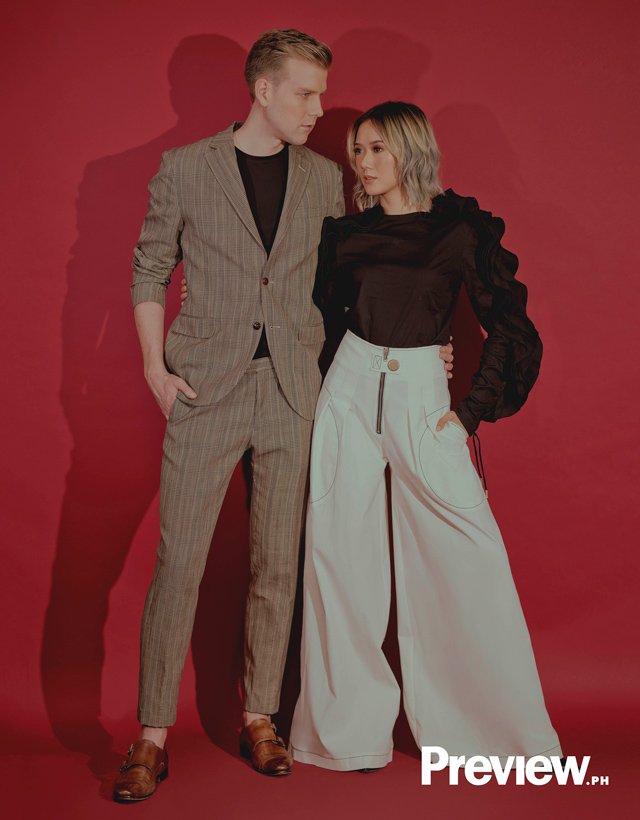 ADVERTISEMENT - CONTINUE READING BELOW
On Joni: H&M shirt and Gianni Russo shoes; On Camille: Alexandre Birman shoes.
What do you like the most about the way Camille dresses?
J: "There are no off days."
C: "Awww."
How about Joni? What do you like most about his style?
C: "I like that he is very dapper and not a lot of guys pay attention to these things but for him kasi, he really pays attention to the tiniest detail. Like the color, how it's supposed to fit. So you can dress up someone in the fanciest pants or prints pero if it feels that it wasn't made well, the fit isn't right...he knows those things naturally. So I like that he pays attention to all those things."
If you were to scroll through each other's IG feed, what kind of style tips would you pick up from Joni?
J: [Laughs] "There's nothing much there."
ADVERTISEMENT - CONTINUE READING BELOW
C: "Kasi he doesn't post much [OOTDs] on his Instagram eh."
How about you, Joni?
J: "I think it's how to mix different elements—things I would never think those would go well together but in the end, when you're bold enough to mix those, it really works. Same goes with my outfits. She mixes a lot of stuff I didn't think I could pull off."
If you could steal one thing from each other's closet, what would it be and why?
C: "I've already stolen! Blazers! When were in Singapore, I didn't have anything to wear at the last minute. Like I didn't like what I brought..."
J: "To a fashion show."
C: "Yeah, to a fashion show, to an event, so I got his blazer and turned it into a blazer dress for me. I like getting his shirts and blazers. [To Joni:] And sometimes, I also wanna get your shorts, if I could just belt them. 'Cause it's so in now. 'Yung mga boy shorts. I would borrow anything from his closet, really. As long as it fits me."
ADVERTISEMENT - CONTINUE READING BELOW
How about you, Joni? Would you borrow anything from Camille's closet?
J: "I don't think so."
C: "He can't." [Laughs]
When you look at Camille's signature style—if she has one—what does it say about her as a person?
J: "Very detailed and I think creative. It's effortless"
What does Joni's signature style tell you about him?
C: "My god, kailangan ko galingan, ang gaganda ng answers niya. That he is the type who would think things through. He's not a 'pwede na yan' guy. Hindi siya 'any any.' He's very thoughtful."
Do you shop for each other?
J: "I don't shop for her. It's a big risk."
C: "I shop for him a lot. For example, when he doesn't wanna shop anymore and wants to save, he just sits down but I come back with a ton of clothes and go 'Look, look, look, these are so cute for you."
ADVERTISEMENT - CONTINUE READING BELOW
J: "Last time... where did we go?"
C: "Tokyo."
J: "Yeah, Tokyo. And I was like, 'Okay, I'm just gonna sit here.' We were in a store, taking forever, and then she comes back with 10 items for me and two for her. But what can I do? Swipe, swipe."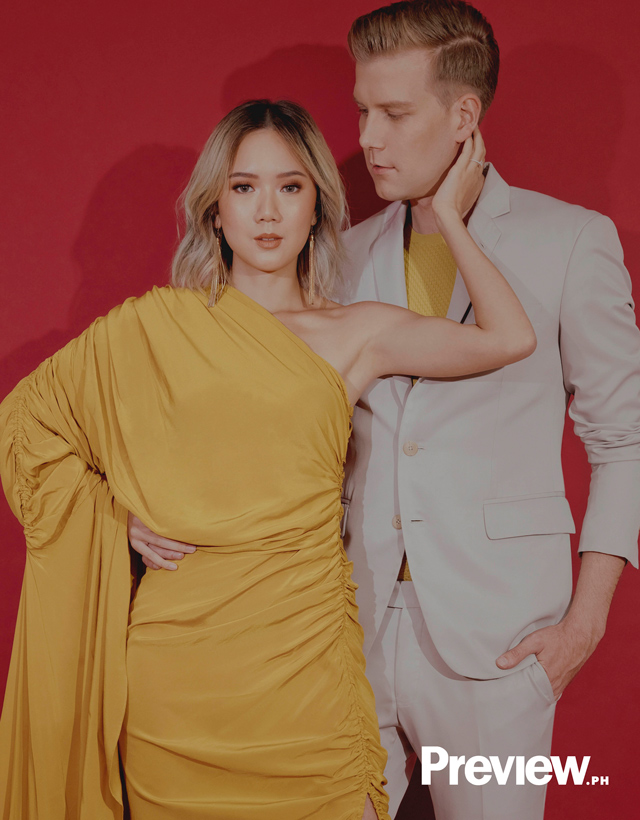 ADVERTISEMENT - CONTINUE READING BELOW
Camille wears a Solace London dress while Joni is dressed in a bespoke suit with Massimo Dutti shirt.
What's the most memorable or fashionable item he got for you?
C: "I have this pair of slides that I lost—well someone lost it—on one of my trips but it was sent back to me but it was so damaged. I was so, so sad because I only used it that one time. So I was complaining to him, 'I'm so sad, I can't believe they did this to my slides.' And then after a few weeks, he surprised me with this box from abroad and when he opened it, it was the exact same pair of slides that got damaged. He said that he searched all over the internet and he couldn't find one until he finally e-mailed the brand itself. And they found one size left."
J: "I found the CEO of the brand and I shot her an e-mail saying that we've got a problem and can you help out. She was very nice and I didn't leverage on Cams' name or anything; they were just really helpful. And then they found one pair in their warehouse in New York and they sent it over."
ADVERTISEMENT - CONTINUE READING BELOW
What memorable or fashionable item has Camille given you?
J: "I always keep complaining to her that don't buy me anything expensive and she's been following it every now and then but the ones which I have been using the most is the Italian double [strap] monks shoes she bought for me. That was something I have been looking for for the longest time and she knew that I've been looking for them and then she found the pair. If she likes it, usually I like it as well. We have similar tastes."
In what way are your styles similar and in what ways are they different?
J: "I am not as experimental."
C: "But he appreciates it. I think he is very appreciative of what looks good. I think we're similar in a sense that we're very open. What he means that he's not very experimental is that he won't do it to himself but when someone comes in with choices, he won't say no right away. He'll still try it so I guess in that sense we're both very open in trying on new things. And in terms of style, I think we both appreciate minimalist style as long as it looks put together, not too noisy, not too loud... then we both like those. And of good quality. I learned even more about quality when we got together."
ADVERTISEMENT - CONTINUE READING BELOW
If Joni/Camille could only wear one outfit for the rest of her life, what do you think he/she would choose?
C: "I think suits."
J: "She will be so sad."
C: [Laughs]
J: There's no one outfit that will make her happy for the rest of her life. But I think she would choose something that is chic yet casual."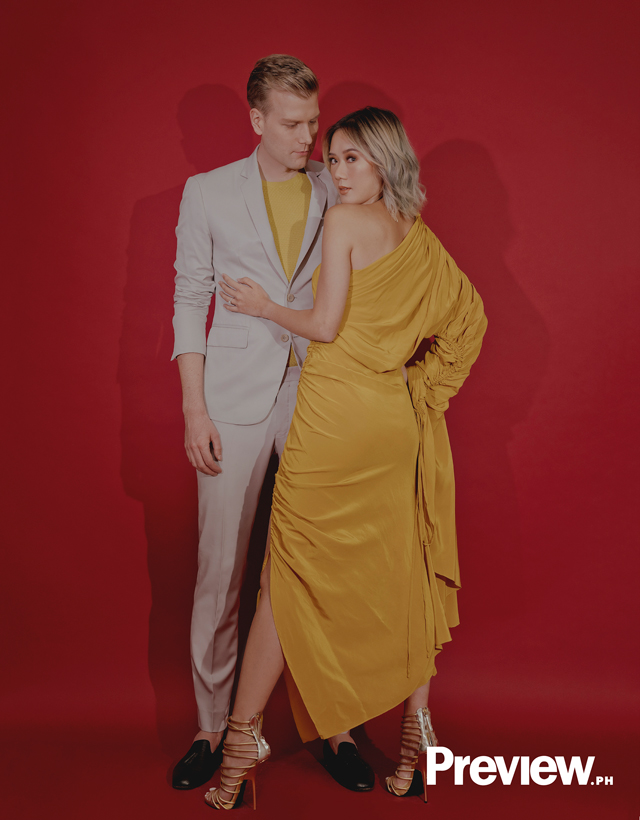 ADVERTISEMENT - CONTINUE READING BELOW
On Joni: Lidfort shoes; On Camille: Giuseppe Zanotti heels
What's one piece of fashion advice you want to give each other?
C: "Sasabihin niya, 'Don't buy too much."
J: [Laughs] "Get rid of something before you buy. But no, I can't give her any fashion tips. She's the one who knows herself. I have no authority over that."
C: "I don't have any advice for him also. I really like his fashion sense. Maybe to appreciate brands more. Because he is really against buying expensive, expensive things but I feel like you would really see the difference."
J: "But I like more of how it looks than what brand it is."
C: "But maybe just to appreciate it. I just want him to see the value in it. Why it's priced at a certain way and not just about the name."
J: "I know there's a lot that goes into it. It's just that I'm a casual shopper."
ADVERTISEMENT - CONTINUE READING BELOW
What do you both enjoy the most about fashion?
J: "I like how it transforms people. Like you can transform the look and the perception of yourself completely by what you're wearing."
C: "Same. Even your emotions and feelings. Like when you feel kinda down but if you put an effort in fixing yourself, it actually affects your mood."
J: "And your confidence."
Since you're both from different cultures, how has that affected each other's style. What did you learn from each other?
C: "I got introduced to more brands from his side of the world. He was explaining to me his favorite brands from Stockholm."
J: "For me, I think it's really the brains in styling. Like before, I didn't use much color."
You guys travel a lot. What's your packing situation?
C: "Okay, so he used to pack light. So light he could have a hand-carry for an entire month, ganon. But ever since meeting me, he understood the importance of options. Options, options, options! And at the same time, trying to balance to make sure there's enough space for my stuff in his luggage." [Laughs]
ADVERTISEMENT - CONTINUE READING BELOW
J: "So basically, I'm taking much more stuff with me now. Sometimes it's just because I'm lazy to think what I'm gonna wear so I just pack everything and figure out things later. But then, I always have to have enough space for her."
C: "But not because I'm bringing so much stuff. It's just in case I shop but we're generally very practical packers. The extra space is just really for shopping."
Produced by The Preview Team
Art Direction by Mark Buenaobra
Photographed by Charisma Lico
Makeup by Jason delos Reyes (Camille), Don de Jesus (Joni)
Hair by Mycke Arcano (Camille), Mark Rosales (Joni)
Related Stories from Preview.ph
Hey, Preview readers! Follow us on Facebook, Instagram, YouTube, Tiktok, and Twitter to stay up to speed on all things trendy and creative. We'll curate the most stylish feed for you!