In the last four years and for as long as selfies and other photos of myself are concerned, the worm's eye view and deer in headlights options are totally off-limits.
I love being shot with my head tilted to my right and like most people who look better when shot at a specific angle, I am uncomfortable seeing photos of myself taken from aforementioned unsightly vistas. I have vivid recollections of diplomatically asking photographers at events to delete photos that expose my double chin or highlight the fact that I do not have a jaw anymore. Fortunately for me, I am a media practitioner—even the publisher of this site once upon a time—and so twisting the arm of event photographers to delete a row of unflattering photos at once is usually a breeze.
Industry insider or not however, a selfie or any photo of oneself taken at a favorable angle is one of life's biggest motivations. My selfie roll is proof: all the photos of myself looking to the right look exactly the same. Every year, too, I would volunteer to art direct the annual family Christmas photo so I could pose to my advantage, even if it means standing away from my favorite cousin Trixie who shares the same angle as I. It may come off as a risky, narcissistic proposition but is there any benefit to a having an unflattering photo?
ADVERTISEMENT - CONTINUE READING BELOW
GRAVITY CAUGHT UP THEN BAM!
I wasn't always this fussy about being shot. During my skinny era, I felt that I looked and photographed my best. Those were the years between 2010 and 2014, just when I was starting out as a fashion writer and until I became a magazine publisher. Never mind that I survived on a diet of chicken wings, iced Americanos, and a pack of menthol cigarettes every day. Or that I averaged four to five hours of sleep and had zero exercise. I was fine—and there was no such thing as facial fat to weigh me down.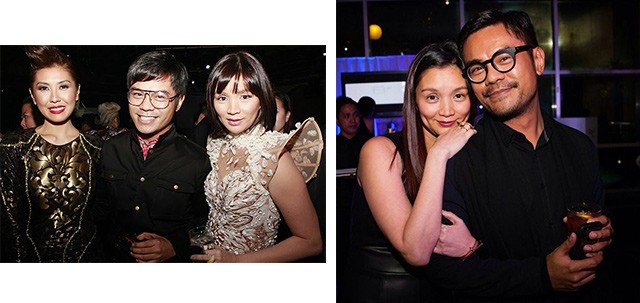 ADVERTISEMENT - CONTINUE READING BELOW
Recommended Videos
IMAGE Courtesy of Owen Maddela
These two photos bookend my skinny era. L-R: Sandwiched by fashion legends Liz Uy and Pauline Juan at Preview's McQueen Ball in 2010 and me and Pauline at an industry event four years later. In four years, I moved up from a size medium to a large but still had a prominent jawline—and in that, I took refuge.
As my work responsibilities widened and office pressures piled up, so did my waistline and restaurant launch invitations. It didn't help that the trends of the day—normcore and drawstring joggers—were very forgiving, taking from me from working lunches to dinner events comfortably. Or that I was particularly enamored (I have always been) by Proudrace pullovers that were meant to look roomy despite its size small tag! In no time, I crossed over to XL territory with my big appetite and love for anti-fit fashion, not to mention a lack of physical activity, and a serious case of chain smoking.
ADVERTISEMENT - CONTINUE READING BELOW
By the time I decided to kick my nicotine habit in early 2017 (quite successfully, thanks to my visibly concerned cardiologist), I fell prey to the sin of substitution, trading menthols for macarons, crème brûlée, and banana crêpe every chance I got. It wasn't the French kind of love I had always fancied—my heart leapt more for the Balenciaga-Chanel-Dior kind—but I carelessly thought that dessert time was far better than a smoke break.
However, nothing prepared me for the harsh truth when I covered and got photographed at a dinner event in August of the same year. What initially was a tough time at home looking for something decent that fit—most of my suits were tailored after my former slim self—became all too real the day my post-party article went online.
ADVERTISEMENT - CONTINUE READING BELOW
IMAGE Kitkat Pajaro
Not even my navy jacket or black shirt could conceal the truth: My chin doubled, my jaw disappeared, and I was on a whole new level of overweight! It didn't help that I simply ate too much for my metabolism to catch up. It certainly didn't help either that I was seated beside the perennially lithe Jae Pickrell.
PRICKING THE SINS OF MY YOUTH AWAY
At 36, I felt like I was desperately racing to get my old self back. Aside from trying keto (not for me, though) and intermittent fasting (which I prefer because it allows me to have sweets), I used a fitness passport app to sweat away the poundage that the past couple of years brought on. And while I have also carried a fondness for Vinyasa Yoga for nearly a year now (minus the #namaste selfies, God forbid) and have seen changes in other parts of my body, it didn't offer the same effect on my stubborn facial fat. And no, I am not game to try those circa 1980s facial exercise videos on YouTube.
ADVERTISEMENT - CONTINUE READING BELOW
Related Stories from Preview.ph
It was at this point that the staff at Belo Medical Center was more than happy to offer solutions. After consulting with Dr. Givenchy Ang (how serendipitously fasyon) of their Greenbelt branch, she recommended that I give their V-Contour and Exilis treatments a try so I could reclaim my once singular chin and once glorious jawline. The clinic explained that V-Contour is an injectable treatment that is ideal for dealing with stubborn fat on the face and the entire body, too. Made from all-natural plant extracts, V-Contour is a tolerable treatment that may cause minor redness and swelling that disappears quickly.
Exilis, on the other hand, is a non-surgical slimming procedure that contours the face and other parts of the body by liquefying fat. It also triggers the production of collagen that tightens skin. It target fatty layers underneath the skin through a handheld device.
HOW CAN SOMETHING SO QUICK ERASE SOMETHING SO STUBBORN?
After assessing my facial fat and structure, and clearing me of possible allergies, Dr. Ang recommended that I undergo one session of V-Contour and one session of Exilis three days apart for four consecutive weeks.
ADVERTISEMENT - CONTINUE READING BELOW
On my first V-Contour session, I would find out that the short, soft pain caused by injections is nothing that Emla couldn't fix. The first thirty minutes of the session was dedicated to the application of said local anesthetic and waiting for its numbing sensation to take effect. Dr. Ang aimed at my double chin, jawline, and the lower part of both cheeks throughout the my four sessions with her.
Three days after each V-Contour, I returned to the Belo clinic for Exilis. The combination of sonography gel and wand offered a calming effect compared to the aforementioned minor pain caused by needles. Exilis reinforces the slimming effect that V-Contour promises by sculpting the target areas until they are supple and firm. It also inadvertently made for quality nap time.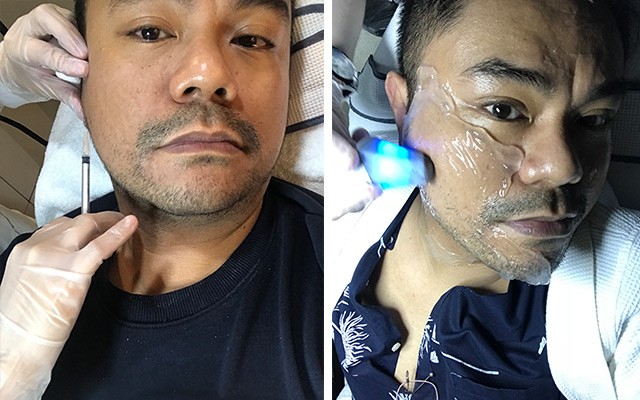 ADVERTISEMENT - CONTINUE READING BELOW
IMAGE Courtesy of Owen Maddela
L-R: A needle by my right jaw during V-Contour and a wand on the same side during Exilis. I love how I see more of my old self each time I emerge from the treatment room.
Both weekly procedures were quick enough that I would schedule them over lunch or after office work. Thankfully, too, they did not require downtime at all. Most importantly, l saw the effect two weeks in, noticing an actual contour in my jaw area after quite a long time.
Coupled with diet and exercise, I saw twice the effect at the end of the four-week treatment, my jaw more defined than it's ever been in more than a year. I also observed how my double chin has significantly reduced, far from how it dangled recklessly during last August's dinner event.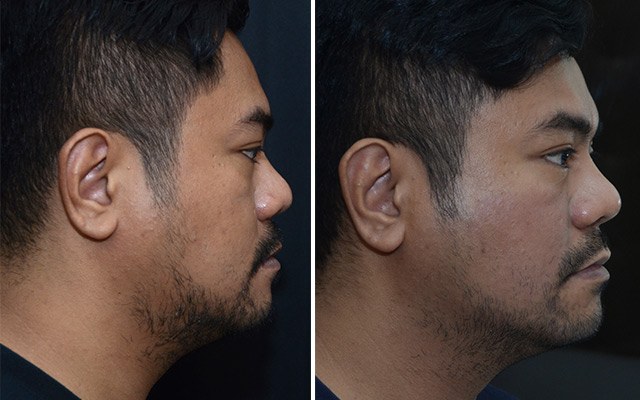 ADVERTISEMENT - CONTINUE READING BELOW
IMAGE Courtesy of Owen Maddela
I never thought the day would come when I'd see my jawline again. And look at how my double chin has gotten smaller. It's also tighter to the touch now.
It feels good to be receiving compliments from friends who've seen me "through thick and thin." Even more, from the chin up, it's quite a treat to see parts of my slimmer self again. And if my phone's selfie roll isn't any indication (I've been posing beyond my usual look-to-the-right!), I don't know what is.
Truth be told, I miss hanging out at the Belo clinic: using their fast wifi, munching by their well-equipped snackbar, engaging with a chat with their courteous staff, and seeing more of my old self each time I emerge from the treatment room. This time, however, my next challenge—from the chin down—is one that a good diet and sun salutations can still correct.
ADVERTISEMENT - CONTINUE READING BELOW
But I'll get real: I would be thrilled to have the rest of my body worked on if only to see even more of my younger slim self re-emerge with every visit. With such factors as gravity and metabolism becoming more challenging in age, I'd drop by the clinic, stat. That's nothing to be ashamed of.
For inquiries, visit www.belomed.com. You may also call +632 819-BELO or book your appointment through Viber +63 999 885 7273.
Related Stories from Preview.ph
Hey, Preview readers! Follow us on Facebook, Instagram, YouTube, Tiktok, and Twitter to stay up to speed on all things trendy and creative. We'll curate the most stylish feed for you!