In every aspect of our lives, we've come to believe that mothers know best. This is especially true even in the world of fashion. Below, we round up 50 of the most stylish moms we know whose wisdom in the style department we truly trust (and whose OOTDs we're itching to cop!):
1. Agoo Bengzon
Once Preview's beauty editor, Agoo's got a thing for matching her nails to her shoes—the kind of satisfying, nitty-gritty coordination we're all about.
2. Aivee Teo
The doctor's in! We live for Dr. Aivee's workday OOTDs in video form—look out for clips of her oh-so-casually sauntering into her clinic in limited-edition Gucci, no biggie.
3. Aliza Apostol
Dainty and summery, Aliza's outfits are the perfect fusion between ladylike and sunkissed.
4. Amina Aranaz-Alunan
She may be best known for her covetable bag designs, but Amina's personal style is one to watch, too!
5. Anne Gonzalez
This Preview Best Dressed List alumna makes mixing fashion and comfort seem like such an effortless task.
ADVERTISEMENT - CONTINUE READING BELOW
6. Apples Aberin
Apples' style can easily be summed up in two words: summer chic. She's not afraid to wear color and mix it up with eye-catching details, like big bows and ruffles. Plus, she can confidently wear beach-ready outfits to the city!
7. Bea Soriano-Dee
Bea's fashion aesthetic involves a lot of monochromatic outfits. Her no-fuss dressing inspires minimalists to embrace color without compromising style and comfort.
8. Bea Valdes
Renowned bag and accessory designer, Bea reflects her own craft: intricate, sophisticated, and with great attention to details.
9. Isabelle Daza
This actress has a flair for mixing masculine clothes with delicate pieces. Case in point: this blazer and maxi dress combo that works as a travel outfit and would look just as great in the office!
10. Boom Sason
Fashion designer Boom Sason has mastered dressing every woman. Hence, it's not a surprise that she lands a spot on this list. Boom is an expert in creating tasteful and sexy silhouettes that hug the right curves. Who says being a momma should stop you from wearing corsets and tangas, right?
ADVERTISEMENT - CONTINUE READING BELOW
11. Cecile Zamora
More commonly known as the blogger behind Chuvaness, Cecile definitely knows how to keep herself up to date with the nitty gritty of fashion.
12. Christiana Collings
Christiana Collings is no stranger to the world of fashion. With the launch of her own line of clothing, we'll surely be seeing more stylish looks from this young momma.
13. Christine Dychiao
Simple yet trendy, Christine still finds the time to stay up-to-date with the latest trends despite being a busy mother to three adorable kids!
14. Daphne Oseña-Paez
Daphne exhibits sophistication in each one of her looks, and we're living for it!
15. Dawn Zulueta
Dawn never fails to show up in timeless looks with just the right amount of spice. She is a living proof that beauty knows no age.
16. Felicia Atienza
Founder of Chinese International School Manila, Felicia proves that being a busy mom is never an excuse to not be fit and fashionable.
ADVERTISEMENT - CONTINUE READING BELOW
17. Georgina Wilson-Burnand
George has become an icon in the fashion industry, and she still is even after giving birth. She continues to slay her OOTDs and reap hearts on Instagram.
18. Gretchen Barretto
Confidence is key to rocking any look, and Gretchen knows it all too well. And obviously, it never hurts that she's always carrying a Birkin.
19. Hindy Weber
We're obsessed with the chill, laidback vibe Hindy's stylish outfits always give.
20. Janina Dizon
Janina only needs an elegant dress and a slight booty tooch to show us that she's up to date on the fashion scene.
21. Jenni Epperson
Jenni is fearless when it comes to experimenting with fashion. Just look at how she makes layers work in the summer!
22. Jinkee Pacquiao
Can we talk about how cute that plaid dress is? Jinkee surely knows how to dress things up! (Notice how she adds a little flair with those braids, too.)
ADVERTISEMENT - CONTINUE READING BELOW
23. Juana Yupangco
Her bright wardrobe choices are perfectly punctuated by her penchant for quirky designer shoes—a styling trick she's already passing on to her daughter with mom and me steppers.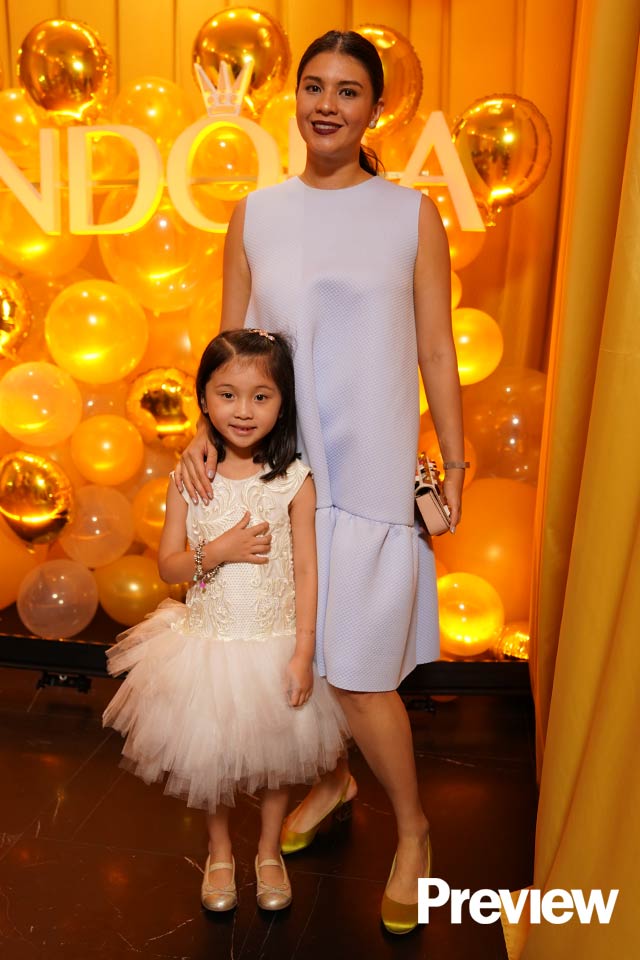 IMAGE Ryan Ong
24. Kai Lim
While she is always elegant and refined, what sets Kai apart is how she's mastered contrasts—the masculine with feminine, deconstruction with polish.
ADVERTISEMENT - CONTINUE READING BELOW
IMAGE Preview Archive
25. Katrina Tantoco
Kat's cheery Bohemian style is a testament that youth is a state of mind.
26. Keri Zamora
Statement earrings are hard to pull off, but Keri carries the look so well!
27. Leona Panutat
Leona knows how to mix things up! Here, she demonstrates how vertical stripes can go well with snakeskin sandals.
ADVERTISEMENT - CONTINUE READING BELOW
28. Loralee Soong
Founder of the SOFA Design Institute, Loralee shows us she isn't here to play games when it comes to fashion.
29. Liz Uy
This stylist to the stars definitely isn't lacking in the fashion department, serving us fashion-forward looks all the way from Manila to London!
30. Lucille Dizon
No matter where she is, Lucille is never a stranger when it comes to cooking up the perfect OOTD.
31. Lucy Torres-Gomez
A beautiful mom with an equally beautiful family, Lucy definitely has that natural ability to inject sophistication into any ordinary outfit.
32. Mandy dela Rama
Mandy's sartorial choices are a fashion-lover's dream, brimming with opulence and a proclivity for great design.
33. Marian Rivera
Marian's fashion sense is anything but ordinary. Her new penchant for streetwear is proof that discovering one's personal style is a fun yet never-ending journey.
34. Marie Lozano
She's the super mom we all aspire to be. Flawlessly chic in all ways possible, Marie makes us believe that fashion should feel effortless.
ADVERTISEMENT - CONTINUE READING BELOW
35. Michelle Lao
Michelle can pull off literally any color. Her playfulness when it comes to dressing up always leaves us double-tapping.
36. Mikka Padua
Mikka of Seek the Uniq is always dressed to kill. She's a master of mixing different hues and prints!
37. Pam Gonzales-Lopez
Before this uber-fit mom co-founded furniture brand Lady Scott Jones, Pam worked in fashion retail, and her wardrobe is a telltale sign of her discerning eye.
38. Patricia Ramos-Cusi
With a style like hers, we can never grow tired of her. Her bold choice of outfits are often unexplainable yet addicting.
39. Pauline Juan
Having been the previous editor-in-chief of Preview, Pauline, dare we say, is an icon in the local fashion industry.
40. Regine Velasquez
At the age of 48, Regine can still pull off the grandest of gowns. Talk about confidence!
41. Ria Bolivar
Simple yet absolutely stunning—without a doubt, this mother has a passion for fashion!
42. Ria Prieto
ADVERTISEMENT - CONTINUE READING BELOW
One good look at her outfits is enough to make you want to go shopping—we just cannot get enough of her fresh rustic style.
43. Rissa Manaquil-Trillo
With such an elevated take on fashion, this Happy Skin co-founder is proof that less is more.
44. Rosanna Ocampo
This designer and all-time mom knows clothes like we know the alphabet. Just look at the accentuated details on that outfit!
45. Ruby Gan
Ruby has definitely made a mark in the fashion industry. Her pristine eye for putting together clothes leaves us wondering where she will take us next!
46. Samantha Richelle
This girl can literally make any photo look magazine-worthy. With a son who's just as adventurous as she is, Samantha makes us believe that motherhood is indeed the greatest journey.
47. Sarah Lahbati
Being an actress, a dancer, a musician, and a mother all at once has made her nothing less of a flawless, stunning fashion icon!
ADVERTISEMENT - CONTINUE READING BELOW
48. Stephanie Kienle-Gonzales
Driven 100 percent by her family, Steph inspires us with glamorous outfits that exude confidence on the dot.
49. Susan Joven
You can never go wrong with a mother whose name is respected in all corners of the fashion world. Heed her advice and discover the power of accessorizing!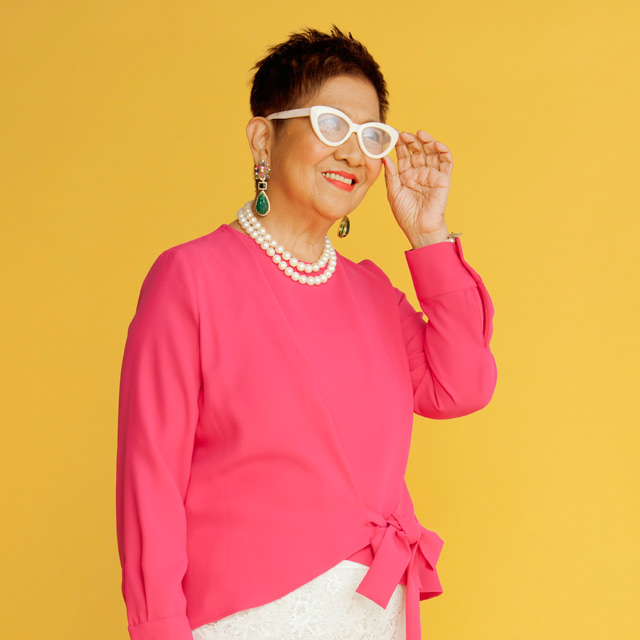 IMAGE Shaira Luna
ADVERTISEMENT - CONTINUE READING BELOW
50. Tessie Singson
Now this is what you call timeless. Tessie brings forward the most stylish and exceptional looks. She's definitely not your typical lola.