Like the people who carry them, these special bags have a repeat audience. Here's a mix of iconic styles that have made cameos in new collections and recent favorites that are predicted to become mainstays.
Chanel 2.55
Three things give Chanel visual recall: the overlapping C's, tweed, and the quilted surface of Chanel 2.55. This bag has influenced a lot of copies but has never wavered in the price department. A rare edition is an auction piece that fetches more than what the owner got it for.
Famous details: Coco Chanel fashioned 2.55 to be a more functional clutch. She added a strap that is whispered to be linked to her childhood, which had horses in harnesses and nuns in belts.
Hermès Birkin
This classic Hermès had a serendipitous start. Actress Jane Birkin and Jean-Louis Dumas of Hermès were seatmates on a plane. During the flight, Jane talked about how some bags don't have enough pockets and Jean-Louis suggested the design of a new one that would become the spacious Birkin.
Famous details: The bag has a front flap similar to a letter envelope and a tiny padlock that ties two leather strips together.
Balenciaga Motorcycle
This Balenciaga model is like a reincarnation of the motorcycle jacket. The appeal is lived-in luxury in the form of wrinkled leather and exposed hardware.
Famous details: The front is marked by a tassel zipper, a short horizontal pocket, and dots in either gold and silver.
Loewe Puzzle
Loewe Puzzle is all the rage now and is said to have the makings of a new classic. It can be transformed into five different bags: cross-body, clutch, messenger, shoulder, and tote.
Famous details: This cuboid bag is like pieces of a big puzzle strewn together. The edges of each puzzle piece is made more prominent by hand-painted edges.
Céline Trapeze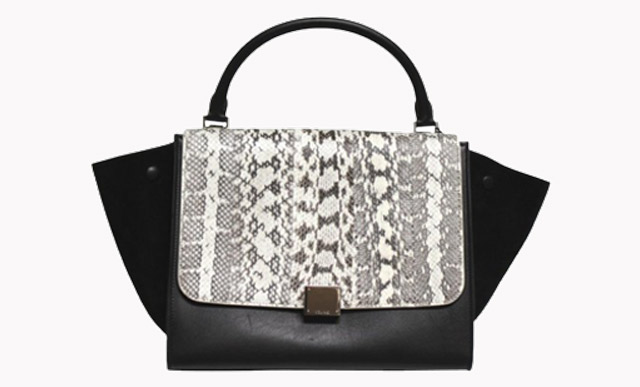 IMAGE Celine
Once a staple among Fashion Week attendees, the Céline Trapeze has become a defining bag of the brand. It is no longer just a decorative bag carried for photo-ops, but a functional choice for successful entrepreneur types.
Famous details: The Céline Trapeze is a winged bag. Both sides have protruding folded flaps that make the bag even more spacious.
Louis Vuitton Speedy
The Speedy has had many makeovers over the years, from translucent to python versions. The original one was designed in 1930 to be a smaller Keepall, Louis Vuitton's weekend bag.
ADVERTISEMENT - CONTINUE READING BELOW
Famous details: The Speedy has the cubic shape of a doctor's bag. Its surface has the Louis Vuitton monogram.
Gucci Bamboo
The handle of this famous bag is real bamboo that has been bent and polished for smoothness. It was a sensation in the 1960s and 1970s when the likes of Vanessa Redgrave carried the bag and ads featuring the intriguing handle appeared in magazines such as Harper's Bazaar.
Famous details: The bag has had many print permutations over the years, but the original one came in a solid color and featured a bamboo twist used to close and open the bag.
Bottega Veneta Intrecciato
Intrecciato woven leather is a signature of Bottega Veneta, one that has spawned many other styles, not just in the form of bag shapes but also shoes and a school for leather techniques.
Famous details: Crisscross strips of leather make for an artisanal look.
Chloe Paddington
Paddington was such a covetable bag in 2004 that even until now people are in search of. The bag was so popular, it spawned a series of articles on the Internet brimming with tips on spotting fakes.
Famous details: The chunky shape, big padlock, and visible stitching are hard to miss.
Lady Dior
The Lady Dior bag first came out as "Chouchou" (which means favorite) and was renamed after Princess Diana, who carried the bag everywhere. Naturally, the bag had a big moment, having been photographed on the arm of the most idolized woman of the '90s.
Famous details: Embossed leather and geometric striations are standout features. Today's versions may be personalized with various charms.
This story originally appeared on Townandcountry.ph.
* Minor edits have been made by the Preview.ph editors.