In the growing push to patronize local comes the proliferation of designers who have turned to the use of indigenous weaves. Brands like Filip + Inna, Kaayo, and Herman and Co. see to the responsible and ethical use of these textiles while also revitalizing them to fit the modern sensibilities of today's fashion, effectively helping sustain and bring to light the long-kept tradition and culture of the indigenous groups that they partner with. However it's important to remember that there isn't always free-reign to the use of traditional weaves seeing as they're rooted from a deep history and culture rife with meaning often unbeknown to most. Simply put, the improper or ignorant use of these textiles, though meant with the honorable intent to appreciate, may result into cultural appropriation, or the adoption of another culture as one's own, including a disrespect for their tradition.
There remains the question, how can well-meaning designers and brands avoid the risk of misappropriating the very culture and heritage that they want to serve? In a recent trip to Ifugao with HABI, a local council pushing for the "preservation, promotion, and enhancement of Philippine textiles," we were given the chance to immerse ourselves into the workings of the Ifugao weavers. Along with this was the opportunity to talk to Marlon Martin, chief operating officer of the Save Ifugao Terraces Movement, on the pertinent information designers should know before using traditional weaves.
Don't underuse the fabric.
Designers and brands nowadays have taken liberties in stamping the term "indigenous" on their collections as a means of gaining more traction and interest for their products. While it's not a crime to take pride in your use of weaves—as one should be—there's a tendency to use the fabric as just that; a cultural card to draw attraction towards the brand when in fact the actual indigenous fabric on the clothes themselves are simply sewn on as embellishments or accents. Rambie Lim, a development worker and HABI member states that to give justice to a community's work means to use at least 60% to 80% of the chosen weave on a single piece, as opposed to merely adding it on as a measly pocket design or a glorified strip on a dress or skirt.
ADVERTISEMENT - CONTINUE READING BELOW
However, Marlon clarifies that this percentage is arbitrary and that there are no official set rules. Essentially, it all comes down to your intent. "Minsan kasi there's too much patronizing na wala naman masyadong naitulong doon sa culture na nirerepresent mo," Marlon states. "That makes it unfair. You're capitalizing on it being a hand-woven fabric pero sa totoo lang konting-konti lang yung ginamit mo doon. You're not doing justice to the use of not just the fabric but the term Ifugao as well, of indigenous woven fabric. You're only using it because you think people will be interested since you're mentioning an indigenous group. These are marginalized groups and it boosts your impression of you because people think you're supporting a minority group. It's not giving justice."
Make sure the weavers and the culture are also benefiting from your designs.
With the above mentioned predicament in mind, how exactly can a designer say that he or she is giving justice to both the fabric he's using and the culture from where it originates? Marlon defines justice as balance, where everyone is given their due. That said, it's all about making sure that the benefits you earn from the weaves are commensurate to the dedication and hardwork that the weavers have given to creating these textiles. Based on first-hand experience, just the act of tying together a simple pattern could take a normal, inexperienced person hours, or even a whole day to finish. Not only that, but don't overinflate your product's price simply because it's tagged as made from a woven textile, unless the costs are truly justified when it comes to production. "This happens a lot. Ibibili nila ng P600 ang fabric, and just because it's an indigenous weave gagawin nilang P16,000. Even with our friends ginagawa nila yun. Nasaan ang hustisya doon?" Marlon asks.
ADVERTISEMENT - CONTINUE READING BELOW
While not discouraged if it benefits the weavers, Marlon urges designers to stray from one-off collections and ensure that their partnership with the community is a sustained advocacy that truly helps in developing their way of life. Otherwise he reiterates that to simply do it once, and half-heartedly at that, by merely banking on the term "indigenous" for clout counts as cultural appropriation.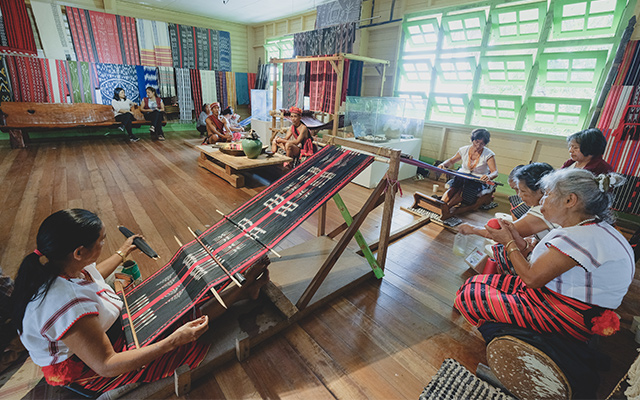 ADVERTISEMENT - CONTINUE READING BELOW
Search for contemporary weaves instead.
Just December of last year, Vice President Leni Robredo was accused of wearing an Ifugao death blanket while leading the Rizal Day Rites at Luneta Park. While this claim has since been disproven by several sources, including Marlon himself who says that the skirt was specifically made for the VP, he reveals that they're still taking their own steps in ensuring the avoidance of cultural appropriation by coming up with contemporary textiles. "Just to be safe we also come up with fabrics that would still be Ifugao because of the process and the traditional inspiration. That's what we're doing at least when this group is concerned," Marlon tells Preview. "When you say Ifugao weaving, it doesn't mean these are death blankets. It could be an Ifugao weave, pero kahit saan pwede mo gamitin, and that's what we're trying to produce here with our HABI cotton. It's also a responsibility on our part that whoever buys it and uses it, the end product will still be appropriate and won't be culturally insensitive."
ADVERTISEMENT - CONTINUE READING BELOW
To differentiate, where a traditional weave, stitched with its culture's signs and symbols, may be used for rituals, contemporary fabrics, on the other hand are not. Instead, they merely take inspiration from these traditional textiles, whether it's the color, pattern or symobl, which they then deconstruct to come up with a completely new design while still wholly rooted in their culture. They're textiles that designers can craft into their own designs without worrying about its traditional use. Not to mention patronizing these modern weaves is also a means of supporting the weavers in their livelihood.
ADVERTISEMENT - CONTINUE READING BELOW
Learn about their traditional use.
That said, the existence of contemporary weaves isn't to say that you can't use traditional indigenous fabrics. However, choosing to do so means doing your own research. When purchasing textiles from indigenous groups it's always pertinent to ask questions about the fabric and its traditional use. Though not a written mandate, ethics tells you to respect the origin of its use in terms of what it means to the culture.
Marlon elaborates, "Ang sa'kin lang make sure alam mo kung anong fabric yung ginagamit mo. Was it designed for a traditional or a cultural purpose? Everytime we sell something traditional, we would have to describe it through the label, or by telling the buyer. For example, when something is used by the old nobility, we ask na baka pwede wag niyo gamiting table cloth or rug. You can place it on your walls like a place of honor like a tapestry. Don't use it in a way that won't be in good taste. We always inform the buyer of its traditional purpose."
ADVERTISEMENT - CONTINUE READING BELOW
Related Stories from Preview.ph
Hey, Preview readers! Follow us on Facebook, Instagram, YouTube, Tiktok, and Twitter to stay up to speed on all things trendy and creative. We'll curate the most stylish feed for you!