"So many roads and so much opinion
So much sh*t to give in, give in to
So many rules and so much opinion
So much bullshit but we won't give in"
- Le Tigre 'Hot Topic'
The first time you read these lyrics, it may sound like an angry, rebellious brat singing about why she's not allowed to do things her own way. But if you listen to the song, you might get surprised...or confused.
You might say, "Okay, so what's with all these names?"
You'll hear names like Laura Cottingham, Eleanor Antin, Yoko Ono, and Carolee Schneeman—and if you haven't heard of these women (and if you're curious enough), I'll leave it up to you to Google. To give you an idea, these women are known to be strong and empowering figures.
In today's music scene, who are the artists that come to mind when you hear the word powerful? Beyoncé, Lady Gaga, Rihanna, Nicki Minaj, and the list goes on. Don't get me wrong, I also admire them and I think they deliver a strong message and image, but what does it really mean to be a powerful woman in music? I remember my grade school years when I used to be a big fan of Spice Girls. I bet every '90s kid can relate. We all have a favorite Spice Girl and mine was Posh Spice a.k.a. Victoria Beckham. I'd watch their music videos, mimic them, and say "Girl Power!!" every time and even do the peace sign. I'd dress, dance, and sing like them with my friends even if we haven't fully realized what their songs meant. What we saw and heard was a big influence on our daily lives. Even now, it feeds our passion. It lifts our soul.
ADVERTISEMENT - CONTINUE READING BELOW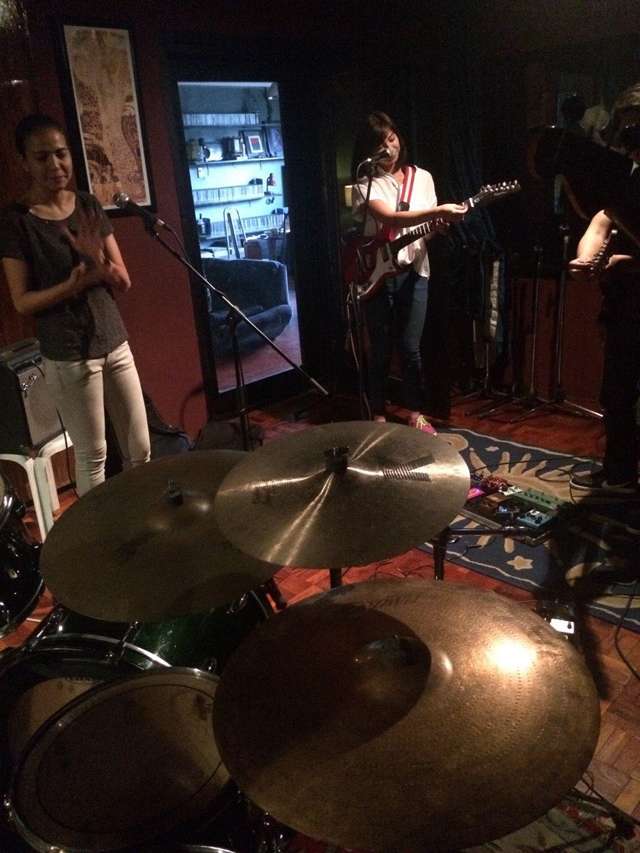 IMAGE Photo courtesy of Glaiza de Castro
Glaiza recording her songs in the studio.
Music defines us. But if you ask what genre best describes me, I can't give you just one answer. Perhaps if you combine gospel, post-rock, pop, folk, electronic, new wave, no wave, then I'll be an amalgam of confusing sounds. Seriously, that has been my struggle for years. Like an outsider trying to fit in, I can't seem to identify where I belong. Working in an industry where there are so many choices and opinions, it's hard to have a steady place. It takes time, embarrassing moments, half-baked or too much effort, and sometimes you'd ask yourself, "Am I really meant for this?"
CONTINUE READING BELOW
Recommended Videos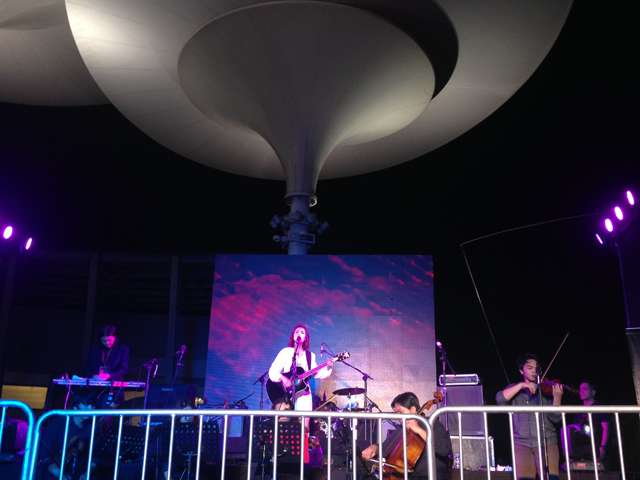 IMAGE Photo courtesy of Glaiza de Castro
Glaiza performing at one of her gigs last year.
But every time I hear my favorite artists and how they come up with all these ideas in creating songs, I can't help but go back to my first love. There's always this liberating feeling, and it is where I feel most sincere. Because you can't fake emotions when you sing. If acting challenges me to do different roles, singing requires just one thing: to be who I am.
ADVERTISEMENT - CONTINUE READING BELOW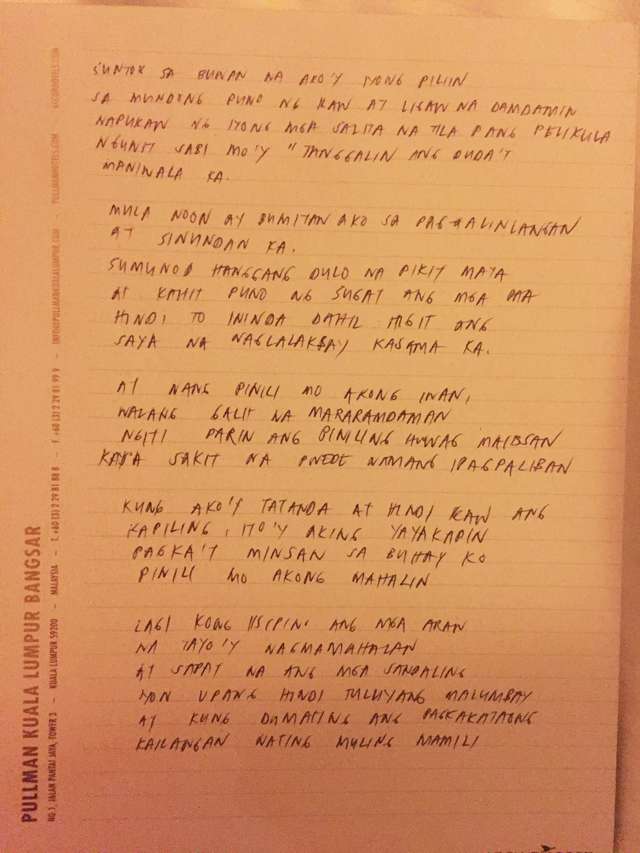 IMAGE Photo courtesy of Glaiza de Castro
Glaiza still loves to write her lyrics on paper.
Six years ago when I started writing my songs more seriously, I used to dream of having an album with my own compositions in it. I wanted to deviate myself from my previous albums, which were dictated by the label I was signed to. It was a trend then, that if you're a celebrity and you can sing, you got to have an album. Image first, then music second. I abhorred that image so much that if I were to release an album someday, I wouldn't put my face on it and just hide behind a different monicker.
ADVERTISEMENT - CONTINUE READING BELOW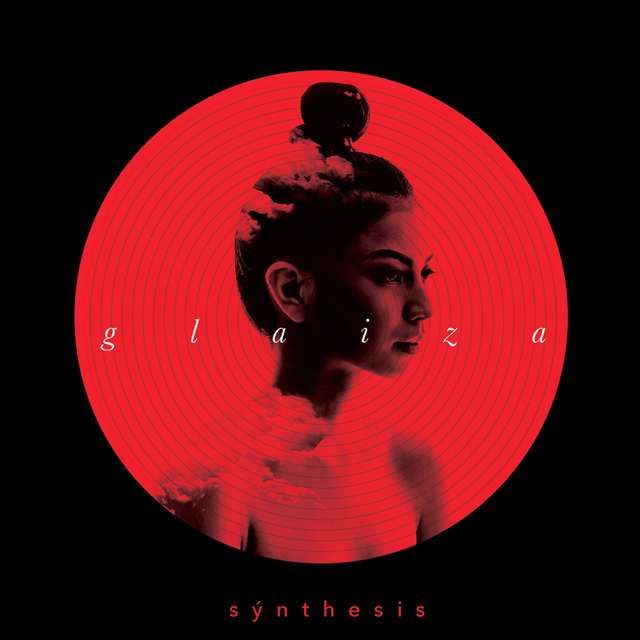 IMAGE Photo courtesy of Glaiza de Castro
The cover of her first full studio album Synthesis.
Fast forward to year 2015, when I first released an interdependently produced (I'd prefer this word cause of the people who helped me put up this project) album. I was just so happy to record and finish the songs with the people I look up to in the music industry. I learned so much from them—it was beyond my imagination. But the struggles of not having a major label were a big challenge because you're doing everything on your own. From asking friends for favors, to promoting the album, to getting rejected for distribution and co-production, it felt like it was best to keep everything a secret first. But God has His ways. I remember asking Him the reason why He allowed this to happen. And the answer was, He wanted me to share a message:
ADVERTISEMENT - CONTINUE READING BELOW
That regardless of what we've been through, where we came from, our capacity, skills, choices, we continue to do what represents who we really are. That is the purpose. Everyday we fight for it, and I think that's what makes us powerful—be it making your own music or simply living your passion. As Le Tigre would sing, "We won't stop, don't you stop, I can't live if you stop."
Glaiza de Castro is an actress and singer. She's currently starring in GMA's Encantadia remake and is a UN volunteer and advocate for women's right's against sexual abuse and harrassment. Glaiza is our guest editor to celebrate Women's month this March.
Related Stories from Preview.ph
Hey, Preview readers! Follow us on Facebook, Instagram, YouTube, Tiktok, and Twitter to stay up to speed on all things trendy and creative. We'll curate the most stylish feed for you!