With #TeamDoSan and #TeamJiPyeong trending all over social media, it's no secret that the hit K-drama series Start-Up has the internet divided between the two men! With just two episodes left to complete the series, viewers' union of rage and excitement continue to intensify as the story progresses in episodes 13 and 14.
In last weekend's episodes, the series brought us to three years later since Do-san left for San Francisco. Relationships can shift with time but it seems Ji-pyeong and Do-san's feelings toward Dal-mi have not changed a single bit. Will first-lead characters Dal-mi and Do-san be able to salvage their relationship and live happily ever after, just like in every other K-drama? Or will Start-Up's writers surprise us with a Ji-pyeong and Dal-mi ending?
TOP STORY: Here's What 10 Popular Korean Actresses Look Like without Makeup
Below, we list down why we think each boy is deserving in our books!
ADVERTISEMENT - CONTINUE READING BELOW
Team Nam Do-san
Here are three major reasons why we think Nam Do-san will still win Dal-mi's heart:
1. Do San has BIG hands… and a BIG heart.
When asked about what she liked most about Do-san, Dal-mi initially told him that she liked him for his big hands. This left Do-san frustrated; however, what most of us don't see is how his 'big hands' represent the comfort he provided for Dal-mi. Looking back at previous episodes, he saved her from embarrassment in the networking event, reassured her that it would be best for her to step up as Samsan Tech's CEO, encouraged her through her worries on Demo Day, and even helped her salvage Injae Company's ransomware attack during his supposed week-long vacation.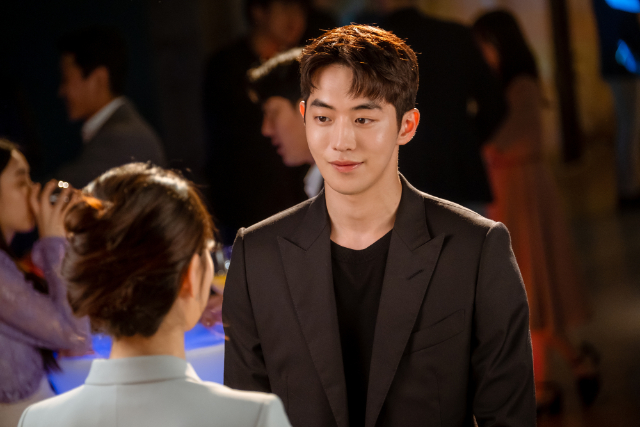 CONTINUE READING BELOW
Recommended Videos
2. He's aptly referred to as a "Living Buddha."
Do-san's father was right about him. Truly, Do-san has never been greedy in his life. Just as soon as he found out about halmeoni's soon-to-be disability, he came up with NoonGil, an app that would work as her eyes once she eventually loses her vision. In hopes of giving her a lasting memory of the sunset, he even brought Dal-mi's grandmother to the beach and called it a date!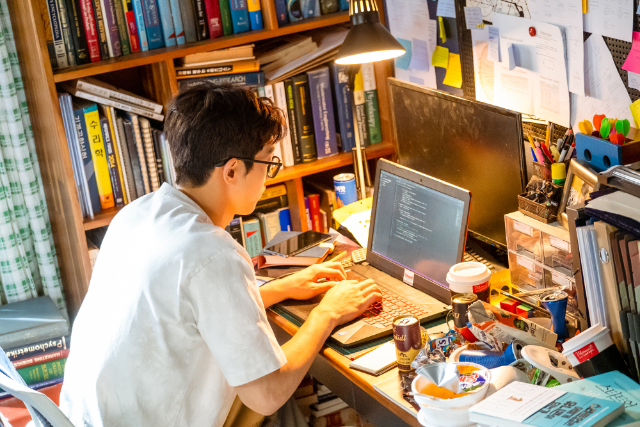 ADVERTISEMENT - CONTINUE READING BELOW
3. He is Dal-mi's current flame!
He may not be the Do-san in the letters but he may just be the Do-san her heart longs for! Though their relationship started out as a scheme that Ji-pyeong set-up, he tried his best to start anew and show Dal-mi who he really is.
Within the three years that Do-san was away, Dal-mi clearly thought about him a lot. At the same time, he couldn't seem to get her off of his mind either. He even went on a long bike ride in hopes of clearing his thoughts, not knowing Dal-mi would trail behind him. Do-san's parents predicted that if they were to come back from his uncle's house together, then it's certain they still have feelings for each other. And spoiler: They did!
Could this be them hinting at the rest of the story?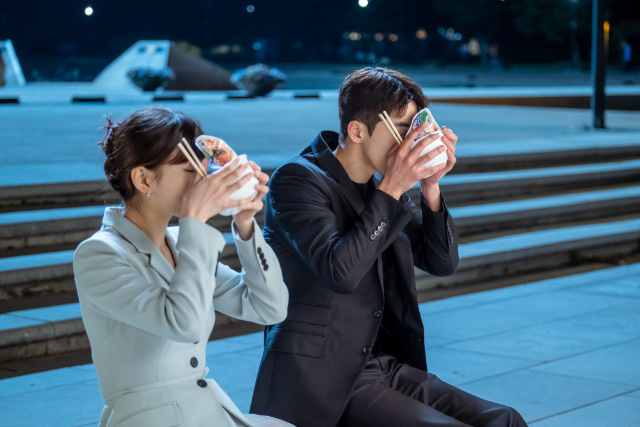 ADVERTISEMENT - CONTINUE READING BELOW
Team Han Ji-pyeong
Though the sweet and innocent Nam Do-san has been keeping us on our toes, soft-hearted Han Ji-pyeong has been making hearts melt and heads turn since episode one! Here are three reasons why viewers are still holding on to his 1% chance with Dal-mi:
1. Ji-pyeong is like a guardian angel who loves Dal-mi deeply and silently.
Right from the start, Ji-pyeong has always watched over Dal-mi from afar. He was present throughout her childhood as her pen pal, which brought her comfort after Dal-mi's family parted ways. Even as grown-ups, he guided Dal-mi and the rest of Samsan Tech towards their success in their own careers. With this, she has become comfortable with Ji-pyeong, and did not hesitate to show him her true self and emotions. He would do anything to protect Dal-mi without asking for anything in return, even if it meant that he would get hurt in the end.
ADVERTISEMENT - CONTINUE READING BELOW

2. He's a "Good Boy."
Behind the facade of a successful investor and a sharp-tongued mentor, there lies a soft-hearted "Good Boy," as halmeoni would call him. Though he brutally told Samsan Tech that they would never prosper, his selfless actions speak louder than his harsh comments. He continued to fulfill his duties as a mentor as he gave Do-san the investors' probable questions and inquiries on Demo Day. He even gave a list of companies Dal-mi could solicit for investments.
ADVERTISEMENT - CONTINUE READING BELOW
With all the little things he's done for her, Dal-mi never failed to see the goodness in him through these gestures, thus, making her question his feelings for her. Now that she knows the truth behind his intentions, we're hoping his genuine actions have touched her heart dearly. Plus, seeing how she was so quick to reject her past suitors, could it be a sign that Ji-pyeong still stands a chance since she's never rejected him so far?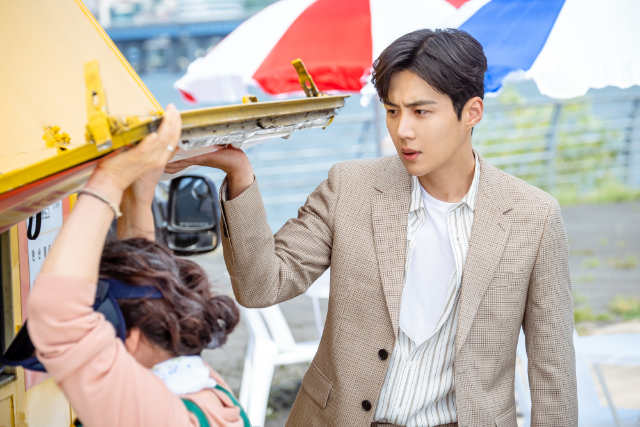 ADVERTISEMENT - CONTINUE READING BELOW
3. He was Dal-mi's first love.
They say losing your first love hurts the most, and in Dal-mi's case, it was heartbreaking to find out that everything she was so giddy about for the past 15 years was a lie that halmeoni and Ji-pyeong had orchestrated. However, the comfort she felt as she read his words and replied to him throughout those 15 years made her hung up on the Nam Do-san in the letters even more.
ADVERTISEMENT - CONTINUE READING BELOW
As the series nears its end, we can't wait to find out the fate between the internet's current favorite love triangle. Will Do-san carry on and pursue Dal-mi? Will we finally see Ji -pyeong let go of her in the last two episodes, or will the second lead stand a chance this time? Whatever the writers have in store for us in its final episodes, we've got our fingers crossed and our hearts hoping that everyone will get their own happy endings!
So, are you #TeamDoSan or #TeamJiPyeong? Sound off in the comments section!
*You're invited! Preview is celebrating its 25th year with an online party and we would love it if you, our dear reader, can join us! Register and save the date on December 5, 2020, for the Preview @ 25 House Party. See you!
Related Stories from Preview.ph
Hey, Preview readers! Follow us on Facebook, Instagram, YouTube, Tiktok, and Twitter to stay up to speed on all things trendy and creative. We'll curate the most stylish feed for you!