In case you've missed it, vlogger Rei Germar is in the middle of an interesting room makeover in her family house in Bulacan, where she's been staying during the lockdown. And while her childhood room certainly brings happy nostalgia, it just doesn't fit her current needs. Hence, a proper makeover is due and immensely required. She mentioned in one of her initial vlogs, "I really want to have my own space here so I'll be able to film properly. [I also need] a space where I can put all of my things."
Now, while Rei can try to do things on her, she left it to the pros to transform her old room into a space that fits her current aesthetic and reflects her personality. Rei shared that when she was decorating her room in the city, she felt that minimalism was the style that best fits her then. However, time went by and she simply "can't relate to [her] room" anymore and it felt like "something was missing," she explained in another video.
ADVERTISEMENT - CONTINUE READING BELOW
Here's where Tanaw Studio steps in. Rei employed the help of this four-man team in order to realize the vlogger's dream room that would let her real personality show. Preview had the pleasure of catching up with the online design firm responsible for Rei's adorable room makeover. Below, we talked with designers Chelsea Magbanua, Ella Castañeda, Arvel Alvarez, along with their business strategy and marketing wiz, Arvin Alvarez, about their shared love of creating personal sanctuaries.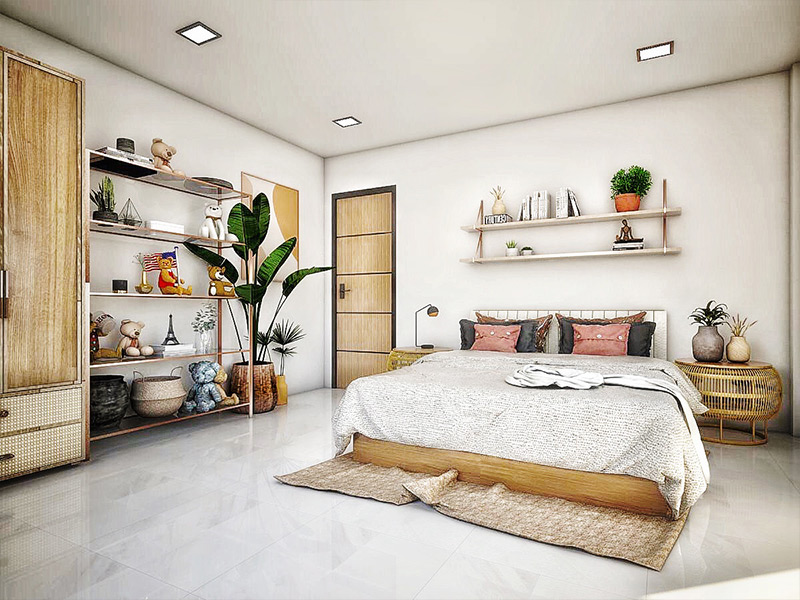 Before building their own practice, the three designers were focused on their day jobs, employed in "different firms while taking in freelance work on the side," they said. The trio has been in talks to start their own business until one fateful afternoon in late 2019 when they finally sat down and planned their next move. "We agreed to join forces in terms of designing while Arvin will handle the business and strategy side," they added.
"I'm a licensed interior designer and aside for the usual line of work, I also have a background in event styling and graphics design," Chelsea says. "My main focus in Tanaw is setting the vision boards for the designs as well as working on the furniture line we'll soon launch under our retail brand Mithi by Tanaw."
Meanwhile, Ella acts as one of "Tanaw's interior consultants and [she] specializes in contemporary designs." Before founding Tanaw, she worked in a few design and architectural firms.
ADVERTISEMENT - CONTINUE READING BELOW
Arvel, the group's common connection, is also the brand's interior consultant who focuses on modern eclectic designs. Arvel has sharpened her visual aesthetic from her previous work at an events company. According to her, "this helped [her] become more versatile to different types of aesthetics." She also mused that her career move from events to interior designing was prompted by her desire "to design things that are more permanent rather than always making fleeting designs."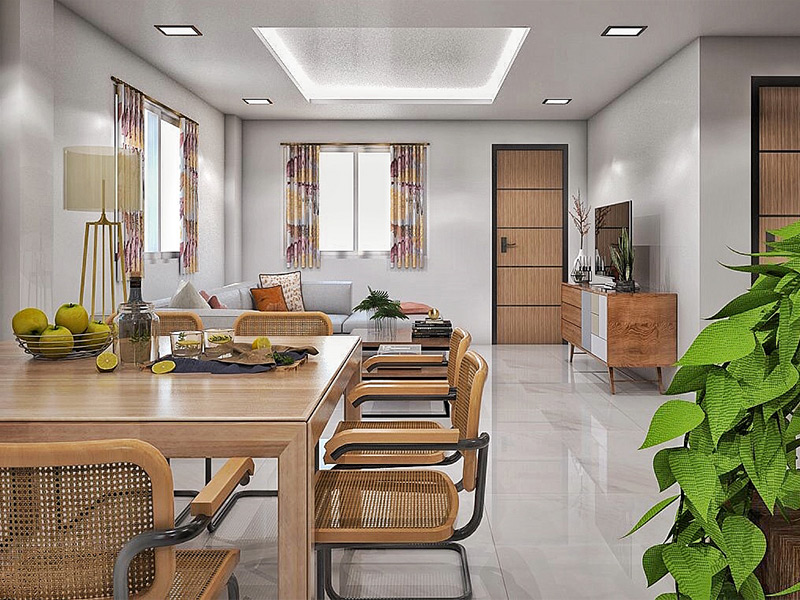 ADVERTISEMENT - CONTINUE READING BELOW
When it comes to Tanaw, the team has emphasized that their goal and aesthetic is "authentic, personal, and proudly Filipino." From their brand name alone, we can gather that their ultimate goal is to let their client's vision come to life. "Tanaw means to look out and to see from a distance," the team explains.
"It means two things for us. First, Tanaw studio is about visualizing and creating our clients' dream space. We want to make their vision a reality. Second, it means that all of our designs are created to show the personality of our clients because to us, and to our clients, these are not mere rooms or spaces, these are reflections of who they are."
They also owe their edge as a design firm with their intent of designing with their clients, and not just for them. "Our clients are the ones who own the space, so we make sure that it is a collaborative process between client and designer," they emphasized.
ADVERTISEMENT - CONTINUE READING BELOW
As what we've seen with Rei's room makeover process, Tanaw's design hands-on collaboration approach starts with a questionnaire. "We prioritize understanding our clients' needs and preferences, and getting to know them on a personal level. We start with a design questionnaire and a kick-off meeting with the goal of getting the vibe and feel of our clients, and also building a rapport with them."
ADVERTISEMENT - CONTINUE READING BELOW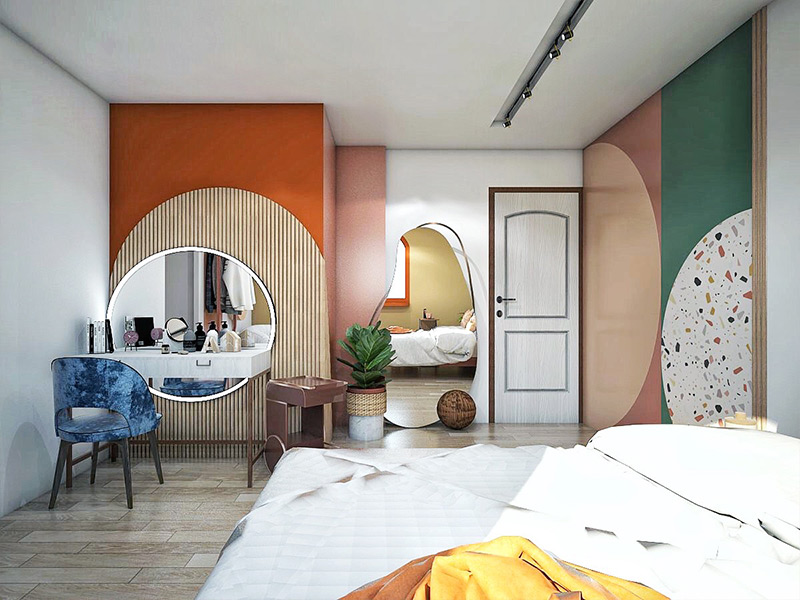 The Tanaw team also shares that this process is aligned with their bent in designing a space that underscores their client's personality and style. "From there, we base the functional solutions and aesthetic designs we create specifically for them, and their lifestyle," they said.
ADVERTISEMENT - CONTINUE READING BELOW
Thus, they make sure to collaborate with clients to make sure that they will get a well-designed and well-thought out area—best suited to their needs and highlighting their individuality. Evidently, they were able to stylishly heed Rei's needs from her Bulacan room. The result? An eclectic design that takes after a mid-century modern look, fit for Rei's young and uninhibited personality. More importantly, it ticks off the boxes that Rei originally wanted out of her old childhood space. The vlogger is posed to get multiple well-lit and aesthetic filming spots, functional decor, and a rich color scheme that reflects her identity.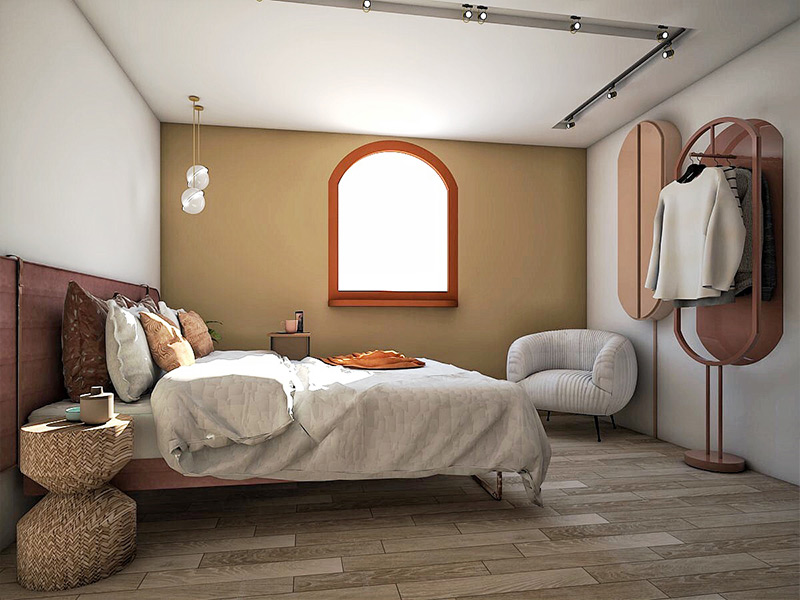 ADVERTISEMENT - CONTINUE READING BELOW
Of course, not everyone has the capacity to hire Tanaw Studio right now, let alone start a full blown home renovation. But, if you're interested in enlisting Tanaw's help in reinventing your space, the team can guide you in DIY-ing your homes into an all-in-one sanctuary for your needs while we're conveniently staying put indoors.
The team proudly reveals a subproject of their firm that caters to power nesters like you and I. "Tanaw Studio Design Clinic aims to solve those small yet nagging problems you have with your space like Where do I start?, What do I do with all my clutter? or How can I make my store safer given the pandemic?. It was created so we can work with you in figuring out your most pressing design concerns," they explained.
ADVERTISEMENT - CONTINUE READING BELOW
Ready to start your mini makeover like Rei? Tanaw Studio Design Clinic's professional and hands-on services can be booked for a one-hour virtual consultation that will address your most pertinent home design concerns! Hurry and secure a slot right here.
Hey, Preview readers! Follow us on Facebook, Instagram, YouTube, Tiktok, and Twitter to stay up to speed on all things trendy and creative. We'll curate the most stylish feed for you!