Unless you've been on a social media detox, then you've probably seen (and craved) the latest quarantine food trend called "sushi bake." If you aren't familiar with it, sushi bake is essentially deconstructed sushi baked in a casserole, and is eaten by scooping up a serving and wrapping it with nori sheets—pretty much like DIY sushi in a tray.
Like other quarantine food trends that basically add a twist to comfort food (like Dalgona coffee and pancake cereal), the obvious plot twist in sushi bake is that, as the name suggests, the seafood isn't raw—something sushi purists are probably shaking their heads to.
ADVERTISEMENT - CONTINUE READING BELOW
History
Sushi bake may sound so new and exciting, but apparently, it's been around for years now—well, at least the concept of serving it as a casserole, that is. One of the earliest food blogs that cites a "sushi casserole" recipe was back in 2011. It was so novel that the writer didn't even know what to call it, so he stuck with "sushi casserole."
It's unknown how the baked sushi casserole idea came about, but Mashed reports that it might have its roots in Hawaiian cuisine, given its poke bowls (which are sometimes cooked) and Spam musubi.
As for its recent popularity in the PH, Vice.com credits this to celebrity nail artist Mimi Qui Reyes, who started selling to local celebrities last April. This sushi bake affair of hers began five years ago. "Five years ago, I was able to create a treat that I thought would be loved by many due to its fun, and tummy-filling nature. A creamy delight that would be perfect for all ages. A dish that could be the centerpiece of any celebration. A dish that spells happiness. A taste like no other," she shares in the caption of an Instagram post.
Quarantine's Hottest Food Trend
No matter how the trend blew up in the metro, numerous businesses are sprouting left and right, with each offering their own take on sushi bake. (If you simply do not like the idea of baking sushi, there are torched versions like aburi-style sushi!)
It's not hard to see why it became a thing in the first place: Filipinos love Japanese food, so a "reinvented" sushi will instantly grab anyone's attention. Plus, while we're still under quarantine, a good-for-sharing tray of sushi is a convenient idea. It's also quite the treat for those who simply want a break from all the cooking and baking they've been doing. However, all that doesn't matter if it doesn't taste amazing to begin with… so I decided to put it to the test!
ADVERTISEMENT - CONTINUE READING BELOW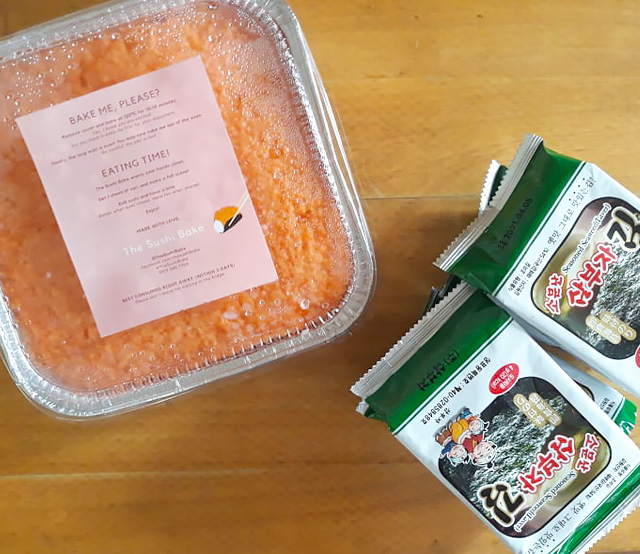 Taste Test
To see if sushi bake lived up to the hype, I tried a tray from The Sushi Bake (@thesushibake), one of the first IG pages dedicated to selling sushi bake. The brand offers two variants, the Sushi Mini (good for 2-3) and the Sushi Party (good for 4-6). I had the latter to share with my family.
ADVERTISEMENT - CONTINUE READING BELOW
The Product
Their sushi bake contains the usual suspects: Japanese rice, imitation crab (kani), and roe (tobiko). The rice served as the base of the "casserole" with the kani mix as the second layer, and a generous layer of the roe to top it all off. What I liked about it was that it didn't scrimp on all the good stuff a.k.a. the kani, which was equally proportionate to the rice. The tray came with four packs of nori sheets.
Baking Instructions
I'm gonna be honest, I'm not really great in the kitchen, so it was nice that all I had to do was pop the tray into the oven for 15 minutes and it was ready to consume! Instagram posts typically pre-cut the whole tray into rectangles but my family and I decided to just scoop up our own servings, which was great because you could get as little (or as much) as you want.
ADVERTISEMENT - CONTINUE READING BELOW
The Verdict
My parents are bigger sushi fans than I am, and they're quite particular when it comes to the sushi they eat. They were curious as to how this "baked sushi" would turn out, and lo and behold, they loved it. I did, too! As opposed to the chewiness of sushi rolls, like California maki, for example, sushi bake is creamy, and that's what makes it so addicting. The nori adds crunch and the roe adds texture, and dipping it in soy sauce creates a harmony of flavors in your mouth. Pro tip: If you like spicy food, you can put cayenne pepper on top to really bring out the flavor of the roe.
ADVERTISEMENT - CONTINUE READING BELOW
Aside from the creaminess, another thing that sets it apart would be how the only "filling" to this "sushi" is the kani mix and roe, which is great if you aren't a fan of sushi with too many add-ons. Simple yet delightful!
The Takeaway
My family and I couldn't finish the tray in one sitting, so it lasted for two or three meals across two days. (It should be consumed within three days, the label reads.) It was nice to have yummy sushi in the fridge that you can just heat up and eat all over again. So convenient for sushi lovers!
ADVERTISEMENT - CONTINUE READING BELOW
Overall, I liked my sushi bake experience. It made my family meals more exciting because you could make your own sushi right at home, and with no expertise required. My mom even likened it to Korean BBQ but a Japanese version, LOL! I'm sure this would be a treat for other families, too, since food deliveries are the new dine-ins.
Try it now or make it yourself!
You can order from The Sushi Bake by messaging them on Instagram. You can also check out other brands that offer it here. Oh, and if you're up for the challenge, you can create your own sushi bake by following this recipe. Whatever you decide, make sure you try it because it definitely lives up to the hype!
Related Stories from Preview.ph
Hey, Preview readers! Follow us on Facebook, Instagram, YouTube, Tiktok, and Twitter to stay up to speed on all things trendy and creative. We'll curate the most stylish feed for you!