Solenn Heussaff is once again the talk of the town—and for reasons you may not expect. The painter-slash-celebrity posted a picture promoting her third solo exhibit, Kundiman, on her social media accounts yesterday, March 3, and received flak for its content. Commenters are calling her out on the single picture, saying that the photo utilizes "poverty porn." The photo has the artist posing with what are presumably her art pieces all set in what looks to be a slum area. The original posts have since been deleted.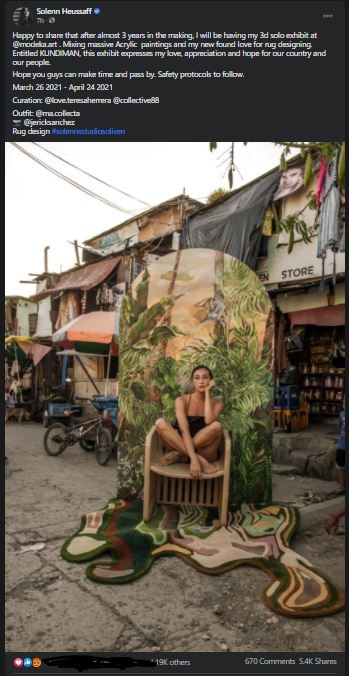 ADVERTISEMENT - CONTINUE READING BELOW
While there's nothing wrong with Solenn promoting her exhibit using her own pieces, it seems people took issue with the setting she chose. The picture had around 670 comments and 5,400 shares on Facebook as of writing—with many saying that her choice of "background" was not a smart one.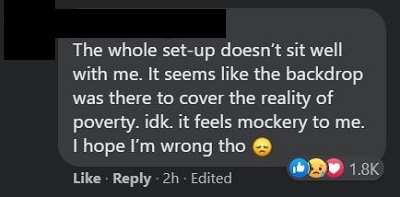 ADVERTISEMENT - CONTINUE READING BELOW
Recommended Videos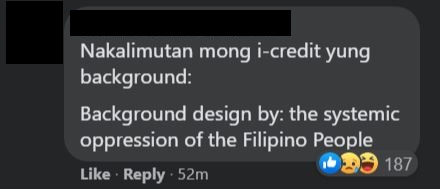 Admittedly, there's something unsettling about her sitting on what is sure to be thousands, if not hundreds of thousands, worth of her own art with shanties in the back—especially since she describes the exhibit as all about her "love, appreciation, and hope for our country and our people," according to the caption. But we can kind of see her point, if you squint real hard.
ADVERTISEMENT - CONTINUE READING BELOW
Solenn is known for taking inspiration for her paintings from the world around her; her second solo exhibit in 2017, Kalsada, featured paintings of people from all sorts of backgrounds—including pieces based on pictures of people she sometimes took from her car. Part of the proceeds from the sales of this exhibit went to the Kalipay Negrense Foundation as a way of Heussaff giving back to the kids who inspired her.
ADVERTISEMENT - CONTINUE READING BELOW
Meanwhile, others have also come to defend the picture against claims of poverty porn. Before people go deeper into the single picture posted by Solenn, we need to discuss what "poverty porn" even is.
What Is Poverty Porn?
The concept of poverty porn can arguably be traced back to the "We Are the World" and "Do They Know It's Christmas?" charity craze of the West in the 1980s. Though the term "poverty porn" itself hadn't been coined, fundraisers and organizations constantly used images of emaciated children, flies buzzing about their eyes, to get people to help fight hunger during the Ethiopian famine of the late 20th century.
Now if you wonder why your parents tried to guilt you about starving children whenever you couldn't finish your food as a kid, it was probably because of these huge drives that, while effective at raking in money, also oversimplified and sensationalized the complicated, systemic, and chronic poverty that still assails parts of the world to this day. Eventually, their power to shock and disturb faded. Don't lie, you've seen those same pictures of real, starving children, being used as memes and referenced in media (but generational humor is an entirely different topic, we digress).
ADVERTISEMENT - CONTINUE READING BELOW
"Poverty porn" eventually evolved to be something of a tactic used in all forms: shows, movies, and whatnot. Taking it back to the term "porn," creators began using poverty as a spectacle, something to illicit a more base but passing reaction from audiences. It definitely made you feel something, but that feeling was more to your own benefit than for those on the fringes of society that you were simply looking at.
Arguably one of the most popular examples of another Filipino artist being labeled with the "poverty porn" tag is filmmaker Brillante Mendoza. The director is known for his slew of gritty movies, with Jaclyn Jose starrer Ma'Rosa front and center. His films like Kinatay and Serbis, all of which tackle Manila's dark underbelly, have been accused of being poverty porn. "Mas interesado akong ipakita yung katotohanan na nangyayari," he told GMA News in 2016.
Poverty porn is all about crossing the line between showing reality and exploiting reality—which in Mendoza's case, he clearly believes he has not crossed.
ADVERTISEMENT - CONTINUE READING BELOW
Solenn Heussaff Responds to the Poverty Porn Call-Out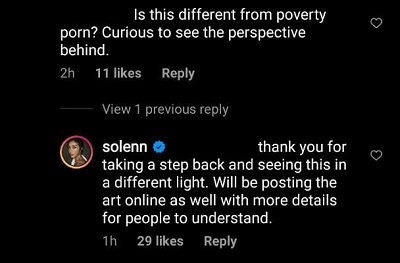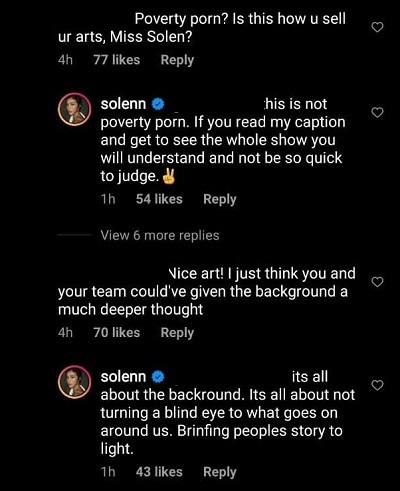 ADVERTISEMENT - CONTINUE READING BELOW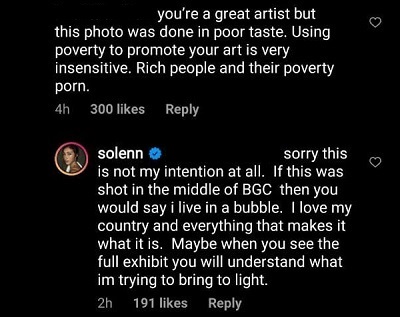 Solenn has responded to the more polite comments on her IG post of the picture. In her replies, she says, "I love my country and everything that makes it what it is," explaining that the background is "all about not turning a blind eye to what goes on around us." The actress has asked people to see the whole show before laying judgement, saying that she will be posting the art online as well.
ADVERTISEMENT - CONTINUE READING BELOW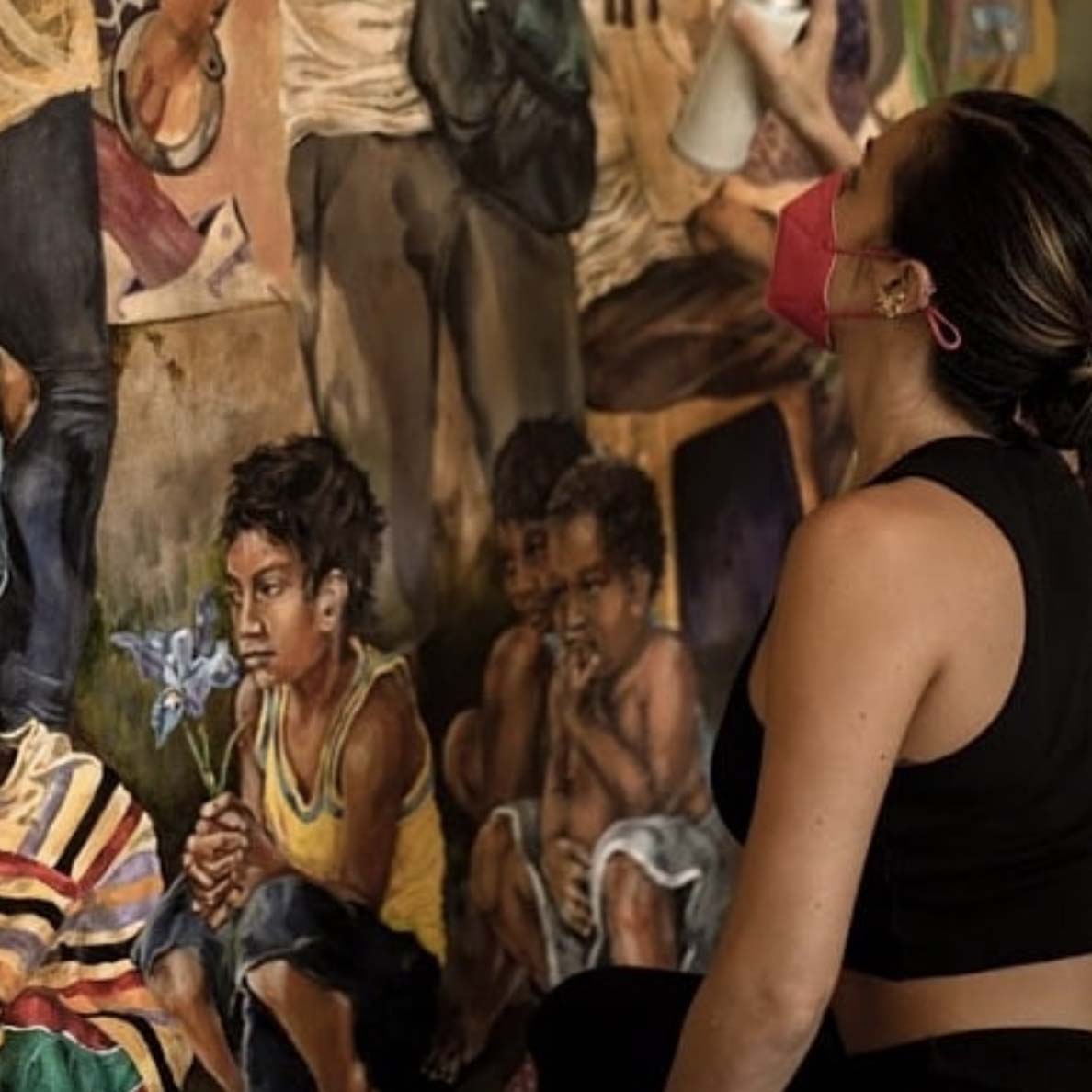 Additionally, Solenn also took to Instagram to post a lengthy apology. Read her statement in full below:
"I've been thinking a lot about the comments you guys left on the photo I posted. I know it sparked some debate and there were both good and bad takes on it. While I appreciate the encouragement some shared, I also want to apologize to those I have hurt. Wanted to shoot it in a typical street, those we drive by everyd ay. Streets full of life, since all my paintings are about the people we see. Not the rich or the poor but people for who they are. Humanity. The choice of painting was to show the environmental side. The abundance and balance of what life was, but also growth and hope. Though yes, art is subjective, and your thoughts made me more sensitive to different perspectives on my choice of setting (it wasn't a terrible marketing team, it was me, no one else to blame) and this really was a learning experience for me.
ADVERTISEMENT - CONTINUE READING BELOW
"It wasn't my intention to hurt or offend anyone. It was my hope that I could lend my voice and my art to show the reality of Filipinos. This is the heart and inspiration of all my paintings, both old and new. I did not want to romanticize the poverty of the everyday Pinoy or the resiliency that we naturally have. I really hoped to honor our people by being truthful about the kind of life a lot of Filipinos live today and to show that Filipinos deserve better."
"Thank you for letting this be an eye-opener for me as well. And to those that I have offended, I am sorry."
*This story originally appeared on Spot.ph. Minor edits have been made by the Preview.ph editors.
Related Stories from Preview.ph



Hey, Preview readers! Follow us on Facebook, Instagram, YouTube, Tiktok, and Twitter to stay up to speed on all things trendy and creative. We'll curate the most stylish feed for you!