We've always seen the growth of humanity as a progression, evolving from one phase to the next. Solenn Heussaff's latest exhibit, Kundiman, however, posits a different point of view. Instead of an upward development, she paints the course society's taken as an arch, a devolution, as she calls it.
Her collection of works feature 11 large-scale paintings that essentially flow from showing the raw beauty of nature, virgin and untouched, to the abundance of these lush greens eventually disappearing into a destitute and unforgiving concrete jungle, highlighting the somber faces of the everyday working Filipino. It's a reality we know all too well but turn a blind eye to in fear of leaving the confines of our comfort zones. "It's all about the environment and what the humans have done to it," the French-Filipino artist tells Preview. "It's not social stature, it's not about different classes. It's about humanity."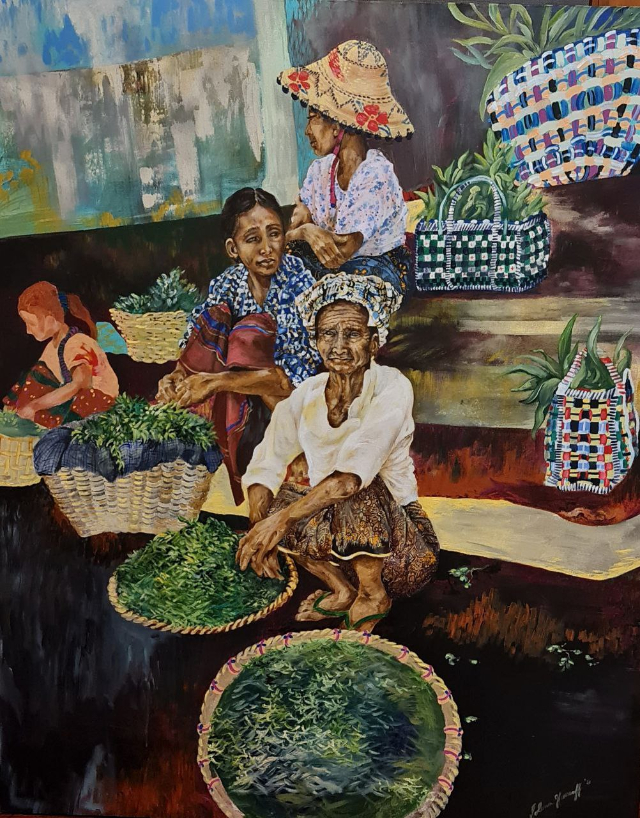 ADVERTISEMENT - CONTINUE READING BELOW
While it may all sound dreary, the exhibit isn't all doom and gloom, or at least it doesn't end in a state of resigned acceptance. Much like a reporter or a photographer presenting an event or an image the way they see it, Solenn does the same with her art works, although she refuses to simply leave it at that. Hence, Kundiman ends in a hopeful note with her painting titled Paradise. "It's the sunset of the Philippines," says Solenn. "So it's showing we can still get there and to where we want, if we just work together—it can't still happen."
With this, the artist explains that Kundiman is a "love song," one she dedicates to the Filipino people. "My Kundiman is the Kundiman of Jose Rizal which is his poem that hopes and prays for a better tomorrow," she says. "This whole exhibit is my love song to the Philippines—kind of showing the reality of things, not being afraid to speak out about things, and at the same time still having hope."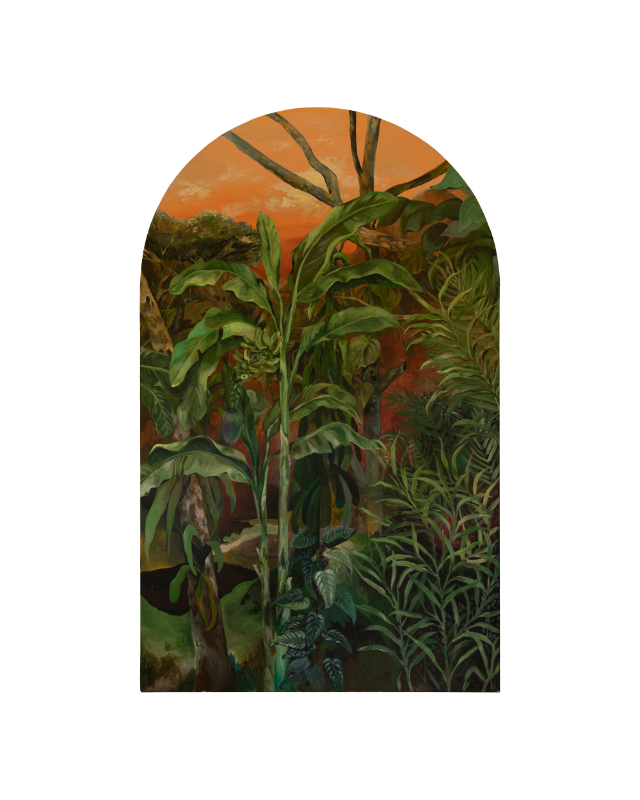 Each piece in Kundiman is rife with meaning. The focal point of the exhibit and Solenn's favorite, Within Reach 2030, took the painter over 300 hours to finish precisely because every little detail in the painting was added with intention—from a little boy holding a lily to signify hope, to a parked motorcycle with a significant plate number, to a lone laughing woman surrounded by otherwise straight faces, implying that "resilience" should not always be our response to everything.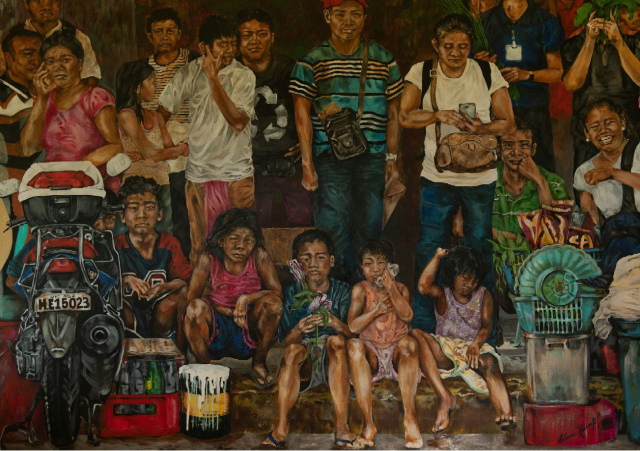 There's also a painting named Busilak which features three mothers and their children, all of whom are patterned after women that Solenn met in real life. "I got to hear a bit of their stories…It's called "Immaculate" because here in the Philippines people are not given the right to sex education," Solenn explains. "This painting kind of shows how women have to be the pillar, how women have to be strong and how most of the time they're left to take care of so many children on their own. And then in the painting you're going to see blank faces, like three women with ternos. So that's like the people judging them or the Donyas who think they know better or always have a say on certain things."
ADVERTISEMENT - CONTINUE READING BELOW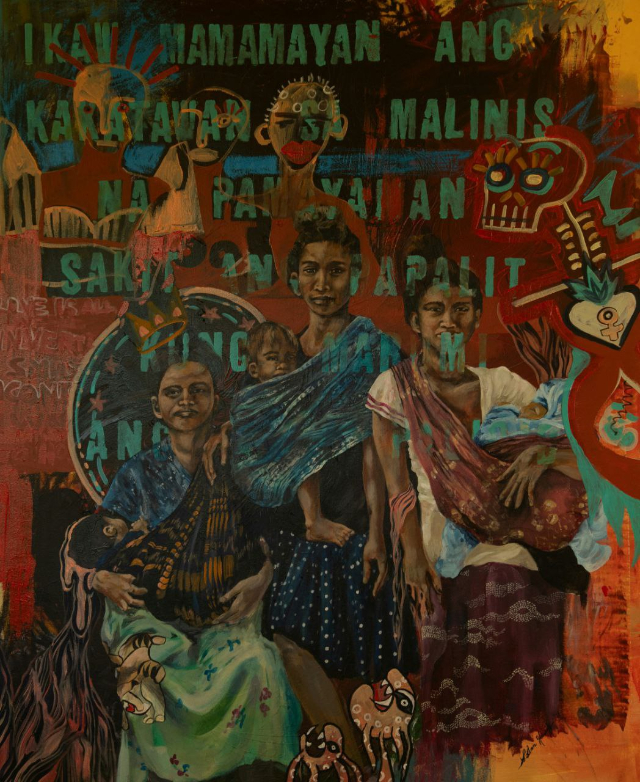 Aware of her privilege, Solenn is no stranger to drawing raised eyebrows for the subject matter of her art. In recent events, the actress came under fire for supposed poverty porn after she posted a photo of herself with her painting—a piece from Kundiman— set up in front of what seems like a shanty street in the city. She's since deleted the image and put up lengthy apology in its place, stating that the criticism she'd come across "made me more sensitive to different perspectives on my choice of setting. Her message further read. "I did not want to romanticize the poverty of the everyday Pinoy or the resiliency that we naturally have. I really hoped to honor our people by being truthful about the kind of life a lot of Filipinos live today and to show that Filipinos deserve better."
Though still apologetic for the photo, Solenn stands by her paintings. She reiterates that her affluent background, or her half French nationality—which has been taken against her in light of the controversy—should not be cause for her to ignore the struggles her fellowmen face daily. "I see this happen in front of my eyes and it's not because I am privileged that I cannot see the problem that a lot of Filipinos are facing and it doesn't mean I can't talk about it," she tells Preview. "I'm more Filipino than I am French but at the same time, I'm much Filipino as you are even if you're pure Filipino when I'm half-blooded. I live here. I pay my taxes here. I speak the language. I am Filipino and I'm proud to be Filipino but I want better for the Filipino people."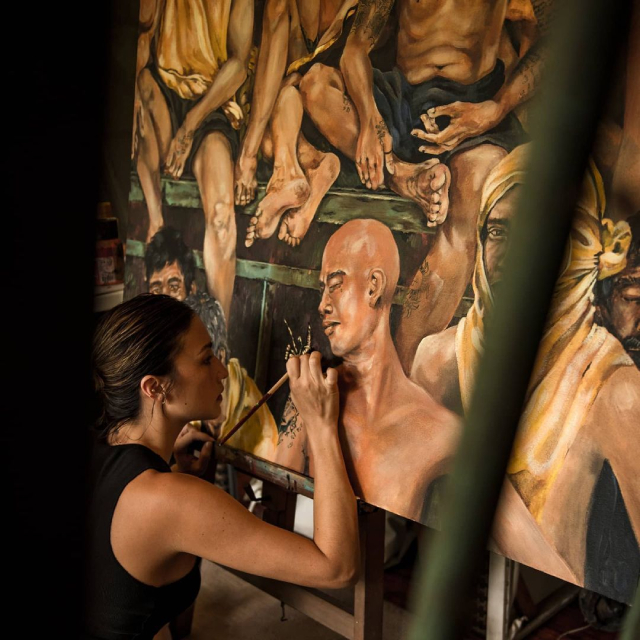 ADVERTISEMENT - CONTINUE READING BELOW
According to Solenn, a huge chunk of the proceeds from Kundiman will be donated to the Kalipay Negrense Foundation—a non-profit foundation working for disadvantaged and homeless children—victims of Online Sexual Exploitation of Children (OSEC), and two more groups that aid in the education of street kids.
Kundiman is currently being displayed at the Modeka Gallery in Makati until April 24, 2021. With MECQ in place, those interested may view the exhibit instead online.
Preview is now on Quento! Click here to download the app for iOS and Android and enjoy more articles and videos from Preview and your favorite websites!
Related Stories from Preview.ph
Hey, Preview readers! Follow us on Facebook, Instagram, YouTube, Tiktok, and Twitter to stay up to speed on all things trendy and creative. We'll curate the most stylish feed for you!