Regine Velasquez knows full well what it's like to be on top. Over the years, generations of audiences have seen her success story unfold: from her humble, probinsyana beginnings in the amateur singing contest circuit to her meteoric rise as one of the country's top-tier entertainers. As a singer and actress, she is regarded as a powerhouse—churning an impressive roster of hit singles (she's never truly stopped after her 1990 smash hit Narito Ako), top-selling albums (R2K, anyone?), and one blockbuster romcom after another. As a concert and TV performer, she has pretty much done it all, too: Descend from inside a disco ball? Check. Sing for the BBC atop the Peninsula Manila Hotel fountain to welcome the new millennium? Done. Hit the high notes while harnessed and swung around in different directions? More than once. Upstage a pre-This Is Us Mandy Moore at the Asian MTV Awards? Yes, but totally unintentional.
ADVERTISEMENT - CONTINUE READING BELOW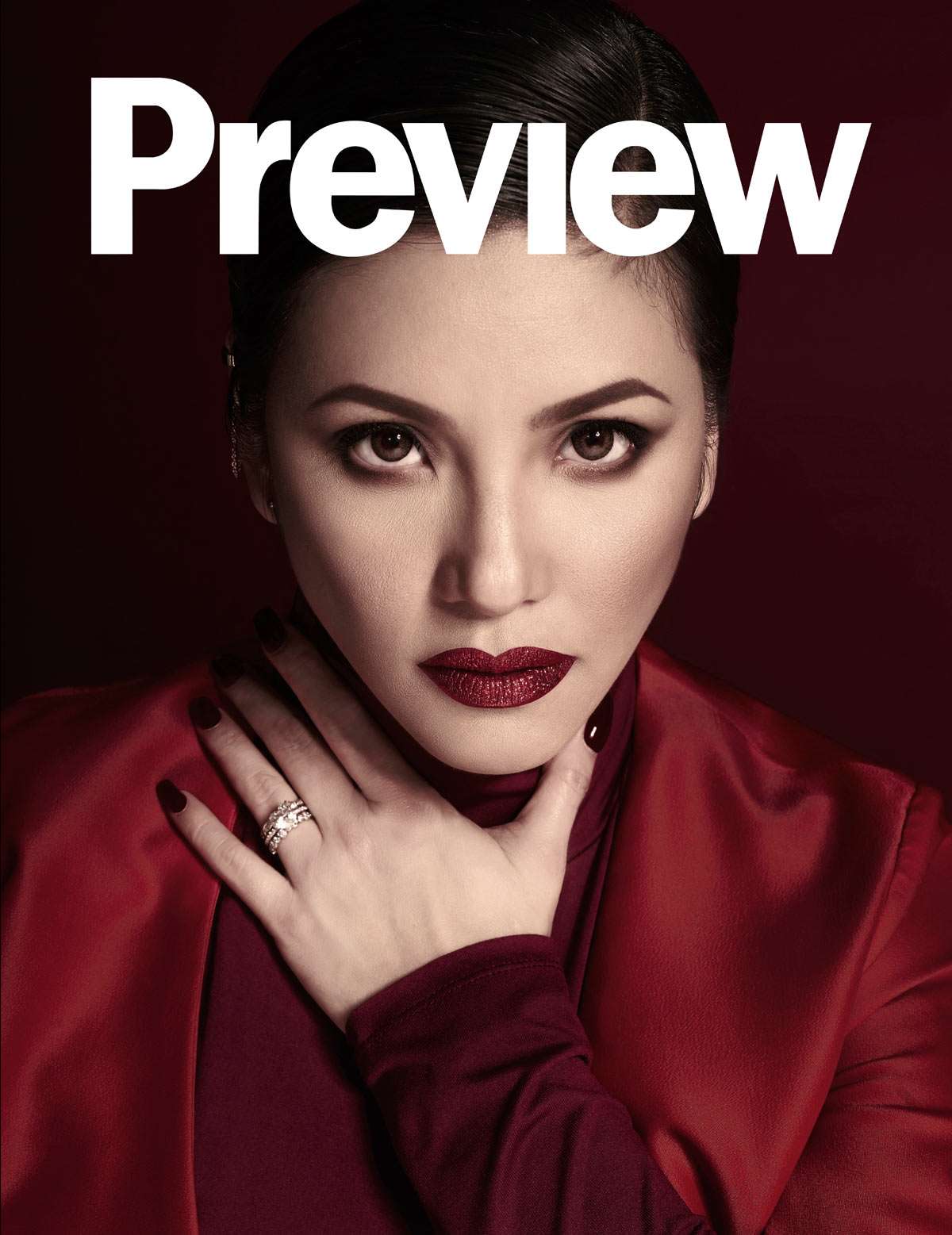 IMAGE Dookie Ducay for Preview.ph
(Arnold Galang red cape, price available upon request, 09178035688; Zara maroon turtleneck, P895, Greenbelt 5)
And then there are her other creative outlets, some of which she's cashed in on over the years: a passion for cooking that resulted in her TV show Sarap Diva and bestselling cookbook Bongga Sa Kusina, a limited edition perfume collaboration with Bench, a talent in sketching and makeup that has allowed her to paint on her own face for most of her career, a knack for conceptualizing and directing her own concerts, and a predilection for edgy fashion (she wore a red ruffled Monique Lhuillier and Chanel rider boots to her wedding with Ogie Alcasid) that's made her a style star in her own right.
The resounding success that she is, and at the heels of her upcoming anniversary concert R3.0, Regine admits to slightly stepping on the brakes of her career that once ran at breakneck speed. It's a decision she is proud of—and one that she does not regret.
"My career is still a priority but unlike how it was before when it was practically my life," Regine shares while taking a lunch break in between photo and video shoots for Preview. "Not that I'm tamad," she clarifies. "I'm just very realistic and a lot older now. I'm still here, pero hindi na ako masyadong aligaga gaya ng dati. I am really comfortable and happy where I am and with who I am: a wife first, then a mother."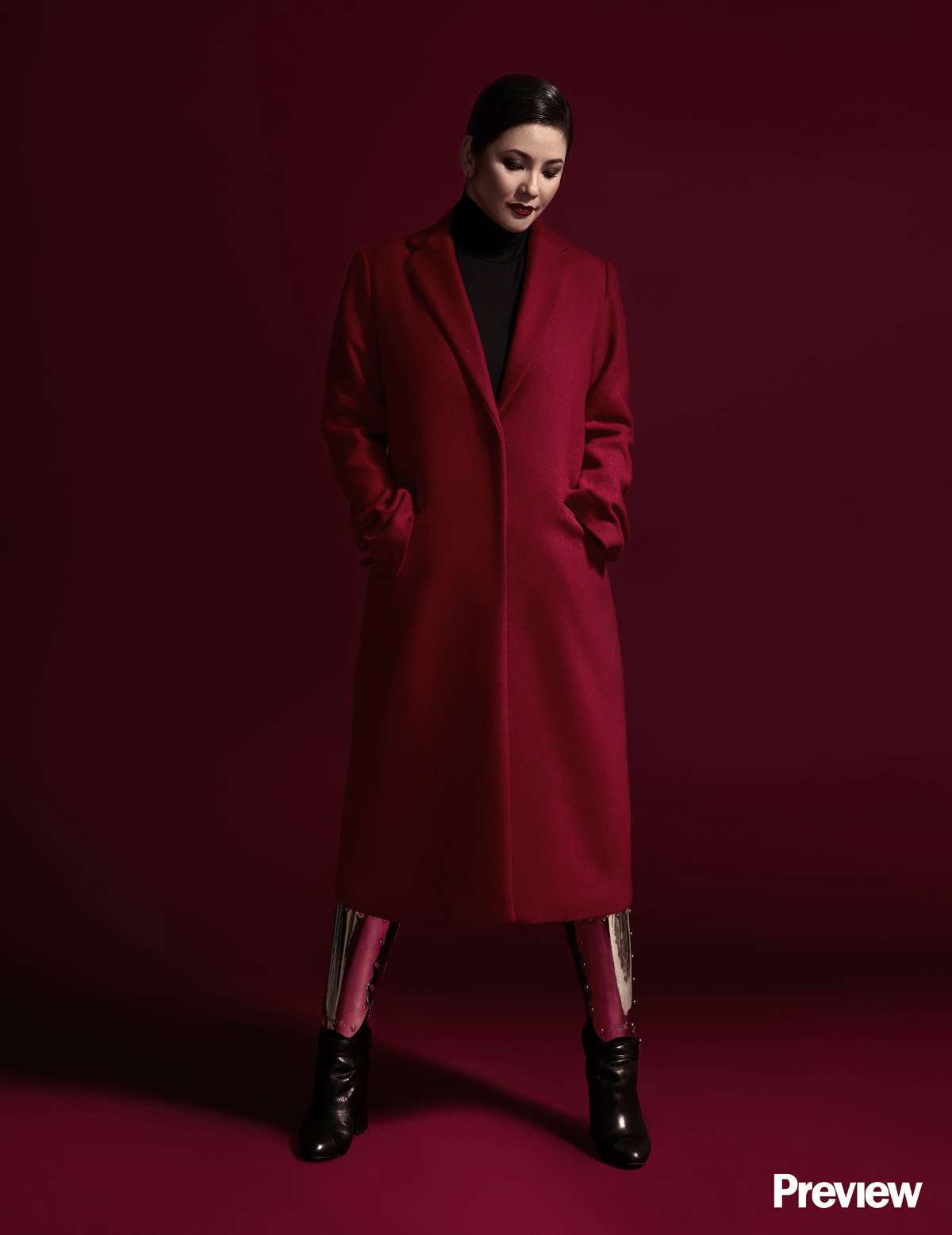 ADVERTISEMENT - CONTINUE READING BELOW
IMAGE Dookie Ducay for Preview.ph
(Bershka long coat, P3995, Glorietta; Zara black knit turtleneck, P895; Forever 21 earring set, P225, SM Makati; Chanel boots, Regine's own)
Wife First, Mother Second, Songbird Last
"If God would give Ogie and me another baby, I would be so happy. Pero kung hindi, I'm happy with Nate. He is such a wonderful child," she gushes about her five-year-old. "He is such a gift, which is why we named him Nathaniel or 'given by God,'" she expounds. "Hirap dapat ako magbuntis, but after I got married to Ogie in December 2010, I was already pregnant right by February 2011." A quick scan of her Instagram feed (@reginevalcasid) will clue you in: her posts about Nate or with Nate—aside from off-duty photos with Ogie and the frequent motivation bible verse—eclipse any concert announcement, Sarap Diva teaser, or product endorsement.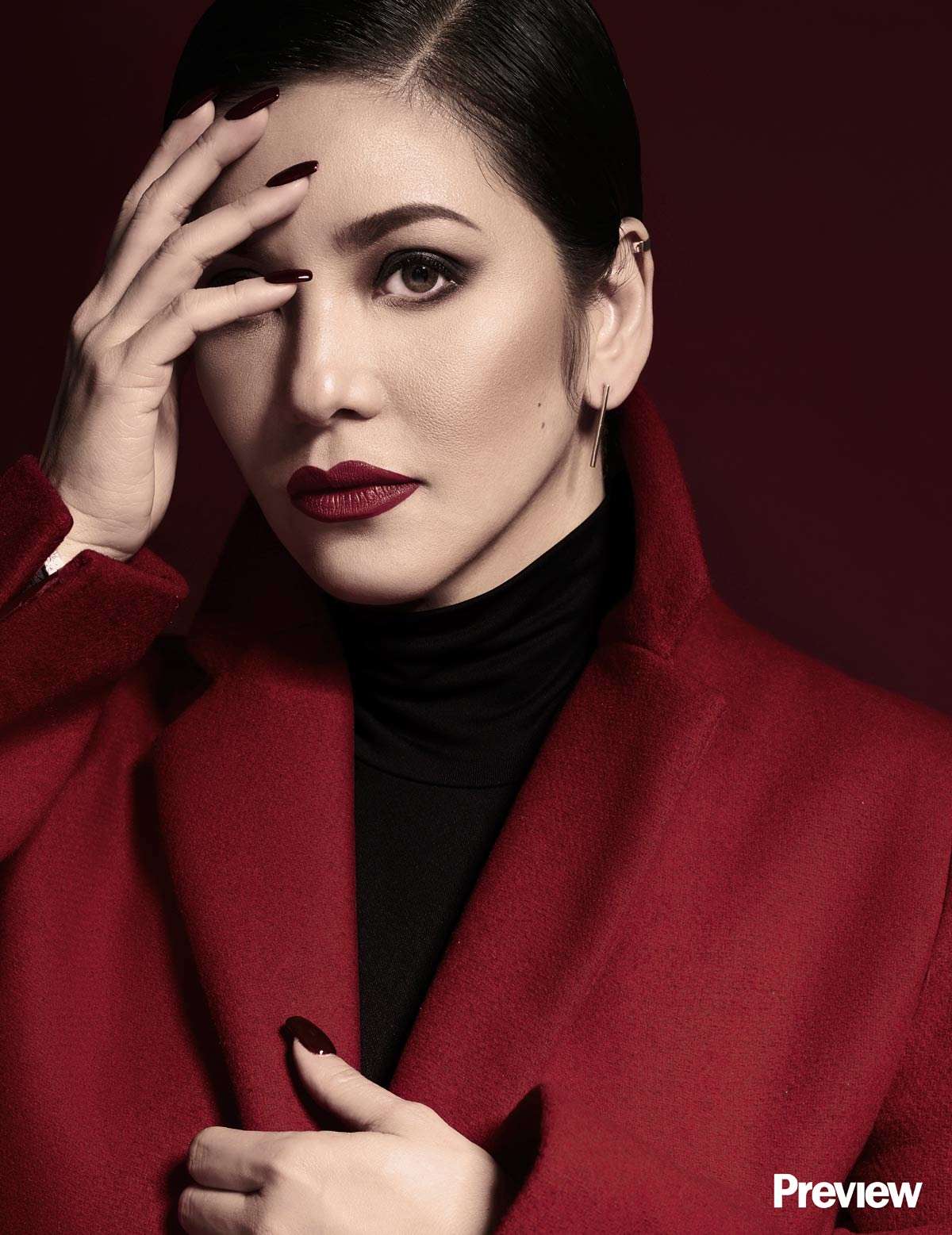 ADVERTISEMENT - CONTINUE READING BELOW
IMAGE Dookie Ducay for Preview.ph
Halfway around the world, Madonna is still on it, reinventing herself with every album release. Celine Dion, coming out of hibernation, is bursting with energy and is sashaying around Paris for Vogue.com. Mariah Carey, whose crochet halter and waistless denim-wearing ways Regine once referenced, is still a constant hit in the interwebs—for better or worse. But Regine, the country's equivalent to these musical superstars, would rather save her energy for her family.
"It's harder for me right now. Hindi na ako kasing energetic as before and my ideas are not as plenty," she admits. "Dati, ang dami kong ginagawa. Kung anu-ano! Nag-re-recording! Nag-mo-movie! Nag-ho-host! Naglalabada! Nagpa-plantsa! Nagta-tricycle pa!" She was exaggerating, her real babaeng bakla sense of humor unfolding, and we totally get the point.
In the last five years or so, Regine has indeed chosen to streamline her workload, concentrating on a few projects at a time, so much so that R3.0 was scheduled this year instead of her actual 30th work anniversary in 2016. (She chose to focus on her book Bongga Sa Kusina and her nationwide tour with PLDT last year.) "I just want to concentrate on performing and singing this year," she says succinctly. "I am doing this concert and nothing else."
ADVERTISEMENT - CONTINUE READING BELOW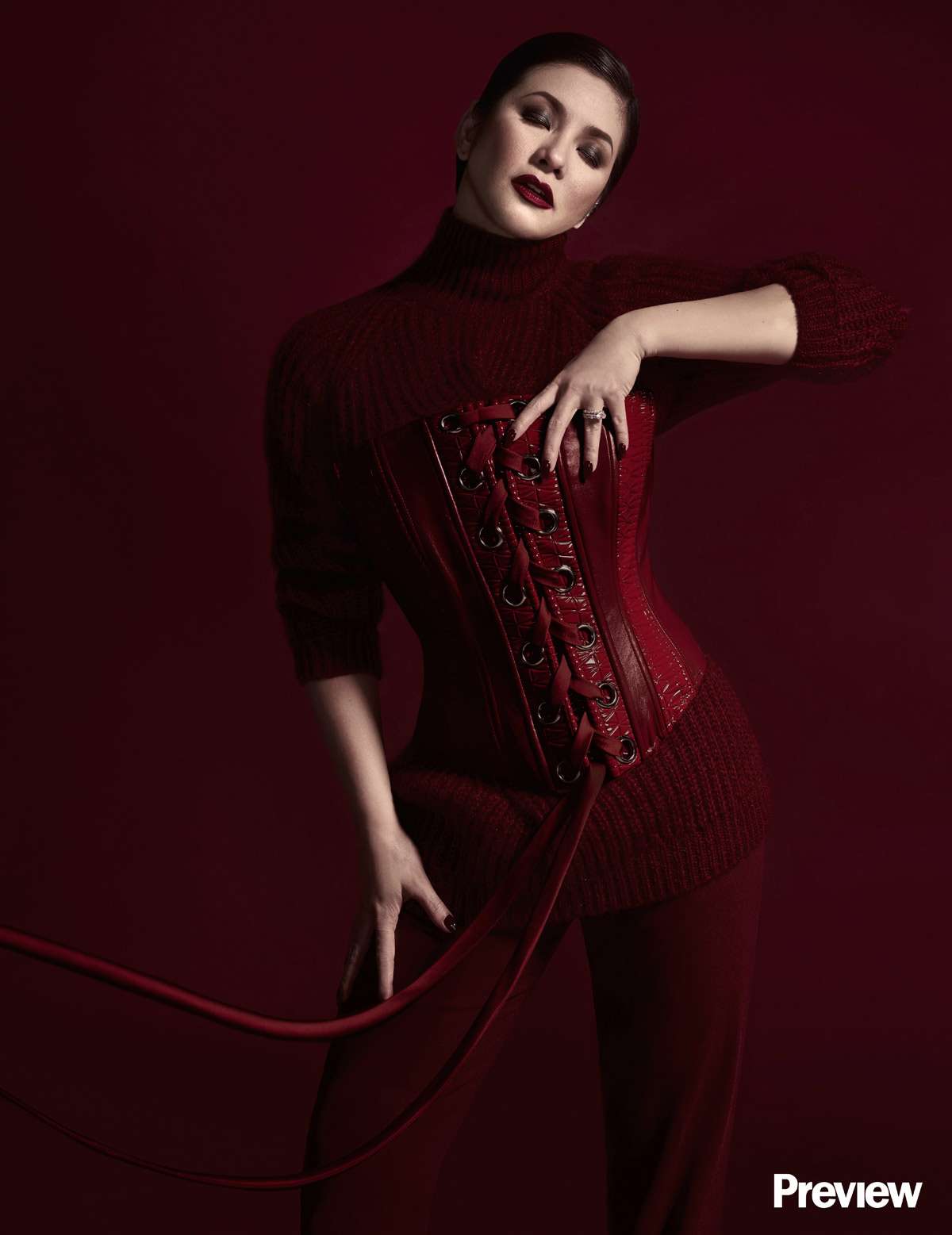 IMAGE Dookie Ducay for Preview.ph
(Neric Beltran corset, price available upon request, 09215193193; Massimo Dutti red knit turtleneck, P5450, Greenbelt 5; Zara red wide leg pants, P2295, Greenbelt 5)
True enough, the preparations for her upcoming concert are taking up the rest of her time (demand for tickets has been nothing short of crazy, resulting in a second night). "I make sure that I don't get sick by taking vitamins. I've also been visiting my throat doctor and will come back one more time right before the shows begin," she discloses, making sure that her bug-driven voice loss during Silver, her 25th anniversary, does not happen this time around. "I am also taking voice lessons—proper breathing techniques and vocalization—since I have not been singing as much. It really is like going back to basics."
ADVERTISEMENT - CONTINUE READING BELOW
Her Life's Work and Legacy
As a tenured performer, she chooses not to succumb to the pressures of staying on top. "When I was younger and before I got married, mas masipag ako to introduce or reintroduce myself to different sets of audiences," Regine recalls. "But nowadays, especially after having Nate, I've accepted that it's not my time anymore."
The shoot's creative team—mostly fans who adjusted their schedule to land such a plum sitting—let out a collective "No!" upon hearing such words uttered by their spiritual Ate (a term of endearment and respect everyone calls her by). "Don't get me wrong," Regine emphasizes, addressing everyone listening in. "I am still here. I am still going to sing. I will still do concerts—just not in the same pace as before." The immediate fans in the studio began to relax.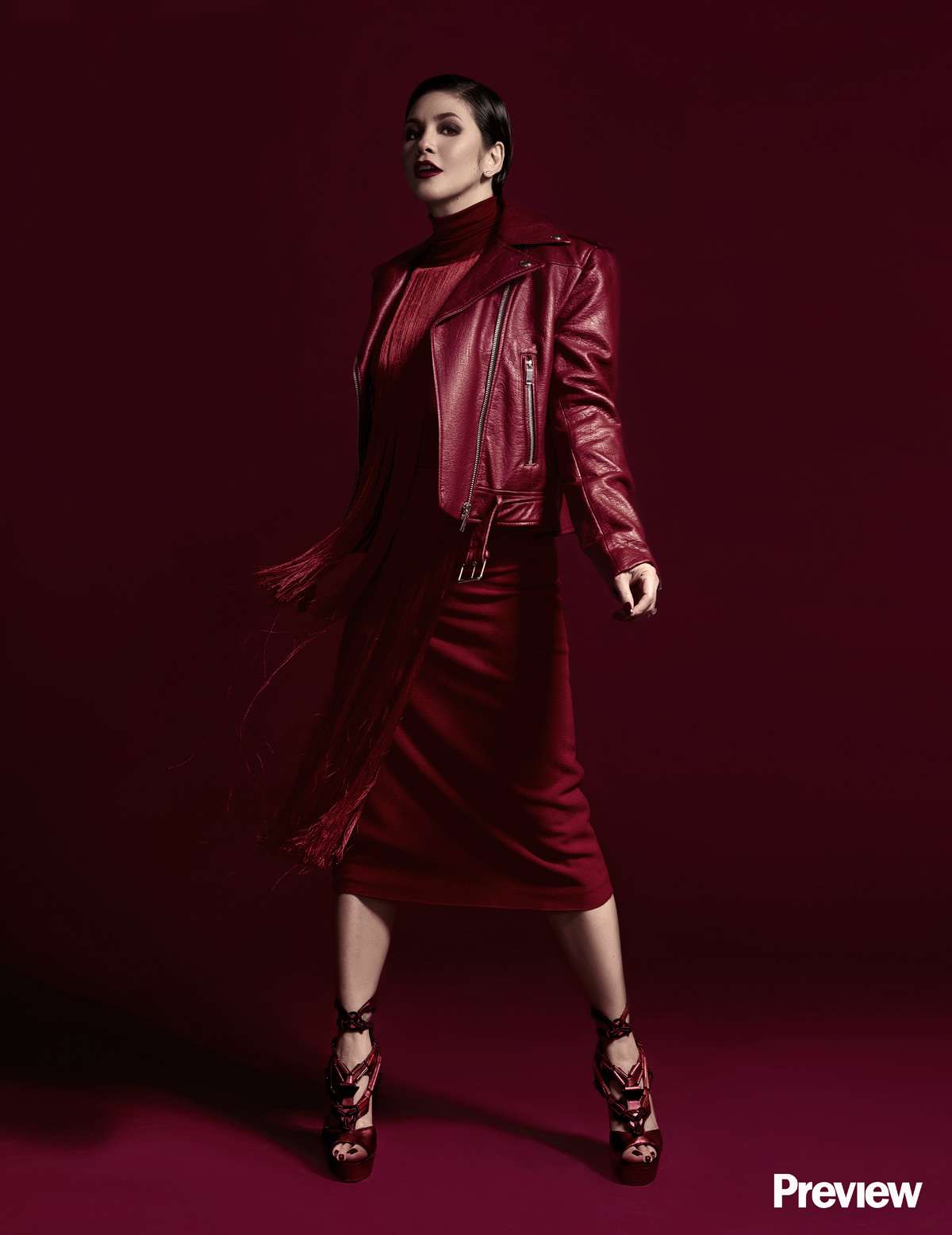 ADVERTISEMENT - CONTINUE READING BELOW
IMAGE Dookie Ducay for Preview.ph
(Martin Bautista fringe dress, price available upon request, 09175665662; Massimo Dutti red sleeveless turtleneck, P2450, Greenbelt 5; Zara red leather jacket, P2995, Greenbelt 5; Gucci platform heels, Regine's own)
She has no issues about giving way or sharing the stage, either. She has, in fact, been doing so for a long time now as host and mentor in amateur singing contests such as Star for a Night, Search for a Star, and Pinoy Pop Superstar.
Arguably her most generous contribution to the local music industry, Regine's almost decade-long hosting stint commenced upon the prodding of Viva's Vic del Rosario. "The reason he asked me to take on hosting is because I came from a singing contest myself," she recalls. "Boss Vic knew that the contestants would be able to relate with my story and how I started. That I will be able to inspire them." She says she is not the best at hosting—delivering spiels is an admitted weakness—but this time in her career was also one of the most powerful.
ADVERTISEMENT - CONTINUE READING BELOW
She further explains, "The contests I hosted would usually last a year. The good thing about that is that you'll really see the contestants grow, improve, and evolve. At bilang mga bata pa sila, they are curious, would ask a lot of questions, and seek my advice. Some of them call me up for advice up to now. At ramdam na ramdam ko na mahal nila ako!"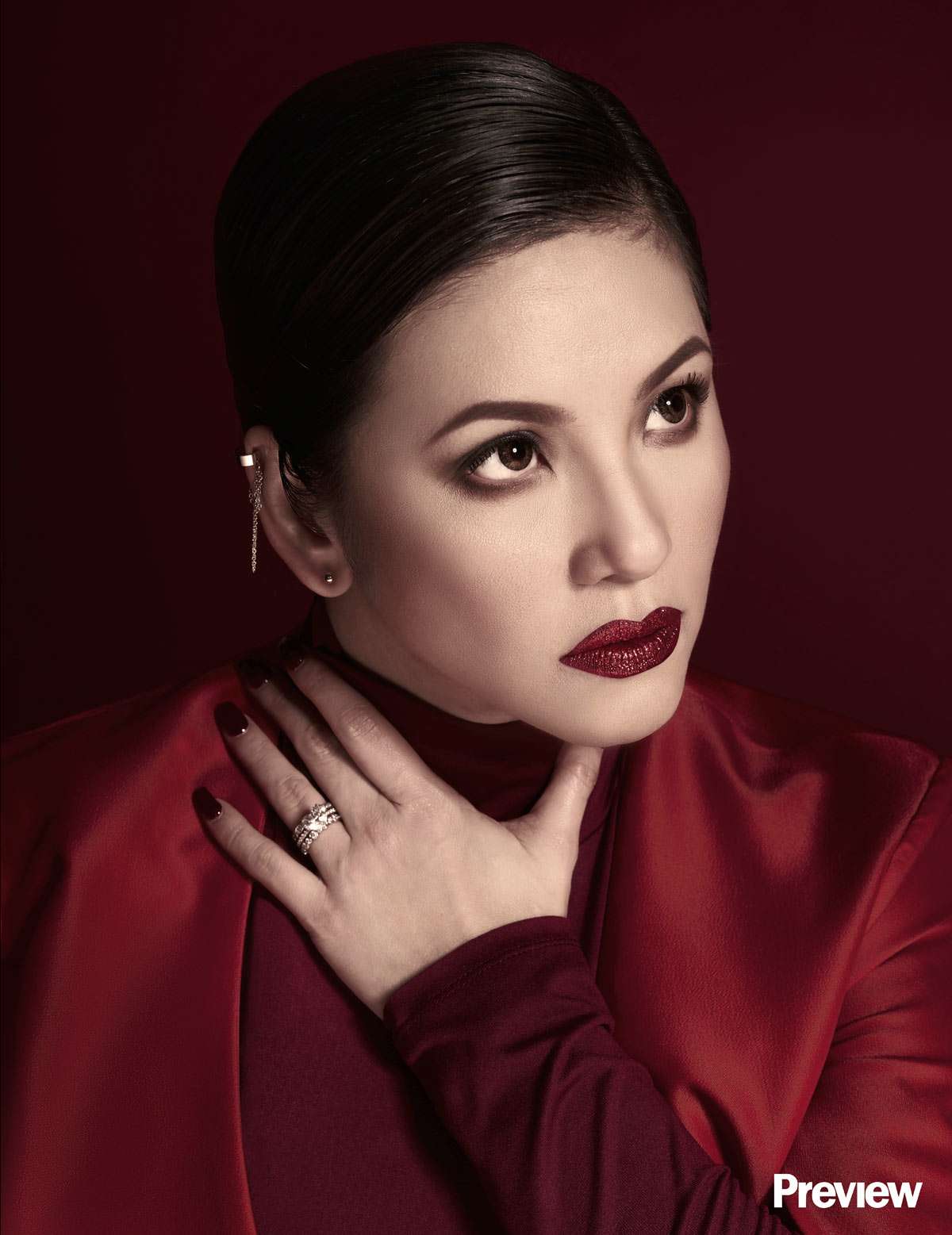 ADVERTISEMENT - CONTINUE READING BELOW
IMAGE Dookie Ducay for Preview.ph
Asked whose singing careers she is excited about and will take Original Pilipino Music to the future, Sarah Geronimo's is top of mind. "She is a superstar. Siya na yan 'eh! This is her generation. This is her time," she declares. "Kyla has a beautiful voice. Of course, there's Angge (Angeline Quinto), Rachelle (Ann Go), and Jona (Jonalyn Viray), too." She rounds up her list with Aicelle Santos, Morisette Amon, and KZ Tandingan.
"At gagaling pa sila. Because as you get older, you gain more experience and learn while performing. Alam mo yung mga minamalat ka, nawawalan ka ng boses or may boses na hindi mo mahanap? That's when you discover new techniques," she says, her OG wisdom clearly on display.
At this point, Regine is already being called back on set for another round of photos and a couple of videos that will document her love for makeup and fashion. (She brought 47 pairs of her own shoes, including the Chanel boots she got married in, because options!)
ADVERTISEMENT - CONTINUE READING BELOW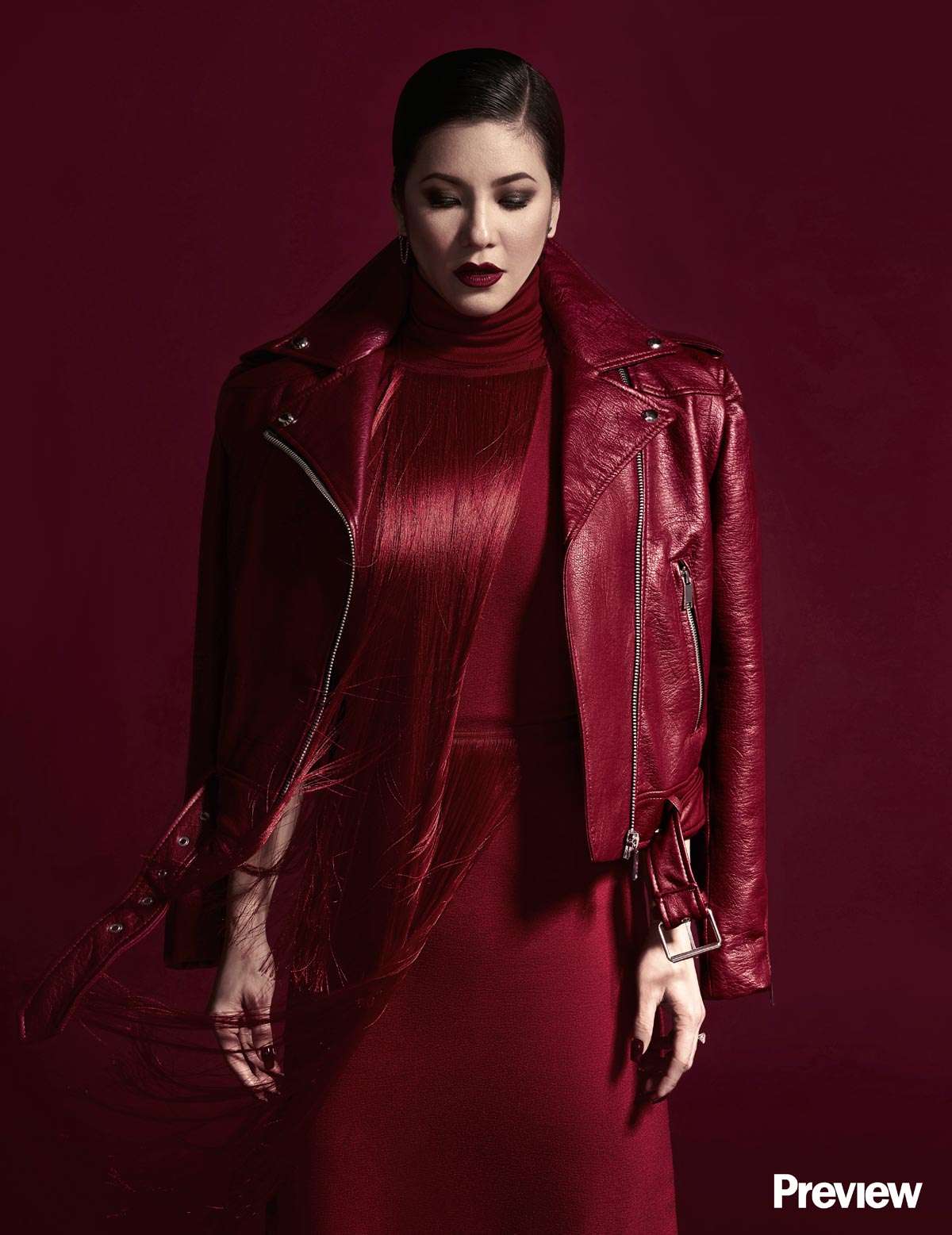 IMAGE Dookie Ducay for Preview.ph
Speaking of documentation and as our parting shot, we ask her hypothetically: If the world we know comes to an end tomorrow and every record of you will be destroyed EXCEPT for three songs, what songs would be inside a Regine Velasquez Survival Kit?
ADVERTISEMENT - CONTINUE READING BELOW
She suggested "You Are My Song" from her movie Wanted: Perfect Mother, karaoke and radio staple "Dadalhin," and the concert encore "What Kind of Fool Am I?" Interestingly, each song she picked is not entirely hers: "You Are My Song" was also sung by Martin Nievera, "Dadalhin" used to be performed by the band that its composer Tats Faustino was part of before giving it to Regine, and "What Kind of Fool Am I" is actually a Sammy Davis Jr. original. All of them, however, are unmistakably Regine.
We attempt to find the poetry or to unveil the mystery behind such song choices or her storied career trajectory or the reorganization of life priorities since she became Mrs. Alcasid and find ourselves stumped. If there's anything valuable to be learned from Regine Velasquez's rise to the top, it's that she stuck true to her ideas, stood by her choices, and kept it real. It's that for 30 years running, the woman we often refer to as Asia's Songbird has always had her feet planted firmly on the ground.
ADVERTISEMENT - CONTINUE READING BELOW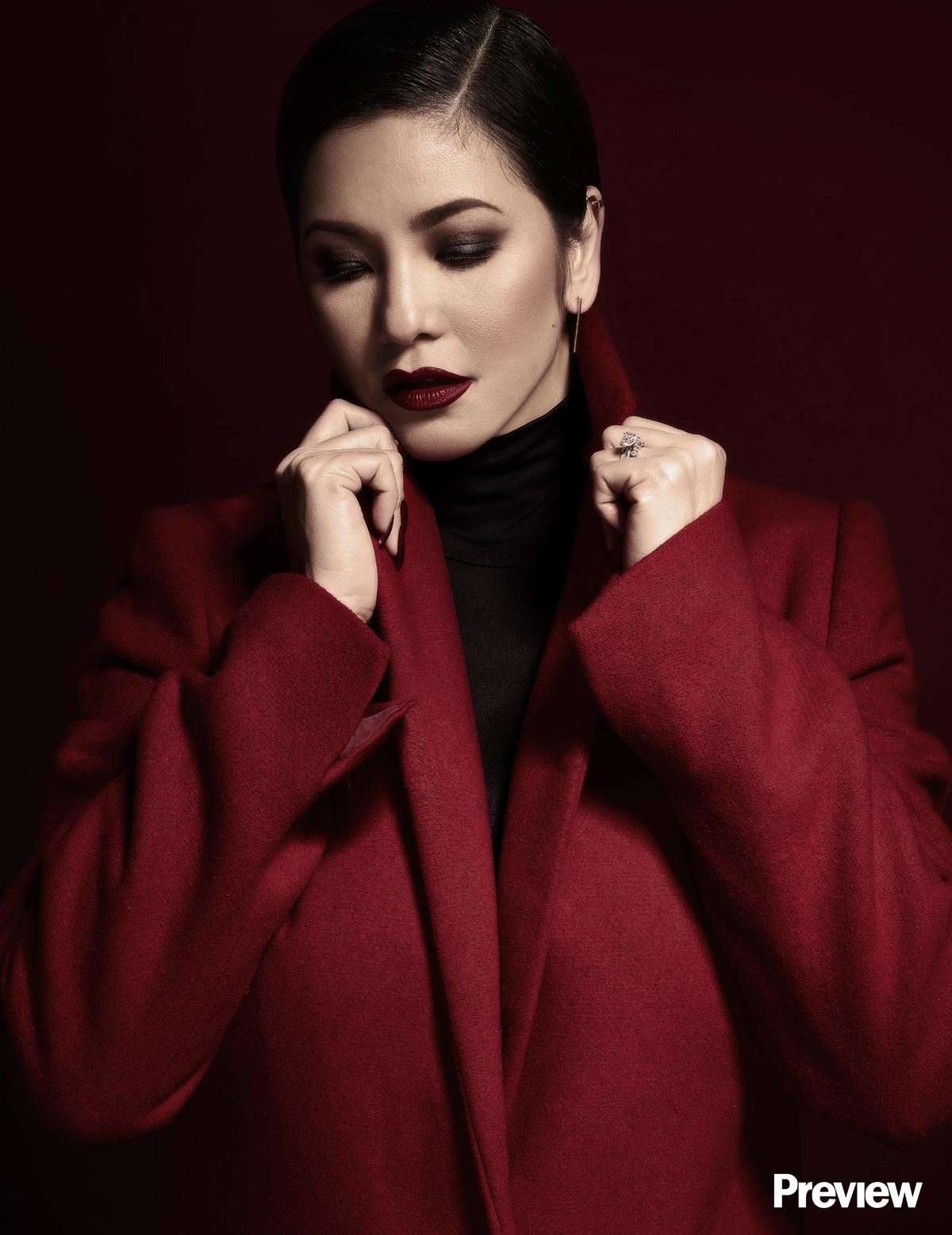 IMAGE Dookie Ducay for Preview.ph
Photographed by Dookie Ducay
Produced and Styled by Marj Ramos
Art Direction and Photo Enhancing by Eugene David
Assisted by Gab Gutierrez and Steph Sison
Hair by Chris Rodil
Nails by Maritess Sison of Beauty & Butter
Related Stories from Preview.ph
Hey, Preview readers! Follow us on Facebook, Instagram, YouTube, Tiktok, and Twitter to stay up to speed on all things trendy and creative. We'll curate the most stylish feed for you!