I dwell, work, and thrive online. As much as I hate to admit it, everything that I need to function lives in the internet, resides in my laptop, and vacations in my phone. Being a work-from-home fashion writer and editor, I heavily rely on technology to get things done. Outside of my line of work, I still can't veer away from my gadgets. While the good old paper-and-pen system still works, my erratic mind simply can't fit everything into a singular notebook. I am bound to forget where I wrote what—costing me precious time in recalling which notebook I wrote that recipe, that idea, or even my grocery list!
I tried my best to stick to productivity apps and online notebooks like Trello, Evernote, Todoist—frankly, the list goes on. None felt like a true fit for what I need from a productivity app. But it's safe to say that I have found my forever app. Enter, Notion. Notion is a workspace app that lets you freely create your databases, kanban boards, personal wikis, calendars, and reminders that will help you navigate everything you do online and in life.
ADVERTISEMENT - CONTINUE READING BELOW
Life Pre-Notion
I love making lists. Ask anyone I know, lists make my world go round. But along with my pen and to-do notebook, I open up my Notes app, my Stickies, my calendar, text pad app, and sometimes even my email drafts where I can write down fleeting ideas and URL links I want to hold onto. I consider myself as a pretty organized human, but this all-over system I've been using since college was tiring and erratic.
I have long believed in pursuing goals to make life meaningful and accomplished but as life would have it, I eventually felt burnt out and exhausted. And in this unpretty feeling, it is easy to get derailed when you don't achieve the goals you've set. Hence, I have worked hard to unlearn this goal-setting mindset, and instead rely on a working system that will keep me on track and help me function even on days when I don't feel like my 100% self. For this initiative, Notion has become my dependent, central system.
How Notion has helped me work better and smarter
See, I've known about this app for about two months now but it's only just recently that I actually sat down and let it help me. Some Youtube tutorials later, I am able to create a workspace specifically designed to operate as my note-taker, calendar, task manager, and butler—no kidding!
ADVERTISEMENT - CONTINUE READING BELOW
Notion for work
As I've mentioned, my day job entails for me to be agile and to thrive online. That means, I cannot afford to forget things because I help keep our humble team and website running. With big responsibilities resting on my shoulders, my paper-and-pen system feels like a poor way of handling things.
Let's go over my Notion workspace. For the sake of brevity, I will only be sharing the upper part (which coincidentally is also the most-used area) of my life's dashboard. I have segmented it into four parts: Life Goals (this part's pretty self-explanatory so we'll skip this, too), Quick References, Home, and For Me. For work, I mainly use the Quick References part which is filled with shortcuts to more pages that I have created.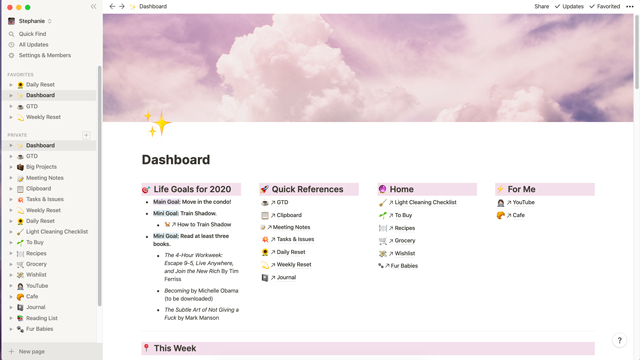 ADVERTISEMENT - CONTINUE READING BELOW
Here, I have my GTD (Get Things Done) page which actually functions as my to-do list. I built it to have different views of my things to do. For one, I have the Braindump view where I just list everything that I need to do when I think of them. This helps me to not forget all my action items because chances are, my dodgy brain will fail me at some point, especially when I get too preoccupied with other things.
Further, I segregated it into different views like a Status board so I see which tasks I am in the middle of doing, things I have yet to start, pending tasks, and my fave, the completed ones. This view keeps me in check if I'm doing so many things all at once.
Next, I also have Today and Tomorrow views. These views help me streamline the tasks of the day and the next one—these boards help me prioritize better, thus I mold my days more mindfully and dedicate time for only the most urgent and the most important.
ADVERTISEMENT - CONTINUE READING BELOW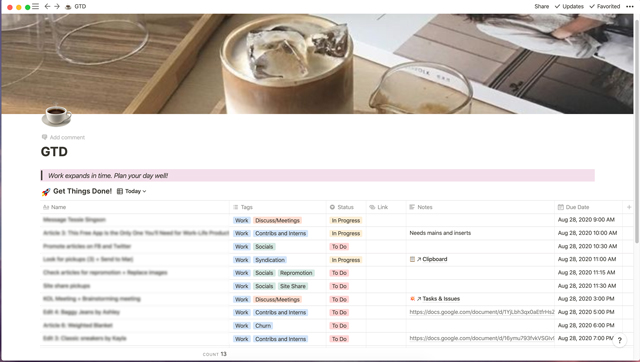 Moving on, I have my Clipboard page. This page lets me clip ideas, URL links, and other brainfarts I may have during the day but don't know what to do with them just yet. Perhaps, this is my messiest page yet because I rarely organize it; I sort them out eventually.
ADVERTISEMENT - CONTINUE READING BELOW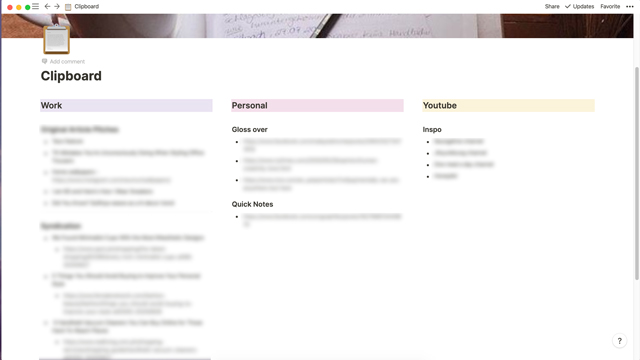 Next, I have my Meeting Notes page. I sit through a ton of meetings during the week and each one is vital to work so I like to keep my thoughts here, alongside some action item list that require my attention after a certain meeting. This elimates my need of bringing a notebook into meetings!
ADVERTISEMENT - CONTINUE READING BELOW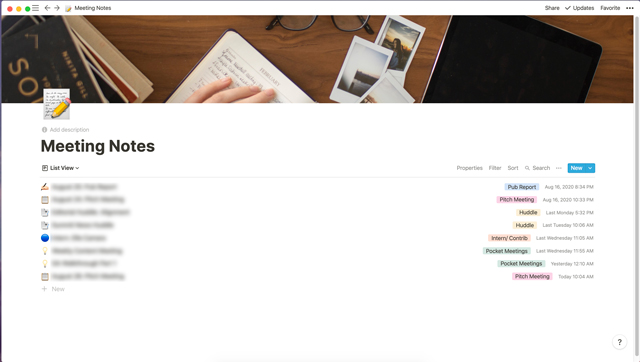 I also have a page named Tasks & Issues. This page is dedicated for big work projects that I have to work on with our team. I segregate here the people involved in a project, the point persons to talk to, and it also lays out each project's timeline of achievement.
ADVERTISEMENT - CONTINUE READING BELOW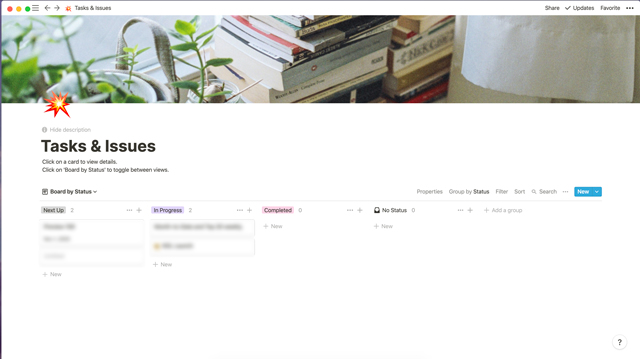 Notion for my personal life
Here's the fun part! In my dashboard, I have created multiple pages that I regularly use to manage my adult self. I have my Daily and Weekly Reset pages that help me keep track of my daily routines (I keep here my ever-changing skincare regimen, too, mind you!) and weekly errands that I have to do in order to prepare myself for the next day and the coming week.
ADVERTISEMENT - CONTINUE READING BELOW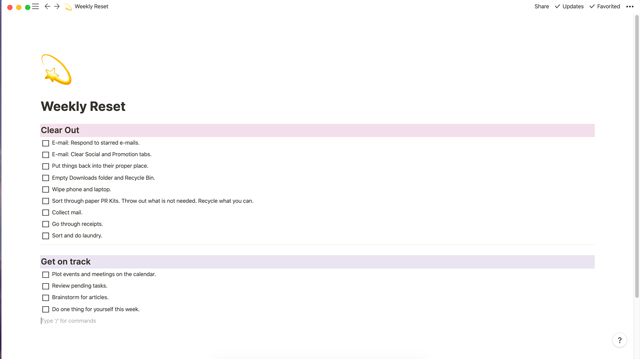 On the third column of my dashboard, I have my Home space. Here, I made a Light Cleaning Checklist (a.k.a areas and things that I have to clean around my home). I am also poised to move in my condo this year—which is my biggest goal of 2020, BTW!—and with this event, I am in need of new things to furnish my home. I list all my home wish list under To Buy page so I can easily access it whenever I'm outside or have free time to peruse online shops.
ADVERTISEMENT - CONTINUE READING BELOW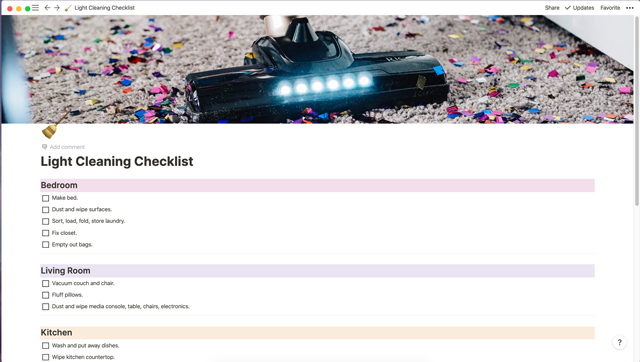 I also have Recipes and Grocery pages, which are both created in preparation of my impending independence from the comforts of my family home. I wanted a space where I can take stock of my pantry so I can make grocery runs a lot quicker, and a database for my kitchen journey as I try to survive by myself.
ADVERTISEMENT - CONTINUE READING BELOW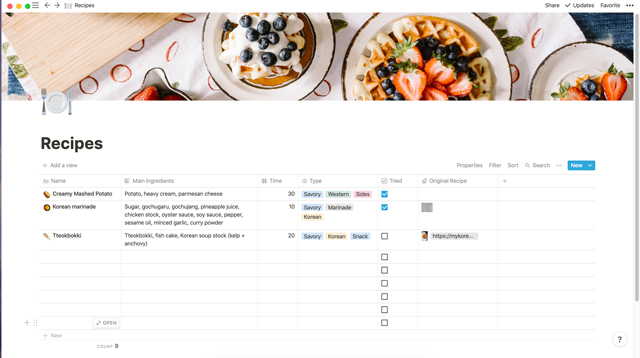 Next, I also have a Wishlist page where I dump all my wants! I place here all the big ticket purchases that I wish to own in this lifetime. In case you didn't notice, I also added a price column here which helps put in perspective the accumulating expenses of having all these things. It's a grounding experience, honestly, because I am less tempted to swipe my credit card when I see all the zeroes.
ADVERTISEMENT - CONTINUE READING BELOW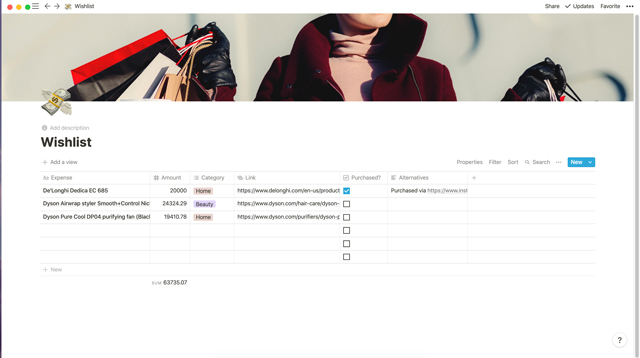 I also have a page dedicated for my fur babies! Here, I keep a database of their vet visits, vaccine records, and even their monthly expense report. Since we welcomed a new puppy in our home, I have also added a course guide that I follow to help her get house trained.
ADVERTISEMENT - CONTINUE READING BELOW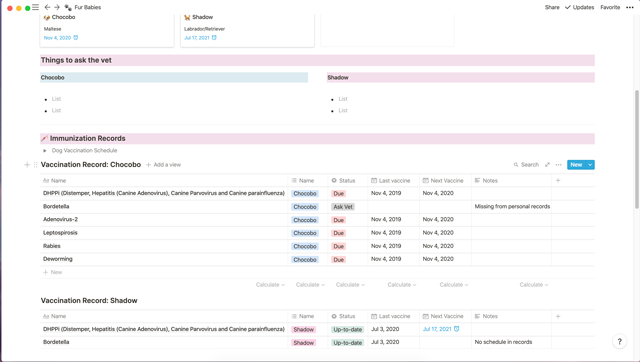 Lastly, I have my For Me column, which is essentially a space where I can plan activities and projects that I would want to do someday. Two of my personal projects include starting a Youtube channel and building a dainty cafe. To help me plan for these things (even if they're still so abstract for now), I created pages for it where I can dump ideas and inspirations for them. Down the road, when I can actively and concretely hatch a plan for these, I can just look at these pages so I don't have to start from scratch.
ADVERTISEMENT - CONTINUE READING BELOW
Why should you download Notion?
Now, that you've seen what Notion can do for someone like me, the question to ask now is: How does Notion apply to you? Here's a list of pros to further convince you:
1. It's a versatile workspace you can customize to your liking.
You can build on existing templates available in Notion, but it's essentially a flexible app that you can design to serve and support your current lifestyle. Whether you're a student, a content creator, or a working person like me, Notion is here to organize your life.
ADVERTISEMENT - CONTINUE READING BELOW
2. Notion can be accessed anywhere over the Internet. It's also a collaborative workspace.
Aside from being a desktop app (available on Windows and Mac) and mobile app (available on android and iOS), your workspace can also be accessed online through your account. Oh, and if your friends and teammates have their own accounts, you can all share a common page to work on your projects. How convenient!
ADVERTISEMENT - CONTINUE READING BELOW
3. It will save you time and paper.
No more fumbling through notebooks! You can stratetgically organize your life's important aspects, hit Ctrl + F, and locate the idea, recipe, or task you need. What's more, if you're moving towards a more sustainable lifestyle, using this virtual workspace will push you to no longer need papers and pens.
ADVERTISEMENT - CONTINUE READING BELOW
4. It's a working system designed for you.
Once you get a handle of how Notion can function for you, your life will become far easier to navigate. Before, I would work for hours and hours and feel like nothing's getting done! But since I was given a better view of how my days go, I had more control of my time and how I spend it, thus I can prioritize and accommodate more things that I want to do for myself. It's an effective way to combat feeling burnt out!
ADVERTISEMENT - CONTINUE READING BELOW
5. It's free!
While upgrades are available, especially if you're looking to use this within a small company, personal use of Notion is totally free. Sweet!
Ready to lead a more productive life? Start your Notion journey here.
Hey, Preview readers! Follow us on Facebook, Instagram, YouTube, Tiktok, and Twitter to stay up to speed on all things trendy and creative. We'll curate the most stylish feed for you!