With the Halloween season drawing near, everyone seems to have already gotten the spooky memo by watching the trending horror film of the moment, Eerie. Starring Bea Alonzo, the film reportedly has people losing sleep.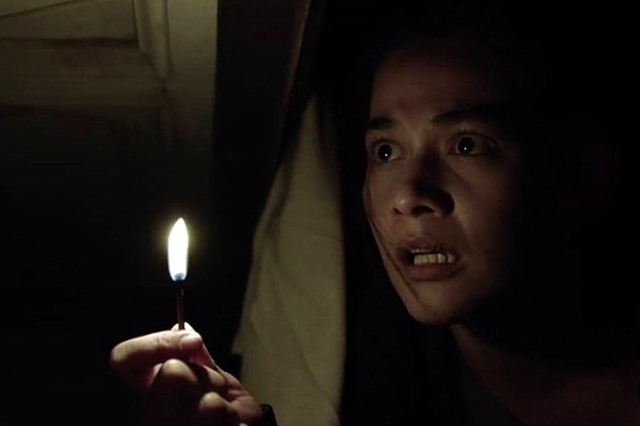 Due to its Netflix debut, Eerie has managed to attract international recognition from the likes of Elle Magazine, Stylecaster, People.com, Buzzfeed US, DailyMail UK, The Independent UK and a slew of Twitter users that will warn you not to watch it alone. So how has it become the dare-to-watch movie of the season? To find out, I naturally had to watch it myself—below, six reasons why everyone has been clamoring for their night lights over Eerie. (Be warned, though: This article contains major spoilers!)
The Plot
Set in Sta. Lucia, an all-girls Catholic private school, the mystery unravels when a young girl named Erika hangs herself inside the girls' bathroom. This unfortunate event ignites a series of supernatural incidents inside the academy, the latest being the untimely death of another student, Clara. With the school traumatized by Clara's alleged "suicide," the school's clairvoyant guidance counselor Pat Consolacion (played by Bea Alonzo) investigates who the culprit is behind these strange occurrences with the help of the ghost girl Erika
ADVERTISEMENT - CONTINUE READING BELOW
Reasons to Watch Eerie
1. It lulls you into a false sense of security and brings out unexpected scares.
If you're not new to the horror genre, then the premise of Eerie may seem familiar to you. Ominous nuns, creepy ambient music, and black-haired ghost girls haunting a Catholic school. Nothing new, right? But what makes it different from run-of-the-mill scary movies is that... just when you think you already know where all the jump scares are, that's when it psyches you out. You're lulled into a false sense of security, hence making it even scarier when the real spooky moments happen. For instance, in one scene, one of the schoolgirls is inside the bathroom where Erika took her life. In classic horror movie fashion, she hears a door creak and keeps looking behind her to see if anyone is there and then glances back to the mirror. The camera keeps panning back to the mirror, so you would expect to eventually see a figure behind her in the reflection; but instead, two decrepit hands jet out of nowhere and grab her face! Another unexpected jumpscare happened while Consolacion was washing her face; you'd probably expect to see someone else in the mirror, but instead, you'll be greeted with a shocked Bea Alonzo staring at her reflection with her face bathed in blood. It builds anticipation as you never know when a jumpscare will happen. You just know it will.
2. Its slow pacing builds up tension, which induces creepiness.
What has entranced and terrified international viewers is the subtlety of the film and how the creepiness quietly eases into you and under your skin. It's not your typical popcorn flying jumpscare fest, and it doesn't rely on those moments to be considered a good horror movie—although it does add a few to keep you on your toes. Its slow pace builds anticipation and allows the fear and creepiness to sit with you well after the movie credits scroll up. Its use of shadows and simple scenes effectively builds up the creepy factor.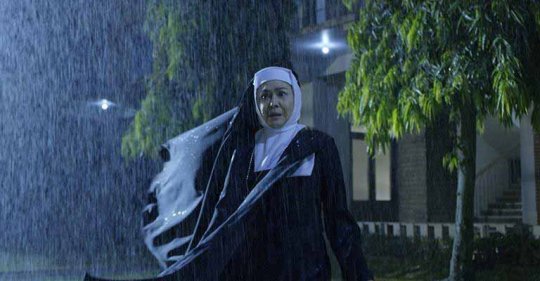 3. It's a new take on ghost haunting.

From the Filipino perspective, this could be seen as a public service announcement with regards to what my aunties have been telling me for years: Don't befriend ghosts because they'll want to hang around you or, worse, bring you down with them. Also, even when you have good intentions and believe that some ghosts are just misunderstood, it could backfire on you in the worst way. Given our grandparents' superstitions, the idea of ghosts wanting to take you as their "friend" isn't new; but for the global audience, this is possibly a terrifying thought.

ADVERTISEMENT - CONTINUE READING BELOW
4. Cliches work for a reason.

This movie is built on classic horror movie tropes: ominous nuns, an old creaky school, and creepy long-haired girls lurking in the shadows. All of these can be seen as cliche, but cliches are called that for a reason—because they work! Who doesn't get creeped out by long jet black-haired phantom girls? From The Grudge's Ju-On to The Ring's Samsara, it's an iconic figure that will keep you up at night.
5. It provides commentary on mental health and LGBTQ issues.
It may be seen as a cliche horror movie, but the parts that were truly disturbing and sad were tied to how Erika died. The school and her family discovered she was attracted to girls and made her an outcast. This drove her to committing suicide, along with the ridicule she endured which eventually fueled her violent ghost powers. This movie subtly critiques how our society treats people differently and the stigma around mental health. These everyday feelings of loneliness, yearning to be understood, and the pains of being rejected are scary feelings we all go through—Eerie tackles this kind of suffering, even in the afterlife.
6. The cinematography was beautifully shot.

Other than making you want to grab your night light, many people have commented on how beautifully shot this movie was. Its stark composition and desaturated color scheme make every scene beautifully haunting. The cinematography, music, and editing help set the tone of the ghost story and raise the uneasiness that this movie is now known for. Plus, it's so well-made that you'll want to watch the film over and over again by yourself or with friends. But to be on the safe side, best not to watch alone!

Related Stories from Preview.ph

Hey, Preview readers! Follow us on Facebook, Instagram, YouTube, Tiktok, and Twitter to stay up to speed on all things trendy and creative. We'll curate the most stylish feed for you!