Michelline Syjuco is a woman born into the arts. Born to respected artists Cesare and Jean Marie Syjuco, her path seemed not only inevitable, but designed. In fact, she was the youngest painter to be screened and exhibited at the Art Association of the Philippines. She was only four years old at the time.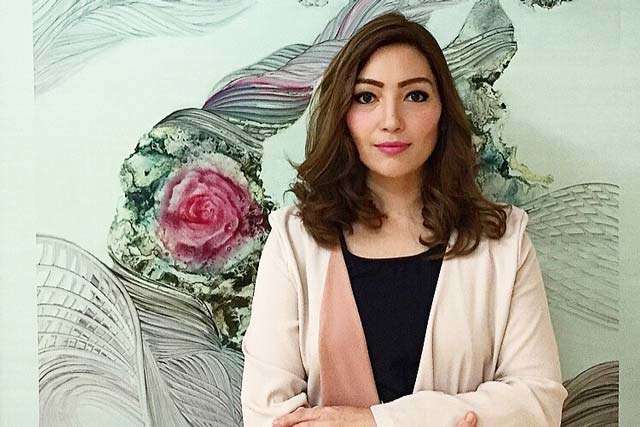 IMAGE Courtesy of Michelline Syjuco
But don't mistake Michelline as a woman with a sole medium. She shares with Preview, "Creative ventures have always been my passion; I do wearable art pieces, large scale wood and metal sculptures, installations, as well as paintings." Thus, this Filipina artist resides in the phantom crevices that divide multiple art forms. It's easy for Michelline to showcase her talent in mixed media as demonstrated in her previous works. But it is only now that she reveals her true self as a painter.
Below, we talk to Michelline about her upcoming solo exbihit this January. Read on and find out about her creative process and how her vision of the mystical and magical can take a tangible form.
1. Hi, Michelline! Can you tell us about your latest collection?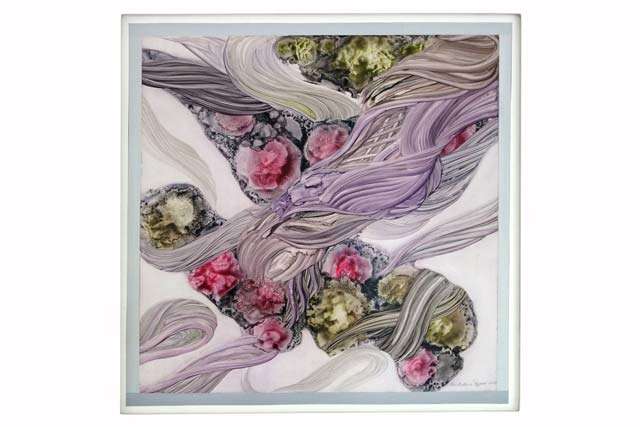 ADVERTISEMENT - CONTINUE READING BELOW
IMAGE Courtesy of Michelline Syjuco
"My latest body of work is comprised of 20 wall mounted paintings. This is my very first solo exhibition of paintings, and I had to take time out from doing my wearable art pieces so that I could totally focus on finishing the series. As with all my works in the past, my inspiration is fantasy, sword and sorcery, phantasmagoria and fairytales. Whereas in the past however, where I drew inspiration from the dark side of these things, Revelation focuses on the lighter side. They can be described as abstract landscapes and avant-garde floral motifs which evoke the etherial, mystical and otherworldly aspects of fantasy, fairytales and phantasmagoria."
2. Why did you entitle it as Revelation?
"I decided to entitle the body of work as such because it really is a revelation of sorts. Most people know me as a designer of wearable art and as a sculptor. And, although many of my works in the past incorporate my hand painted elements, this is the first time they will see the side of me that is purely the painter."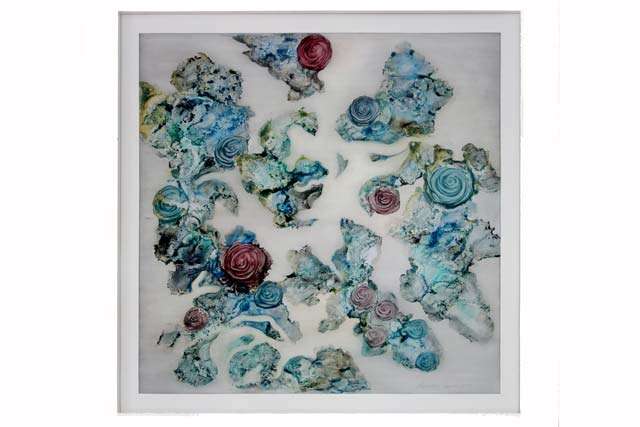 IMAGE Courtesy of Michelline Syjuco
3. Can you walk us through your creative process? Where do you usually draw inspiration from?
ADVERTISEMENT - CONTINUE READING BELOW
"My creative process is pretty much the same whether it's for wearable art pieces, sculptures or paintings. Basically I use my hands and my imagination to produce something that expresses my creativity. The materials and medium may be different, but the process and execution is pretty much the same."
4. Do you have any artists who you look up to or resonate with?
"Definitely my mom and dad. They are the main main influence in my life as an artist. They taught me how to think out of the box and how to break free from the norm."
5. How would you describe your design aesthetic?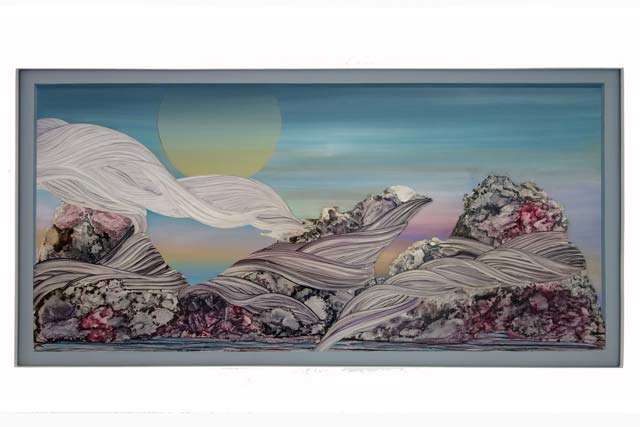 IMAGE Courtesy of Michelline Syjuco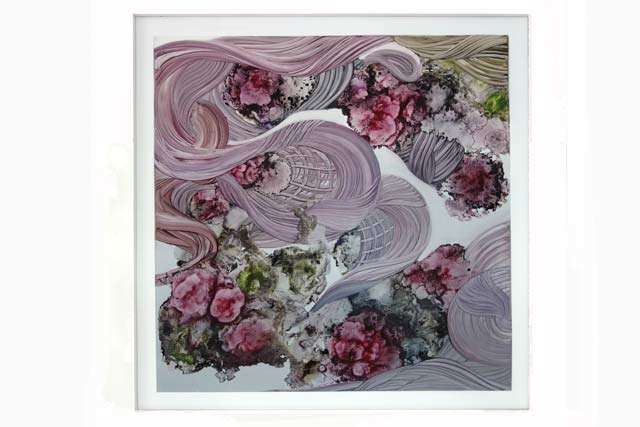 ADVERTISEMENT - CONTINUE READING BELOW
IMAGE Courtesy of Michelline Syjuco
"My aesthetic is very much tied into my love for otherwordly places and things. I am drawn to things that are mystical, magical and divine."
6. You were already painting at an early age and later on you delved into fashion design. How did you find yourself back to swishing brushes?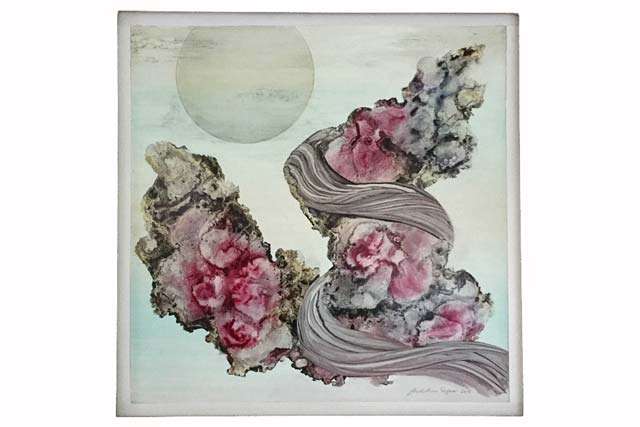 IMAGE Courtesy of Michelline Syjuco
"I've always incorporated painting into my work—whether it be for my sculptural bags, which I hand-painted individually, or even for my free-standing sculptures. I've also been in many group shows in the past, but what I've always wanted to do was a show featuring my large scale wall paintings. It was just very difficult to actually set aside time to focus on doing just that. I actually had to cancel a show in Paris and another one in Japan this past year so that I could finally finish my series."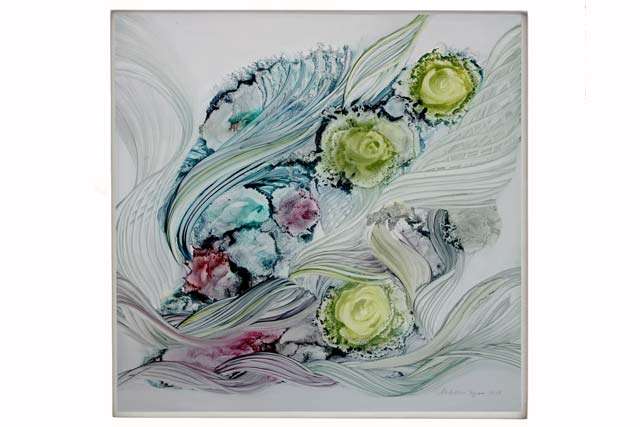 ADVERTISEMENT - CONTINUE READING BELOW
IMAGE Courtesy of Michelline Syjuco
7. How does being a painter differ from being a designer? Or perhaps, how do these two overlap?
"Painting and designing are both facets of who I am as a multi-disciplinary artist. They are intrinsically intertwined into my being."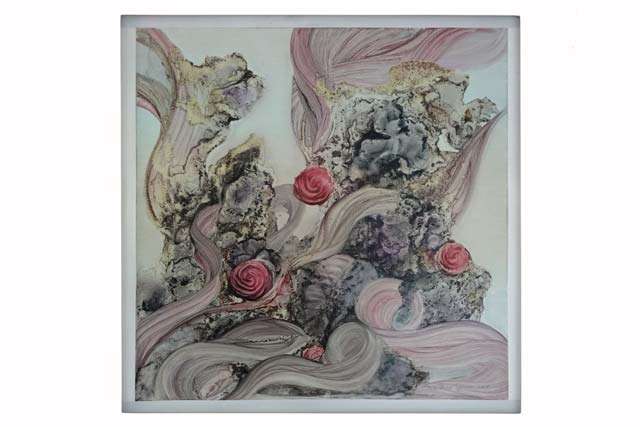 IMAGE Courtesy of Michelline Syjuco
You can catch Michelline's first solo painting exhibit at 8Rockwell from January 16-31.