"It was just really painful to be honest," actress and new mom Max Collins candidly shares in her very first vlog entry. Since giving birth last July 7, the actress has been enjoying motherhood, working hard to recover from her painful labor pains and getting back her pre-preggy bod. But on top of that, she was quietly prepping for the launch of her blog and YouTube channel.
ADVERTISEMENT - CONTINUE READING BELOW
Celebrities opening up their own YouTube channel has been a common trend this quarantine period. An actress' normal day-to-day job involves telling stories, and since the lockdown has prevented any form of creative release on TV, it actually feels natural for them to want to tell stories on their own.
So for the launch of her YouTube channel, Max gives a candid tell-all of her home birth and reveals everything—from when her contractions started to the final labor position the doula and her team went with to safely deliver Anakin Skye.
The video also reveals how her husband Pancho was so hands-on and supportive; not flinching through all her contractions and visible pain. Max also talks a bit about breastfeeding, creating a yummy berry shake with her placenta to recover, and reflects on the entire experience altogether.
In this exclusive interview with Preview, we ask Max on opening up this new chapter of her life online and what more can we expect from maxcollins.ph!
}
Hi Max! How have you been healing after your home birth? Can you tell us what you've been doing to recover and get back in shape?
"Fortunately, I had a quick physical recovery since giving birth. Eating right and slowly going back to exercising regularly (post-natal yoga and a gradual increase from low to high intensity workouts) helped me start feeling better about my postpartum body. I'm currently 2 months postpartum and I'm trying to cut down my carb and meat intake and focus more on fruits and vegetables and (fingers crossed) I'm hoping to have a plant-based diet soon. It's important to remember that our bodies adapt differently so take your time to figure out what works best.
ADVERTISEMENT - CONTINUE READING BELOW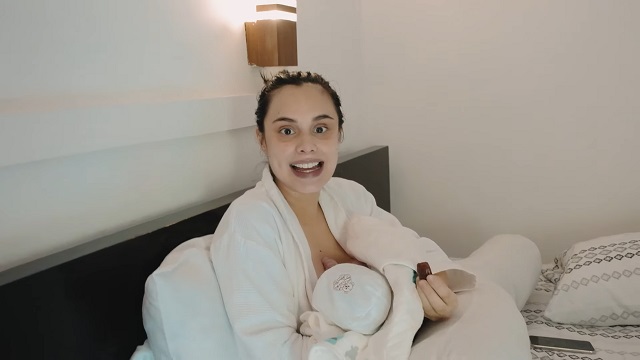 My mindset to workout and eat healthy isn't just about looking good, but about keeping my mind and emotions healthy too. Going through postpartum isn't easy and it can be really emotionally draining sometimes, but I always believe that everything is easier if you shift your perspective and focus on the blessings you have."
ADVERTISEMENT - CONTINUE READING BELOW
What made you start a blog and vlog?
Being an actress-turned-mom during a pandemic isn't easy especially when it comes to work. I'm used to being busy all the time and I'm such a workaholic, so to keep my creative juices flowing I decided to try new things like writing and vlogging so that I could share more of my life with my followers. Since giving birth, I've received countless questions about motherhood too and I guess this is my way of helping others go through what I've been through.
ADVERTISEMENT - CONTINUE READING BELOW
What can people expect from your vlog?
Definitely a lot about motherhood and starting this new chapter in my life! I really want to document my journey as a mom through various platforms (vlogging, blogging, and maybe a future podcast?) since times are different now and it's difficult adjusting to the new norm. I want other moms to see how I cope and maybe be a source of inspiration in more ways than one.
Watch Max's first vlog here:
}
Hey, Preview readers! Follow us on Facebook, Instagram, YouTube, Tiktok, and Twitter to stay up to speed on all things trendy and creative. We'll curate the most stylish feed for you!