Let's admit it: For most queer people, high school is a tough place to be in. It's safe (and sad) to say that finding love is one of the last things LGBTQIA+ kids expect from those four years. Especially for those who went to an all-boys and religious institution, this could not ring any truer. However, as fantastical as the idea may seem, Love Beneath The Stars proudly showed that it is still possible.
Following the Metro Manila Film Festival and Gawad Urian-recognized success of The Boy Foretold by the Stars, the sequel series takes us through the last weeks of high school for newly-minted couple Dominic (Adrian Lindayag) and Luke (Keann Johnson). As disapproving glares and harsh realities start to confront them, it's uncertain if their bond will continue to exist post-graduation day. The two are forced to take fate into their own hands, with no deck of cards or coin toss capable of deciding for them.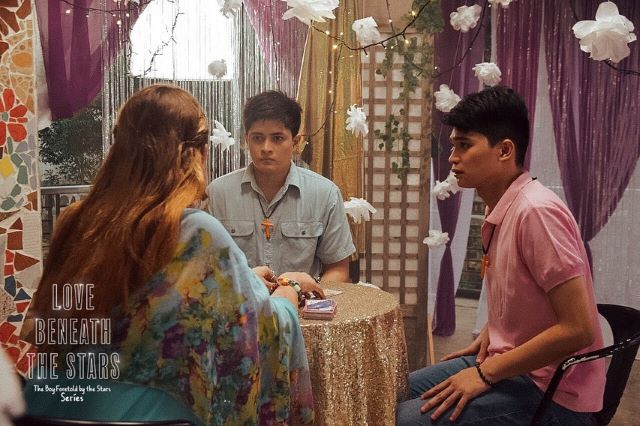 Is Love Beneath The Stars your next BL to binge? Read through our (spoiler-filled) review and see for yourself.
What I Liked About It:
It's not your typical Boys' Love story
Dominic and Luke's narrative possesses a level of charm akin to Pinoy BLs—what differentiates it from the rest of the crop though, is how it chose to tackle certain themes and events.
ADVERTISEMENT - CONTINUE READING BELOW
Picking up from the events of the movie, life went on after the fairytale ending kiss between the strangers-turned-lovers. Luke still has to tie loose ends with his girlfriend Karen (Rissey Reyes), and Dominic's childhood friend (and secret admirer) Gio (Vaughn Piczon) pops back into his life out of nowhere. The idea of third parties bringing trouble to paradise, as a way to fortify the main couple's bond, is not new to the BL genre. With this, it's partly expected that these two characters were brought in to fill in those roles.
Though as it turns out, Dominic and Luke have nothing to worry about. Karen doesn't go down the path of the crazy, vengeful, and maybe even homophobic ex, stepping out of Luke's life on her own volition. After admitting to his tucked away feelings, Gio accepts that Dominic is now happily with Luke, and that he can only wish to find something just as great for himself. These character journeys totally come off as refreshing. As viewers, we go from being skeptical of Karen and Gio, to rooting for them because of the maturity they exhibited.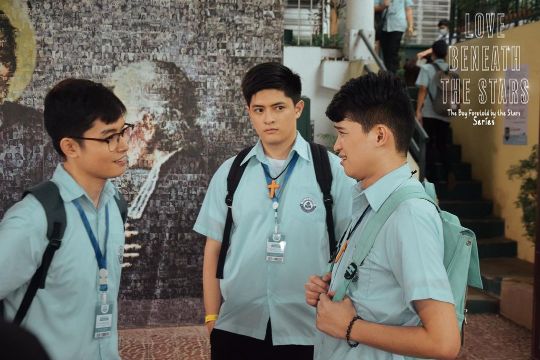 The series is also particularly progressive with how it exhibited the basis of Dominic and Luke's attraction to one another. Quite notably in most BLs, having either character show some skin or constantly drop innuendos is a prominent occurrence, meant to establish the sexual affinity between the two. Not to say that any form of physical intimacy is "bad", but what was so novel about Dominic and Luke's story is that their bond never depended on those things. Throughout the series, their interactions remained relatively wholesome, which only amplifies how free of malice their partnership truly is.
ADVERTISEMENT - CONTINUE READING BELOW
Such a portrayal proves to be vital in today's society. There's a longstanding notion, held mostly by people outside the LGBTQIA+ community, that queer people "become" queer just because they want physical intimacy with the same sex. Dominic and Luke's narrative proudly debunks that idea, without sacrificing passionate displays of affection for one another. What LBTS proves with these portrayals is that queer romances, no matter how different they may seem, can be just as innocent and heartfelt as any other type of romance there is.
Adrian Lindayag was the perfect Dominic Cruz
When we scan the line-up of BLs popular in the country, it becomes a question how come effeminate gay men are almost never portrayed as either of the romantic leads. As an effeminate gay man himself, it was only just that someone like Adrian Lindayag would be the one to actualize a character like Dominic.
ADVERTISEMENT - CONTINUE READING BELOW
Beyond identifying with how Dominic moves or speaks, the 26 year old's theater-honed acting chops also made him the ideal lead. His back-and-forth with Timmy (Leinard Ramos) and Miguel (Jan Rey Escano) was so natural that you would think the three really were a high school barkada. When he delivers one of his heart-wrenching lines at Luke, you feel the impact of his words, leading you to wonder if he's pulling from any off-screen baggage. Even his singing voice contributes to how alluring and charming he made his character to be.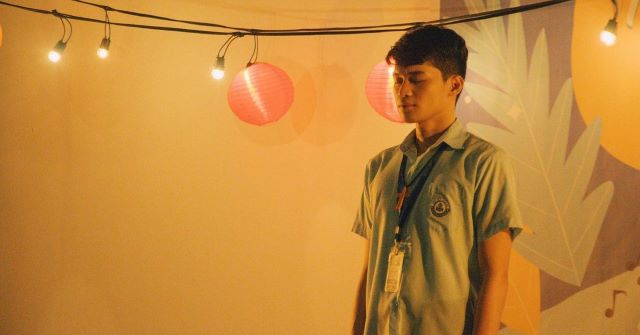 ADVERTISEMENT - CONTINUE READING BELOW
In fact, there are times Adrian doesn't even have to open his mouth in order for you to feel for Dominic. Seeing his lips quiver or his eyes well up are enough to make you want to reach through the screen to give him a hug. Adrian knowing firsthand how the high-schooler acts, feels and thinks is what made his performance as stellar as it was.
Viewers who identify with Dominic can look up to him and see that they are more than worthy of finding love too, nevermind how society usually sees them as just comedic relief. There's no doubt that the actor behind this role took it to the greatest of heights, and proved along the way that flamboyant, limp-wristed people like him totally deserve their spots in the mainstream scene.
It proudly place queer experiences at the forefront
It only makes sense that such a production is made from a queer lens, with the behind the scenes team being led by director and screenwriter Dolly Dulu. In just six 30-minute episodes, the series provided a crash course on both the bleak and delightful sides of being part of the LGBTQIA+ community.
ADVERTISEMENT - CONTINUE READING BELOW
There are people like Philip (Jemuel Satumba) who are outwardly disapproving, and to an extent, disgusted, of Luke's relationship. On the other hand, individuals like Pim (Quiel Quiwa) and Mr. Oyco (Jethro Tenorio) displays how equally rampant internalized homophobia is. Outside of the school, the series also shows how Dominic views his queerness as something to absolve for, which is a feeling many LGBTQIA+ people can resonate with, and is a reality mainstream media can highlight more of. Queer viewers might feel a certain discomfort watching these scenes unfold, but that just goes to show how painfully real they are.
Despite these though, a defiant celebration of queer life and love dominates the series. In the same hallways that ostracize them, Dominic and his friends boldly continue to strut. His relationship with Luke is proof that even in the eyes of the most detesting, any one person is deserving of happiness, regardless of how they choose to identify. Some may say that such a portrayal can only happen in a "perfect" world, but that's exactly the point the show is trying to make: that stories like Dominic and Luke's shouldn't need to be in a perfect world in order to exist.
ADVERTISEMENT - CONTINUE READING BELOW
The series ends with Dominic's powerful valedictory speech, in which he exclaims "'Wag tayong matakot magmahal!" As simple as it may seem, it serves as a reminder to many that even in today's challenging world, love will always win.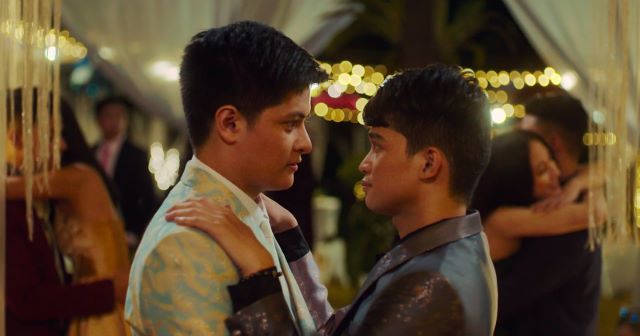 What I Didn't Like:
It may be because it hits too close to home, but it's genuinely difficult to find fault in Love Beneath The Stars. It hits all the right notes we look for in a Filipino BL, and goes beyond them, contextualizing them to the hallways of a Catholic high school. Considering the fact that the show was filmed and produced in the midst of a pandemic only emphasizes how well-crafted it was. Perhaps the only gripe audiences could have with Dominic and Luke's follow-up story is that it only lasted six episodes, and six episodes might never feel enough. But we all know how the adage goes: all great things must come to an end.
ADVERTISEMENT - CONTINUE READING BELOW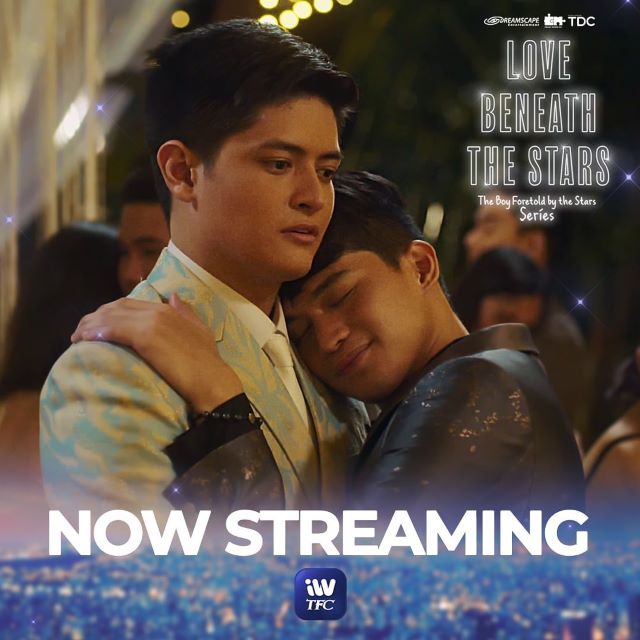 So, is it worth the watch?
Love Beneath The Stars proves to be the Boys' Love series we always needed to have. It substantially and beautifully closes Dominic and Luke's chronicles from their origin film, making sure to highlight specific nuances that make them more than just another coming-of-age couple. Beyond its swoon-worthy scenes and triumphant quotable quotes, the series shows that it's about time authentic queer narratives bask in the spotlight, both on and off screen. One can only hope that there are Dominics and Lukes out there, persistently seeking the love they deserve, no matter what the stars say.
ADVERTISEMENT - CONTINUE READING BELOW
Love Beneath The Stars and The Boy Foretold by the Stars, are available for streaming on iWantTFC.
Related Stories from Preview.ph
Hey, Preview readers! Follow us on Facebook, Instagram, YouTube, Tiktok, and Twitter to stay up to speed on all things trendy and creative. We'll curate the most stylish feed for you!