Life pre-Instagram, pre-online shopping. Life before likes and follows mattered. You're probably wondering what I'm talking about, but you'll understand soon enough. You're in for a roller-coaster ride!
Your first job interview will change your life. Don't be late. Make sure you wear your favorite brooches, which you believe have super powers. Make a good impression.
Have lots of fun wearing makeup. This is the only time you can get away with wearing that ultra-colorful Shu Uemura palette. But take lots of time for skin care, too. It's never too early to moisturize and hydrate. Sunscreen is essential. Never ever forget to take off your makeup. Thank me later.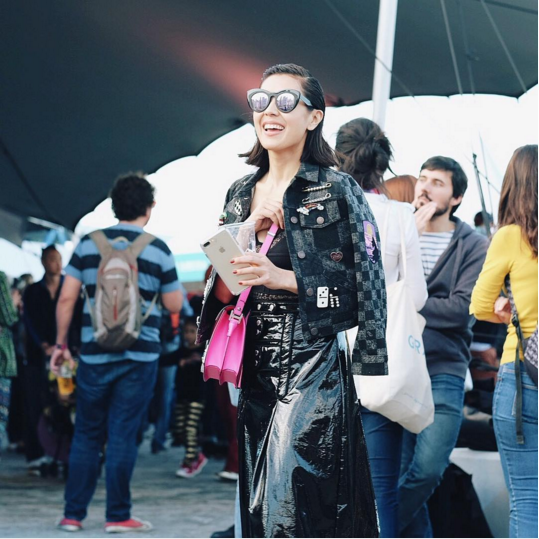 ADVERTISEMENT - CONTINUE READING BELOW
IMAGE courtesy of @lizzzuy on Instagram
Liz at an MCM party at Clockanflap Music and Arts Festival in Hong Kong.
Clothes—let's play. Britney Spears' slogan cropped tops. Calvin Klein's bra as outerwear. J. Lo's embellished extravaganza: must be reserved come nighttime. But why not wear daytime sequins à la Carrie Bradshaw? Play, practice, experiment—as you should.
Excessorize: Fendi Baguette, Gucci belt bag, flower corsages, long pearl strands.... Add more to your collection and go buy that Louis Vuitton Papillon you've been eyeing. You're right, it is a classic. Or is it not? I'm confused.
Embrace all fashion faux pas. You will know yourself better.
Go to Embassy wearing Havaianas, because why not? You'll be comfy dancing the night away (though you will look back at this moment and cringe so hard). You'll thank yourself for the good laughs reminiscing these days with your friends. Anyway, trust: Flats will be big sooner or later. Maybe not flip-flops, but you get the point.
ADVERTISEMENT - CONTINUE READING BELOW
Recommended Videos
You are in your 20s. Go out and be seen. Work. Party. Repeat. Work hard and party hard. Get everything done so you can dance the night away. Next day, be on time and make no excuses. People around can tell when you lie.
IMAGE Courtesy of @lizzzuy on Instagram
ADVERTISEMENT - CONTINUE READING BELOW
Liz styling on the set of a shoot for Uniqlo.
You will be introduced to people over and over again. They won't remember you and that's totally fine. Realize that they meet hundreds of people every day and they choose who to remember. Make sure you're at your best.
You will fall in love. Fall out of love. Fall so hard you'd think to yourself how the hell did that happen? You will fall deeply in love with your boyfriends thinking they were the greatest creations on earth—stars and hearts all around. And then they'll break up with you. Life happens! You can wallow in self-pity, but only for a couple of days. Thank God for work and for friends who love to travel just as much as you do. You can live without those a**holes.
Gurrrl, life is a process. Be patient. Be strategic. Make lists. Keep your eye on the prize. You werq. Yes, that's how it's spelled, and no, you didn't secretly fail spelling class. You'll get it. You'll get there.
ADVERTISEMENT - CONTINUE READING BELOW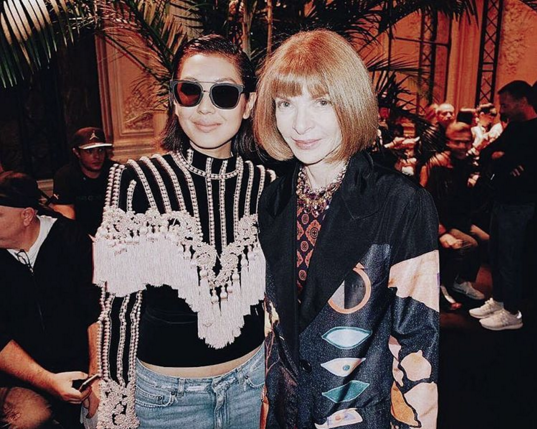 IMAGE Raymond Gutierrez
Liz poses with Anna Wintour during Paris Fashion Week.
This article originally appeared in our March 2017 issue. Read Pauline Juan's, Vicky Belo's, and Bea Valdes' letters to their younger selves inside this month's issue here.
Hey, Preview readers! Follow us on Facebook, Instagram, YouTube, Tiktok, and Twitter to stay up to speed on all things trendy and creative. We'll curate the most stylish feed for you!