It started with a bad breakout. The sugar and dairy bonanza I'd had over the weekend paid off in literally the worst way possible: An angry smattering of red dots sprayed on either side of my chin, plus a few extra stragglers whisking my cheeks.
It also started with a present. One ordinary Friday, I arrived at Preview HQ after a hellish, near-eternal car ride to a piquant pink parcel from Klean Kanteen Philippines perched on my desk.
ADVERTISEMENT - CONTINUE READING BELOW
Carnival Candy Classic Insulated Bottle, P1995, KLEAN KANTEEN, Certified Calm, Powerplant Mall
Here's where I need to come clean (canteen): I barely, rarely drink water. I can honestly go eons without it. "I'm a camel," I've boasted to my skeptical mother more than once, only to be rewarded with a well-meant scolding. I live primarily on triple shot cappucinos and Earl Grey tea and the occasional indulgent can of Sprite. My bloodstream is pretty much caffeinated dawn to dusk.
In other words, the gift couldn't have come at a better moment, and not just for me alone. The limited edition blush-hued bottle, lovingly dubbed Carnival Candy, is the product of Klean Kanteen's partnership with the ICanServe Foundation—proceeds from its sales willl help fund the organization's mentorship programs and preventive testing measures for women who are at risk of contracting or are currently living with breast cancer.
So there's a lot on the table right now: a) My attempt to regularly hydrate, b) a desire to start cutting down on my personal plastic usage, and c) a part to play in Breast Cancer Awareness Month. Read on to see how my week-long date with miss Carnival Candy went.
CONTINUE READING BELOW
Recommended Videos
Monday
This thing is a portable aircon unit. Admittedly, what I first poured into it was my morning coffee, brewed in my kitchen and very heavily iced...at 7am. Fast forward to 10pm, and almost every cube of ice remained intact. Unusually warm out? No problem. Simply uncap and hold real close to your face for uninterrupted 50-hour coolness.
Anyway. Tomorrow I'll carry actual H2O, I promise.
Tuesday
I didn't lie! I didn't! Spurned on to action by the wretched apperance of a brand new zit, I really did fill Candy (yes, okay, I named her) with water at the beginning of the day and eventually, slowly gulped my way towards calling bottoms up. A full, honest 20 ounces? A gargantuan feat for dehydrated ol' me.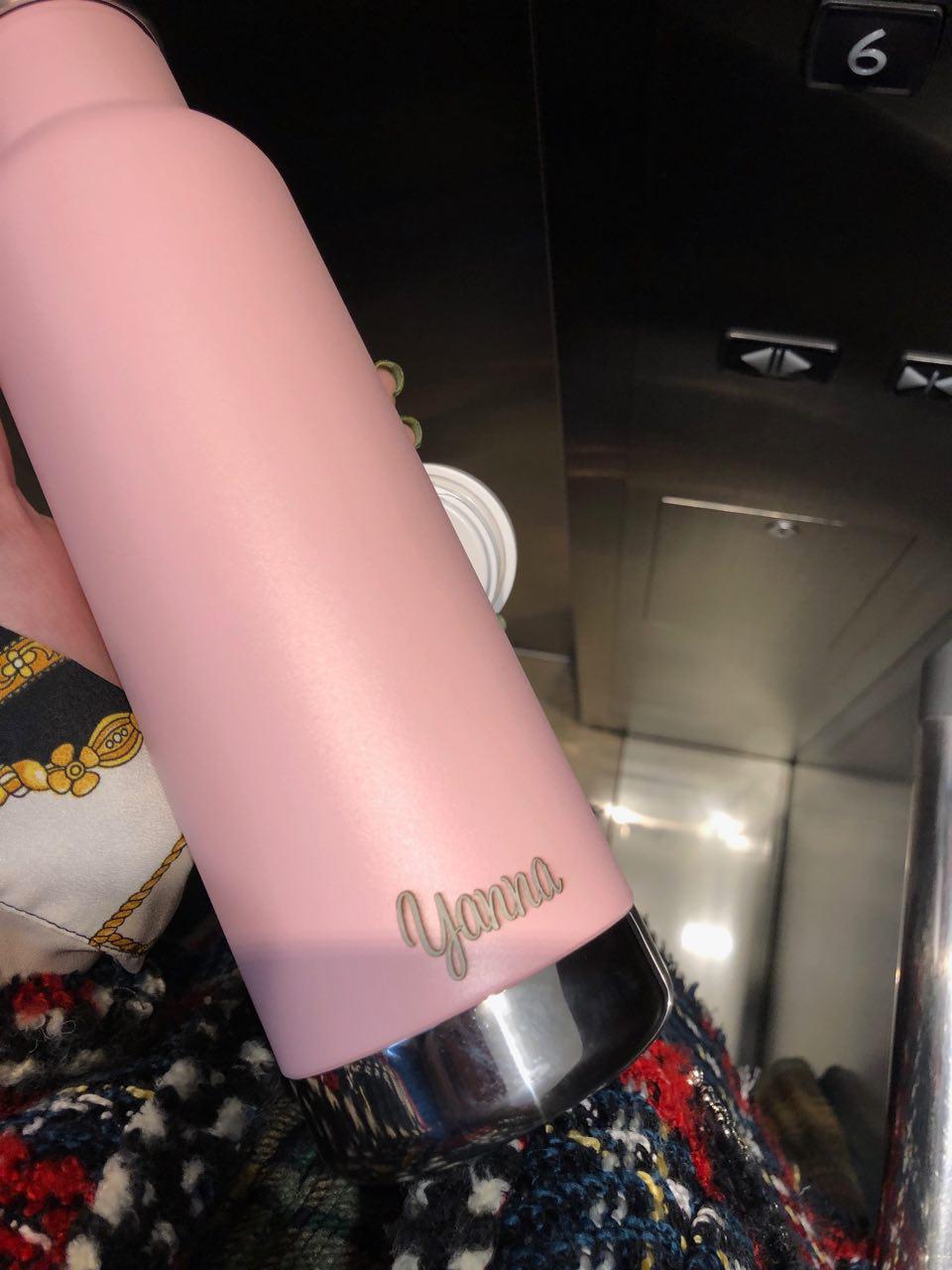 ADVERTISEMENT - CONTINUE READING BELOW
Oh, and did I mention how I belatedly discovered that my flask has my name engraved on it in swirling script? A thoughtful touch.
Wednesday
Today I took a drive over to Makati to view the shiny new Off-White Fall-Winter 2019 collection in the 8 Rockwell store. I also went around sourcing clothes for our coming November cover shoot (eyes peeled!). Truthfully, it was kind of a chore to lug around a heavy metal bottle while running all those errands, but it was nice to hand it over to the Toby's Estate barista instead of getting my favorite soy flat white in its usual disposable paper takeaway cup. Plus points for less waste.
Thursday
I woke up to my voice cracking and croaking so I decided I'd test Candy's ability to take the heat. I brought a jugful of jasmine-infused TWG sencha—drizzled with a bit of honey, of course—with me to the office, fully expecting it to remain piping hot throughout the day. I wasn't disappointed. My quick Google search on KK's Classic Insulated numbers revealed that any drink is guaranteed to stay scorchin' for up to 20 hours.
ADVERTISEMENT - CONTINUE READING BELOW
Friday
At this point I am extremely tempted to empty a bottle of champagne into my Kanteen. Or, like, mix some sangria in it. Maybe I'll wax experimental next week, which is another route to saying that I think we're good for each other and I could, for real, get used to considering my bottle a daily essential—the thought of added weight in my work tote chucked aside. My skin is miles better and I haven't needed to sip from a plastic cup in days, so I think it's worth the extra lifting.
ADVERTISEMENT - CONTINUE READING BELOW
In the Philippines, Klean Kanteen is available to shop in Certified Calm branches or on certifiedcalm.com.
Related Stories from Preview.ph
Hey, Preview readers! Follow us on Facebook, Instagram, YouTube, Tiktok, and Twitter to stay up to speed on all things trendy and creative. We'll curate the most stylish feed for you!