The Ateneo de Manila University has formally opened its biggest art undertaking yet—the massive creative hub and art complex Areté. The new building, designed by WV Coscolluela, features an Arts Wing and a Learning Innovation Wing connected by the Bridgeway. "It is an entire complex dedicated to innovation," says Yael Buencamino-Borromeo, executive director of Areté.
Areté is a Greek word that has no equivalent in English. The closest definition, according to the people behind the project, is excellence guided by purpose. According to Ateneo President Jett Villarin, SJ, "this can be achieved through interlocking and interplay of the disciplines and their constant enrichment by culture and the arts."
IMAGE Arete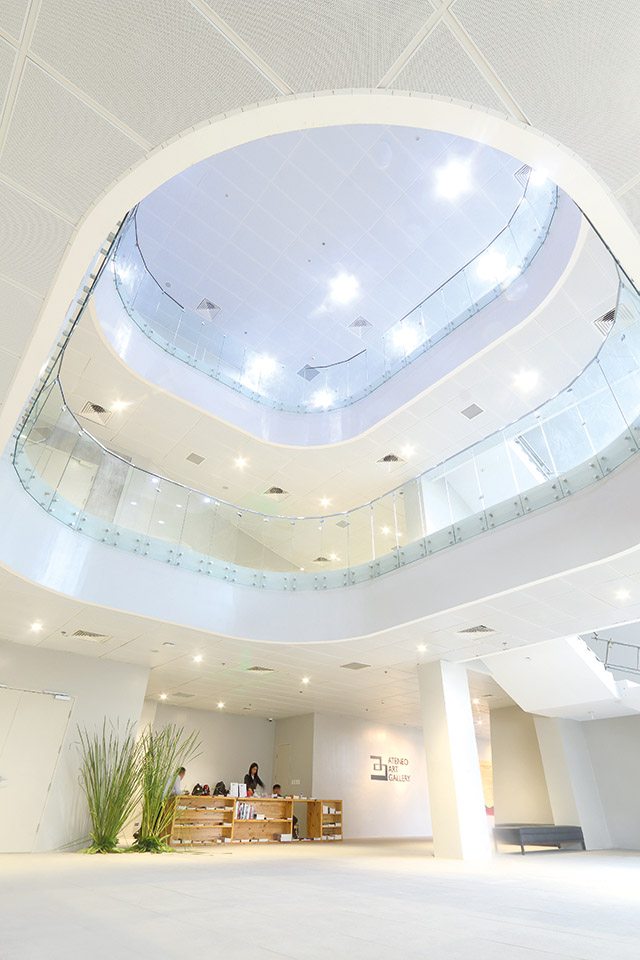 IMAGE Migs Castro
The Ateneo Art Gallery, located in the Arts Wing, formally opened its doors today; its galleries named after philanthropists and its key art patrons. To mark this occasion that coincides with National Arts Month, AAG launched "three exhibitions in its various galleries, each focused on a theme, period, and person."
The upper ground floor is dedicated to Love It and Leave It: A Legacy of Gifts to the Ateneo Art Gallery, a permanent exhibit which showcases work from donors to the gallery since the 1960s. In revisiting the generosity the gallery received in the past, the exhibit highlights the philanthropy that sustained the museum throughout the years.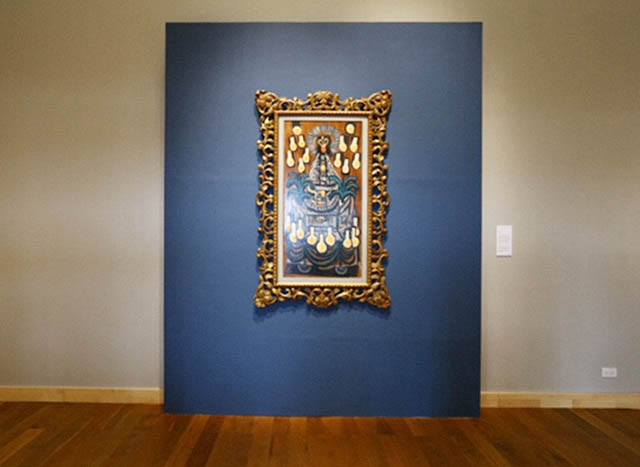 IMAGE Pau Guevarra
Carroza (1953) by Fernando Zóbel, donated by the artist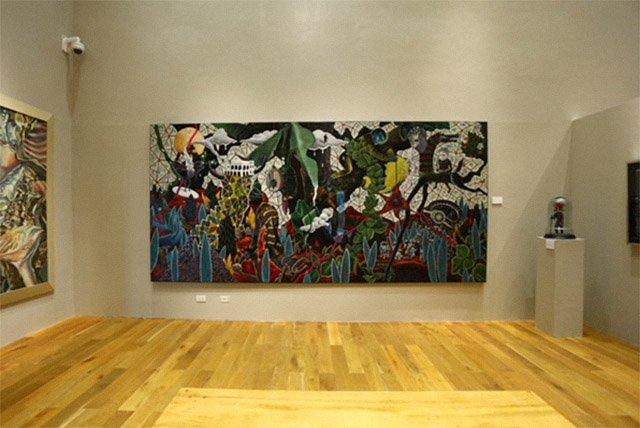 IMAGE Pau Guevarra
Bato Balani (2014) by Rodel Tapaya, donated by the artist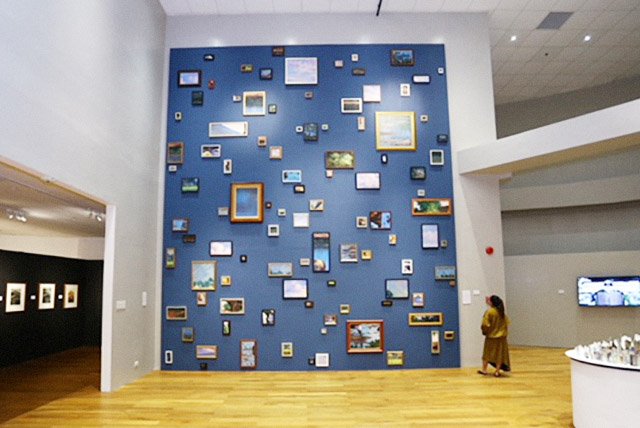 IMAGE Pau Guevarra
IMAGE Pau Guevarra
Church Silver (1960) by José T. Joya, donated by Col. Andres Soriano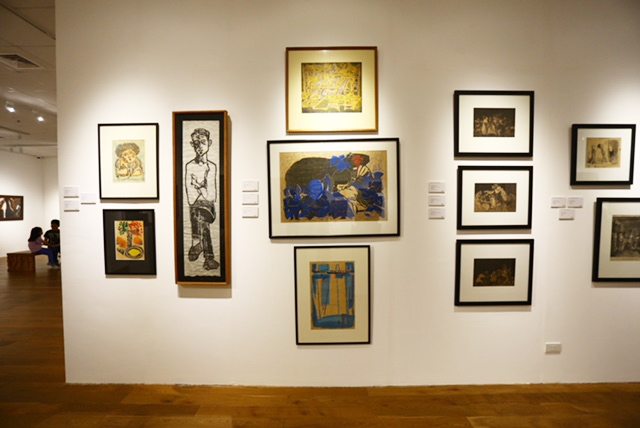 IMAGE Pau Guevarra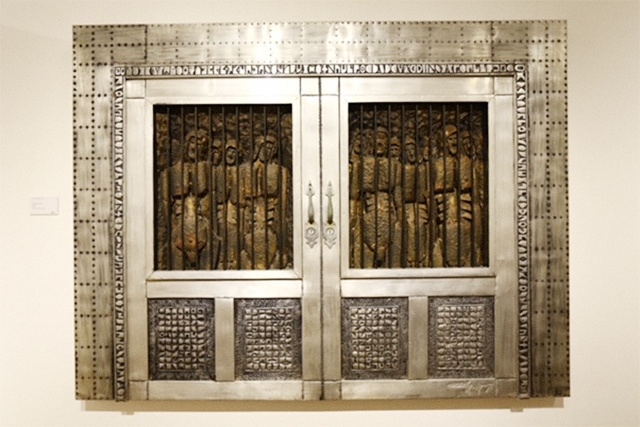 IMAGE Pau Guevarra
The Door (1973) by Conrado Mercado, donated by the artist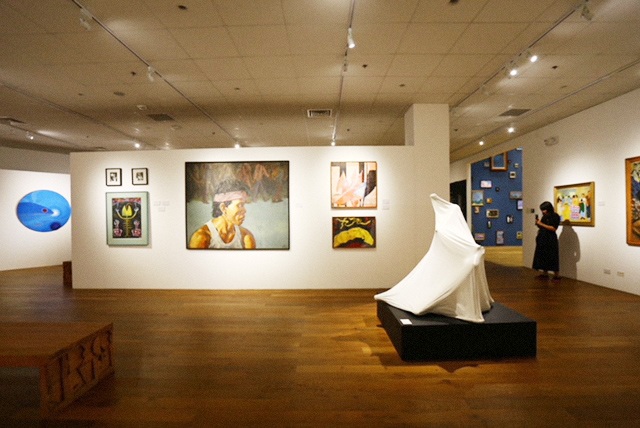 IMAGE Pau Guevarra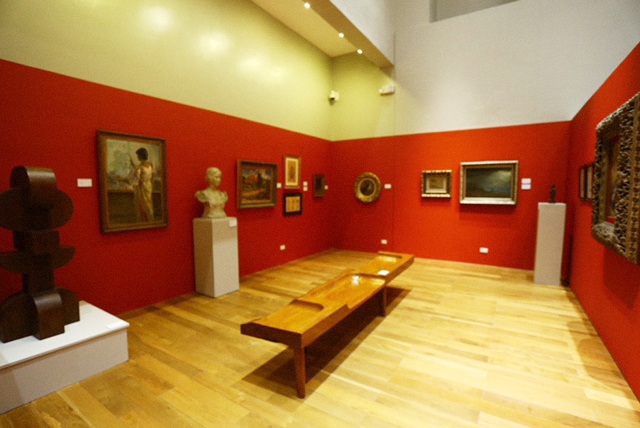 IMAGE Pau Guevarra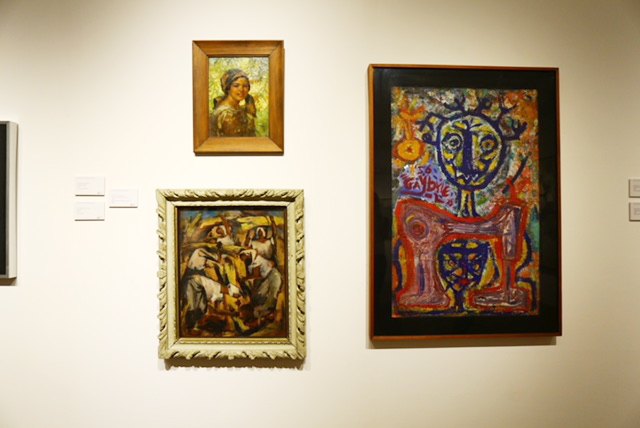 IMAGE Pau Guevarra
Clockwise from the top: Dalagang Bukid (1937) by Fernando Amorsolo; My Sister at the Sewing Machine (1956) by David Cortez Medalla; Sheaves (1957) by Anita Magsaysay-Ho; all donated by Fernando Zóbel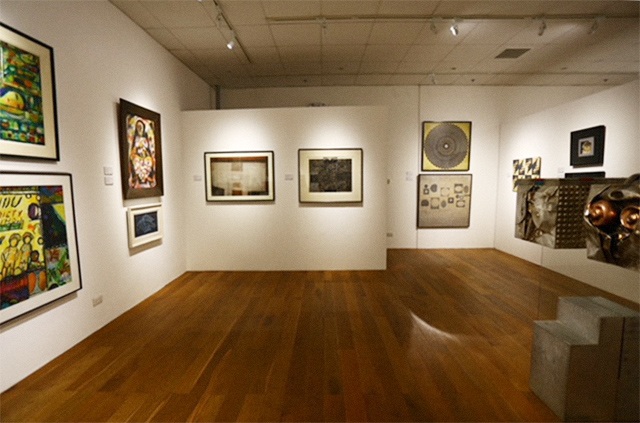 IMAGE Pau Guevarra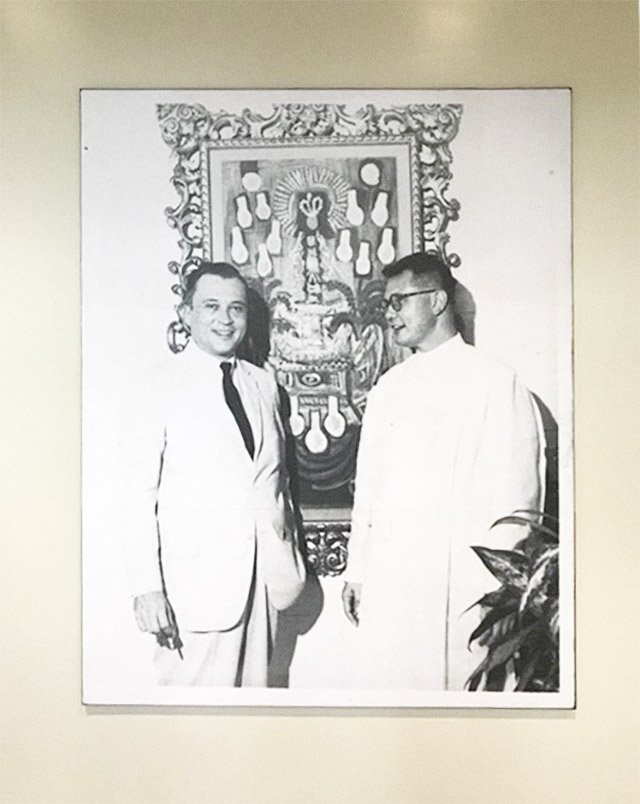 IMAGE Nicole Limos
Fernando Zóbel and Francisco J. Araneta, S.J., Ateneo de Manila President and Rector, 1959 to 1965
The space is a tribute to Fernando Zóbel, who generously donated his art collection to Ateneo de Manila over 60 years ago. This led to the founding of the Ateneo Art Gallery in 1960. Various works comprised of post-war Philippine modern art, social realist art from the '70s and '80s, and contemporary works find their home here. For a better grasp of each piece's place in history, the exhibit is divided into decades and sections that detail each work's donors. During its one-year display, the works will be rotated so that all donations get time in the spotlight.
ADVERTISEMENT - CONTINUE READING BELOW
On the second floor, visitors may view a retrospective of Elmer Borlongan's works on paper dated from the 1970s to the present. In Elmer Borlongan Draws the Line, the contemporary artist demonstrates an artist's process by capturing the approach "in concept development, composition, and representation." The artist's medium of choice ranges from pencil, charcoal, pen and ink, and watercolor. Aside from the drawings, it will also feature select paintings from the artist's collection and private lenders.
IMAGE Pau Guevarra
The second floor is home to a retrospective of Elmer Borlongan's works.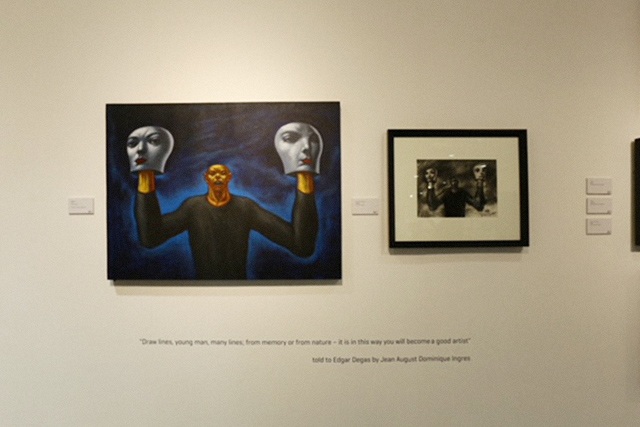 IMAGE Pau Guevarra
Maskara (2010)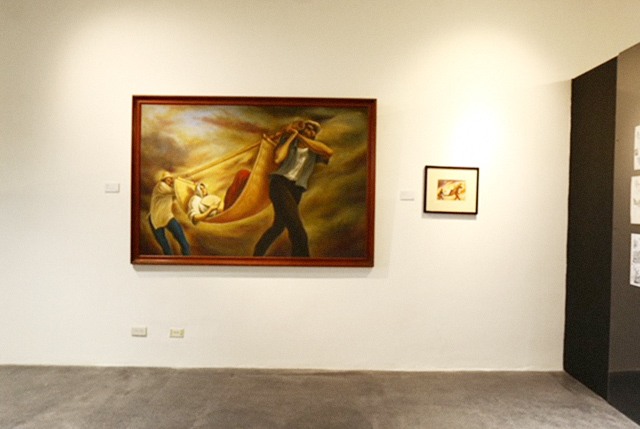 IMAGE Pau Guevarra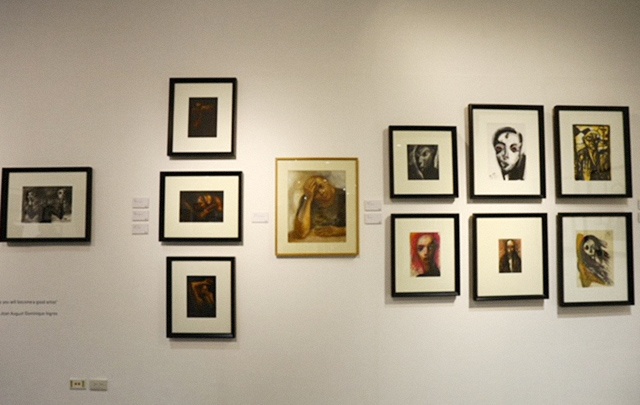 IMAGE Pau Guevarra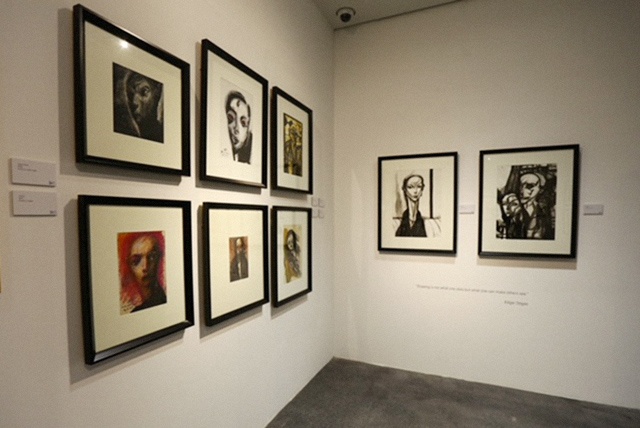 IMAGE Pau Guevarra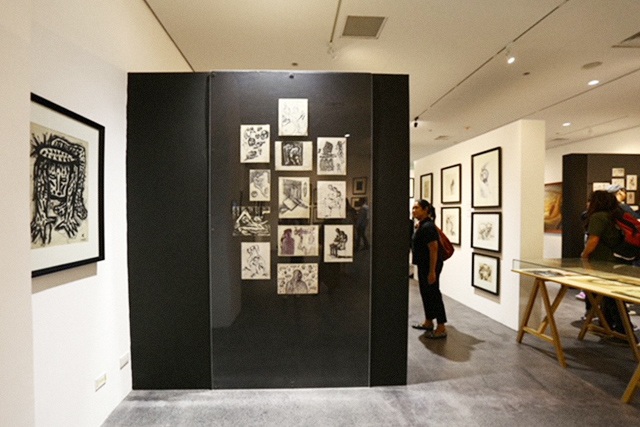 IMAGE Pau Guevarra
Finally, a series titled Philippine Art by the Decade is interspersed among the Elizabeth Gokongwei, Ambeth R. Ocampo, and Alicia P. Lorenzo gallery spaces on the third floor. Every year, a guest curator will set up a period-based exhibit with an entire decade as its theme. This year's inaugural edition is called The '70s: Photographs, Documents, and Objects completed by enlisted curator Ringo Bunoan. The visual artist, curator, and archivist gained her knowledge on the topic through extensive research and archiving she had done on Roberto Chabet and the artists he collaborated with from the 1960s to 2013.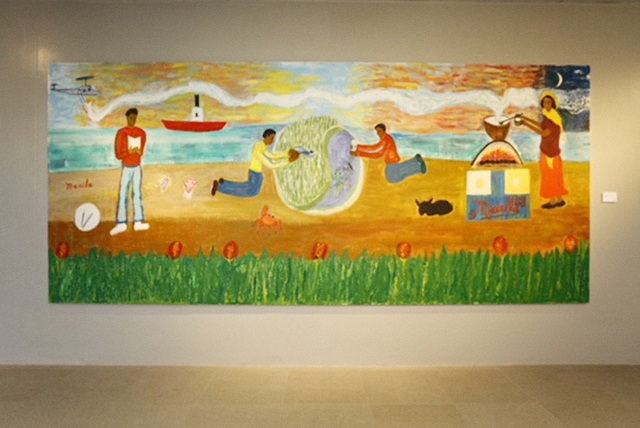 IMAGE Pau Guevarra
Maligayang Pasko sa Manila Bay by David Medalla (2012-2013)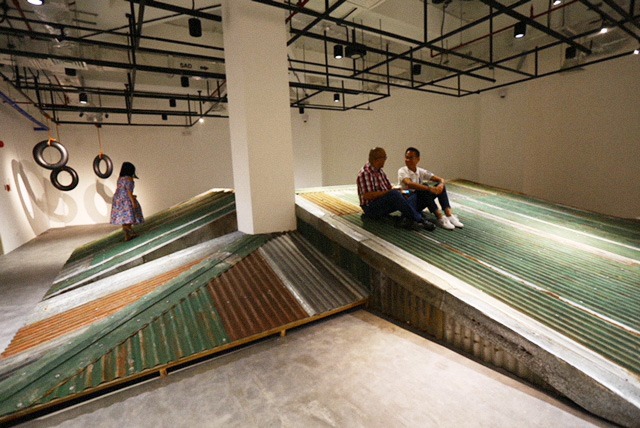 IMAGE Pau Guevarra
Bubong (1979 / 2018) by Joe Bautista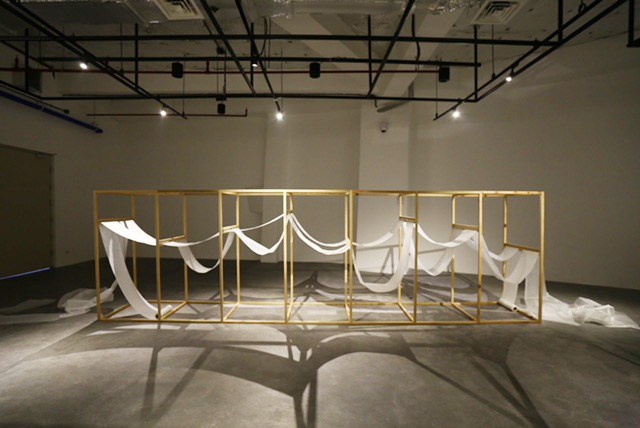 IMAGE Pau Guevarra
Paper Press (1973 / 2018) by Yola Johnson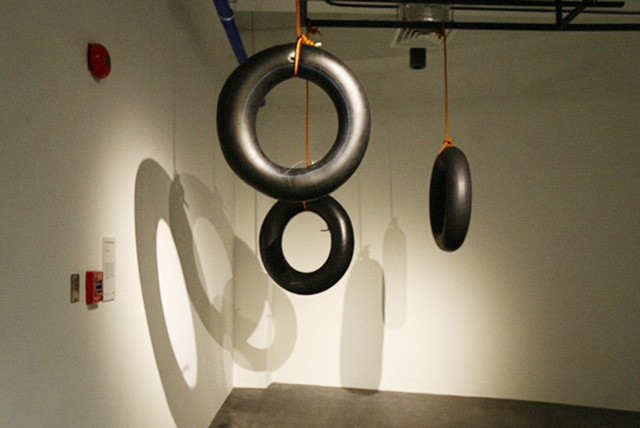 IMAGE Pau Guevarra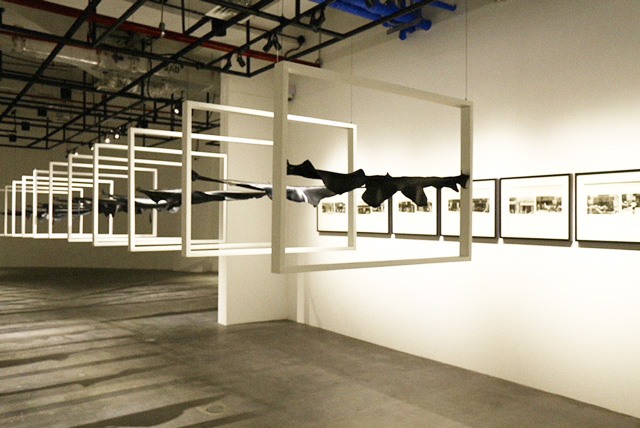 IMAGE Pau Guevarra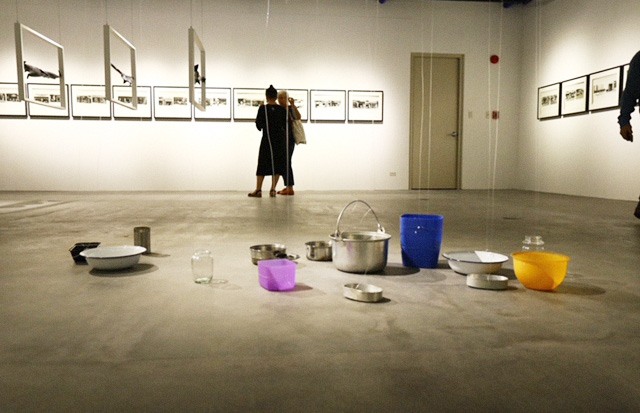 IMAGE Pau Guevarra
*This story originally appeared on TownandCountry.ph. Minor edits have been made by the Preview.ph editors.