When in Rome, do as the Romans do. Whether that's to go for that second scoop of gelato, indulge in another plate of pasta, or maybe even fall in love. For newlyweds Gem Co and Enzo Lugtu, Rome was the perfect destination for their wedding.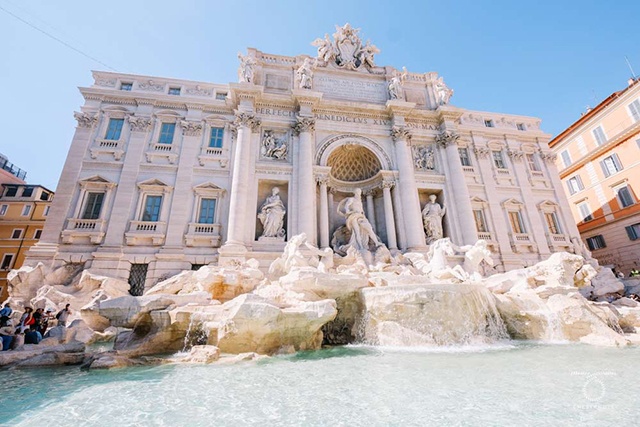 IMAGE Chestknots Studios
The bride tells us, "We both love to travel, and Rome has always been a favorite destination of ours." It was a place that was special to both of them and something they wanted to share with their family and friends. "Its rich culture, historic architecture, and beautiful scenery also served as a gorgeous backdrop to the festivities."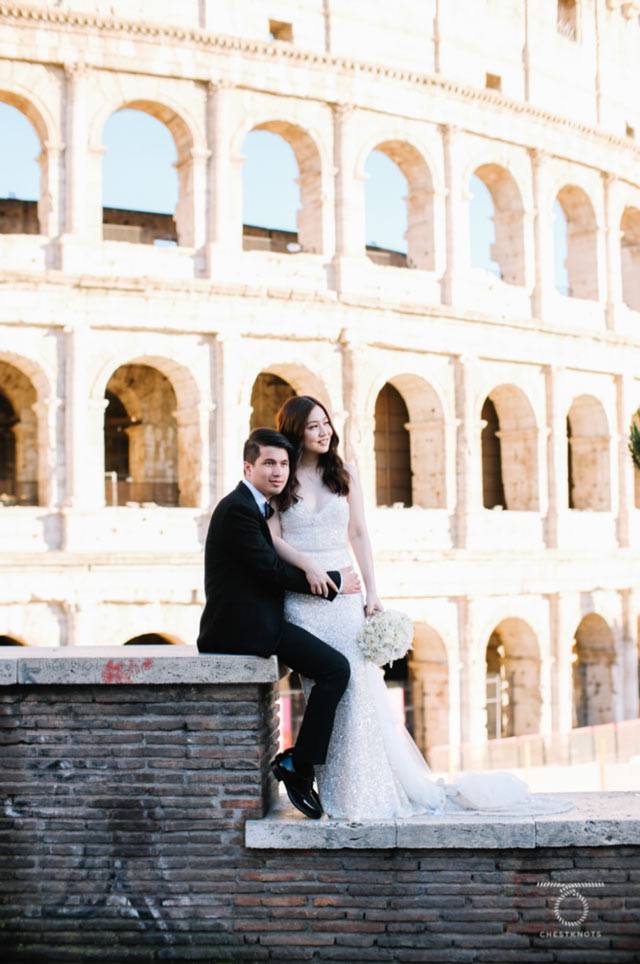 IMAGE Chestknots Studios
The wedding's theme pretty much reflected their personalities as a couple—minimalist and modern but with a timeless touch.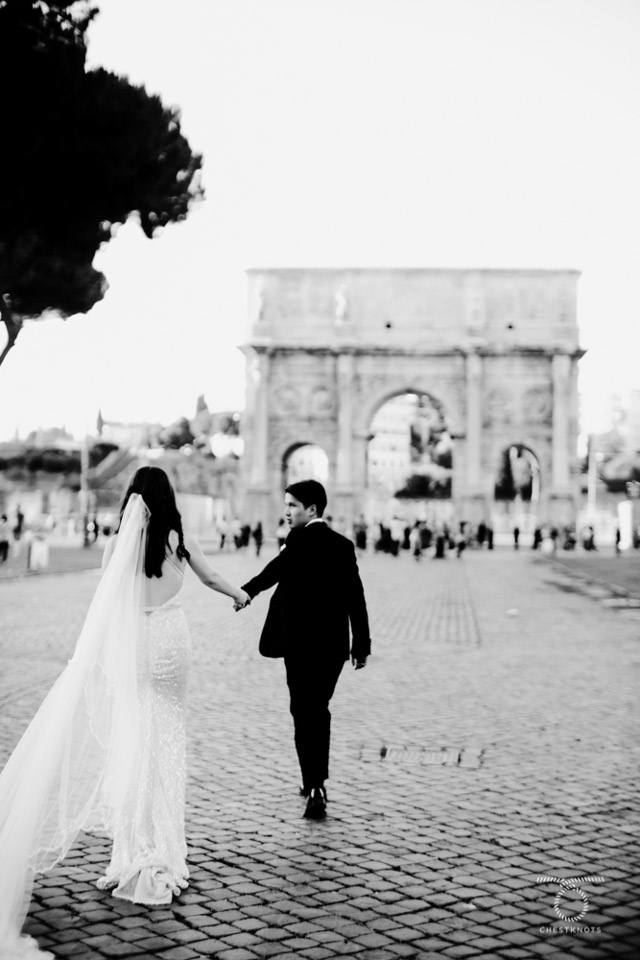 IMAGE Chestknots Studios
"Enzo and I are also not fond of too much colors, so you will notice that the overarching colors are neutral—from the invitation, to the flowers and to the design of the dresses of the entourage," Gem, owner of Olivia & Fifth, narrates.
IMAGE Chestknots Studios
The welcome dinner took place at La Sibilla where guests enjoyed the best of Italian cuisine.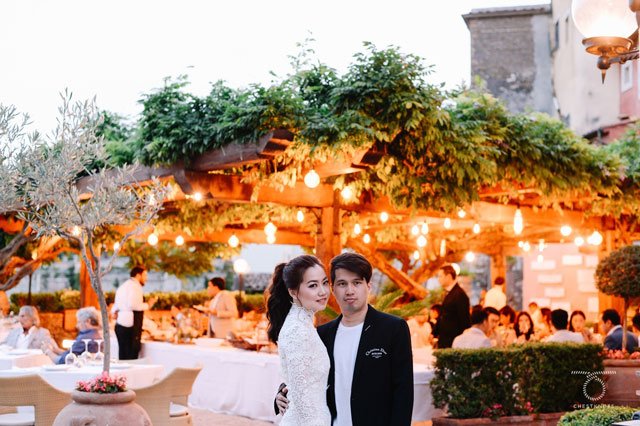 IMAGE Chestknots Studios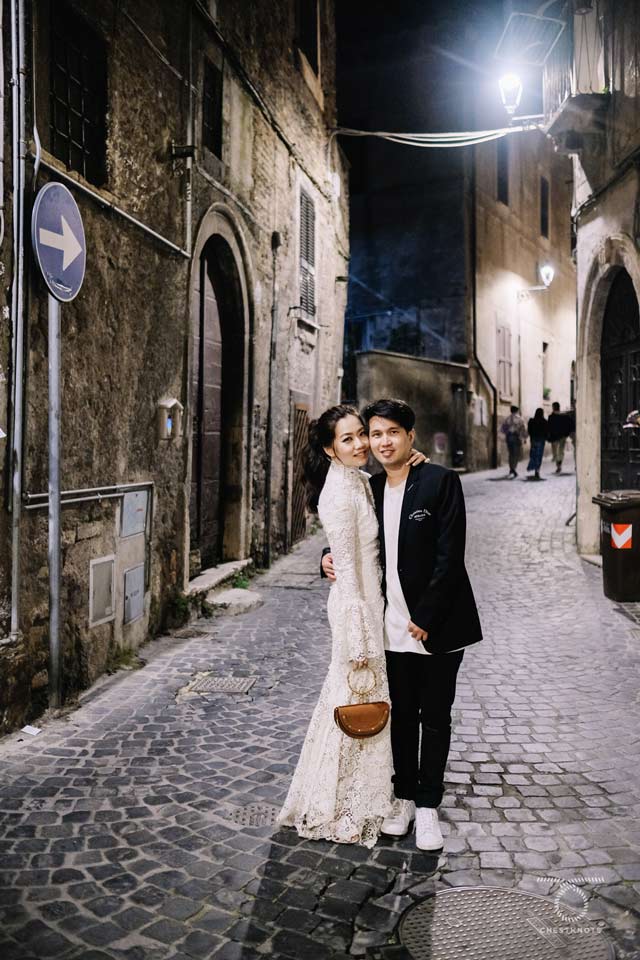 IMAGE Chestknots Studios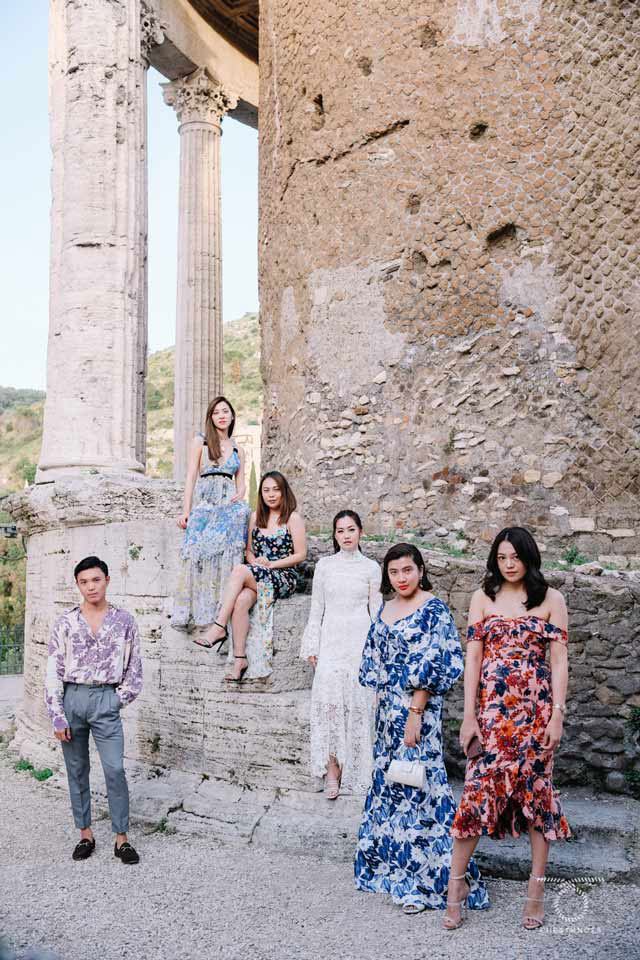 IMAGE Chestknots Studios
The couple got married in Basilica of Saints John and Paul on the Caelian Hill, which got #gideonized decked out in beautiful white flowers.
IMAGE Chestknots Studios
Though the wedding was held miles away from home, the couple chose most of their suppliers from Manila.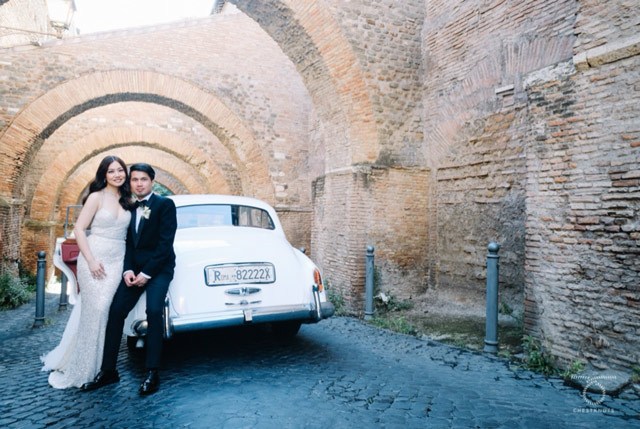 IMAGE Chestknots Studios
Gem shares, "Aside from being close friends of ours, we were already familiar with their beautiful work and their impeccable work ethic, which are our non-negotiables when choosing our suppliers. We did not want to risk getting somebody that we weren't very familiar with. Also, Filipinos are super easy to work with, and they really give their best when it comes to their craft, especially Gideon Hermosa, who transformed our venues into something magical."
ADVERTISEMENT - CONTINUE READING BELOW
IMAGE Chestknots Studios
At first, they thought planning a destination wedding would be difficult but as it turns out, it was easy to plan everything from Manila.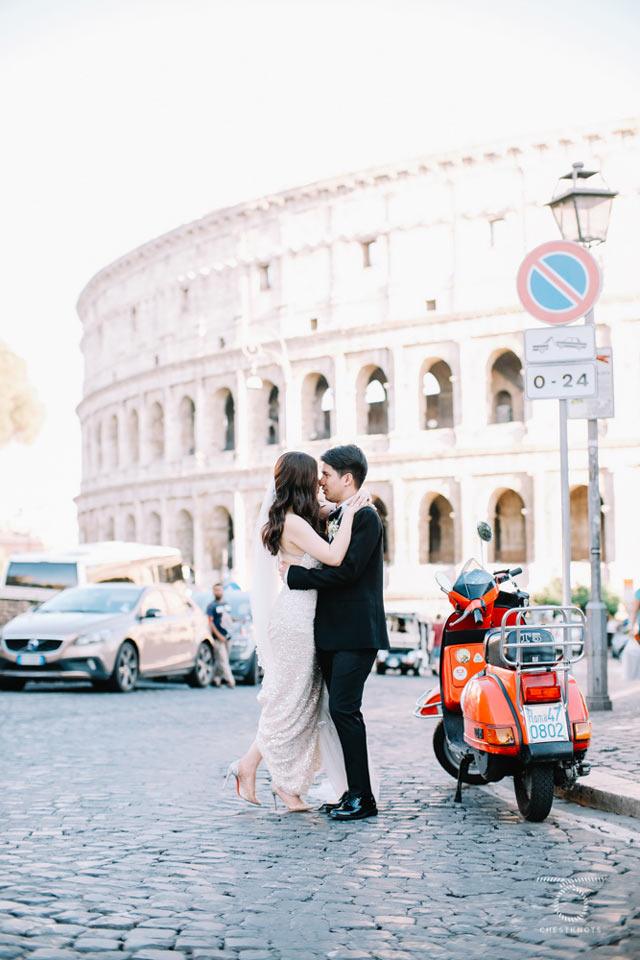 IMAGE Chestknots Studios
After getting in engaged in Europe, Gem and Enzo only had to fly to Rome once before the wedding and worked with a planner from Rome who attended all the meetings on their behalf. "They would update us through an online messenger," Gem recalls.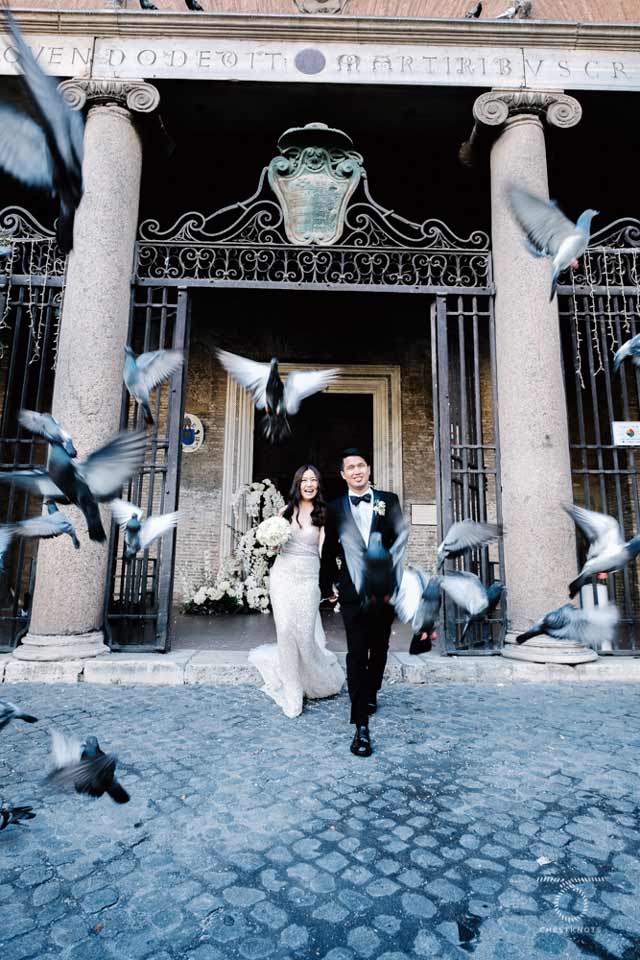 IMAGE Chestknots Studios
They flew in two weeks before their wedding date to finalize everything and all their plans went without a hitch. Gem's advice to brides planning a destination wedding? "Start planning as early as possible—book everything ahead so you won't get stressed."
IMAGE Chestknots Studios
One of the very first things they booked was their reception venue, Villa Miani. The neoclassical building that sits on the hill of Monte Mario was built in 1937 by the Society of Monte Mario for the Counts Miani. It offers a breathtaking view of Rome, which is precisely why the couple chose it as their reception venue. They definitely had no regrets splurging on it.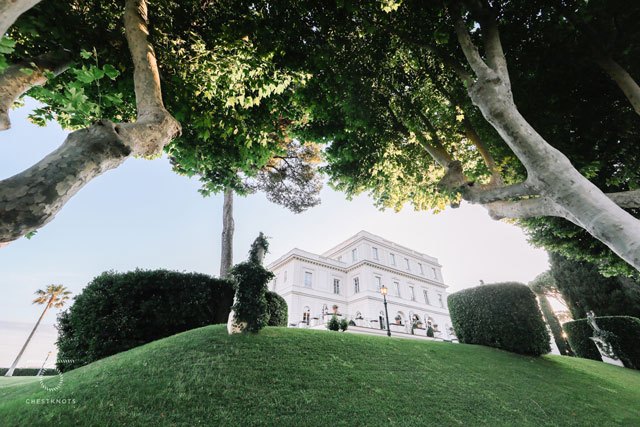 IMAGE Chestknots Studios
"The first place that we visited was Villa Miani and it was love at first sight.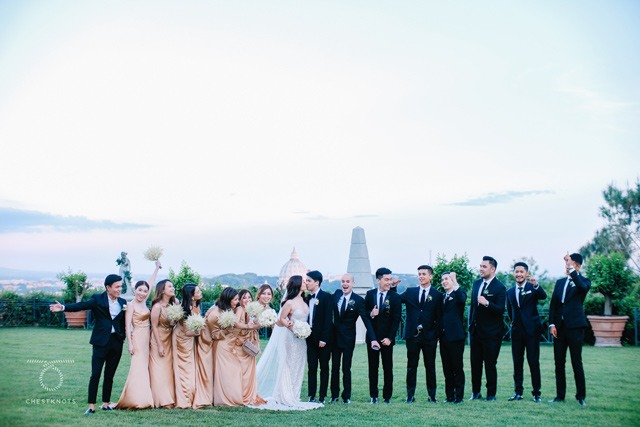 IMAGE Chestknots Studios
"From the moment we entered the villa, we knew it was the one—with its all-white modern European architecture and the tall trees and lush greeneries that lined the pathway leading to the villa.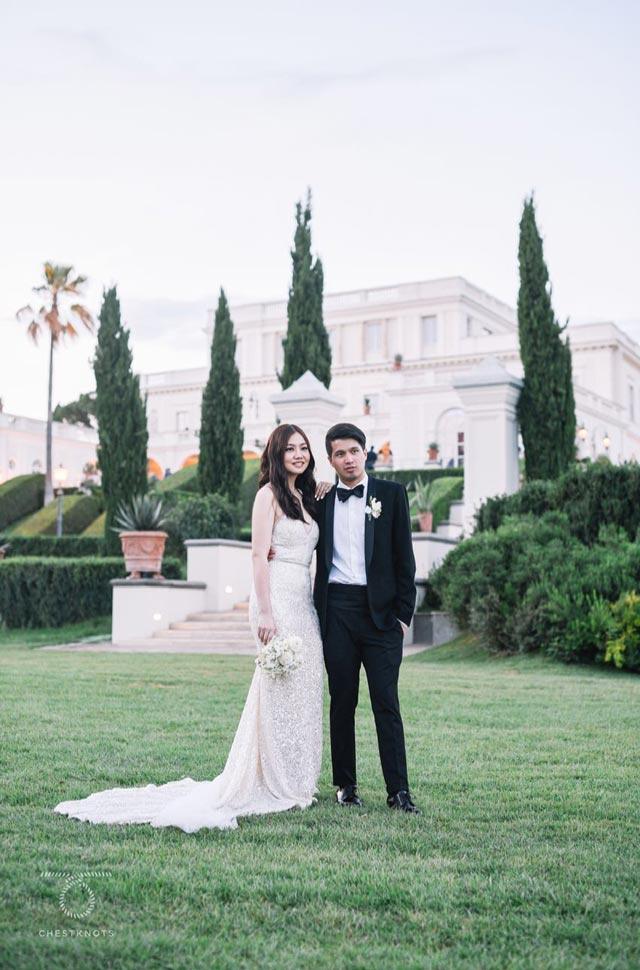 IMAGE Chestknots Studios
"It is a beautiful property, and it suited both our personalities. But most of all, it has probably the best and most breathtaking view of the entire city of Rome."
IMAGE Chestknots Studios
Another detail worth noting is the couple's unique invitation box. Her husband Enzo was involved throughout the whole process of planning, but had asked to be in charge of designing the invitation. She shares, "He wanted to veer away from the typical wedding invitation with the intricate details and script fonts. Ours is minimal, modern, and straight-forward—all-white, with a simple design, and simple font."
ADVERTISEMENT - CONTINUE READING BELOW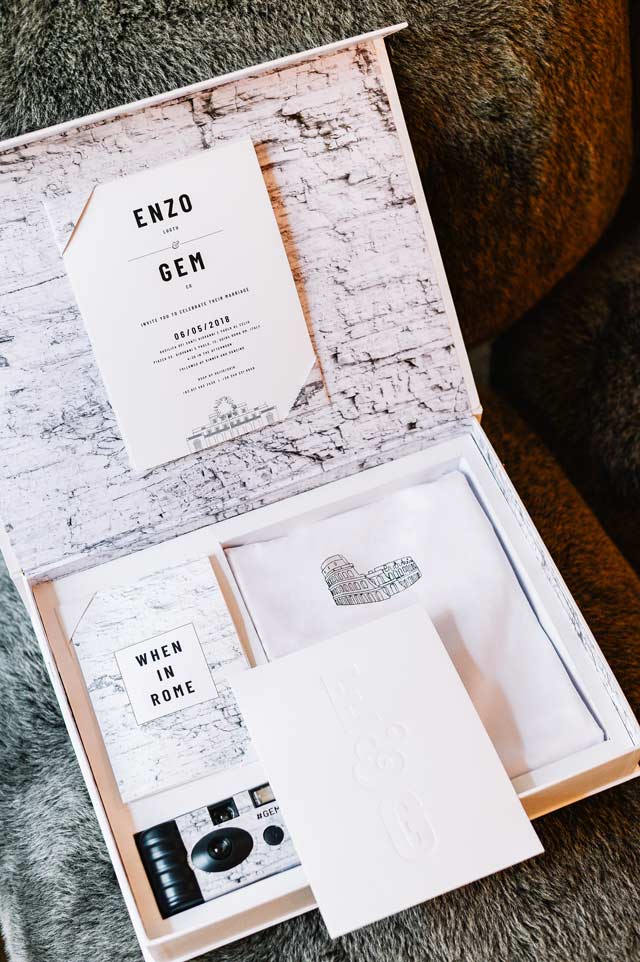 IMAGE Chestknots Studios
Designed by their close friend and former Preview associate fashion editor Loris Peña with former Preview art director Eugene David, Gem and Enzo specifically requested for their invites to look like a press kit of sorts. Their invite also doubled as a tourist kit, including a camera, a map of Rome, a city guide, and a souvenir tee to keep as a remembrance not just of the wedding but also of the trip.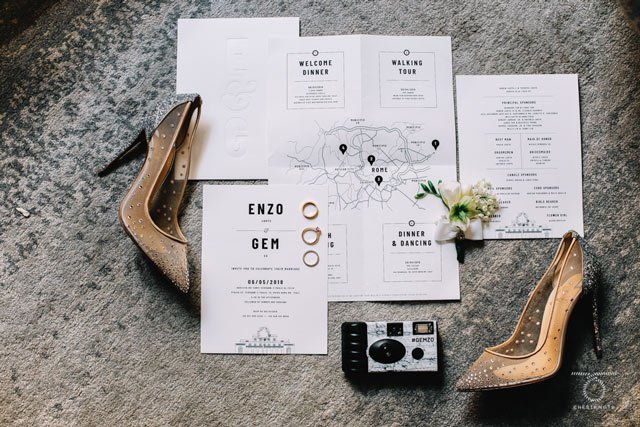 IMAGE Chestknots Studios
The ceremony was held late in the afternoon, which gave the wedding party enough time to relax in the morning. The bride also shares that since most of her friends who flew in for the wedding are stylists and designers, there was always someone to help out with any wardrobe emergency.
IMAGE Chestknots Studios
She recalls, "There were plenty of people there who were able help fix it quickly, like when they had to alter my mom's gown on the spot while I was prepping because apparently, she had lost weight and her skirt was falling off!"
Out of the many beautiful memories from their wedding—seeing all their guests at the welcome dinner at La Sibilla, the touching speeches at the reception that made her cry—it was the moment Gem entered the church that stands out for her.
IMAGE Chestknots Studios
She tells us, "The feeling is indescribable—seeing the church for the first time with all the chandeliers lit up, the beautiful flowers that lined the aisle, and seeing Enzo at the end of the it with all our loved ones there. It was magical."
IMAGE Chestknots Studios
Photographed by Chestknots Studio
Venue Styled by Gideon Hermosa
Makeup by Albert Kurniawan
Hair styling by Jerry Buan Javier
Gown by Inbal Dror from Audella Bridal House
Suit by YSL
ADVERTISEMENT - CONTINUE READING BELOW
Reception outfits by Martin Bautista and Dior
Invitation by Loris Peña and Eugene David of Le Studio
Event planners: Aroosha Jahandari and Valeria Pennesi