When it comes to planning a wedding , there are many dreamy options that come to mind: whether it's a heartfelt ceremony by the beach, a rustic affair in the woods, a floral event in the gardens, or even in an old castle abroad!
Still, there are many of us who always dreamed of getting married in a church since we were little girls. And why not? It's classic, traditional, and usually an elegant event that reminds us of fairytales and the grandest ceremonies—many celebrities and even royalty got married in church! Weddings are normally solemn, and nothing says solace more than a couple reciting their vows in church that's typically away from the city noise.
While a destination wedding is always fun, it's not always the easiest choice to make for brides especially when most of your friends and family live in the metro! Plus, there is a certain dignified feel about a church ceremony that's not as easy to capture in other types of weddings, so if that's the kind of wedding you want, a church wedding may be in the cards for you.
ADVERTISEMENT - CONTINUE READING BELOW
Looking for an area that will allow for a more intimate setting without the distance? Try Marikina City, located just to the east of Quezon City and Pasig City, but with more suburban feel as compared to the latter two. You'll undoubtedly love how its rich history and greenery add some charm without having to go far!
Planning your wedding in Marikina? Check out these beautiful churches where you can tie the knot and finally say "I do"!
1. Our Lady of the Abandoned Parish
Perhaps one of the most famous churches in Marikina, there is a mysticism about Our Lady of the Abandoned Parish. The church is known for housing an image of the Virgin Mary in 1902, which Pope Benedict XVI venerated as miraculous during his visit in 2005. Aside from that, it is decked out in traditional parochial design that gives the church a certain grandeur. The ceilings and archways are painted in an elaborate and vibrant way, channeling an olden feel even in its renovated state. At least the aisle is pretty to walk on!
ADVERTISEMENT - CONTINUE READING BELOW
Recommended Videos
Location: J. P. Rizal corner V. Gomez Street, Barangay Sta. Elena, Marikina City
2. Saint Gabriel of Our Lady of Sorrows Parish
Who says churches have to look a certain way? If you're the type who enjoys modern design and bending the rules, then you'll like this church that offers something different in its aesthetic. A huge, sloped roof and asymmetrical look, this church proves that contemporary design has its place even in venues of worship. Bright, airy interiors thanks to large windows and an open plan concept allows lots of natural sunlight in, allowing for the most ethereal daytime ceremonies. The interiors are perfect for the minimalist bride, with mostly white interiors and the altar tastefully decked out in a modern brick wall. Simple chrome chandeliers also hang from the high ceiling.
ADVERTISEMENT - CONTINUE READING BELOW
Location: 143 Narra street corner East Drive, Marikina Heights, Marikina City
3. Saint Paul of the Cross Parish
After undergoing a massive renovation, Saint Paul of the Cross Parish Church in SSS Village is one of the newest churches on this list. The church is now bigger and now has a balcony that's perfect for the string quartet or choir as you walk down the aisle. Elegant and beautiful, the parochial decor is a modern take on the old and ornate designs of our old Baroque-style churches, with old antique-style elements restrained as different accents, instead of going all out. There is a massive white ceiling fan that blends into the background, ventilating the entire church, but check out the grand candle-style chandeliers hanging above the pews. There are also bits of Filipiniana touches here and there like the gold touches on the ceiling, as well as the capiz-style shutters at the back of each figure.
ADVERTISEMENT - CONTINUE READING BELOW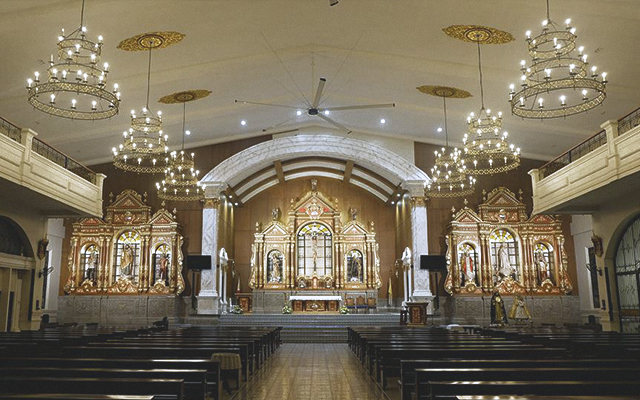 Location: Sapphire Street, SSS Village, Marikina City
4. Immaculate Conception Parish
If you want a grand old church in its splendor, then give Immaculate Conception Parish a visit. Unlike other churches that have taken on a more modern feel, the Immaculate Conception has retained much of its old, Spanish-style architecture, from its several arched doors, traditionally stained glass windows, and an old Baroque-style stone exterior. If you're the type who finds cathedrals and churches like the San Agustin Church an ideal venue, this one is for you. Plan that Filipiniana-inspired wedding!
ADVERTISEMENT - CONTINUE READING BELOW
Location: Bayan-Bayanan Avenue, Concepcion Uno, Marikina City
5. San Antonio de Padua Parish
The San Antonio de Padua Parish is easily one of the most photogenic churches on this list, with a tall exterior that's a mix of brick and concrete. The church boasts of a dignified facade, with multiple steps leading to its doorway and tall stained glass windows on either side. Walk inside and the church is even bigger than it looks on the outside, a bright and airy design of mostly white and marble. There's even a vibrant stained glass illustration on the ceiling at the dome of the church in the center that stands out from its monochromatic design. And if that wasn't enough, they have a charming little garden at the back of the church with its own grotto for post-ceremony photos and engagement shoots!
ADVERTISEMENT - CONTINUE READING BELOW
Location: JP Rizal St., Calumpang, Marikina
6. San Isidro Labrador Parish
Don't let the gruff exterior fool you. While the San Isidro Labrador Parish in Nangka is decked out in stone, giving the church an antiquated and weathered feel on the outside, step inside and it's a whole different story. With modern elements that border on the minimalist, the interiors play with structures and depths as seen in the ceiling panels, and even at the altar. Surrounding the cross at the altar is a tasteful stained glass mosaic of rice fields on a sunny day, as fitting of its name, San Isidro Labrador (Saint Isidore the Farmer), the patron saint of farmers.
ADVERTISEMENT - CONTINUE READING BELOW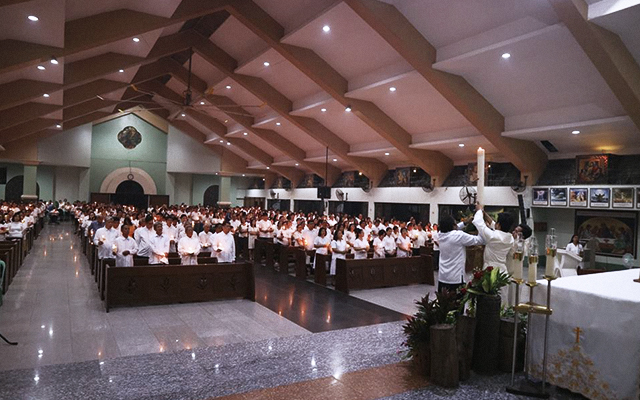 Location: 4 Buen-Mar Ave, Nangka, Marikina
Related Stories from Preview.ph



Hey, Preview readers! Follow us on Facebook, Instagram, YouTube, Tiktok, and Twitter to stay up to speed on all things trendy and creative. We'll curate the most stylish feed for you!