Last time, we brought you the Audrey Hepburn of desserts. This time around, we're bringing you the Valentino of dishes.
We challenged chef Margarita Forés, the ingenious mind behind Cibo, Grace Park, and Lusso, to create three dishes inspired by the iconic Italian designer.
If you're wondering, "why Valentino?" chef Gaita, around her mid-twenties, actually worked for him!
Before she found her love for the culinary arts, chef Gaita started out in fashion. She first worked for a Southern Italian man named Alfonso Telese, who had been in charge of making the fur coats for the Valentino line. After several dealings with the Valentino office, she met and befriended their licensing director, a Hungarian woman named Angela Istok, who decided to steal her away from the fur business and bring her to the Valentino Couture Office in Madison Avenue. Chef Gaita went from answering phone calls and interacting with men about animal hides to handling Valentino's press and all their other suppliers, which ranged from eyewear to lingerie.
ADVERTISEMENT - CONTINUE READING BELOW
"It was kind of like a bird's eye view into the fashion business," explained chef Gaita. "But I think what was most exciting about my job was the occasions when Mr. Valentino would come to New York and I met him."
Of course, while Chef Gaita loved the world of fashion, the influx of Italian influence in 80's New York and the way it heavily influenced its food scene (Italian restaurants went from only tomato-based pastas to introducing cream-based concoctions to their menus) steered her away from sartorial world toward the gastronomic one she now calls home. "Although my exposure to all things Italian started with Valentino, I think that I was starting to get awakened more about the Italian food than the fashion," she said.
So, in a way, through this challenge she has come first circle – from working under Valentino to cooking dishes inspired by him.
Chef Gaita made us three dishes. Before the challenge, she bought one of Valentino's books called "Valentino: At the Emperor's Table," which is all about entertaining. In it are pictures of his homes all around the world, and recipes for the dishes he liked to serve his guests. She chose three recipes from the book, adding a Filipino twist to each of them.
ADVERTISEMENT - CONTINUE READING BELOW
Recommended Videos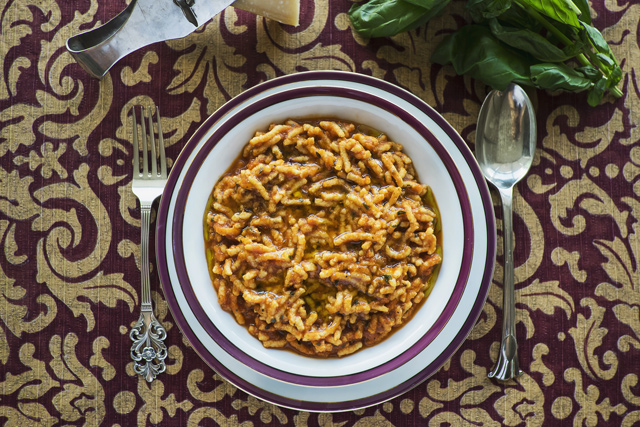 Pasatelli with Tomato and Basil
The first dish was a "Pasatelli with Tomato and Basil." Pasatelli is a kind of pasta formed with breadcrumbs, eggs, grated Parmesan cheese, lemon, and nutmeg. It's normally served in broth, namely chicken broth, but Valentino liked to serve it in tomato sauce – something that caught chef Gaita's eye. Taking this Valentino-esque recipe, she added her own special touches, substituting the kamut breadcrumbs in the pasatelli with pandesal breadcrumbs, adding a very Filipino flavor to the Italian dish.
ADVERTISEMENT - CONTINUE READING BELOW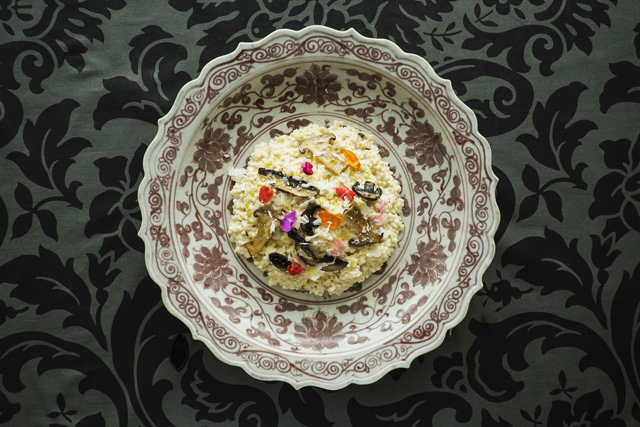 Mushroom Risotto

The second dish is an Italian staple – "Mushroom Risotto." Of course, just like the pasatelli, this isn't just any mushroom risotto. Chef Gaita substituted the pasta rice with adlai, a rice alternative that is indigenous to Mindanao and is slowly spreading all across the Philippines, adding an extra texture to the dish's familiar taste. Valentino garnished his risotto with Jamón iberico and Parmesan cheese shavings, while chef Gaita used beautiful edible flowers.
ADVERTISEMENT - CONTINUE READING BELOW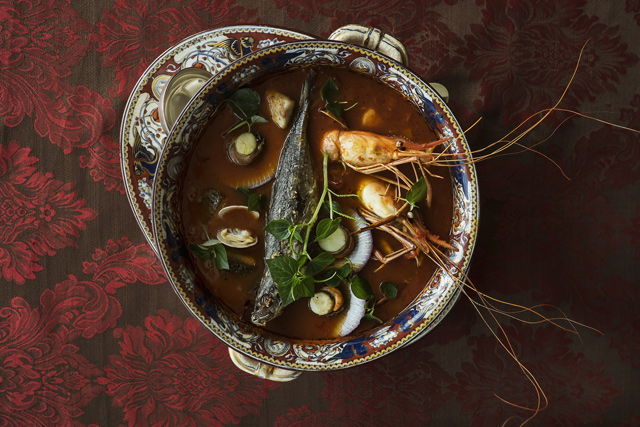 Cacciuco Stew
The last dish is a "Cacciuco," a kind of stew filled with different kinds of seafood and vegetables. Rather than using sea bass, chef Gaita utilized a variety of Filipino fish – maya-maya and tilapia bones for the broth, and fried galunggong, tilapia meat, and maya-maya meat for the stew. She garnished the dish with another uniquely Filipino ingredient, an herb called pancit-pancitan, which, though normally viewed as a weed, actually adds a delicious, fresh taste, to a dish – especially the strong flavors of the cacciuco.
ADVERTISEMENT - CONTINUE READING BELOW
Needless to say, Valentino would've approved.
Eat these three special dishes as Casa Artusi in the 3rd floor of Ascott Hotel in Bonifacio Global City.
Photos by Gabby Cantero
Hey, Preview readers! Follow us on Facebook, Instagram, YouTube, Tiktok, and Twitter to stay up to speed on all things trendy and creative. We'll curate the most stylish feed for you!