With special occasions mainly being celebrated at home, people have been getting more and more creative when it comes to throwing small parties. One individual who recently hosted a unique celebration is Angel Yeo. The YouTube vlogger and proud BTS fan welcomed her 29th birthday in the most aesthetic way any ARMY member can possibly dream of. Yup, she threw a BTS-inspired party!
Angel's intimate gathering took cues from her favorite K-pop group, particularly their latest worldwide hit, "Dynamite." However, there are plenty of other details worth noting that will give you Instagrammable ideas for your next bash. Check them out below:
1. She had a backdrop inspired by the "Dynamite" music video.
If you haven't seen this epic music video of "Dynamite," then you should know that the whole thing is a visual feast filled with pastel colors and aesthetic locations like a record shop, an IG-worthy wall, and a disco. Angel took inspo from the retro donut shops by replicating the neon sign. She replaced the word "Donuts" with "Angel's" for a personal touch. This backdrop served as the main attraction of the party where photo ops took place!
ADVERTISEMENT - CONTINUE READING BELOW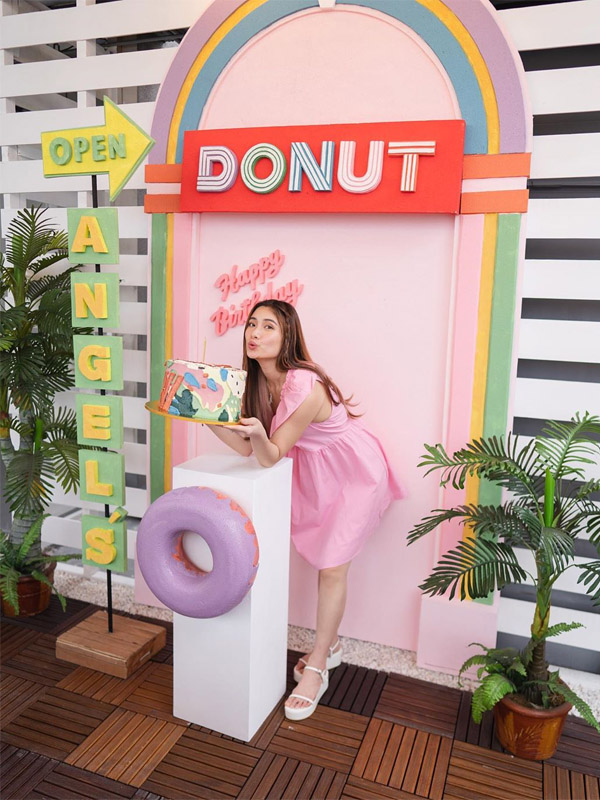 2. Even her cake was BTS-inspired.
It's not just the decor that was a nod to the international K-pop group but the food as well! To complete the theme, Angel had one of those trendy, minimalist Korean cakes decorated with what appears to be Jin from BTS—that orange hair is unmistakable! The colors even matched her "Dynamite" backdrop and made it more Instagrammable. Proof that it's all in the details!
3. They had K-BBQ as their main meal.
In line with the K-pop theme, Angel decided on K-BBQ as her party food. If you think about it, samgyeopsal is probably one of the easiest options you have if you're throwing a party. All you have to worry about is ordering or buying the right amount of meat, lettuce, sides, and sauces, and let your guests help themselves. It also amplifies the party's intimate vibes because everyone is gathered around the table!
ADVERTISEMENT - CONTINUE READING BELOW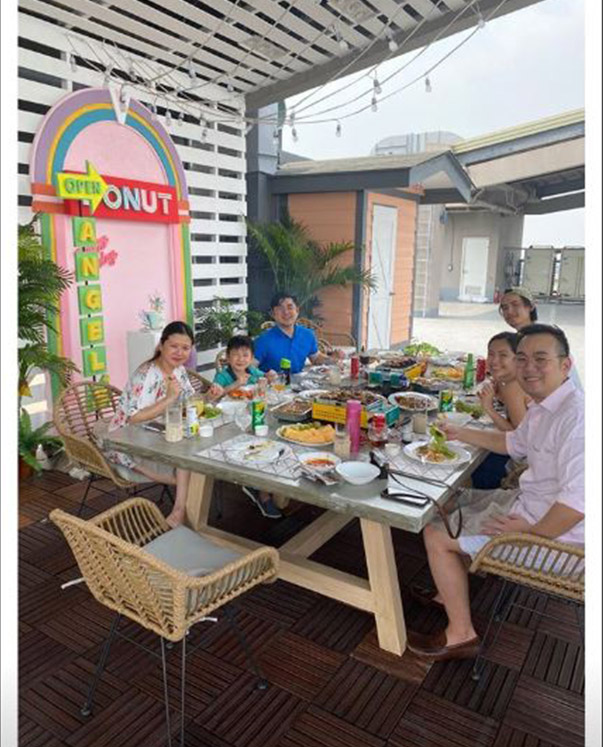 4. Angel had two pretty outfits.
To make her small celebration feel even more special, Angel changed outfits during the event! Both outfits were casual yet sophisticated and took cues from the pretty colors of the "Dynamite" music video. One outfit was a ruffled pink day dress, which she wore when she blew the candles of her BTS cake. The other was a polka dot spaghetti-strapped dress that provided a stark contrast to her sky blue cake. Angel elevated her look by wearing Hermes Oran Sandals, a current celebrity fave!
ADVERTISEMENT - CONTINUE READING BELOW