Andi Manzano and GP Reyes just threw the grandest gender reveal party for their newest bundle of joy. That's right—Preview's youngest cover girl ever, Olivia, is going to be a big sister soon!
ADVERTISEMENT - CONTINUE READING BELOW
When we say grand, we mean a gender reveal party of epic proportions! Because apparently, when it comes to introducing the newest member of their clan, the Reyeses don't play around. Events Planner Chinkie Uy, along with Babyscape Planners PH and K by Cunanan Catering, fulfilled Andi's wish for a Hamptons-themed party. Going full al fresco, The Island at the Palace was decked in white, accented by quaint greenery to evoke a relaxed yet sophisticated seaside vibe.
ADVERTISEMENT - CONTINUE READING BELOW
In true Hamptons fashion, the guests were also dressed in all white, adding hints of blue or pink to their outfit to symbolize their personal guesses for the baby's gender.
To keep with the airy coastal theme, tropical fruit and cheese platters were served at the party paired with fresh lemonade drinks.
ADVERTISEMENT - CONTINUE READING BELOW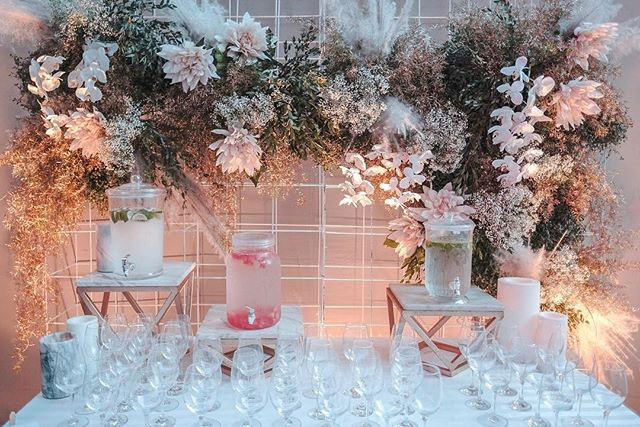 Of course, it wouldn't be Hamptons without succulents! Check out these gorgeous giveaways:
We're also digging the Boho-chic vibe of the lounging area, complete with low wooden coffee tables and divan-like couches.
ADVERTISEMENT - CONTINUE READING BELOW
They even had an all-white balloon photo wall for the kids, which had adorable mini couches plus a tipi to boot!
If you think these were awesome, just wait 'til we get to the actual gender reveal itself because that one takes the cake! The Reyes family lit up an entire building pink, boldly declaring "GIRL" not just for the party guests but also for the rest of BGC to see.
ADVERTISEMENT - CONTINUE READING BELOW
As pink confetti rained down, we can't blame soon-to-be big sister Olivia for staring in awe at the wondrous spectacle.
Congratulations on the newest member of your lovely family, GP, Andi, and Olivia!