I'll be honest: Im not a big fan of facials. I have sensitive, acne-prone skin and I'm also susceptible to scarring. But when I heard of this facial treatment that's safe for troubled skin and targets issues like enlarged pores, redness, oiliness, and skin-sagging, I was more than excited to try it.
What: Victoria Skin Madonna OxyLight Premium Facial
A powerful facial treatment composed of six steps to exfoliate, smoothen skin, even out complexion, and ultimately tighten and tone. The entire facial takes about an hour and a half and it's relaxing as it is a full-on skin workout!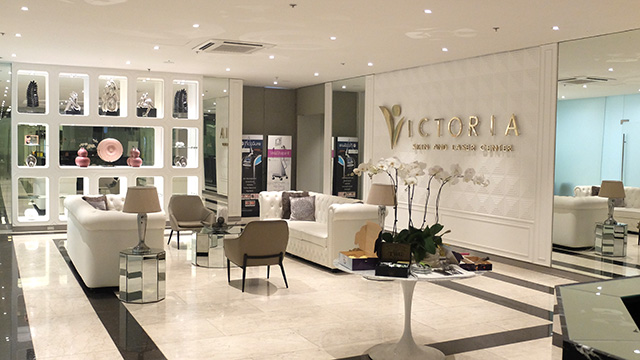 ADVERTISEMENT - CONTINUE READING BELOW
Madonna OxyLight Premium Facial, P10,000, Victoria Skin Philosophy, 7th floor Victoria's Sports Tower, EDSA GMA-Kamuning
Although the Madonna Facial is a treatment that you can try in other clinics around the metro, I had it done at Victoria Skin Philosophy, a new aesthetic clinic along EDSA Kamuning in Quezon City. The facility is huge and the treatment rooms feel more hotel-like than that of a hospital room. You're led to a spacious private room for any treatment so you don't feel like someone is eavesdropping or watching you. They also serve you tea or coffee while your facialist prepares for the procedure.
Current Condition
I have sensitive and oily skin with enlarged pores across my cheeks and nose. I also deal with adult acne on a regular basis—from mild to cystic pimples. It usually results in red spots or dark spots. It's always a struggle to find anti-acne treatments that work effectively yet are mild enough to prevent my skin from scarring. Overall, I tend to favor skincare with anti-inflammatory and skin-smoothening benefits because texture is my main concern.
My face is also naturally pretty wide and fatty due to weight-gain over the years. I've always wanted my face to look a little slimmer and contoured if possible—but non-surgically!
How the Procedure Went
Unlike most facial treatments, the Madonna Premium Facial is composed of five steps to properly target specific skin concerns. My facialist describes it as the ultimate skin workout, and I believe her.
This prepares your skin for the serums and procedures that'll follow!
Your session starts with diamond microdermabrasion to gently exfoliate and remove dead skin cells. This will also make it easier for your skin to absorb the serums to be applied in the next steps of the facial. What I love about this is that your skin doesn't turn red or swell up, which is something that normally happens to me after any chemical type of peel.
The next step is a lymphatic system cleansing that will rid your skin of toxins and water retention by targeting specific lymph nodes in your face and neck.
ADVERTISEMENT - CONTINUE READING BELOW
This is followed by a high pressure oxygen spray to help heal pimples and reduce redness. This is done to kill the stubborn bacteria deep within your skin so your acne heals faster. I appreciate this step a lot since I had one big cystic pimple on my cheek, and it did subside right after the facial! The red marks on my face visibly lightened later that day, too.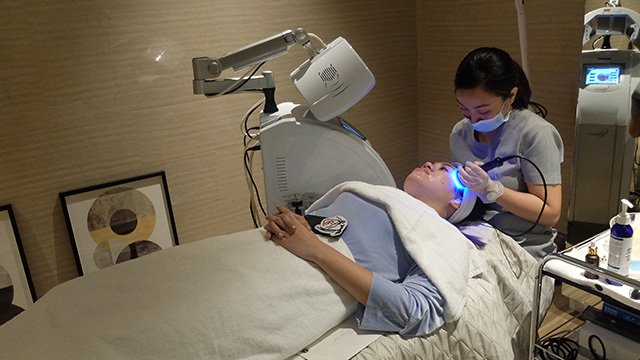 ADVERTISEMENT - CONTINUE READING BELOW
After which, my facialist performed a Biosonic ultrasound after applying powerful stem-cell based serums into my skin. The device was massaged onto the sides of my face—drawing a number three in a swift pressured movement—to tighten and lift my skin. It's super relaxing and my skin instantly looked firmer.
This was immediately followed by a Myolight Microcurrent treatment that's meant to contour the hollows of my cheeks and jaw. A mild electric current flows through the device to deliver this facial muscle exercise. It wasn't painful at all, to be honest, and I still found it super therapeutic! Also, it gave my face a natural contour!
Lastly, after another serum application, I was given a pure oxygen spray in the form of a gentle mist under an LED light. If your eyes are sensitive, this could be a little uncomfortable at first (even with black goggles on), but eventually the interchanging oxygen mist and LED flashes will lull you to sleep. This final step stimulates collagen production and helps even out the complexion.
ADVERTISEMENT - CONTINUE READING BELOW
Conclusion
My skin has NEVER looked this good. I immediately checked my face in the mirror and was so shocked that I couldn't visibly see my pores. It's like they shrunk 10 times in size almost instantly! As if I put on a pore-minimizing primer, except in reality I had no makeup on at all. My cheeks also had a contour that looked like a lost a few pounds, for that slimmer, subtly chiseled face. But what was so obvious was my overall skin texture, especially my forehead, that looked tight and almost "glassy." I looked like I had eight hours of sleep and had gone on vacation—there were no signs of stress on my face at all!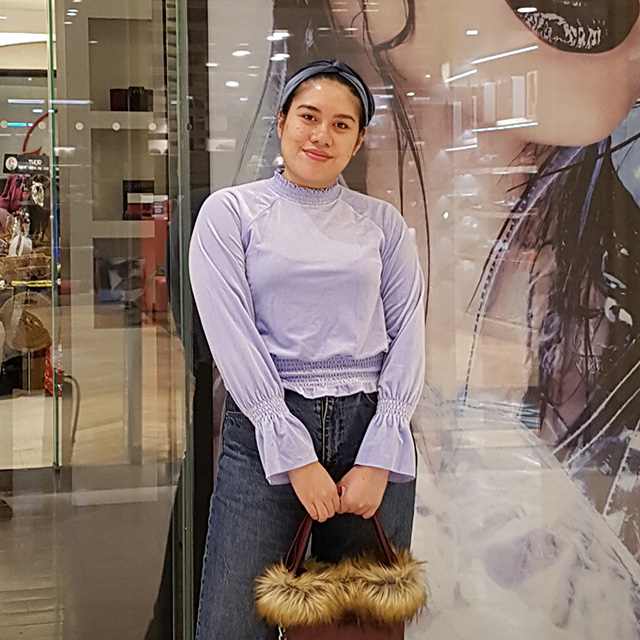 ADVERTISEMENT - CONTINUE READING BELOW
As I've also mentioned earlier, my skin is oily and I usually need to blot every so often. But after the facial I didn't need to powder or blot my face for the rest of the day! That's seven hours of shine-free skin! The dermatologist recommended that I don't wash my face with soap for the next 24 hours and I didn't. I still saw its effects two days after. With zero downtime at all, it's the type of facial you'd definitely want to get if you've got an important event coming up. Or when you need an extra confidence boost or a show of self-love—because why not? Your self-esteem will definitely thank you for it!
Related Stories from Preview.ph
Hey, Preview readers! Follow us on Facebook, Instagram, YouTube, Tiktok, and Twitter to stay up to speed on all things trendy and creative. We'll curate the most stylish feed for you!