What: Dyson Pure Cool Purifying Tower Fan
The Dyson Pure Cool is an air purifier and fan hybrid that improves the overall quality of indoor air. It claims to automatically sense air pollutants, being able to capture up to 99.97% of these harmful particles in its filter and report these activities in real-time. Using Air Multiplier technology, the Pure Cool's built-in fan evenly distibutes the purified air to have it reach all corners of a room.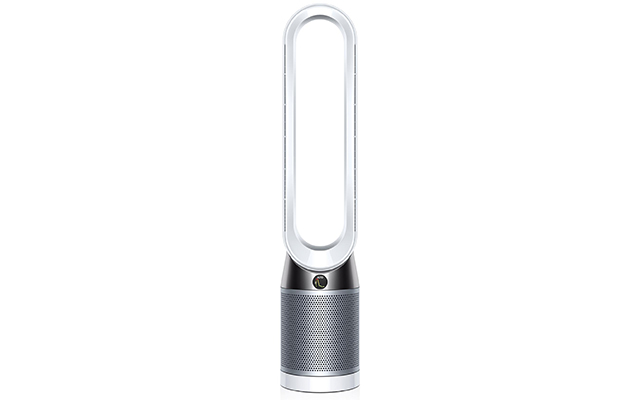 ADVERTISEMENT - CONTINUE READING BELOW
DYSON Pure Cool Purifying Tower Fan, P44,500, Greenbelt 5
Current Condition:
Thanks to the wall built right in front of my window, my bedroom isn't well-ventilated. It actually feels quite stuffy inside withour air conditioning, since little to no air from the outside ever gets in. Being in an enclosed space makes the room prone to dust, which, in effect, also makes my skin break out often.
Unfortunately, taking down the wall blocking my window isn't an option, which is why I jumped at the chance of a less destructive alternative—an air purifier. Having something that'll ward off the dust that always seems to land on my already-acne-prone face seemed like my best bet, and conveniently, Dyson's Pure Cool does that and more. It can also help air circulate better around my room and catch any air pollutants a.k.a. invisible monsters that cause even more acne.
How I Used It:
I started using the machine after coming back from a week of traveling. During that time, my skin was breaking out from both dehydration and irritation from the dust and pollution from the city I was in. It was unfortunate, but it was the perfect opportunity to see if the air purifier would make a difference. Because the day I set it up, my bedroom had accumulated a week's worth of dust given that no one was there to clean.
First things first: I appreciate that the Pure Cool doesn't require any assembling. The only thing I had to do was take it out of the box and plug it in! Using it was equally simple; just a push of the power button and the machine starts doing what it's supposed to do right away.
I used it every day for around two months, leaving it on before I slept until I left for work in the morning—approximately nine hours. On weekends when I'm home, the Pure Cool ran the whole day.
Right off the bat, I noticed that it didn't make a thunderous sound even if it had a fan. It never interrupted my sleep or had a lingering noise that bothered me during the day. Honestly, if it weren't so tall, I'd forget it was even there. But then again, how quickly it changes the atmosphere is more than obvious. With or without air conditioning, my room actually felt breezy for once. The fact that the machine rotates 350 degrees made a real difference, helping cool air circulate and reach areas it usually can't.
ADVERTISEMENT - CONTINUE READING BELOW
I connected the machine to my phone using the Dyson Link app to view the air quality reports, which range from real-time to a weekly one that shows what it has detected and changed the past few days. Sure enough, my room's air quality changed from "Fair" to "Good" rating in a span of a week.
ADVERTISEMENT - CONTINUE READING BELOW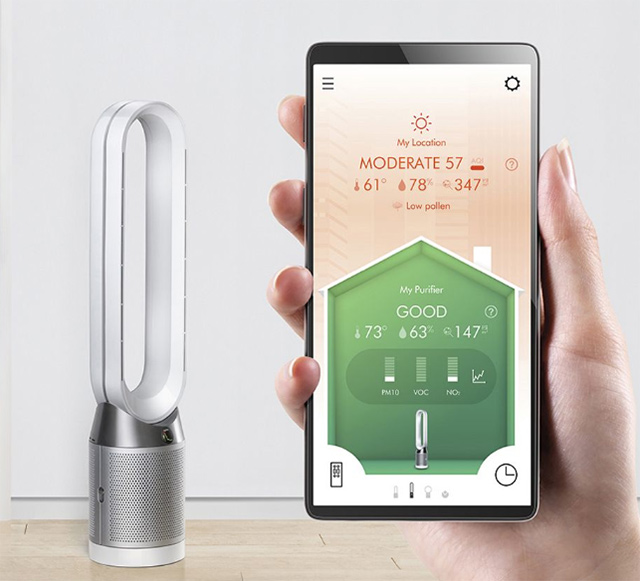 That's not all that changed that week, though. Remember when I said I was breaking out and that my room was dusty? Well, I expected my skin to get worse from all the accumulated dirt, but it didn't! You see, I usually get pimples on my forehead when it's caused by allergies, and I didn't develop new ones for at least two more weeks. Here's a comparison of my skin a week before using the purifier and months later:
ADVERTISEMENT - CONTINUE READING BELOW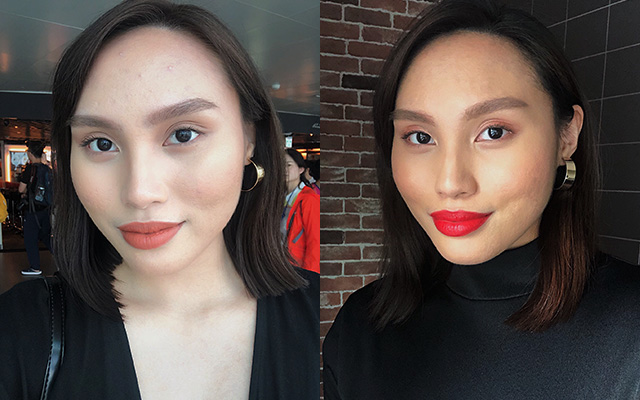 In the photo on the left, as you can probably tell, I was having a massive breakout on my forehead. I spent the following weeks trying to get rid of those bumps and, thankfully, the Pure Cool seemed to have filtered out the pollutants that would've made my skin worse. The photo on the right is from a few months later: no more forehead pimples in sight!
ADVERTISEMENT - CONTINUE READING BELOW
Moreover, during the weeks after that initial trial period, I found that my sinuses rarely felt clogged upon waking up in the morning—a feat my diffusers and other fans were never able to achieve. Another thing I noticed was how quickly the purifier gets rid of any strong smells. All the hairspray, perfume, and essential oils that cover my room on a daily basis never lingered for too long. Even bug spray didn't stand a chance! But the real test was when my family held a barbecue and smoke reached my bedroom, which immediately alerted the machine. As expected, the scent of the smoke and the little dust particles it carried with it were gone after a few minutes.
ADVERTISEMENT - CONTINUE READING BELOW
Conclusion:
To be honest, I wasn't expecting much from an air purifier, but it did more than I hoped for. It not only solved my stuffy room situation by allowing air to circulate properly, it also cleared it of dust and pollutants that could've made my post-travel breakout worse. Using it for more than two months helped me prevent even more allergy-related breakouts, effectively cutting down on my usual list of acne-causing suspects. Clean air definitely has its perks!
ADVERTISEMENT - CONTINUE READING BELOW
However, I would personally purchase the desk variant instead of the tower, as my room feels too petite to store such a tall device. This size would probably work its magic better in more spacious bedrooms or living rooms. But overall, I think the Dyson's Pure Cool is a great addition to any home, especially if you or anyone you're living with struggles with sensitive skin or even a weak immune system. Filtering out the nasty stuff in the air at home (and trust me, there's a lot we don't see) will quite literally help you breathe easier.
Related Stories from Preview.ph
Hey, Preview readers! Follow us on Facebook, Instagram, YouTube, Tiktok, and Twitter to stay up to speed on all things trendy and creative. We'll curate the most stylish feed for you!