As my clueless teenage self once learned the hard way, tattoos don't really need to have an elaborate story behind them. People get inked for aesthetic purposes all the time, and that doesn't make their tattoos any less valid. But when a tattoo does have a special meaning to someone and they're willing to tell me what it is, you bet I'd be all ears to hear it. I'm just naturally nosy like that, unfortunately. Kidding aside, I do think it's a cool way to get to know someone. The stories you're about to read is about to become proof of that, because I asked friends (and friends of friends for good measure) to share the meaning behind tattoos they hold close to their heart:
1. Sara Black, Meditation Coach
"It says Inspirare. It's Latin for [the word] inspire which means 'to breathe life in to.' I had it inked on the hand that I use to click the shutter of a camera, to invite that sense of aliveness and vibrancy to flow through everything I create. In later years, as I dove deeper into my meditation practice, the meaning expanded into using my breath as the bridge to help students to connect to that sense of aliveness."
ADVERTISEMENT - CONTINUE READING BELOW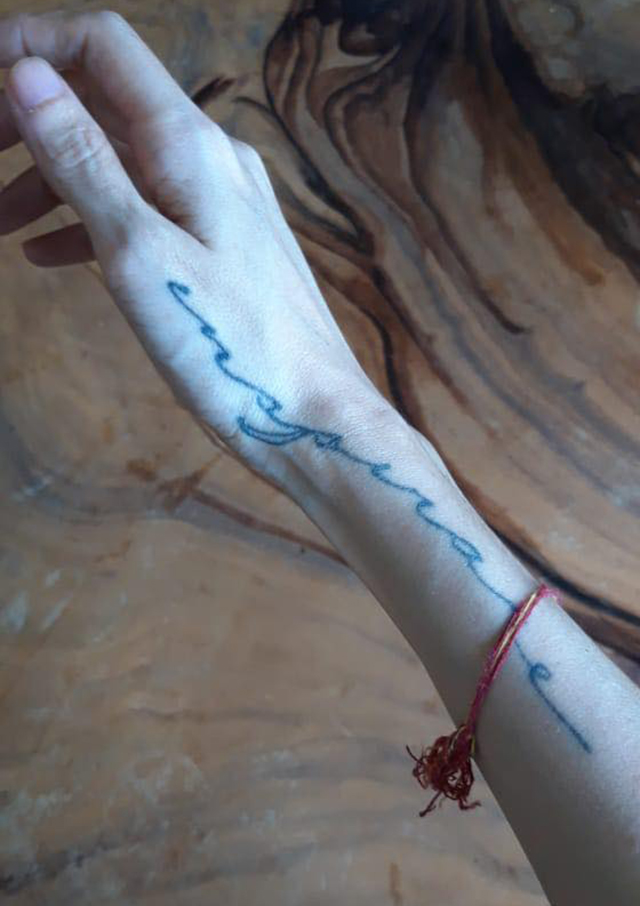 2. Krysta Frost, Writer
"Identity means a lot to me. As a mixed-race Filipina, it's something I've been trying to figure out for a long time. I got this tattoo to symbolize the self-regeneration that I've had to undergo in order to come to terms with who I am."
CONTINUE READING BELOW
Recommended Videos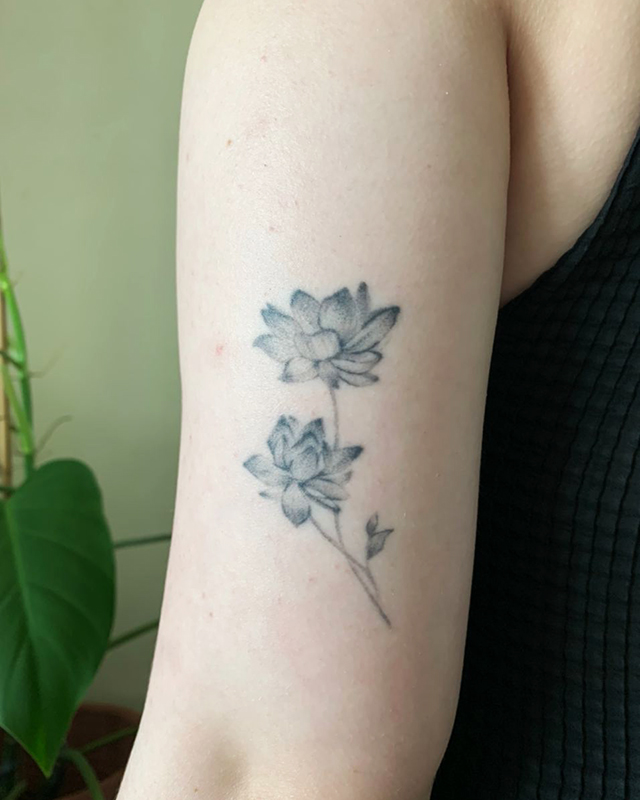 3. Kyla Paler, Publicity Specialist
"Psalm 46:5 was a verse I stumbled upon when I was college. It was during a time when I was feeling so overwhelmed and scared that I might fail. It said, 'God is within her, she will not fall.' And for some reason, I just started crying. It felt like I was being assured and given a sign that things will be okay. And eventually, they were. Now everytime I start to feel afraid or I'm not sure what to do, I go back to the same verse and remind myself that someone up there is watching over me and He won't let me fall."
ADVERTISEMENT - CONTINUE READING BELOW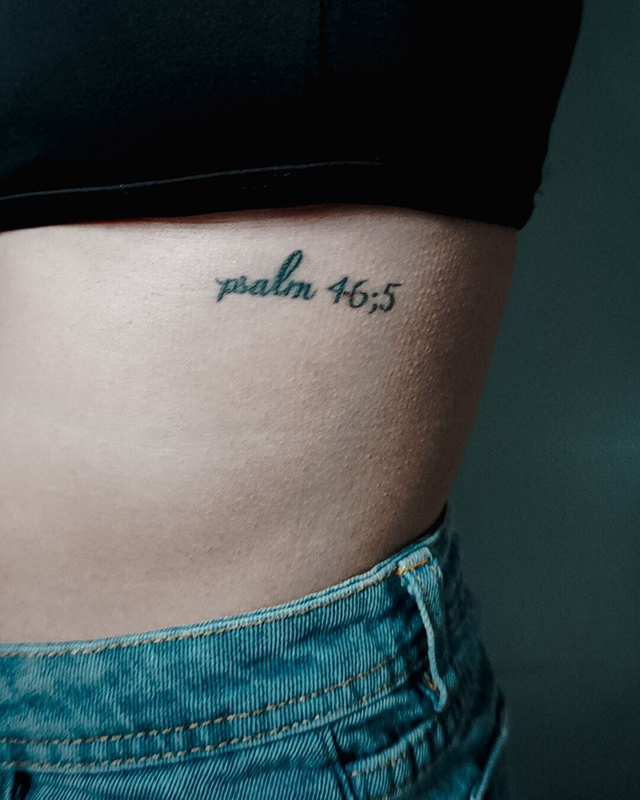 4. Gela Tianco, Content Producer
"[The first tattoo is] Magic Shop in hangul. It's a song by BTS that tells us us they can always be the ones we can run to and listen to when we're struggling. My best friends and I got matchies for this cause we're all ARMYs, so this represents us with each other 'cause we're each other's safe space."
ADVERTISEMENT - CONTINUE READING BELOW
"I used to suffer with anxiety, and I still do, so whenever I have a hard time this [semi-colon] tattoo reminds me to take a break and breathe. I can always pause and continue later on."
5. Bea Tantuico, Student
"This tattoo is based on one of the scenes in Lorde's Green Light music video. I got it because that scene really spoke to me, and it felt like it perfectly encapsulated the general theme of Melodrama [the album] which is my favorite album of all time. [It stands for] an anomalous situation wherein you're still chained to all that 'teen angst' and are well on your way to rebuilding your life and your belief systems."
ADVERTISEMENT - CONTINUE READING BELOW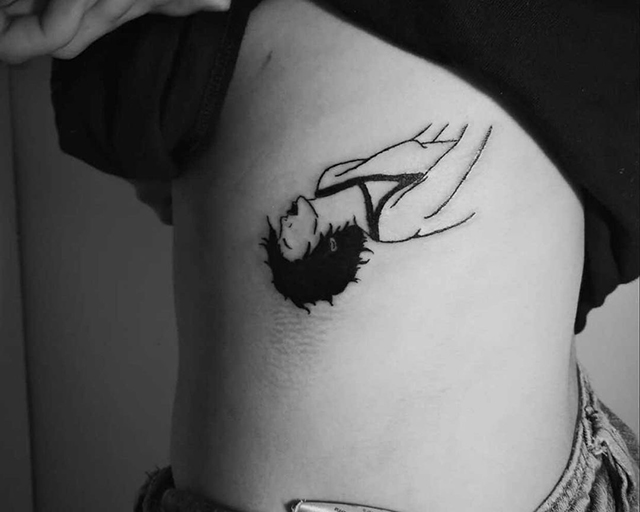 6. Ays Bernal, Digital Content Producer
"The most meaningful one is my first [tattoo] which is a swallow on my rib. It's the sailors' symbol for their journey and all the circumstances they faced. The year I got it was the year that I was in a toxic relationship, which also ended that year. I was also juggling the life of being a pre-law student and an athlete then, and realized I had so many fake friends. It was also the year my grandfather died. That year was so painful that I became numb, so I thought I had to manifest the pain physically for me to acknowledge the hurt though I'm a coward to hurt myself.
ADVERTISEMENT - CONTINUE READING BELOW
"As soon as I got back on my feet after three months of grieving, there was a sign. I was just browsing art on the internet and found a piece that was Sailor Jerry inspired. It symbolized everything [I went through] so right then and there I knew I wanted to have it on my body. [It was] memorable pa 'cause when I got it sa bar, consumable ng alcohol 'yung half of what I paid for my tattoo."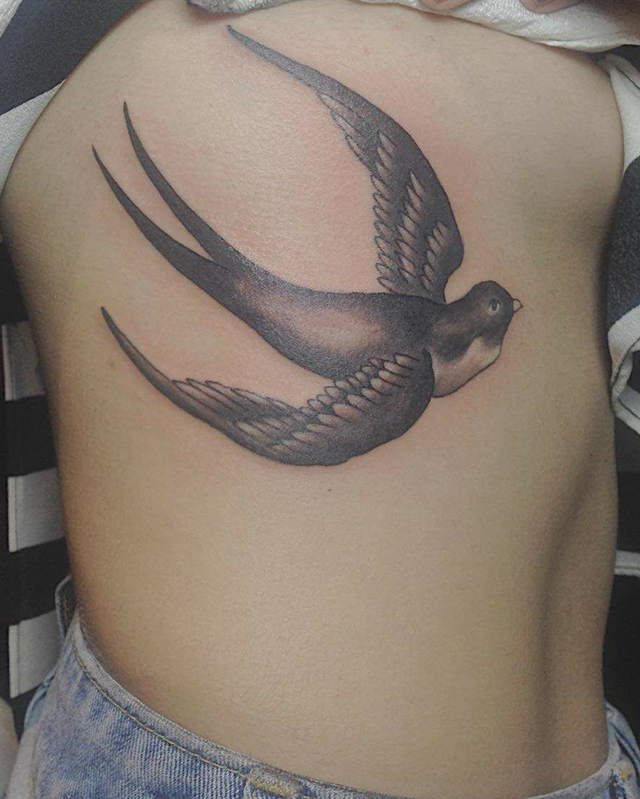 ADVERTISEMENT - CONTINUE READING BELOW
7. Precious Jiann Lintag, Restaurant Captain
"Faith, Hope, and Love: The three most important meanings of my tattoo. Aside from the fact that it was in my bucket list for my 20th birthday at that time, it holds a deeper meaning in my life. Faith in everything in my future and everything that I will do, Hope that things will go as planned in perfect timing, and finally, Love despite all the heartaches and struggles I've been through."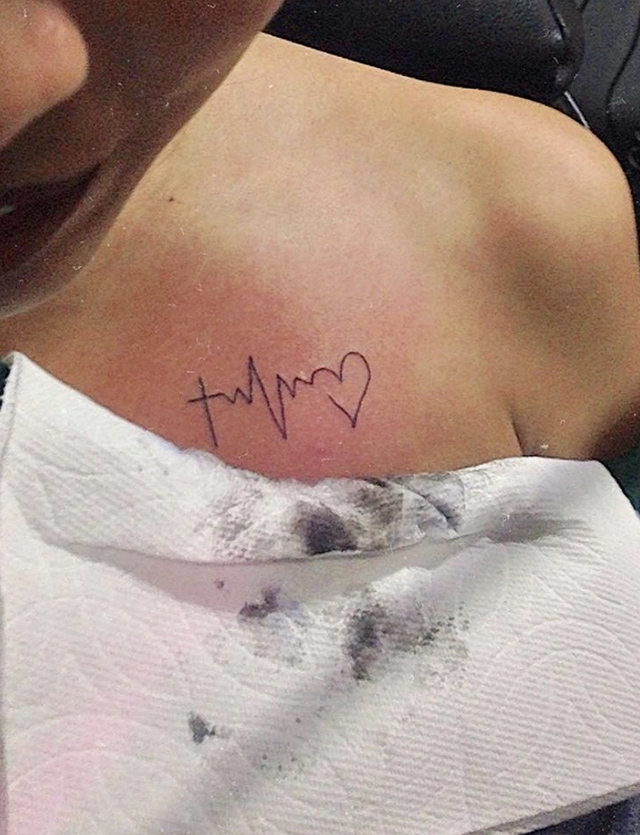 ADVERTISEMENT - CONTINUE READING BELOW
* Quotes have been edited for clarity.
Related Stories from Preview.ph
Hey, Preview readers! Follow us on Facebook, Instagram, YouTube, Tiktok, and Twitter to stay up to speed on all things trendy and creative. We'll curate the most stylish feed for you!