The ongoing conversation about single-use plastic has done wonders for pushing eco-friendly beauty. Solid shampoos, for one, are now a popular alternative to liquid shampoos, which are usually poured into plastic bottles. These sudsy bars are normally made with natural oils and soap to nourish and clean the hair like a regular shampoo would.
Lush, a brand known for advocating sustainable packaging, have solid shampoos of different scents, colors, and hair benefits. All bars are said to be unpreserved and can last for up to 80 showers. Upon purchase, the shampoo will be packaged in paper, but you can also buy a separate tin to keep yours clean and portable.
That said, the Preview team tried four of Lush's solid shampoos for a week to see if they're as good for our hair as they are for the environment. Read our full review below!
1. New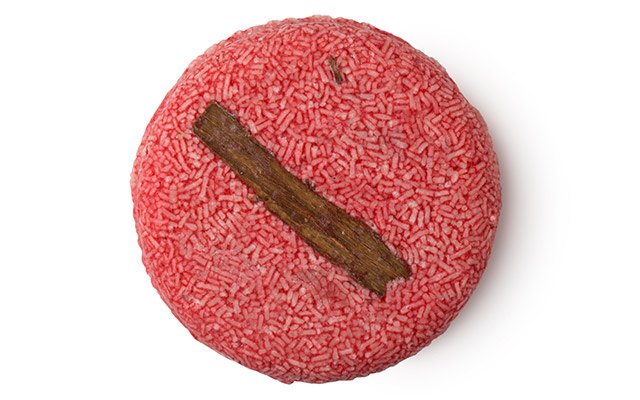 IMAGE Lush
LUSH New Solid Shampoo Bar, P495, Greenbelt 3
Who Reviewed It:
Nikki, Managing Editor
ADVERTISEMENT - CONTINUE READING BELOW
What It Is:
Lush's New shampoo bar has cinnamon, clove, and peppermint. This combination is said to boost blood flow and stimulate hair follicles. It is also infused with rosemary that promises to soothe and calm the scalp, as well as add shine to the hair.
Current Condition/Hair Type:
I have shoulder-length virgin hair with fine strands and my scalp is usually just normal.
How I Used It:
I massaged the bar directly onto my hair and it didn't take long for it to become sudsy. It lathers up quite nicely. It filled my bathroom with a powerful fragrant scent, which I loved, then as soon as I rinsed off, settled into a pleasantly subtle whiff. It was easy to rinse and left my head feeling squeaky clean.
Results:
My hair is usually flat after it's been dried but with this shampoo bar, I noticed it had more volume and that made it easier to style. Also, I find it takes me longer to rinse off my liquid shampoo versus this bar.
Conclusion:
This shampoo bar is ideal for washing away buildup. It's also economical. After a week of using it every day, the puck's size and shape remained almost the same from when I unwrapped it. It can also come in quite handy for travel as you won't have to worry about the allowable amount of liquid you can carry, as well as shampoo spilling in your luggage. But the best part about using the shampoo bar is the incredibly positive impact on the environment because of its bare packaging.
2. Karma Komba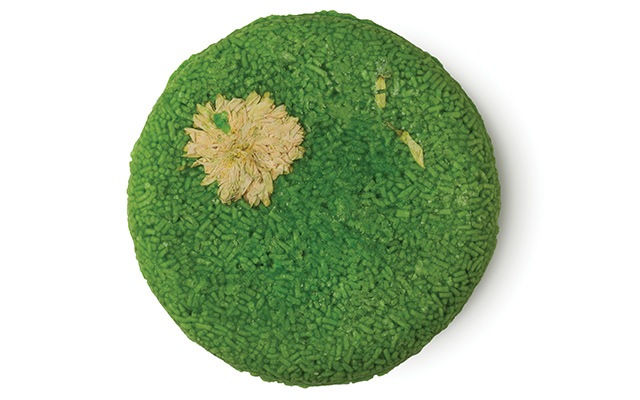 ADVERTISEMENT - CONTINUE READING BELOW
IMAGE Lush
LUSH Karma Komba Solid Shampoo Bar, P495, Glorietta 4
Who Reviewed It:
Nicole, Beauty Assistant
What It Is:
I tried the Karma Komba, which has a blend of essential oils like lemongrass, sweet orange, lavandin, pine, and patchouli. It claims to be able to gently cleanse the hair and keep it clean and clear.
Current Condition/Hair Type:
My hair is very thin with fine strands that fall easily. My scalp is generally quite dry due to genetics.
How I Used It:
Because I have such a dry scalp, I'm accustomed to using gentle, sulfate-free shampoos. And since Karma Komba is a thorough cleansing bar, I opted to use it only once every two days.
On days that I used it, it lathered easily and immediately upon coming into contact with water. This made it a breeze to massage the suds into my scalp and strands. While washing, the scent of the essential oils were apparent, which was a great bonus. Rinsing it off was quick and easy, however I found that the scent goes away right after and doesn't linger on my hair.
ADVERTISEMENT - CONTINUE READING BELOW
Results:
Using the bar in two-day intervals allowed me to enjoy that squeaky clean feeling again. It gets rid of excess oils and product residue quickly and efficiently. I found that even after two days, my scalp didn't become too oily either, when it's usually really greasy after day one.
Conclusion:
My favorite thing about the bar is the scent. It's this earthy blend that's not your average shampoo smell but is still refreshing. As a shampoo, I think it's really effective at leaving your hair squeaky clean, but if you have a dry scalp like I do, I recommend only using it when you need to do a deep cleanse and following up with a conditioner.
3. Jason and the Argan Oil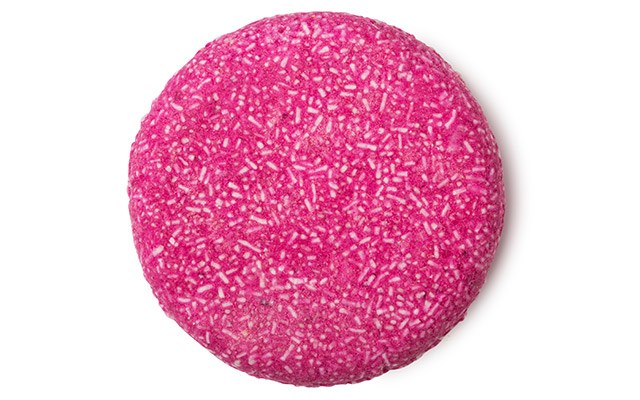 ADVERTISEMENT - CONTINUE READING BELOW
IMAGE Lush
LUSH Jason and the Argan Oil Solid Shampoo Bar, P495, SM Mall of Asia
Who Reviewed It:
Maura, Associate Social Media Editor
What It Is:
A rose jam-scented bar packed with argan oil perfect for light hair to strengthen, soften, and add a lustrous shine.
Current Condition/Hair Type:
I have thinning and coarse hair that's bleached and colored, too. My scalp is oily but also extra sensitive due to the chemical treatments I've had done. I normally wash my hair every three days to retain and preserve my current blue hair color.
How I Used It:
I've actually used a shampoo bar before but stopped because I found it to be too strong for my blonde hair at the time. I gave this one a try since the description says it's for lighter hair. Since my tresses are blue, the color bleeds a lot after every shampoo (even when I use my preferred sulfate-free one).
ADVERTISEMENT - CONTINUE READING BELOW
I created a lather on my scalp first before working my way down to the rest of my hair. The bar smells great and the scent is not overpowering, either. It's this sweet, woody fragrance you'll love instantly, and the smell fills your shower, too! It only takes a short while to bubble and work through your hair, but even just putting a little bit on my colored section made the blue color bleed a lot more than normal.
After rinsing, I noticed my hair felt extra clean and squeaky. But it also felt really dry and straw-like on the colored parts of my tresses. I had to condition a lot after shampooing.
Results:
Using a shampoo bar really cleanses your scalp and there's a distinct "clean" feel to your hair. It does leave your tresses a little dry, but nothing a little conditioner and hair oil can't fix.
ADVERTISEMENT - CONTINUE READING BELOW
I noticed my scalp was less oily and I barely had any dandruff even when I didn't shampoo after two to three days, which is great since I didn't have to use dry shampoo as often as I normally would. The colored parts however, needed a hefty application of hair oil to make sure my strands were well-moisturized.
Conclusion:
I'd recommend this to anyone with an oily scalp and preferably virgin hair. If you have a crazy hair color like me, I'd suggest just shampooing your scalp with the bar and stick to a sulfate-free shampoo for your colored section. The formulation of a shampoo bar might be too strong for processed tresses, but your scalp will definitely thank you for the thorough cleanse.
4. Honey I Washed My Hair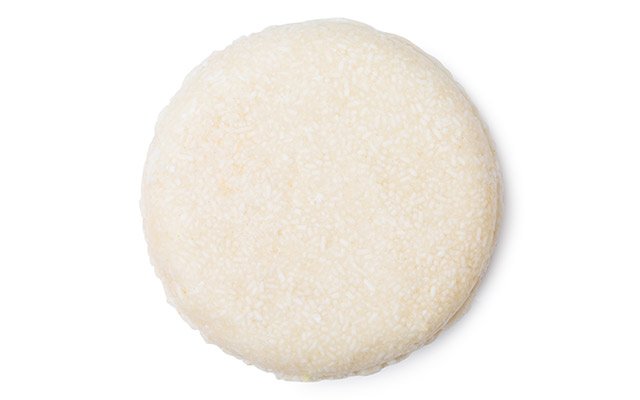 ADVERTISEMENT - CONTINUE READING BELOW
IMAGE Lush
LUSH Honey I Washed My Hair Solid Shampoo Bar, P495, Bonifacio High Street
Who Reviewed It:
Mark, Art Director
What It Is:
A sweet, toffee-scented bar made with 5% fair trade honey to leave the hair soft and shiny.
Current Condition/Hair Type:
I have short, straight strands with a slight bend at the end, but no real curls. Though I haven't dyed for almost four years now, my scalp still tends to be dry but that doesn't stop me from using a ton of my trusty pomade and hairspray.
How I Used It:
The moment I unwrapped the bar, the scent immediately stimulated my senses. I used it like how I would wash my body with soap, and a little goes a long way. I noticed that rubbing it excessively tends to create too much lather that can dry out the hair. That said, the same does happen if you use a hefty amount of liquid shampoo.
ADVERTISEMENT - CONTINUE READING BELOW
Results:
For me, the difference between the bar and liquid formulation depends on how effective it is at washing my heavily pomaded hair. Normally, with regular shampoo, I have to wash my hair twice just to make sure I get rid of the hair product. But with the shampoo bar, it leaves my hair clean and shiny after every wash (which I love). I also see how each bar could last for 80 washes, because even after a week of using it, there's still a lot of product left.
Conclusion:
I'm excited to have discovered a product that can easily wash the pomade out of my hair. It leaves my hair feeling fresh and clean all day, too. I also love how it's travel-friendly, so I can board a plane and not worry about decanting various liquids to make it through airport security. Now, I'm curious if the other variants work the same way as Honey I Washed My Hair. I would definitely recommend it!
ADVERTISEMENT - CONTINUE READING BELOW
Related Stories from Preview.ph
Hey, Preview readers! Follow us on Facebook, Instagram, YouTube, Tiktok, and Twitter to stay up to speed on all things trendy and creative. We'll curate the most stylish feed for you!