When you see someone whose skin glows when it catches the light, it's either they have genuinely healthy skin or they used a really good highlighter. But more than owning one, it's also important that you know exactly how to use it.
Highlighter, if you're unfamiliar, is a product that can give you instant glow. It's basically polar opposite of a mattifying powder—instead of reducing shine, it adds a beam of light wherever you want, be it on your face or your body. Consider it your ticket to looking luminous both in pictures and everyday life; if your skin isn't in the best shape, you can glow anyway. Intrigued? Keep scrolling for a full guide on how to wear it!
What are the different types of highlighters?
First, let's talk about the kinds of highlighters you can get your hands on. Depending on your skin type or texture, a specific type might work better on you. Here are the three most common formulations you'll find in the market:
ADVERTISEMENT - CONTINUE READING BELOW
1. Powder
Similar to face powders, highlighter powders come in both pressed and loose formulas. The easiest way to apply this kind of highlighter is with a brush for an even application. It performs best when applied on top of cream and liquid products such as foundation blush, since it will adhere to the tacky base and set it. Powders are typically preferred by those with oily skin for a glowy look that doesn't appear greasy.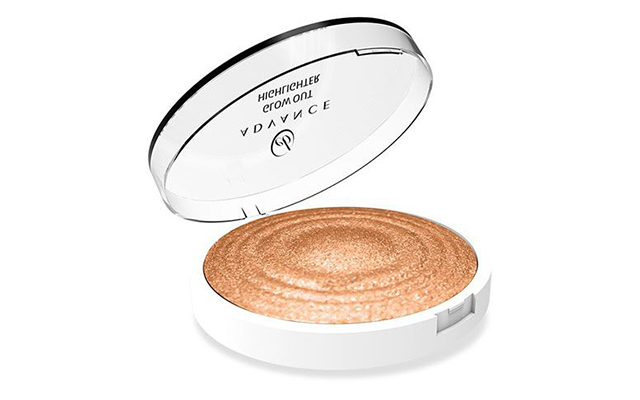 ADVERTISEMENT - CONTINUE READING BELOW
Recommended Videos
EB ADVANCE Glow-Out Highlighter in Strobe, P199, Robinsons Department Store
2. Cream
Highlighters that come in pots, compacts, and sticks that aren't powder-based can pass the cream category. These are basically the ones you can apply directly onto your skin with just your fingers and blend out without any tools. It can help you achieve a more natural glow when applied sparingly, especially because cream textures tend to have a naturally dewy finish.
ADVERTISEMENT - CONTINUE READING BELOW
RMS BEAUTY Luminizer in Living, P2500, Sephora.ph
3. Liquid
Liquid highlighters are the more malleable version of cream highlighters because you can mix it in with your foundations, concealers, and even other highlighters for a custom glow. It's the preferred formula for highlighting the body as well since it's easier to blend over a larger surface. Hence, you'll usually find these packaged in pump bottles, droppers, and squeeze tubes for easy dispensing.
ADVERTISEMENT - CONTINUE READING BELOW
NARS Illuminator, P1800, Powerplant Mall
How should you apply highlighter?
To choose the best application method for you, think of the effect that you want to achieve with highlighter. Do you want your glow to be precise, easy, intense, or subtle? Read through the techniques below to choose:
1. With a brush
Regardless if you're using powder, cream, or liquid, you can blend your glow with a brush of your choice. That said, it's the kind of brush you're using that makes all the difference so choose wisely! For powders, a fan brush and a small tapered brush are best for precise highlighting. For creams and liquids, dense powder brushes tend to work best when it comes to depositing as much product as possible and making sure it's even.
ADVERTISEMENT - CONTINUE READING BELOW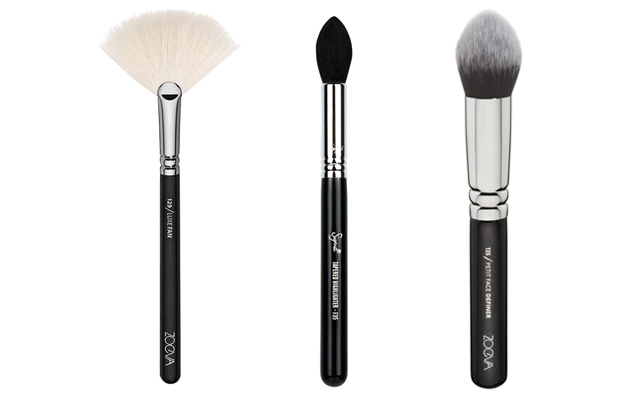 ZOEVA 129 Luxe Fan, P687; SIGMA F35 Tapered Highlighter Brush, P1348; ZOEVA 135 Petit Face Definer, P1140, Sephora.ph
2. With a beauty sponge
If you want a glassy kind of glow, a damp beauty sponge can help you get there. Dip your sponge into cream or liquid highlighter and use it to roll the product onto the high points of your face. Rolling the sponge helps apply and blend the highlight at the same time so you won't end up with too much on your skin. Using the tool damp also means it'll absorb any excess product so all you're left with is a skin-like sheen! For a demo, click on the video below!
ADVERTISEMENT - CONTINUE READING BELOW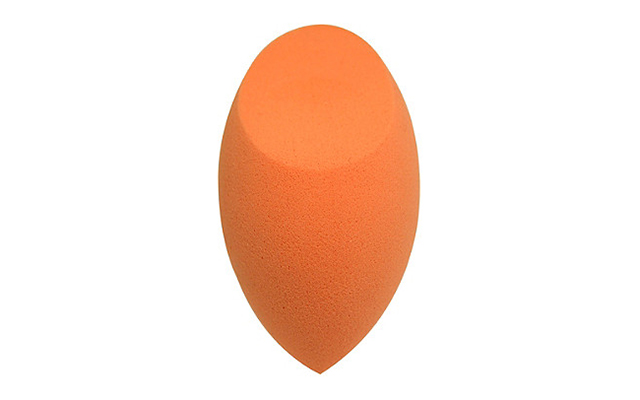 REAL TECHNIQUES Miracle Complexion Sponge, P460, Freyja, Glorietta 2
3. Straight onto the face
The fact that you don't need tools to apply cream highlighters are part of the reason why they're so popular. You can simply swipe the glow onto your skin and tap with your fingers to diffuse the harsh lines! Even better, it's the fastest way to get your glow on the go, whether you're at the beach or glamming up inside the plane. So convenient!
ADVERTISEMENT - CONTINUE READING BELOW
4. Mixed in with your foundation
Adding a few drops of liquid highlighter to liquid foundation is a makeup artist-approved trick to amp up the glow on even the most mattifying formulas. What this does is it fuses the light-reflecting particles of the highlighter with the pigments of the foundation so you can apply it all over your face without looking like a disco ball. Basically, you're getting both the coverage and the glow at once!
ADVERTISEMENT - CONTINUE READING BELOW
The important thing with this, however, is getting your ratio right. Starting with 1/3 highlighter and 2/3 foundation is a good start, and if it's not enough, keep adding until you're satisfied with the dew!
Where should you apply highlighter?
Don't get us wrong—you can apply your highlighter wherever you want. There are no set rules for it! We should say, though, that highlighting certain parts of your face and body can give you a particular effect that makes a world of a difference.
ADVERTISEMENT - CONTINUE READING BELOW
1. On top of the cheekbones
Contour isn't the only technique that can make your cheekbones pop. A few sweeps of highlighter at the very top of the bone can define the area even more since that's where the light hits your face. It also makes not just your cheeks but the entirety of your skin look healthier!
2. On the browbone
Highlighting the browbone can give the appearance of more lifted eyes without eyeliner! If you have arched brows or prefer a more seamless look, highlighter placed right under the arch of your eyebrows will define the angle even more.
ADVERTISEMENT - CONTINUE READING BELOW
3. Inner tearducts
For instantly brighter eyes, target some glow on the inner corners of your peepers. This will help the center of your face catch even more light and give you a wide-eyed effect even when you're sleep-deprived.
4. Cupid's bow
Another way to bring more luminosity to the center of your mug is by highlighting your cupid's bow or the top of your lip. The sheen can even create the illusion of a fuller-looking pout!
5. Nose bridge and tip of the nose
This step is quite dependent on the shape of your nose. If you want to make your nose look slimmer, highlight down the center of your nose bridge and keep the rest matte. If you want a more lifted-looking tip, dot a small amount of product right at the very tip.
ADVERTISEMENT - CONTINUE READING BELOW
6. Shoulders and décolletage
Wearing a sleeveless or strapless top? Brush some highlighter on your collarbones and on the hollow part that separates them to provide some dimension. For your shoulders, focus on adding glow to the center since it's where light reflects the strongest.
7. Legs and arms
Making your limbs glow is super easy. In case you don't want to douse your skin in body oil, just put some highlighter on the center of your legs (follow the bone!) and arms. Easy!
ADVERTISEMENT - CONTINUE READING BELOW
Related Stories from Preview.ph
Hey, Preview readers! Follow us on Facebook, Instagram, YouTube, Tiktok, and Twitter to stay up to speed on all things trendy and creative. We'll curate the most stylish feed for you!