You don't have to wait for your short hair to grow several inches longer to make your styling dreams come true. If you want long hair now and fast, you can always grab yourself some hair extensions to go from pixie to Rapunzel in a matter of minutes—no pro experience required. With some practice and essential tips from hair experts, you'll find yourself living your hair fantasies in no time. In fact, all the info you need is right here. Keep scrolling for a crash course on Hair Extensions 101!
HUMAN HAIR vs. SYNTHETIC HAIR
Hair extensions are usually made out of either real human hair or synthetic hair, and the kind you choose matters as these two have different uses and abilities. According to the celebrity hairstylist Mycke Arcano, extensions made of human hair are as easy to style as your real strands. You can brush them out and restyle them whichever way you want using hot tools. So if you're looking into purchasing your own, Mycke recommends investing in human hair extensions. "It's a bit pricey due to longevity but it's worth the investment," he says.
ADVERTISEMENT - CONTINUE READING BELOW
Meanwhile, synthetic extensions are less malleable. Since its fibers only look like hair, they can only be restyled under very low heat to prevent breaking. This is why most synthetic extensions sold already styled. However, being more affordable, they are amazing for costume use or for those who don't plan on changing styles.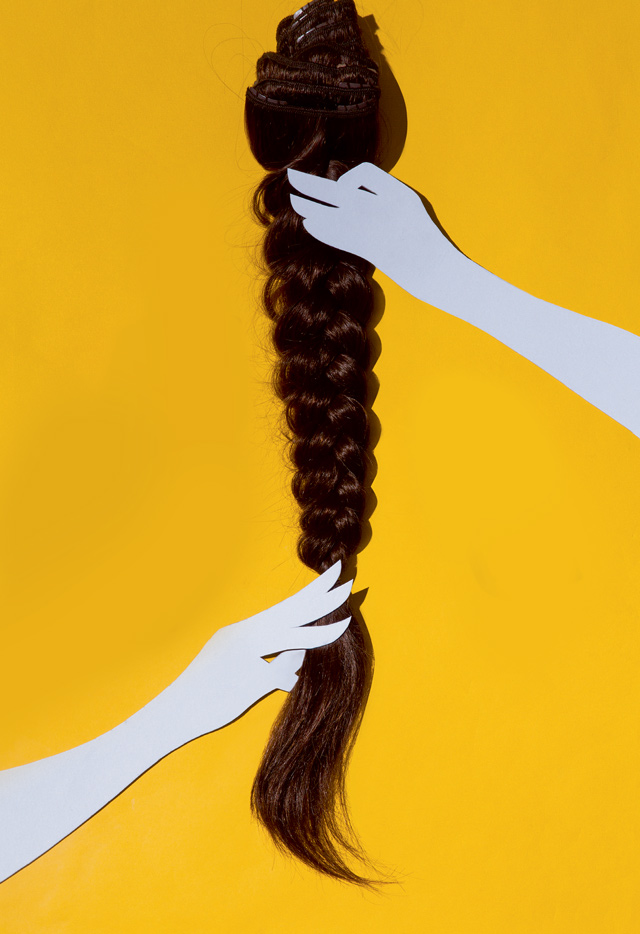 COLOR, LENGTH, and CLIPS
Color
Choosing the "right" color of hair extensions really depends on the look you're going for. If you want a more natural effect, it's best to find hair that matches or at least is close to your hair's base color. Extensions that are darker at the roots, according to Mycke, are even better, as these create a shadow on your scalp. "Remember that the goal of [using extensions] is [to achieve] believable length and not an obvious change," he explains.
Length
You have a ton of options for how long you want your extensions to be. The most basic lengths are 12, 14, 16, 18, and 22 inches. Of course, there are longer ones that extend as far as 30 to 50 inches.
To decide on the length that will suit you best, celebrity hairstylist Jay Wee suggests not choosing extensions that are too long for your hair, as these have the tendency to make the extensions more obvious.
ADVERTISEMENT - CONTINUE READING BELOW
Clips
The less clips your extensions have, the thinner and more natural they'd look when attached. To illustrate, two clips are normal for those that are four inches wide, while wider extensions that are six inches wide can have three, and so on.
MAINTENANCE
Just like your real hair, you have to give your extensions a bath, too. Mycke recommends washing extensions in a basin full of water with diluted shampoo or conditioner and rinsing under running water. To finish, leave the hair to air dry.
ADVERTISEMENT - CONTINUE READING BELOW
HOW TO PUT THEM ON
Here's a beginner-friendly guide from Mycke for laying down your new tresses:
1. Section your hair.
How you section your hair would depend on how many clip-on extensions you'll be using. So before you start attaching, map out your sections! That said, avoid sectioning too close to the top of your head to avoid excess volume that'll make the extensions obvious, especially if you have thin hair.
2. Back comb or tease the roots of the section.
Doing this will have the extensions cling to the teased section instead of your scalp. For those with very short hair, braiding a few sections beforehand and clipping the extensions there can help them adhere better and give you instant length.
3. Clip the extensions at least a centimeter below the actual scalp line.
"Hair extensions are either used for volume or for added length, so applying it below the scalp line gives the illusion of layers and length," the hairstylist explains.
ADVERTISEMENT - CONTINUE READING BELOW
4. Brush and style as desired.
"For us hairstylists, styling is easier if the extensions are meshed with your natural hair so the texture becomes balanced," Mycke explains. The same goes for heat styling—"I like curling or straightening the hair and extensions together rather than separately, just so the extensions blend in with the hair naturally," says Jay Wee.
STYLING
1. Short to long hair
Transforming your bob to a mid-length cut is not as difficult as it seems! Read Jay Wee's tutorial on this look on Angel Locsin here.
ADVERTISEMENT - CONTINUE READING BELOW
Related Stories from Preview.ph
2. Long ponytail
When you want to channel Ariana Grande for a day, follow this tutorial from her hairstylist Chris Appleton for the ponytail of your dreams. Warning: It will get heavy on the scalp, but it could be totally worth it! Chris' key tip for this hairstyle is applying your extensions vertically using a brickwork type application.
ADVERTISEMENT - CONTINUE READING BELOW
WHERE TO SHOP
Ready to shop your first set of extentions? Check out these local stores for all your hair needs:
1. Lynelle House of Hair Fashion
ADVERTISEMENT - CONTINUE READING BELOW
3. Tokyo Posh
4. Soltera Hair
ADVERTISEMENT - CONTINUE READING BELOW
Hey, Preview readers! Follow us on Facebook, Instagram, YouTube, Tiktok, and Twitter to stay up to speed on all things trendy and creative. We'll curate the most stylish feed for you!