Last week, Vogue uploaded their latest installment of Beauty Secrets featuring American actress and Goop founder Gwyneth Paltrow. And as these videos usually go, she demonstrated her everyday skincare and makeup routine, all for the fashion publication's more than 9.37 million YouTube subscribers and 31.5 million Instagram followers to see.
It was nothing out of the ordinary... until she started applying her sunscreen as a highlighter! And needless to say, the beauty community was not happy.
After showing her go-to exfoliator, serum, and eye mask, Gwyneth begins to explain her stance on SPF. "There are a lot of really harsh chemicals in conventional sunscreen so that's a product that I really want to avoid," she starts. And she wasn't lying, because a few seconds later, the actress applies what seemed to be a pea-sized amount (or in Vogue's exact words, "a surprisingly minimal touch of sunscreen") on her face.
She explains, "I'm not a sort of head-to-toe slatherer of sunscreen, but I like to put some on my nose and the area where the sun really hits."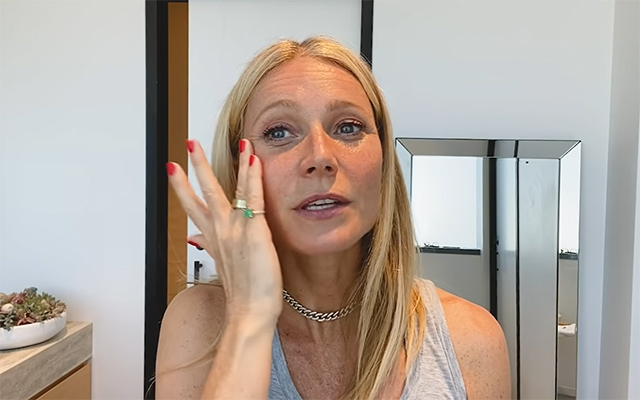 ADVERTISEMENT - CONTINUE READING BELOW
This "area" that Gwyneth was referring includes her nose, cheeks, and her chin—the same places where you would usually put blush or highlighter. And as many of you probably know, sunscreen isn't supposed to be used that way (here's how), and skin experts were quick to say so on social media.
New York-based board-certified dermatologist Dr. Shereene Idriss responded to Gwyneth's video by demonstrating how sunscreen should really be applied. According to the doctor, we need at least half to a third of a teaspoon of sunscreen (not a tiny dot) to have ample protection on our face and neck. She also stressed that we should apply it everywhere, including our brows and ears, the latter being a hotspot for skin cancers among her patients.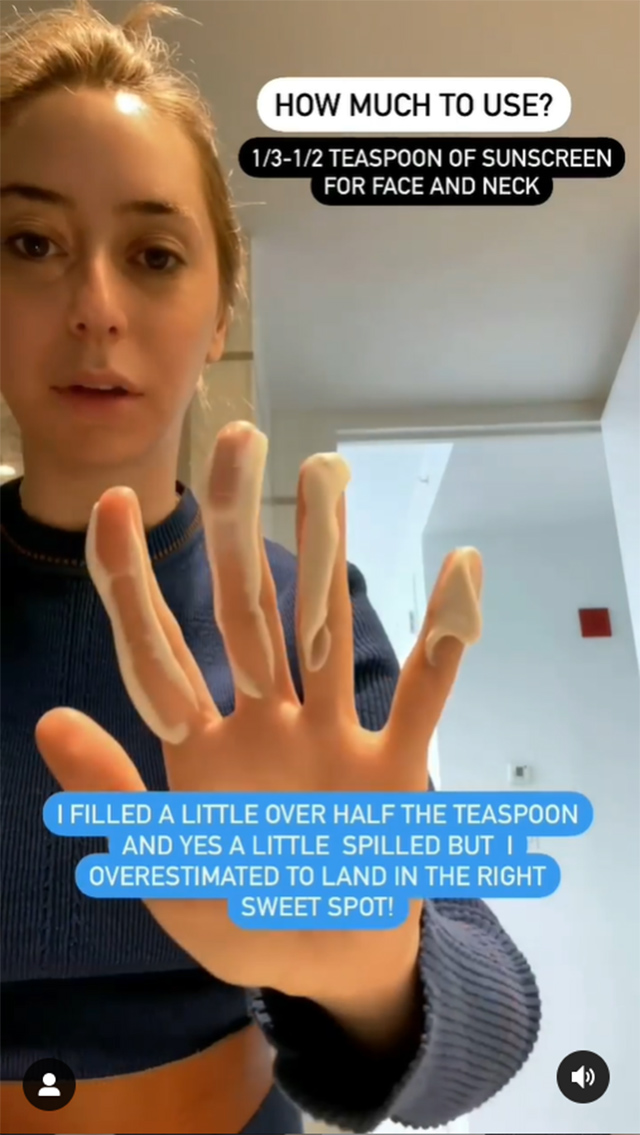 Facialist Andy Millward also responded to Gwyneth's tip; this time, with a photo of the three fingerfulls of SPF that he uses daily. "Sunscreen is not a highlighter! You don't apply it to the areas 'the sun catches.' (FYI the sun catches all of your exposed skin). It needs slathering on, not dotting on," said Andy. "Do [not] fear sunscreen! Fear sun damage, Skin cancer and Gwyneth Paltrow. Shame on @voguemagazine for sharing such dangerous information to its 31 million followers!"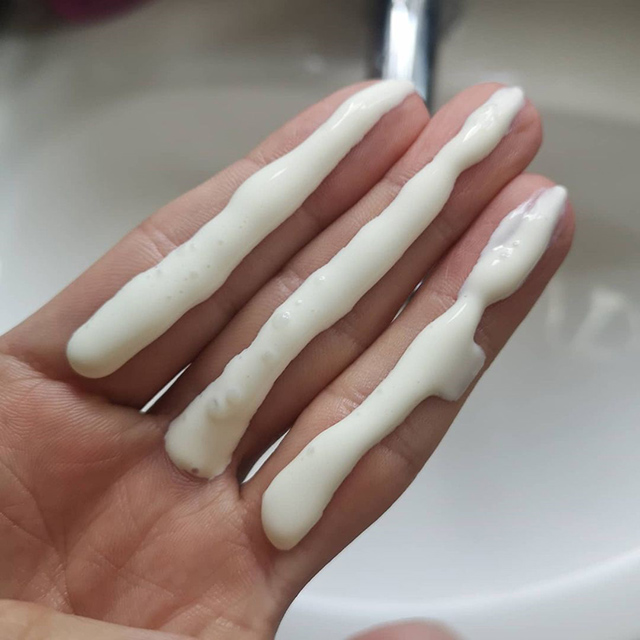 Another expert who came forward is esthetician and author Caroline Hirons, who called Gwyneth's opinion on sunscreen "horrifying." She wrote on an Instagram story, "I don't know what's more irresponsible: GP actually saying all of this, or @voguemagazine giving her the platform."
Renee Rouleau, celebrity esthetician and founder of Renee Rouleau Skincare also gave the actress' morning skincare routine "a thumbs down." "Her sunscreen game is completely ineffective," she captions her Instagram story.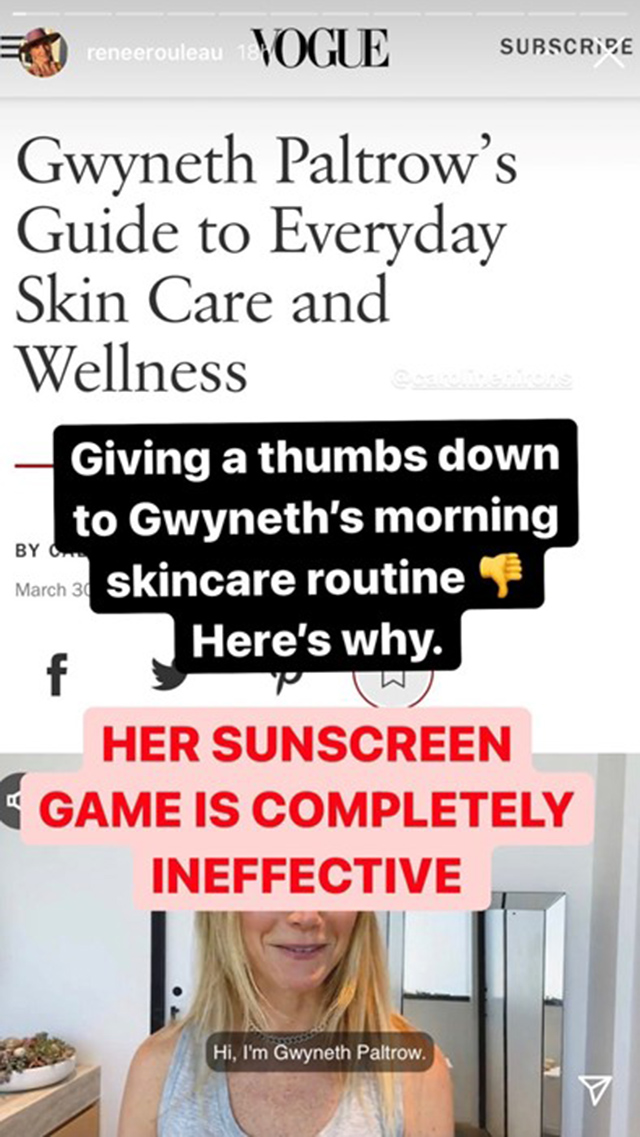 ADVERTISEMENT - CONTINUE READING BELOW
Gwyneth's application method wasn't the only thing that received criticism. Another was a comment she made while explaining why she started her brand. She reasoned that the Goop was born out of the lack of "beautiful, high quality, non-toxic products" in the market, and the existence of products like conventional moisturizers that "had crazy ingredients in them like antifreeze" that she wanted to avoid.
The problem is, the last bit is not exactly accurate. Dr. Shereene Idriss explains why on her YouTube channel, saying, "Antifreeze is ethylene glycol. Propylene glycol is not the same thing as that toxic level of antifreeze that you actually use in a vehicle." The derm adds that propylene glycol is certified to be safe to be used in skincare, food, and medication. Plus, it even shares the same chemical structure as glycerin, a humectant ingredient commonly used in "clean" skincare. Most importantly, she notes that ethylene glycol (or the antifreeze Gwyneth was talking about) has never been used in skincare.
Caroline Hirons called out the actress' repeated use of the term "non-toxic," too. "'Non-toxic' doesn't mean anything... ENOUGH of pandering to this utter bollocks as if it's true or based on science. Shame on you @voguemagazine. Selling through fear gives me real, genuine rage," she wrote.
All that said, it was no surprise that the comments section of the video had a not-so-positive response. The Vogue video has over 3,000 comments on YouTube and 1,800 on Instagram as of writing, most of the highest upvoted comments criticizing Gwyneth's routine and the magazine. See them below: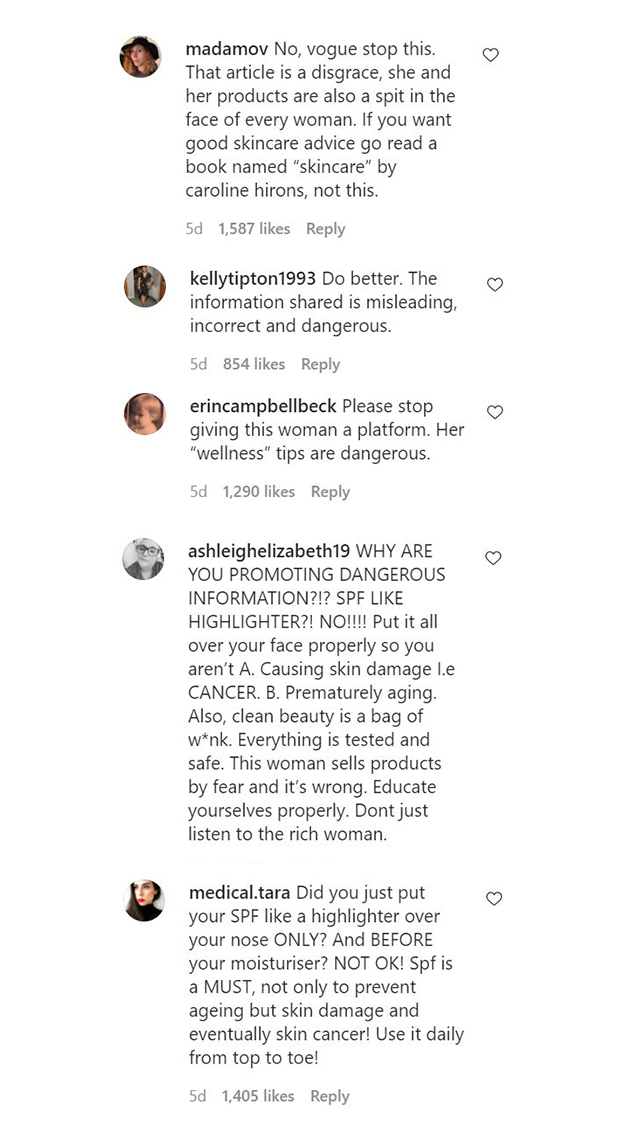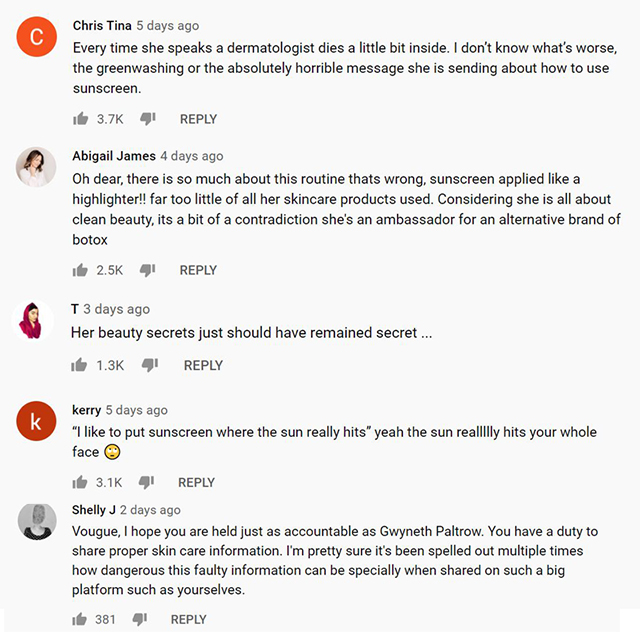 In hindsight, the video had all this criticism coming the moment it was published, and Vogue probably knew that. But then again, the last thing we probably all need now is to have more misinformation online, let alone from someone as famous as Gwyneth Paltrow.
ADVERTISEMENT - CONTINUE READING BELOW
What do you think of Gwyneth's stance on sunscreen and "clean" beauty?
Related Stories from Preview.ph
Hey, Preview readers! Follow us on Facebook, Instagram, YouTube, Tiktok, and Twitter to stay up to speed on all things trendy and creative. We'll curate the most stylish feed for you!