As someone who exclusively used face scrubs to exfoliate as a teen, I'm always jealous of people who discovered chemical exfoliants early on in life. I probably would've had clearer skin if I knew how AHAs and BHAs worked back then, or if I just got a chemical peel from a dermatologist instead of rubbing nut shells on my face. But (thankfully) that's all in the past, and now only acids touch my dead skin. And like many of you, on top of my list of chemical exfoliants is glycolic acid—the world's little known secret to smooth, glowing skin. I use it at least once a week, and below is a complete guide on why you should do the same.
What Is Glycolic Acid?
Glycolic acid is a type of chemical exfoliant and alpha-hydroxy acid (AHA) that's derived from sugarcane. It helps with skin resurfacing by dissolving the dead cells on the topmost layer, revealing a new layer of fresh, healthy skin underneath.
ADVERTISEMENT - CONTINUE READING BELOW
What Are the Skincare Benefits of Glycolic Acid?
1. It exfoliates the skin.
AHAs like glycolic acid break down the "glue" that holds dead skin cells on our epidermis together so we can shed them naturally. This is generally considered a gentler way to exfoliate our skin, because you don't have to physically rub your face to get all the unwanted gunk out. So if you find face scrubs too harsh or just want a non-abrasive way to get smoother skin, chemical exfoliation is the way to go!
2. It penetrates the skin deeper than other AHAs.
Glycolic acid has the lowest molecular weight compared to other AHAs like lactic acid and mandelic acid. It's the simplest in structure, too, so it can get penetrate the upper layers of the skin and deliver a stronger effect. That said, this means it's not exactly the mildest, so those with sensitive skin who can't tolerate it might be better off with something like lactic acid.
3. It makes the skin smoother.
With dead skin cells gone and a new layer of skin on top thanks to glycolic acid, your face will start feeling and looking smoother than before. That softer feeling is partly thanks to its humectant properties as well, which basically means that it helps trap moisture into your skin. You'll enjoy this effect every time you exfoliate, and overtime, it can help you get rid of some bumps, flakiness, and other types of unwanted texture.
4. It brightens and evens out the skin tone.
Another effect of glycolic acid's skin-resurfacing perks is that it makes your skin appear brighter, more radiant than before. It can help even out your skin tone with continued use, addressing concerns like dark spots, acne scars, and other types of pigmentation.
5. It reduces the appearance of fine lines and wrinkles.
"Glycolic acid stimulates fibroblasts in the dermis to produce increased amounts of collagen," Dr. Kenneth Howe tells Glamour. With increased collagen means a better fighting chance at fighting signs of aging, and in fact, glycolic acid has been shown to help firm the skin and reduce the appearance of fine lines and wrinkles.
ADVERTISEMENT - CONTINUE READING BELOW
How Do You Use Glycolic Acid?
1. Start with a low percentage and build your tolerance.
Glycolic acid is still an acid, so we still have to be careful about how much of it we put on our face. If you're just starting out, products with 5% glycolic acid or below would be a good introduction to your routine. Don't forget to read the instructions on the packaging as well, because most exfoliants are not meant to be used daily. The last thing you want to do is overexfoliate your skin and give yourself a bad irritation, or worse, a burn.
2. Mind the product's pH level.
You might notice that some glycolic acid products have its pH level on the label, and that's because pH is important when it comes to how effective the AHA is going to be. It's a good sign when a product has an acidic pH between 3 and 5. Dr. Anita Sturham tells Bazaar UK, "The higher the concentration of acid and the lower the pH, the faster the keratolytic effect, meaning that the desmosome glue will break down quicker, speeding up shedding of old dead skin."
ADVERTISEMENT - CONTINUE READING BELOW
3. Save the strong stuff for your dermatologist.
No matter how confident you are with your skin's resilience, the safest concentration of glycolic acid you can use at home is 10%. Anything stronger than that should be wielded onto your skin by qualified professional, unless you want to risk burning your skin. When you want a real glycolic acid peel, skip the DIY treatments and have your doctor take care of it!
4. Combine it with adequate sun protection.
One downside to being a glycolic acid devotee is that it will make you more sensitive to the sun. That's nothing a good daily SPF can't solve though, so don't forget to slather on at least an SPF 30 every day to protect yourself and steer clear of hyperpigmentation.
Skincare Products with Glycolic Acid
1. Isntree Clear Skin 8% AHA Essence
This essence combines 4% glycolic acid and 4% lactic acid with soothing and hydrating ingredients so you can exfoliate sans the discomfort.
ADVERTISEMENT - CONTINUE READING BELOW
Clear Skin 8% AHA Essence, P800, ISNTREE, Seek Space
2. Drunk Elephant T.L.C. Framboos Glycolic Night Serum
The blend of AHAs and BHAs in this serum will make it your nightly secret to glowing skin in the morning.
ADVERTISEMENT - CONTINUE READING BELOW
T.L.C. Framboos Glycolic Night Serum, P5305, DRUNK ELEPHANT, Sephora.ph
3. Dr. Dennis Gross Alpha Beta Universal Daily Peel
Not all at-home peels are safe, but this two-step regimen with AHAs, BHAs, and retinol is the next best thing when you can't visit your derm. Remember to build your tolerance to this first before upgrade to daily use!
ADVERTISEMENT - CONTINUE READING BELOW
Alpha Beta Universal Daily Peel, P1100 for 5 applications, DR. DENNIS GROSS, Sephora.ph
4. The Ordinary Glycolic Acid 7% Toning Solution
Toners are a great way to infuse some glycolic acid in your routine, and this one from The Ordinary is a popular choice for its simple formula that does the job.
ADVERTISEMENT - CONTINUE READING BELOW
Glycolic Acid 7% Toning Solution, price unavailable, THE ORDINARY, SM Aura
5. Pixi Glow Tonic
Many AHA beginners start their journey with this glycolic acid toner from Pixi because it's gentle enough not to sting but still gives you all the glow-inducing benefits.
Glow Tonic, P1050, PIXI, Glamourbox
6. In Her Element Glow Job 5% Glycolic Acid Gel Cream
Aside from being super convenient, what we love about this cream is that it offsets the effects of exfoliation by soothing the skin with aloe vera and moisturizing with shea butter and sunflower oil.
ADVERTISEMENT - CONTINUE READING BELOW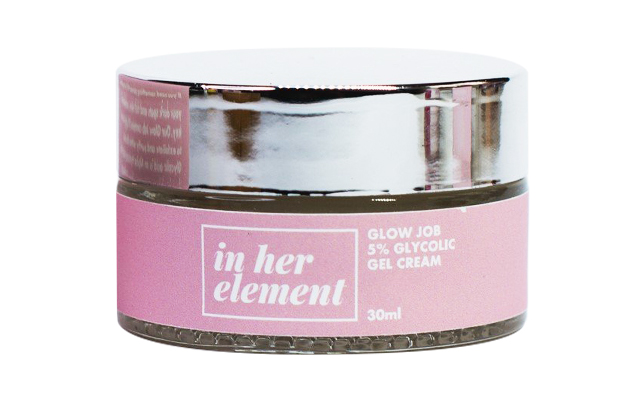 Glow Job 5% Glycolic Acid Gel Cream, P775, IN HER ELEMENT, inherelement.ph
7. A'pieu Glycolic Acid Cream
Those with acne-prone skin would love this lightweight moisturizer that treats and prevents breakouts with 3% glycolic acid and 0.45% salicylic acid.
ADVERTISEMENT - CONTINUE READING BELOW
Glycolic Acid Cream, P725, A'PIEU, Zalora
Related Stories from Preview.ph
Hey, Preview readers! Follow us on Facebook, Instagram, YouTube, Tiktok, and Twitter to stay up to speed on all things trendy and creative. We'll curate the most stylish feed for you!