When you hear the word "eczema," two things instantly come to mind: (1) it's a skin disease of some sort; and (2) it usually happens to children. But contrary to popular belief, the condition is actually more common than you think—and no, it definitely doesn't only happen to kids.
At the local product launch of Bepanthen, a specialized relief cream that specifically treats all forms of eczema, dermatologist Dr. Louie Lacno shares that the said condition is in fact very common among adults. "A lot of dermatologists actually call eczema different things, depending on their practice. [But] most people use the term 'eczema'; it's actually an umbrella term for various skin conditions. Most of the time, eczema means atopic dermatitis or skin asthma," Dr. Louie shares. For those unfamiliar, atopic dermatitis is a kind of skin inflammation/allergy that results in red rashes, itching, and cracked skin, and it's triggered by both environmental and physical factors—dust, pollen, and stress being the most common. Though appearing most often on children, it can happen to adult as well—harboring the same kind of symptoms and effect on the skin. And FYI, your face isn't exempted from it.
ADVERTISEMENT - CONTINUE READING BELOW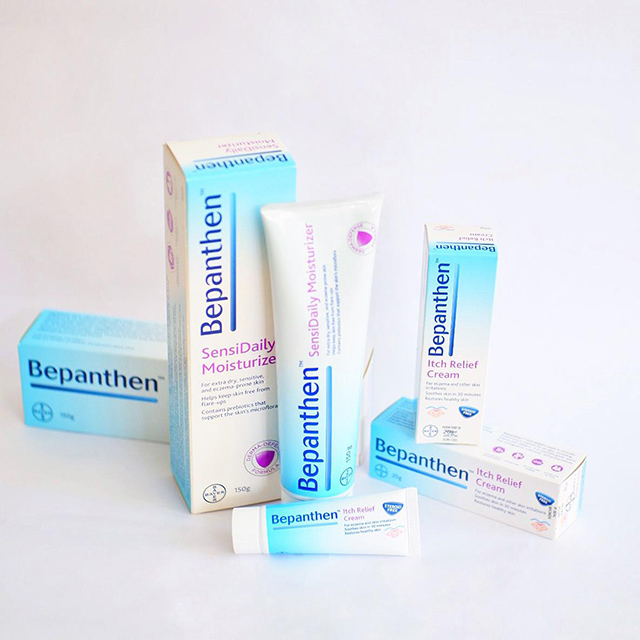 "It really appears on infants and children on the face, and when they grow up, if they don't outgrow eczema, what happens is it appears more commonly on the body," Dr. Louie explains, "But when it manifests on the face, it shows up as redness, dry skin, or scaly patches. So it [still] does show up on the face."
Though facial and body eczema share the same triggers, the skin on your face is a lot more sensitive so it's best to not overly agitate your skin. One of the things you should stay away from if you have dry and sensitive skin are mechanical exfoliants and scrubs with microbeads. "Especially if you're suffering from eczema, if you have sensitive skin, or if your skin tends to dry up a lot, then [these scrubs] can worsen your skin condition or cause a flare-up," explains Dr. Louie. One other thing you might want to consider skipping are antibacterial soaps. Since these are harsher than usual facial soaps, they tend to disrupt the natural microflora on your face which leads to the imbalance of good bacteria found on your skin that prevents bad bacteria. An easy remedy are creams like Bepanthen that help calm skin to return to its healthy and natural state.
ADVERTISEMENT - CONTINUE READING BELOW
But instead of self-diagnosing, it's still best to consult with a dermatologist to really understand your skin's needs. You can Google all you want, but if your dry patches and redness are out of the ordinary, a trip to the doctor will save you from buying or using products that don't really treat the problem. As they say, prevention is better than cure!
ADVERTISEMENT - CONTINUE READING BELOW
Related Stories from Preview.ph
Hey, Preview readers! Follow us on Facebook, Instagram, YouTube, Tiktok, and Twitter to stay up to speed on all things trendy and creative. We'll curate the most stylish feed for you!