With the vast variety of hair color ideas you can search on Pinterest (and we're pretty sure you've saved quite a number of them), this question has surely come into mind more than once: "Should I bleach my hair first to get this color result?" Since Filipina hair (or Asian hair in general) naturally ranges from dark brown to black, any shade lighter than your virgin hair would be dependent on the dye you'll be using to achieve the color of your choice…or, you might actually need to bleach your hair first to pre-lighten your locks.
But if you have no idea what color requires bleach, how light your hair must be to achieve a certain shade, how many times you should bleach your hair to achieve a certain level of blonde, and even where to buy hair bleach, then continue scrolling for a quick and easy hair bleach 101 for newbies!
What is bleach and why you do you need it for your hair color?
Basically, hair bleach is a chemical dye that's used to strip your hair of pigment, leaving it a lighter tone than its natural color. Hair bleach comes in a powder that requires a developer or oxidizing lotion to create the final lightening mixture to be applied to your hair.
What is an oxidizing cream or lotion?
The oxidizing liquid is usually made of hydrogen peroxide and it helps open up your hair cuticle for the dye to penetrate. Combined with bleaching powder, the result is the chemical reaction that lightens your hair from deep within its strand. Oxidizing lotions usually come in three different percentages: 6%, 9%, and 12%. The percentages indicate the level of blonde you want to achieve when bleaching.
6% (or 20 volume developer)
Would result to one to two levels of lift that's perfect for permanent dyes.
ADVERTISEMENT - CONTINUE READING BELOW
9% (or 30 volume developer)
Would result to up to three levels lighter hair that could be a good base for permanent or semi-permanent colors.
12% (or 40 volume developer)
Would result to eight levels lift that's perfect for a more platinum blonde result that's a good base for ash colors or bright colored toners.
What do you mean by hair color levels?
Levels mean the range of hair color your natural or ideal hair color falls under; ranked from darkest to lightest. Level one is the darkest black and 10 is the lightest of blondes.
Level 1 - Darkest Black
Level 2 - Black
Level 3 - Darkest Brown
Level 4 - Dark Brown
Level 5 - Medium Brown
Level 6 - Medium Light Brown
Level 7 - Lightest Brown
Level 8 - Dark Blonde
Level 9 - Medium Blonde
Level 10 - Lightest Blonde
When should I considering bleaching my hair?
Of course, not all hair colors require bleaching. Assuming that your virgin hair is around level one or two based on the hair color chart, you can decide whether or not you should bleach your hair based on your desired color result. If it's only one level higher than your virgin hair, a box dye with a promised warm brown or golden brown result is possible. Since Asian hair also has a red and yellow undertone, warm brown colors are possible to achieve with a drugstore bought dye without bleach. But once you decide on a cool tone color, you would need bleach to strip your hair of all the redness to give you a more accurate color result.
Hair colors that don't need bleach:
Black
Reddish Brown
Dark Brown
Warm Golden Brown
Medium Light Brown
Chocolate Brown
Hair colors that need bleach:
Blonde
Gray
Ash Blonde
Ash Brown
Bright Red
Creative Colors: Blue, Green, Pink, Purple, Peach and etc.
Additional note: If you're shifting from a warm hair color to a cool one or vice versa, like red to blue or midnight blue to pink, you would still need to bleach your hair despite your color being around the level seven to 10 blonde range. This is to assure that the new hue applied would not be mixed in with your existing tone that might result in a messy dye job.
How many times should I bleach my hair to achieve the level of blonde I want?
This is a tricky question since hair pigmentation and texture vary per person. If you opt to go to a professional to bleach your hair, they can assess the bleaching process upon consultation. For example, to get platinum blonde hair, your hair stylist could bleach your tresses two to three times depending on how your hair reacts to the bleach. Then there's also a toning process after to further rid your 'do of brassy pigments for a true blonde effect. Be wary that the bleaching process can take up to six to nine hours in the salon depending on your hair thickness, texture, and desired color result.
ADVERTISEMENT - CONTINUE READING BELOW
If you plan to bleach your hair at home, you can opt to take a day off or two between bleaching sessions to avoid damaging your hair. It's also best practice to not bleach on newly shampooed hair so your natural oils could protect your hair strands and shield your scalp from the product.
Where to buy hair bleach and developer?
Hair bleach is actually quite common now in drugstores and here are a few brands you can currently shop online or in-store.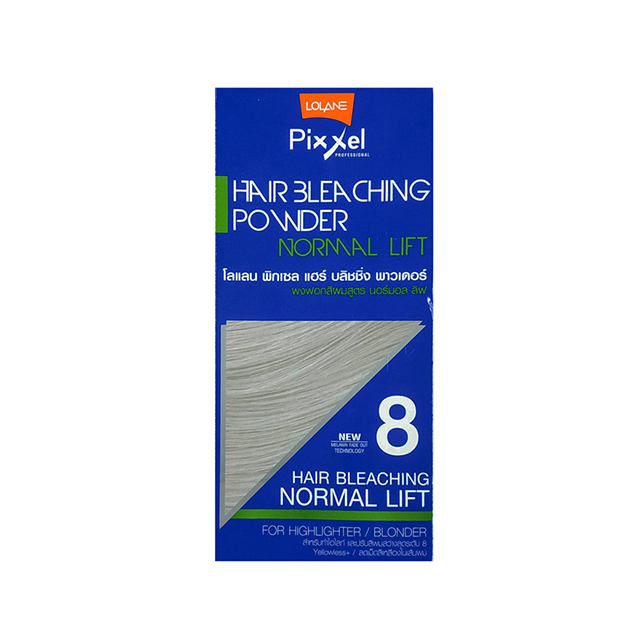 ADVERTISEMENT - CONTINUE READING BELOW
Normal lift hair bleaching powder, P149, PIXXEL, Watsons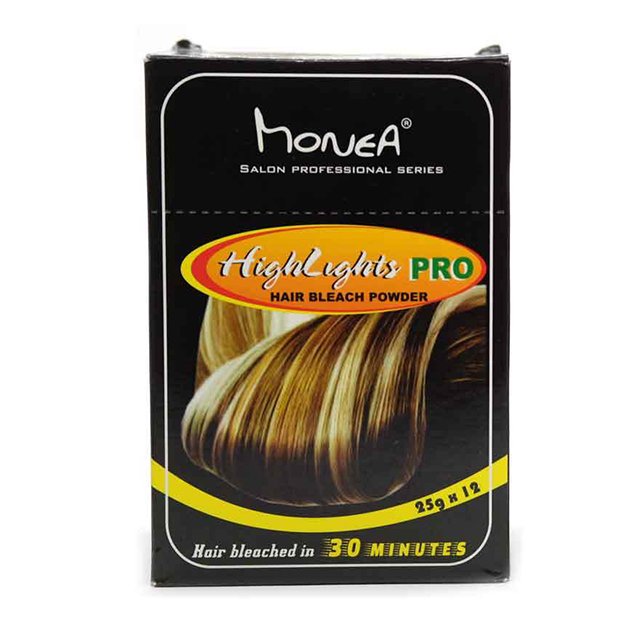 Highlights Pro hair bleaching powder, P28, MONEA, Watsons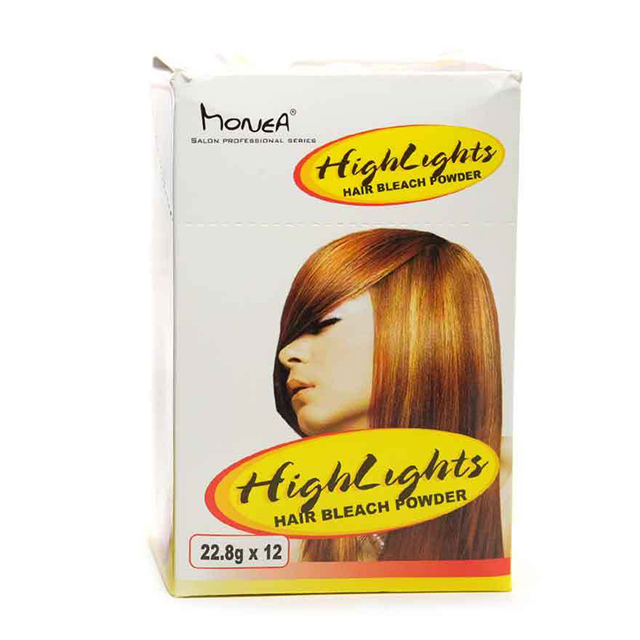 ADVERTISEMENT - CONTINUE READING BELOW
Highlights hair bleach powder, P20, MONEA, Watsons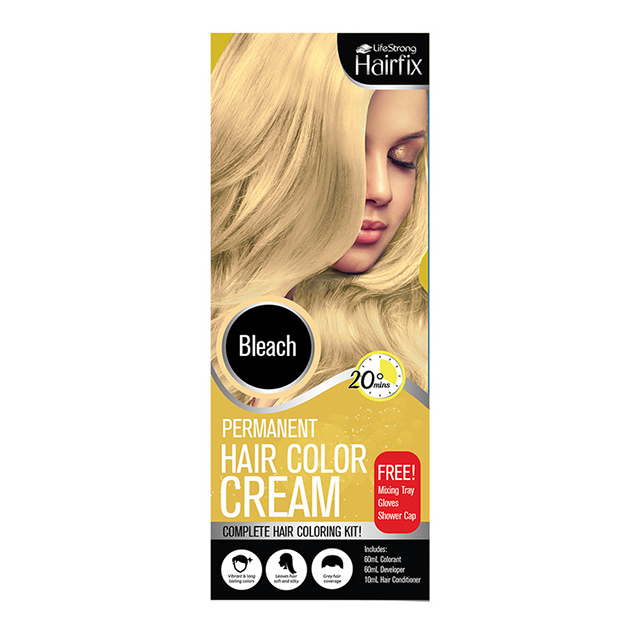 Bleach permanent hair color cream, P199, HAIRFIX, Watsons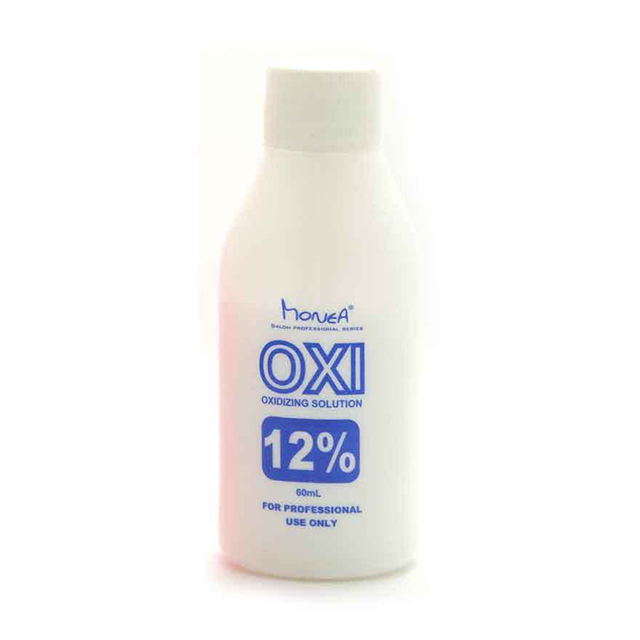 ADVERTISEMENT - CONTINUE READING BELOW
12% oxidizing solution, P40, MONEA, Watsons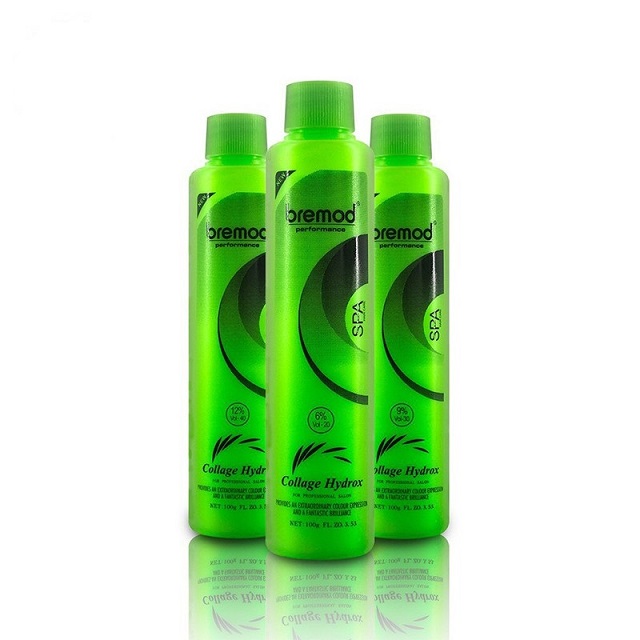 Collage hydrox oxidizing lotion in 6%, 9%, and 12%, price varies, BREMOD, Shopee
What do I need to do to care for my bleached hair?
To prevent your hair from further damage, here are a few before and after care tips you need to do to keep your hair healthy despite the chemical process it underwent.
ADVERTISEMENT - CONTINUE READING BELOW
1. Don't shampoo every day.
You can opt for at least one or two days before shampooing your hair to prevent dryness and breakage. Simply use a dry shampoo when you feel like your scalp has gotten too oily.
2. Never use shampoo with sulfates!
SLS or Sodium Laureth Sulfate is your enemy when you've got bleached hair! Make sure to avoid this ingredient when buying shampoo to make sure your hair color lasts longer and doesn't end up brassy.
3. Do regular hair treatments at home or at the salon.
Stock up on those hair treatment tubs to save your hair from a lot of damage!
4. Apply hair oil regularly.
Your after shower care is also as important so be sure to find a hair oil that works for you. We recommend products with argan oil for to prevent breakage and liven up even the most damaged tresses.
5. Lessen heat-styling.
If you're hair becomes brittle after bleaching, be sure to make it rest and avoid any form of heat styling for awhile. You can purchase bond-strengthening products like Olaplex to revive your hair before exposing it to a hot hair dryer or flat iron.
ADVERTISEMENT - CONTINUE READING BELOW
Related Stories from Preview.ph
Hey, Preview readers! Follow us on Facebook, Instagram, YouTube, Tiktok, and Twitter to stay up to speed on all things trendy and creative. We'll curate the most stylish feed for you!